true
Late last week, we posted an article in which the Christian filmmakers behind End of the Spear explained their decision to hire a gay actor to play the role of a Christian missionary and one of the heroes of the faith.
Chad Allen, a practicing homosexual, plays the parts of Nate Saint—one of five missionaries martyred in the jungles of Ecuador in 1956—and Nate's son Steve, who was only five years old when his father was killed by Waodani tribesmen. End of the Spear tells that story, and more.
Every Tribe Entertainment's Mart Green, an executive producer of the film, and Steve Saint, a consultant on the project, told Christianity Today Movies that they didn't know that Allen was gay until after they had offered him the job. They then decided that it would be a bad Christian witness to rescind the offer, so they kept Allen on the job. The film had a solid opening weekend, finishing in the top 10 at the box office.
We asked readers what they thought of Every Tribe's decision to retain Allen after they learned about his lifestyle, and we received over 150 e-mails in reply—the vast majority of them positive, lauding the studio's decision. A sampling of those reader responses follows, starting with the positive replies, followed by the negative ones.
Some of the positive reactions …
I am glad they stuck to their commitment. There has been far too much nastiness and meanness toward homosexual people from the Christian community. What an opportunity to demonstrate mature Christian love!
Mary Mueller
The producers did the right thing. "Your word is your bond" is a good motto to live by. As a long-time producer of Christian films, I was criticized for using professional actors that were not Christian. But they conveyed the thrust of the film's message and biblical truth far better than "Christian" actors. The apostle Paul was not, from a human perspective, a likely candidate for the role God had in mind for reaching Gentiles. But I am glad God did, so I could be included in his kingdom.
C Ray Carlson
Of course they should have hired Chad Allen. What kind of a witness would that be to rescind a job offer?
Jill Lefforge
Chad Allen was exceptionally strong as Nate Saint. I can't imagine someone playing the role any better. The fact that Chad offered to walk away from the movie out of respect for Steve Saint and the family shows high character. I'm glad the producers showed the same character and incarnated grace and mercy that God shows to us sinners. I pray it's a sign that God has plans for the hostility and misunderstanding between our two communities to one day end, just as with the Waodoni!
Harold N Miller
This is an incredible story of following God's desire, not our own. If we, as Christians, are unable to work with people we may not agree with, how in the world will we be able to show how Jesus washed the feet of Judas before he left to betray him? Praise God for these people who are able to stand by their word even through difficult personal and faith issues.
Ray Carmichael
We are called to be salt and light to the world. We cannot fulfill that commission if we isolate ourselves from sinners. Are we to break contracts in the interest of upholding the Christian ideal? With whom are we to break contracts? Only some sinners? The filmmakers were correct to honor their contract. A Christian company ought to hire the most qualified individuals to perform the job.
Steven Kopischke
Honor that contract and let Jesus work in this young man's life!
Andrea Severns
Chad Allen's acting ability is not dependent on his sexual identity. Here is another instance where evangelicals seem more concerned with an outward show of moral conformity than with the human being in front of them—who, by the way, is a child of God. I guess it is easier to avoid or exclude folks that "aren't just like us" than to embrace them. Happily, in this case, the Spirit of a loving God prevailed.
Claudia Horak
I think Saint and the producers acted not only with integrity, but also with compassion in allowing Mr. Allen to continue working on the film despite his chosen lifestyle. God chose to use someone who has spoken out in favor of something God detests in order to further spread his message. This isn't the first time, either (read: Paul).
Zach Lorton
If Christians want to make films for a general viewing audience (as opposed to niche pieces aimed at churches and specifically Christian audiences), they should conduct themselves as professional filmmakers. They should hire the best actor for each role, the best lighting technicians, the best camera people, etc. Setting a moral test for employment in this setting is a slippery slope. Who among us is truly moral? So long as gay actors are willing to support the spirit of the film, as Chad Allen was, they should be considered along with all the other sinners who will try out for a role.
Bruce Mason
Only our Savior could be so creative and loving to think of having Chad Allen be exposed to this life-changing story. I trust my Lord to use it for good. Who are we to say no to this man who own story is still emerging? I am sure many Christians will balk at this, but I believe they also would have balked at Jesus speaking to the woman at the well.
Felicia Buchanan
Love the sinner, hate the sin. How would we be showing love if we fired him?
Jacqueline Garrett
To not offer someone a job because they live a homosexual lifestyle is the same in principle as not offering someone a job because of some other sinful habit. If Steve Saint had responded in that way, it would have created a serious conflict between the truth of the story of his father and how he had treated the actor in question. I was very impressed with Steve's godly response to the situation.
Michelle Crouch
If we are sincere about reaching the lost world, and even the entertainment community, then we need to rub shoulders with "them," work with "them," hire "them," and then pray that "our light so shines before men that they may see our good works and glorify our father in heaven."
Marty Taylor
I'll take a great actor like Chad Allen in a role like this any day over a godly Christian who's a horrible actor.
Faith Walter
I have to concur with Steve Saint: We usually don't know what God is planning, but by faith, we rely on him to work it out in our lives. Who knows what will happen with the seed planted in Mr. Allen's life?
Carol Ritter
Steve Saint's attitude toward the hiring of Chad Allen was an inspiration to me. It cemented in my heart the truth that God loves homosexual people deeply—and we who are straight must do the same. I respect and admire Steve's obedience to God's calling and his obvious love for Chad as a person.
Ginny Jaques
I think they were right to hold up their end of the agreement. Chad Allen was immersed in a situation that God may use to his ultimate glory and to show him what true faith is really like. How can that be bad?
Robin Taylor
It is perfectly like our Heavenly Father to orchestrate and even embrace this young actor in order to show his great love to the one out of the 99. How religious, pompous and utterly blind some people are to try and "weed" out the very people who need the message from this movie, or for that matter the message of Jesus Christ. Honoring your contract and your word will carry weight with that young man and the community in which he associates.
Wendy Lassiter
I am convinced that the right decision was made. And not only did the Lord arrange what many would label a "mistake," I believe the Lord will use this to open doors for his truth to penetrate the homosexual community in ways few of us could imagine.
Dan Eriksen
Every day Christians are hired to do work on films made by people with a variety of beliefs, because they are known to be qualified employees. If even one of them were removed from a project because of their beliefs, we would be (justifiably) appalled. Chad was hired because he is a qualified actor. To let him go because of a different set of beliefs would be equally as appalling and unfair.
Carla Nordby
Like the Pharisees in the house of Simon the Leper, who no doubt disagreed with Jesus' handling of the sinful woman who anointed him with nard, God often moves in ways that confound his followers. Jesus not only received the offering of the sinful woman in Simon's house, but said to the Pharisees who witnessed it, "Wherever the gospel is preached throughout the world, what she has done will also be told, in memory of her. "Jesus used a sinful woman to teach them—and us—about the nature of his love, so it does not seem totally out of the question that he would choose to use a sinful man to teach the world about that same love.
Christy Tennant
Wrong question: "Why would a Christian film company hire an outspoken gay activist to play the part of a famous, upright Christian missionary? How scandalous!" Right question: "Why would an outspoken gay activist agree to play the part of a famous, upright Christian missionary? Wouldn't it be great if the power of the gospel in this story and the love of Steve Saint would become so entrenched in Chad's life that he would fall on his knees before Jesus (like Paul in Damascus), repent from his sinful lifestyle, and become one of the most outspoken Christians of our time? How scandalous!"
Terry Newburn
Who knows how many gays will go to see this movie just because Chad Allen is in it? God has the power to change their hearts through this movie. Maybe this was God's plan all along.
Robin Franklin
First and foremost, isn't this Steve Saint's family story? So if he felt peace from God about the decision, shouldn't everyone else just back off?
Brenda Canady
And some of the negative reactions …
I find it incredible that they couldn't have known about Chad Allen's homosexuality before they hired him. All they had to do is google "Chad Allen" to find that he came out as gay somewhere around 1996. Whether God wanted Chad Allen in this movie is another question altogether, but I am still going to question either the integrity or the competence of the producers who hired him.
Steve Mueller
If I were casting someone to play my father, I would at least google his name.
Randy Rainwater
If the movie is a Christian movie, it is very important that the actors / actresses be committed Christians. This prevents the name of Jesus from being dragged through the mud. In the case of Chad Allen, I feel that Every Tribe should have replaced him with a Christian actor.
Marvin Wiley
An outspoken homosexual activist representing a dedicated Christian missionary and martyr—bad move, and a terrible insult to Nate Saint and his son. From now on, do your homework, please.
Glenn Gordon
I won't go see the movie because a militant homosexual is going to get part of the profits, and he's going to use his windfall to work against biblical morals and the Christian family. I don't give money to the enemy when I can avoid it.
Robert Sexton
This is a perfect example of unequally yoking good (story of Nate Saint) with evil (actor Chad Allen) as the Bible speaks of in 2 Corinthians 6:14: "Be ye not unequally yoked together with unbelievers: for what fellowship hath righteousness with unrighteousness? And what communion hath light with darkness?" If an openly gay person is the front man for Christianity, God help the people whose souls will be lost by the hypocrisy of that message.
Carl Melbye
Chad Allen is a militant homosexual. Satan himself masterminded this production, and thousands of professing Christians will give their hard-earned money to line the pockets of those who hate the Lord.
Mrs. Stephanie Hunley
I can't imagine how an openly gay actor could have escaped a professional screening process.But I believe a second mistake was made when Steve Saint did not accept Chad Allen's offer to resign when they met. All the pain and confusion this has caused could have been simply avoided with both parties maintaining some integrity.
Chuck Burge
It sounds like the actor, to his credit, was willing to step aside from the film. Shame on the film producers for not doing what was necessary to fix their mistake.
Pastor Ed Simpson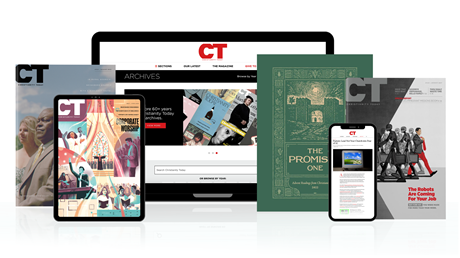 Subscribe to Christianity Today and get access to this article plus 65+ years of archives.
Home delivery of CT magazine
Complete access to articles on ChristianityToday.com
Over 120 years of magazine archives plus full access to all of CT's online archives
Subscribe Now
Readers Affirm Decision to Hire Gay Actor
Readers Affirm Decision to Hire Gay Actor