Today's Top Five
1. Dozens dead after church attacks in Nigeria; Pakistan churches also hit
As if the Muhammad cartoons controversy story wasn't complicated enough, related violence over the weekend has complicated the matter even more. The events are stark enough: Muslims attacked two churches in Sukkur, Pakistan, and have continued to riot in Nigeria, where at least 30 churches were burned and at least 45 people have been killed. Most of the Nigerian attacks have been in the city of Maiduguri, capital of Borneo state.
But the riots aren't only about the cartoons. Pakistan's riots were mostly about rumors that a Christian teenager had thrown pages of the Qur'an into a trashcan, but, as AFP notes, "Sukkur has recently been the scene of almost daily protest rallies against the cartoons." Nigeria's latest riot, in Bauchi, was over a teacher's confiscation of a student's Qur'an. Riots in the country over the weekend were tinged with political tension over rumors that President Olusegun Obasanjo, a Christian, will seek a third presidential term, and concerns over a looming national census.
Still, it appears that outrage over the cartoons set the stage for the riots. And outrage over the riots seems to be the next big story in Nigeria. The statement issued by Peter Akinola, president of the Christian Association of Nigeria (and head of the Anglican Church there) is dramatic. "From all indications, it is very clear now that the sacrifices of the Christians in this country for peaceful co-existence with people of other faiths has been sadly misunderstood to be weakness," says his written statement. It continues:
It is no longer a hidden fact that a long standing agenda to make this Nigeria an Islamic nation is being surreptitiously pursued. The willingness of Muslim Youth to descend with violence on the innocent Christians from time to time is from all intents and purposes a design to actualize their dream. … . May we at this stage remind our Muslim brothers that they do not have the monopoly of violence in this nation. Nigeria belongs to all of us—Christians, Muslims and members of other faiths. No amount of intimidation can change this time-honored arrangement in this nation. CAN may no longer be able to contain our restive youths should this ugly trend continue.
It will be interesting to see whether this statement gets much play in the international media (so far it's just in a Reuters story), and whether Akinola's declaration is taken as a warning or as a threat. A new blog called CartoonBodyCount.com is rounding up the violent incidents connected to the Muhammad drawings. When the Catholics and other Christians start murderous rampages over South Park's "Bloody Mary" episode, we'll be sure to let you know.
2. Nigerian bishop's family attacked
Akinola is a familiar name to many American Christians because of his leadership in calling the Anglican Communion back to biblical standards. One of his bishops, Benjamin Kwashi, is particularly well known to American Anglicans and is a frequent speaker at orthodox meetings. Christianity Todayinterviewed him in September. His family was savagely attacked by a group of about 20 armed men apparently bent on assassination. The attackers apparently knew that he had been in London on ministry business, but mistakenly thought that he had been due to return Friday afternoon. His wife, Gloria, is in the hospital. The attackers remain at large, their motives unknown. Jos, where Kwashi serves as bishop, has been the center of much of Nigeria's Muslim violence against Christians.
3. Church renovations aren't the same after Katrina
Baton Rouge churches, having been shelters for refugees from hurricanes Katrina and Rita, have now become bases for mission volunteers wanting to help the Gulf Coast. This summer, the churches are expected to be bursting with work groups. That's changing the ways that churches think about their buildings, reports The Advocate of Baton Rouge. University Presbyterian Church started with adding a shower off the kitchen and putting bunk beds in one of the Sunday school classrooms. Now, says associate pastor Clint Mitchell, the church wants to build "a place where volunteers could relax, talk about their experiences, and decompress." The church's key question right now: "How do we practice good hospitality?" Other churches are asking similar questions about additions and renovations. But if Katrina really has influenced Christians' thinking on missions and ministry, as many have argued, one imagines that this isn't just a Gulf Coast story. Countless churches nationwide are considering building projects right now. After Katrina, are they more likely to include showers and shelters?
4. How much is tax exempt?
So let's say a church does take Katrina into consideration and builds a facility with several shower stalls and a large area that could be easily converted into a dormitory or shelter of some kind. Between natural disasters, that place would look an awful lot like—and would probably be used as—a gym. Should that property be exempt from taxes as a core part of the church? Or would the gym be fpr a separate use that could be taxable? For that problem writ large, check out Christ Chapel Community Church in Macon, Georgia, and its sports complex, called SportsTowne. The church bought the 100,000-square-foot facility for $8.35 million—complete with a roller hockey rink, indoor basketball, tennis, and volleyball courts, and outdoor fields. Associate pastor Beth White says the whole thing should be exempt: "The thing most churches are trying to do is win lost people. … Our target audience will come to us for sports. So we have an opportunity to use our building six days out of the week to come in contact with people and use lifestyle evangelism to invite them back on Sundays." The local board of tax assessors isn't so sure, especially since a for-profit arena football team gets to use the facility and offices rent-free. But that's still part of the church's mission, says White. "The trade-off is we get to use their influence, and they get to use our building. … [They] have influence with people the church will never gain influence with. They have influence with the Saturday night sports crowd." (Does this kind of story really interest you? If so, be sure to check out our newest sister publication, Church Law & Tax Report.)
5. Church directories flap
One brief religion story in the 2004 presidential election was the controversy over the Bush-Cheney campaign's effort to acquire church directories. That move was universally panned across the political spectrum, with the Southern Baptist Convention's Richard Land being one of the chief critics. Land is back as one of the chief critics now that the North Carolina Republican Party is trying the same tactic, calling it "completely beyond the pale of what is acceptable."
Quote of the day:
"He is in a very visible leadership position, and comments such as recent ones related to Mr. Sharon and so many others are misinformed and presumptuous and border on arrogance. … It puts the evangelical movement in a bad light when that happens, because people make broad generalizations, rightly or wrongly, all the time."
—David Dockery, president of Union University, on Pat Robertson.
More articles
Muslims attack Pakistan churches | Dozens of deaths in Nigeria riots | Nigerian bishop's family attacked | More on Muslim riots | Iraq | Divestment | Sudan | Social justice | Anti-conversion in India | Mar Thoma convention | Church life | Australian Anglicans | Australian Catholics | Catholicism | Catholic colleges | Education | Evolution | Church and state | Politics (U.S.) | Politics (non-U.S.) | Praying for politicians | Evangelical Climate Initiative | Life ethics | Abortion in Australia | Sexual ethics | Abuse | Crime | Alabama church arsons | Another Ala. church burns | Alabama Christian warehouse fire | Business | Books | Film | More entertainment | Missions & ministry | People | Other stories of interest
Muslims attack Pakistan churches:
Photos of burning churches and the aftermath (Yahoo News)


Dozens of deaths in Nigeria riots:
Nigerian bishop's family attacked:
Obasanjo's aide escapes assassination | Special Adviser to President Olusegun Obasanjo on Youth Matters and Anglican Archbishop of Jos Diocese, Bishop Benjamin Kwashi, yesterday escaped assassination, when about 20 men stormed his house allegedly to kill him (This Day, Nigeria)


Letter from SOMA director regarding attack on bishop's family (SOMA USA, via AACBlog)


Conflicts cited at Christian conference | Little has emerged beyond general calls for more interfaith talks and acknowledgments that beliefs and principles are constantly colliding in a borderless age (Associated Press)


A pathetic way of making Europe regret its cartoons | Speaking on a PTV talk show, the moon-sighting chief of Pakistan Mufti Munibur Rehman warned "the NGOs and the Christians" as he took on the Musharraf government on the question of the Danish cartoons. The reference to the Christians was gratuitous and an indirect incentive to the anti-cartoon vandals to fall upon an already vulnerable community (Editorial, Daily Times, Pakistan)


In defense of the right to offend | Amid the Muhammad cartoon furor, we should remember that freedom of religion does not mean freedom from offense (Charles C. Haynes, First Amendment Center)


It's so cowardly to attack the church when we won't offend Islam | Gallery owners know that although Catholics will be offended, they won't harm them. That knowledge invalidates their claims to be transgressive (Nick Cohen, The Guardian, London)


The United Church's slur | You could argue that the paper was insensitive or needlessly provocative, but racist? (Editorial, The Globe and Mail, Toronto)


U.S. church alliance denounces Iraq war | The 34 U.S. members of the World Council of Churches sharply denounced the war in Iraq on Saturday, accusing Washington of "raining down terror" and apologizing to other nations for "the violence, degradation and poverty our nation has sown" (Associated Press)


Also: U.S. religious group condemns Iraq war | The U.S. Conference for the World Council of Churches condemned the U.S.-led war in Iraq on Saturday for "raining down terror" on helpless Iraqis, and criticized Washington's policies on the environment and poverty (Reuters)


Wrapped in prayer and hugs, marines leave for Iraq duty | 'You need to be strong,' one sergeant's mother tells family members who gathered to say a loving farewell to Battalion 5 (Los Angeles Times)


Churches debate pro-Palestinian divestment | A wide-ranging, global gathering of Christian leaders has become a forum for a question that one delegate calls a religious minefield: Should churches use their investment portfolios to protest Israeli policies toward Palestinians? (Associated Press)


Mideast dispute: The rabbi vs. the archbishop | Britain's Chief Rabbi assailed the Church of England for supporting divestiture from companies whose products support Israeli policies (The New York Times)


Israel's policies are feeding the cancer of anti-Semitism | It is a lie that to reject Zionism as it is practised today is to be the inheritor of Hitler's racism (Paul Oestreicher, The Guardian, London)


Also: Leading Anglican hits back in 'anti-Israel' row | Anglican churchmen hit back yesterday in the increasingly ugly spat between the Church of England and the chief rabbi over the general synod's call for disinvestment in a company making bulldozers used to demolish Palestinian homes (The Guardian, London)


Bishop defends Church Israel move | Bishop of Hulme, Stephen Lowe, said there had been an over-reaction to the decision by the Church (BBC)


Bush sees need to expand role of NATO in Sudan | President Bush also said he favored doubling the number of peacekeepers operating in Darfur under U.N. control (The New York Times)


Bush calls for more forces in Darfur area | President Bush said Friday that calming Sudan's war-ravaged Darfur region will require "probably double" the current number of international peacekeepers and a coordinating role for NATO (Associated Press)


Darfur: Origins of a catastrophe | Sebastian Mallaby reviews Gérard Prunier's Darfur: The Ambiguous Genocide (The Washington Post)


"Check conversion by Christian missionaries" | Welfare missions are just a pretext to convert tribals and Adivasis, says Rajnath (The Hindu, India)


BJP seeks law against conversion to Christianity | Party chief sees clear and present danger from Christian missionaries (IANS, India)


BJP favours law to stop religious conversion: Rajnath | The BJP on Sunday said it favoured a law banning religious conversion "which had assumed a dangerous proportion" (PTI, India)


Believers throng Pampa sands for Maramon convention | Thousands of believers today gathered on the sands of Pampa river for the 11th Maramon convention, billed as the largest Christian gathering in the world (UNI, India)


Asia's largest Christian convention begins | The week-long Maramon Convention is organised by the Evangelistic Association, which is the missionary wing of the Mar Thoma Church (IANS, India)


Sydney extremism threatens Anglican unity: author | Sydney Anglicans have become the new face of 16th century puritanism and are so radically conservative they pose a threat to the unity of the Anglican church, a leading religious commentator warns (The Sydney Morning Herald)


Also: Sydney Anglicans under fire | Sydney Anglicans are trying to force the rest of the Australian church back to the 16th century, says Melbourne laywoman Muriel Porter (The Age, Melbourne, Australia)


Catholics complain to Vatican over Pell | A group of leading liberal Catholics has complained to the Vatican that Cardinal George Pell is teaching inaccurate and misleading doctrine on the role of private conscience (The Age, Melbourne, Australia)


Pell subject of complaint to Vatican | Group charges that Cardinal Pell's denial of the priority the church gives to conscience in individual moral decisions places his public views "outside the mainstream" of Catholic doctrine (The Sydney Morning Herald)


Pell accused of Catholic 'dictatorship' | The Catholic Archbishop of Sydney, Cardinal George Pell, has laughed off a complaint made about him to the Vatican, by a group of high-profile Australian Catholics (The World Today, Australian Broadcasting Corp)


At DePaul, queer studies finds a niche | University's offering of new minor draws full classes, also critics (Chicago Tribune)


Also: Catholic and queer | DePaul University in Chicago recently announced that it's offering a new "Lesbian, Gay, Bisexual, Transgendered and Queer Studies" minor. That wouldn't normally turn heads (several universities have similar offerings), but DePaul is the nation's largest Roman Catholic university—and the Vatican's official teaching is that homosexuality is "objectively disordered." (Newsweek)


At religious universities, disputes over faith and academic freedom | A gay film festival and a staging of The Vagina Monologues at the University of Notre Dame have highlighted disputes over how best to promote open inquiry at religiously affiliated schools (The New York Times)


Exiled by college, play will go on in church | The fifth-annual student production of The Vagina Monologues moves from Providence College to Beneficent Church for its sole performance, on March 2 (The Providence Journal, R.I.)


Judge to decide legality of faith-based program | A group says that an inmate treatment program violates the First Amendment (Des Moines Register, Ia.)


Christians praying they'll be heard on Hill | 'There's a great sense of relief over the fact that the Conservatives are in power (The Ottawa Citizen)


Church comes out against Papua partition | Influential Papuan church groups and community organizations are supporting the Papuan Legislative Council's opposition to the creation of West Irian Jaya province (The Jakarta Post, Indonesia)


Let politics and religion follow their separate paths | Whatever happened to the idea of a separation between church and state? (Phillip Adams, The Australian)


430,000 say prayers for Bush | The Arizona-based movement began after 9/11 but has become a year-round effort, with a Web site, presidentialprayerteam.org, inspirational gear for sale such as cups and T-shirts, and a nonpartisan commitment to pray for all national leaders "and all in authority" (Jean Torkelson, Rocky Mountain News, Denver)


Sending up prayers for lawmakers | Conservative Christians hold regular sessions seeking divine guidance for the legislature (The Baltimore Sun)


Evangelical Climate Initiative:
Pill sponsors object to church advice plan | Sponsors of last week's RU486 Bill have criticized a proposal by Health Minister Tony Abbott to hand pregnancy counseling to church-affiliated groups, saying the advice could be biased (The Australian)


Abortion counseling: the choice is yours | Women with unplanned pregnancies will be able to choose whether to seek counseling but will be referred only to trained professionals by their general practitioners under measures to be discussed by Federal Government ministers tomorrow (The Sydney Morning Herald)


No religious views on help line: Abbott | Any groups chosen to run a planned counselling hotline for women considering abortions would not impose religious views on callers, Health Minister Tony Abbott said toda (AAP, Australia)


Pregnancy hotline won't sell religion | "We certainly won't be ramming religion down anyone's throat," says Abbott (The Advertiser, Adelaide, Australia)


Abortion advice a must, doctors say | A proposed national hotline for women considering an abortion must be willing to give callers information on seeking a termination, doctors have argued (The Age, Melbourne, Australia)


Stop playing God, Labor tells Abbott | Health Minister Tony Abbott has been accused of playing God by planning to give money to church groups for pregnancy counseling (The Daily Telegraph, Australia)


Ky. students can't skip anti-gay harassment training | Federal judge finds 'no basis for an opt-out' on free-speech or religious grounds because sessions don't endorse any viewpoint or require students to disavow religious beliefs (Associated Press)


Policing porn is not part of job description | Montgomery Homeland Security officers reassigned after library incident (The Washington Post)


Adoption and doctrine | It is not a newspaper's role to advise a church on doctrine. When religious organizations carry out public policies, however, there will often be some friction at the intersection of the sacred and the secular, and that intersection deserves full public debate (Editorial, The Boston Globe)


Vandalism at church viewed as hate crime | Saint Bellview suffers 'extreme damage' (The Tennessean, Nashville)


Church in lurch | A group of parishioners at storied Riverside Church has charged that $10 million has "simply disappeared," finances are in disarray, and the church's high-profile minister has received excessive, unauthorized raises (New York Post)


Groups seek broader response to church fires | Groups including the Southern Christian Leadership Conference said national attention to church burnings had waned since 1996, when then-President Bill Clinton set up a task force devoted to church fires that led to more arrests and prosecutions (Reuters)


Burned churches facing $1 million for repairs, rebuilding | Once all the costs are tallied, it will probably take about $1 million dollars to repair or rebuild the five Bibb County churches targeted by arsonists on Feb. 3 (The Tuscaloosa News, Ala.)


Go on, condemn church burnings | A federal response indeed is in order, even if only for symbolic purposes (The Daily Dispatch, Henderson, N.C.)


Church fire not linked to arson spree | A suspicious fire did minor damage to the exterior of a small church, but authorities said Monday it does not appear to be linked to a string of suspected arsons that have damaged or destroyed 10 rural churches in Alabama (Associated Press)


Another Alabama church damaged by fire | Another Alabama church was damaged by fire on Sunday, but authorities said the suspected arson attack appeared unrelated to 11 others across the state this month (Reuters)


Alabama Christian warehouse fire:
Church loses shopping center | A North Richland Hills pastor who had big financial dreams and liked to quote Donald Trump has lost ownership of a shopping center that includes his church (Ft. Worth Star-Telegram, Tex.)


Judge throws out discrimination suit | Woman claims that religious practices led to her leaving Lakeland company (The Ledger, Lakeland, Fla.)


Police chaplain | Some types of prayer are meditative, some ask God for things, but all forms help bind our communities (David Monkton, The Guardian, London)


The Hollywood gospel according to Tyler Perry | He's rich, religious —and he's proved studio execs wrong about the black movie audience (Los Angeles Times)


Indian Catholic church makes Bollywood film on AIDS | A Bollywood film about a single mother and her young son's struggle to live with HIV/AIDS opened in cinemas across India last week, marking the first foray by the Indian Catholic church into commercial cinema (Reuters)


South Park's 'Mary' episode revolting, says PM | Helen Clark says that as a woman she is offended by the image of a Madonna figure spurting blood at the Pope, due to screen in an episode of the South Park cartoon series in May (The New Zealand Herald)


TV chief rejects bishops' boycott call over 'tasteless' cartoon | The television cartoon show of a Virgin Mary statue bleeding will go to air despite Catholic bishops urging their congregations to boycott TV3's news and advertiser (The New Zealand Herald)


A fight at the Opera | Jerry Springer: The Opera has it all—singing, conflict and visions of hell (and that's just from protesters outside). As the show comes to Scotland, Peter Ross witnesses the ongoing battle between the sacred and the profane (Sunday Herald, Glasgow)


Former stripper goes from porn to being born again | She changed her ways, but still plays up her sex appeal (The Press-Enterprise, Riverside, Ca.)


A boy's desperate call for Canadian help in Kandahar | Six-year-old Namatullah can't get palliative care (CTV, Canada)


Also: Edmonton church rallies behind dying Afghan boy | One day after CTV News aired a story about a young Afghan boy dying from cancer, an Edmonton church has raised thousands of dollars to pay for his palliative care (CTV, Canada)


Fort Worth church mourns the death of a pastor | Youth pastor David Phillips' death in a wreck on an icy patch of Interstate 20 on Sunday brought tears and sadness at Christ Chapel Bible Church in Fort Worth, but some of those who knew him best said their heartache is only for those he left behind (Ft. Worth Star-Telegram, Tex.)


Related Elsewhere:
Suggest links and stories by sending e-mail to weblog@christianitytoday.com
See our past Weblog updates:
February 17 | 16 | 15 | 14 | 13
February 10 | 9 | 7
February 3 | 2 | 1
January 25 | 20 | 19 | 18 | 17
January 13b | 13a | 10
January 6 | 5 | 4
December 28 | 21 | 16 | 14 | 12
Weblog
Launched in 1999, Christianity Today's Weblog was not just one of the first religion-oriented weblogs, but one of the first published by a media organization. (Hence its rather bland title.) Mostly compiled by then-online editor Ted Olsen, Weblog rounded up religion news and opinion pieces from publications around the world. As Christianity Today's website grew, it launched other blogs. Olsen took on management responsibilities, and the Weblog feature as such was mothballed. But CT's efforts to round up important news and opinion from around the web continues, especially on our Gleanings feature.
Ted Olsen is Christianity Today's executive editor. He wrote the magazine's Weblog—a collection of news and opinion articles from mainstream news sources around the world—from 1999 to 2006. In 2004, the magazine launched Weblog in Print, which looks for unexpected connections and trends in articles appearing in the mainstream press. The column was later renamed "Tidings" and ran until 2007.
Previous Weblog Columns: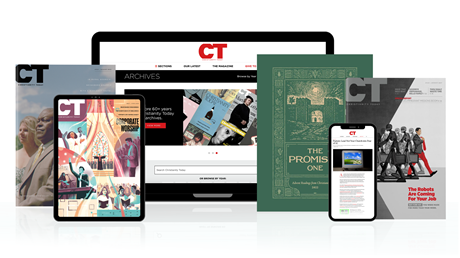 Annual & Monthly subscriptions available.
Print & Digital Issues of CT magazine
Complete access to every article on ChristianityToday.com
Unlimited access to 65+ years of CT's online archives
Member-only special issues
Subscribe
Muslim Riots Move from Anti-Europe to Anti-Christian
Muslim Riots Move from Anti-Europe to Anti-Christian