Today's Top Five Stories
1. Ohio: Students don't need to evaluate evolution as science, they just need to believe it as faith
Yesterday, The Times of London reported that a University of California at Santa Cruz team found that Darwin was wrong. "It seems that hot acidic waters containing clay do not provide the right conditions for chemicals to assemble themselves into 'pioneer organisms,'" researcher David Deamer explained.
Is Deamer a closet proponent of Intelligent Design? Actually, he has argued against the theory. But some in Ohio apparently would see him as secretly opening the door to Intelligent Design. At least, that's the logic behind Tuesday's 11-4 Ohio Board of Education vote eliminating one of the board's academic standards. Here's all that the standard said: In grade 10, students should be able to "describe how scientists continue to investigate and critically analyze aspects of evolutionary theory. (The intent of this indicator does not mandate the teaching or testing of Intelligent Design.)" Another standard, kept by the board in yesterday's vote, specifically countered Intelligent Design: Students must be able to explain that evolution is "undirected."
But the phrase "investigate and critically analyze," while being the cornerstone of science, was deemed religious by some who see conspiracy at work.
"We (now) have science standards that do not try and indoctrinate students," Case Western Reserve University biology professor Patricia Princehouse crowed to The Columbus Dispatch after the vote.
Riiiight. There's nothing indoctrinating about science standards like, "Discuss how both men and women find science rewarding as a career and in their everyday lives." Or, "Describe the current and historical contributions of diverse peoples and cultures to science and technology and the scarcity and inaccessibility of information on some of these contributions." Not that these are bad standards, but they're clearly more driven by an agenda than by scientific inquiry.
"It is unfair to the students of Ohio to mislead them about science," board member Martha W. Wise, who led the push to change the standards, said during the debate. Remember, parents, if you tell your kids that ideas change as scientists investigate and critically analyze theories, you're misleading them on science.
2. Massachusetts Wal-Marts forced to carry Plan B
Among its functions, the emergency contraceptive prohibits fertilized eggs from implanting in the uterus. In other words, it's an early abortifacient as well as a contraceptive. Illinois forced Wal-Mart to carry the drug through a state law. Massachusetts has now required the private retail chain to carry the drug through a unanimous decision of the state Board of Registration in Pharmacy. While the chain has said it "chooses not to carry many products for business reasons," it is now considering offering Plan B in all of its pharmacies nationwide.
3. Faith-based funding: Up or down?
From The Washington Post: "The amount of direct federal grants to faith-based organizations declined from 2002 to 2004, according to a major new study released yesterday. White House officials immediately disputed the findings. They said they will release their own figures next month, showing an increase in federal funding for religious groups. The dispute highlighted a lack of independent, widely accepted data about how many federal tax dollars are going to religious organizations, what they are doing with the money, and whether they are more, or less, effective than other charities." Keep an eye on the website of the Center for Public Justice, which earlier this month complained that the faith-based initiative didn't even warrant a mention in this year's State of the Union address.
4. Ontario bans religious arbitrations
Two years ago, some observers were concerned about Ontario's establishing an Islamic arbitration board that could issue legally binding decisions in many family matters. This week, Ontario banned all religious arbitrations. Muslim and Jewish groups strongly opposed the ban, but the Evangelical Fellowship of Canada (EFC) was ambivalent. "In one sense, the Ontario decision is a good way to ensure that the same family law is applied uniformly to all Ontarians," EFC's Janet Epp Buckingham told CanadianChristianity.com last September, when the total ban was first proposed. "On the other hand, it is indicative of a government that does not respect people's rights to live in accordance with their fundamental beliefs."
5. Jeff Jacoby: Why no 'hate crime' talk?
Why, Boston Globe columnist Jeff Jacoby asks, did all the talk of hate crimes stop once people realized that Alabama's white churches were being burned along with black ones? There's still one thing that links the ten attacks together: They're all against Baptist churches. "If anything is a hate crime, obviously this is," Jacoby says. But investigators, anti-hate crime activists, and the media are denying it. "Are anti-Christian crimes really that rare?" the columnist asks. "Or are they simply less interesting to the Left, which prefers to cast Christians as victimizers, not victims?" The GetReligion blog is asking similar questions.
Quote of the day:
"It is like D-Day at Normandy. If we don't get off the beach, we'll die here."
—NRB President Dr. Frank Wright, saying that existing religious television programs aren't creative or interesting enough to appeal to younger viewers.
More articles
Evolution | Education | Sexual ethics | Life ethics | Abortion | Boy Scouts | Politics | Abramoff probe | Crime | Abuse | Colorado's statute of limitations | Church and state | Cartoon controversy | Hostages | Missions & ministry | Catholicism | Church life | Alabama church fires | Media | Art and entertainment | Other stories of interest
Liberty law school okayed by the bar | The American Bar Association's House of Delegates voted Monday afternoon in Chicago to grant the law school provisional accreditation (The News & Observer, Raleigh, N.C.)


Hindu parents challenge California textbooks | In California, Hindu parents are taking aim at textbooks from the state's public schools. Two groups are demanding revisions, claiming that some history texts shortchange the Hindu culture. The case raises questions of how far the state should go to accommodate these groups and others with complaints (All Things Considered, NPR)


Court extends gay marriage ruling deadline | The state's highest court has waived a self-imposed deadline for ruling whether same-sex couples from other states can marry in Massachusetts (Associated Press)


Coalition of mainline clergy opposes marriage amendment | Colorado Clergy for Equality in Marriage, a group of mostly mainline Protestant and Jewish leaders, is presenting an alternative faith-based view to the framers of a proposed constitutional amendment on marriage (The Denver Post)


Church warns against gay marriage | Says too many loopholes in proposed Charter of Rights (The Jamaica Observer)


Embryo mountain means hard choice for couples | The number of frozen human embryos stored in Australia and New Zealand has quadrupled over the past decade and for the first time exceeds 100,000, statistics show (The Sydney Morning Herald)


Author testifies in Illinois governor case | The nun whose best seller "Dead Man Walking" marked her as a leading opponent of capital punishment took the stand at George Ryan's conspiracy trial Tuesday and described the former Illinois governor as "a man of honesty and integrity" (Associated Press)


Victory likely for abortion drug supporters | A bill clearing the way for women to gain access to the so-called abortion drug RU486 last night appeared to have enough support to be passed when the House of Representatives votes today (The Sydney Morning Herald)


Life-or-death decision crystallises Costello's view on abortion | Peter Costello says a personal experience has led to him backing the private members' bill to end the Health Minister's decade-long control over the abortion pill RU486 (The Age, Melbourne, Australia)


Men do have a right in the RU486 debate | In no way should matters relating to abortion be the preserve of women only (Miranda Devine, The Sydney Morning Herald)


Scouts' land fight is in appeals court | 2003 ruling found leases of S.D. property were unconstitutional (San Diego Union-Tribune)


Monday: ACLU, Scouts are back in court | Fight is over use of S.D. parkland (San Diego Union-Tribune)


From 1851 to 2006: Ain't I a Christian? | The Christian Left comes in the name of love, peace, graciousness and equality, and we will work toward those ends in God's name! (Emily Spearman, The Denver Post)


President prays for guidance | President Yoweri Museveni yesterday prayed to God to provide him with more intelligence and courage to rule the country for the next five years (Daily Monitor, Uganda)


Investigators issue new subpoena in Abramoff case | Federal investigators have issued a subpoena for documents relating to the U.S. Family Network (National Journal)


Lobbying probe seeks info on Reed | The U.S. Justice Department subpoena, part of a probe of influence peddling in Congress, was issued Feb. 6 to a Tennessee attorney who once represented the now-defunct U.S. Family Network, an organization that received most of its funding in the late 1990s from Abramoff clients (The Atlanta Journal-Constitution)


Ex-church workers accused of sex abuse | Rev. David Canedy, senior pastor at the Marquette Manor Baptist Church and Academy, said the alleged abuse happened between four and 10 years ago and none of the accused men still works at the church (Chicago Tribune)


Archdiocese names priest abuse monitor | Cardinal Francis George has tapped the chancellor of the Catholic Archdiocese of Chicago to oversee future allegations of sexual abuse of minors by clergy (Chicago Tribune)


$10 million suit filed in priest abuse case | The family of the 13-year-old boy whose complaint led to the arrest of Rev. Daniel McCormack has filed a $10 million lawsuit against the Catholic Archdiocese of Chicago, Our Lady of the West Side Catholic School and the former pastor of St. Agatha Catholic Church (Chicago Tribune)


Breach of faith | On behalf of the Seattle Archdiocese, a nun and a priest teamed up to evaluate or counsel priests accused of sex abuse. They also counseled victims, one of whom is suing over this conflict of interest (Seattle Weekly)


Wempe deliberations restart after juror swap | Jurors deliberating the molestation trial of a retired Roman Catholic priest were told Tuesday to start their talks anew after a juror had to be replaced because of a family emergency (Los Angeles Times)


Colorado's statute of limitations:
Ontario passes law to prohibit religious tribunals for family law cases | Ontario has formally passed legislation to prohibit the use of religious tribunals to settle family law disputes such as custody and divorce (Canadian Press)


Religious decree to get fine tuned | The original decree issued in 1969 by the home and religious affairs ministers caused controversy because it required local residents' consent for groups to build houses of worship. In many places, minority religious groups, mostly Christians in Muslim areas, find it difficult to obtain permits to worship (The Jakarta Post, Indonesia)


America's irreverent sense of humor | Christian symbols aren't off-limits for parody (The Washington Post)


The Arab press on evangelical Christians | Attacks on Evangelical Christians by government-controlled Arab press outlets have received too little attention by the West (The New York Sun)


Religious leader urges responsibility | Freedom of expression is a "fundamental human right," the head of the World Council of Churches said Tuesday, but Muslim rage over cartoons depicting the Prophet Muhammad shows that the world must still tread with caution when dealing with religious views (Associated Press)


Blasphemy in Europe, U.S. different | Blasphemy in the United States used to be punished by death or torture, but the controversy in Europe around the Prophet Mohammed cartoons is different (UPI)


Will we let Jill Carroll be killed? | Is the rule against dealing with kidnappers really absolute? Is it so black and white that we shouldn't even bother to discuss it? (Peter Singer, Los Angeles Times)


Earlier: Did Martin Die Needlessly? | Gracia Burnham believes her husband would be alive today if someone had paid the proper ransom—but mission agencies wonder how many other missionaries would have been kidnapped as a result (Christianity Today, May 23, 2003)


Christian missionaries accused of illegal conversion | If you thought that Christian missionaries facing serious allegations of committing themselves to conversion of handful of poor Muslims in Kashmir wasn't enough then read on; evangelism has begun to tread on the Sikh faith in neighbouring Punjab as well (c Dubai, United Arab Emirates)


Group plans $5M Xenia sports facility | Athletes in Action plans to break ground on a 40-acre, $5 million sports development on the site of its Xenia headquarters this spring (Dayton Business Journal, Oh.)


Chaplains helping those who keep our communities safe | In the past, police officers and firefighters led a lonely struggle with work-related stress. But today, police chaplaincy programs are creating a formal way for cops, firefighters and others in public safety to receive counseling after witnessing traumatic events (The Record, Stockton, Ca.)


Archbishop meets with St. Stanislaus' priest | St. Louis Archbishop Raymond Burke met Tuesday with a priest he declared excommunicated in December (St. Louis Post-Dispatch)


Church selects a professor for divine inspiration | Bob Barron's mission: help revitalize the nation's third largest Roman Catholic archdiocese as it struggles with lower Sunday mass attendance, new allegations of sexual abuse by priests and piercing questions about faith (Chicago Tribune)


Pope renews the meaning of love | I admire his willingness to get a countercultural word edgewise into a maelstrom of words about the pleasures of the flesh, even if it's like trying to promote the value of silence at a NASCAR race (Bill Tammeus, The Kansas City Star)


Megachurches drawing a big flock | Large congregations rely on conservative values, strong pastors, study finds (The Atlanta Journal-Constitution)


Gay bishop takes steps to treat alcoholism | The first openly gay bishop in the Episcopal Church U.S.A., V. Gene Robinson, wrote that he was battling alcohol before he was elected. (The New York Times)


Sudanese church leading the way, right down the middle | Instead of cutting ties, the Sudanese church found the famous Anglican "middle way," both strongly pointing out its feelings toward the American action while also saying it would stay in communication with those same Americans (Lauren R. Stanley, Knight Ridder/Tribune)


Radio presenter suspended after 'blasphemy' | A Lotus FM presenter has been suspended after the radio station's listeners were outraged by the "absolute blasphemy" to the Hindu religion during one of the station's religious programs (Daily News, South Africa)


Mega-church, mega-TV | Religious broadcasters reach for new viewers and new platforms as they struggle to adapt to a changing TV landscape (Broadcasting & Cable)


Justices skeptical of 'Friends' suit | Supreme Court notes that a fired assistant claiming sexual harassment had been warned about raunchy writers' meetings (Los Angeles Times)


Group urges Da Vinci film changes | Catholic group Opus Dei wants "references that hurt Catholics" to be removed from the film version of Dan Brown's hit novel The Da Vinci Code. (BBC)


A tale of moral indecision becomes one of mystery | A new cast has transformed Doubt from an unsettling moral guessing game into a tidy topical detective story (The New York Times)


'Christian Voice is outside, praying for our souls … ' | What's it like to direct a play amid pickets and religious riots? Stewart Lee on the battle to keep Jerry Springer - the Opera on the road (The Guardian, London)


Where was the gay mafia when I needed a hit? | The creator of NBC's short-lived The Book of Daniel wonders why his fellow gays and lesbians didn't fight back when the American Family Association attacked him (Jack Kenny, The Advocate, gay magazine)


'Liberal like Jesus' | Stetson University Baptist theologian swims against tide (The Orlando Sentinel)


Tennis legend regrets Muslim comment | Perth evangelical church founder Margaret Court regrets saying Muslims were bearing children on a production line (AAP, Australia)


Shining tree of life | What the Shakers did. (Adam Gopnik, The New Yorker)


Related Elsewhere:
Suggest links and stories by sending e-mail to weblog@christianitytoday.com
See our past Weblog updates:
February 14 | 13
February 10 | 9 | 7
February 3 | 2 | 1
January 25 | 20 | 19 | 18 | 17
January 13b | 13a | 10
January 6 | 5 | 4
December 28 | 21 | 16 | 14 | 12
Weblog
Launched in 1999, Christianity Today's Weblog was not just one of the first religion-oriented weblogs, but one of the first published by a media organization. (Hence its rather bland title.) Mostly compiled by then-online editor Ted Olsen, Weblog rounded up religion news and opinion pieces from publications around the world. As Christianity Today's website grew, it launched other blogs. Olsen took on management responsibilities, and the Weblog feature as such was mothballed. But CT's efforts to round up important news and opinion from around the web continues, especially on our Gleanings feature.
Ted Olsen is Christianity Today's executive editor. He wrote the magazine's Weblog—a collection of news and opinion articles from mainstream news sources around the world—from 1999 to 2006. In 2004, the magazine launched Weblog in Print, which looks for unexpected connections and trends in articles appearing in the mainstream press. The column was later renamed "Tidings" and ran until 2007.
Previous Weblog Columns: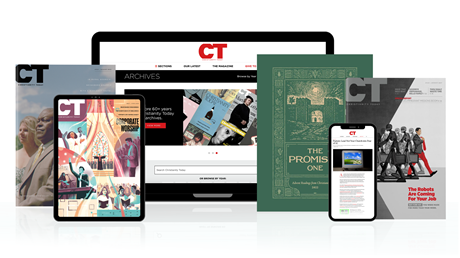 Annual & Monthly subscriptions available.
Print & Digital Issues of CT magazine
Complete access to every article on ChristianityToday.com
Unlimited access to 65+ years of CT's online archives
Member-only special issues
Subscribe
Ohio Strikes a Blow Against 'Investigation and Analysis'
Ohio Strikes a Blow Against 'Investigation and Analysis'