Today's Top Five Stories
1. Evangelicals dislike media, but they dislike 'Islamo-fascists' more
"Many conservative Christians have long regarded the media as enemy territory, where traditional values are at best misunderstood and often mocked," writes Matt Stearns of the Knight Ridder news service. "So you might think they would relate sympathetically to Muslim outrage over the Danish cartoons depicting the prophet Muhammad with a bomb in his turban." You might think it, that is, if you haven't been paying attention to much conservative Christian rhetoric since 9/11. "They see this phenomenon as part of an orchestrated effort by what they call Islamo-fascists to take over the Islamic world," explains the University of Oklahoma's Allen Hertzke, who has chronicled earlier Christian-Muslim political alliances. The ubiquitous John Green says the anti-Semitic tone of many Muslim responses has also turned off evangelicals. For NAE head Ted Haggard, it's all about the violence: "Maybe the radical protests are validating the cartoon instead of proving that cartoon wrong." Not quoted, unfortunately: the very solid statement from the European Evangelical Alliance.
2. Churches observe "Evolution Sunday"
The ratio of churchgoers who this week celebrated "Evolution Sunday" to the newspapers that covered it is almost even. The New York Times notes two churches taking part: one with 85 parishioners, the other with 21. Sounds like these churches should be more concerned about their own extinction than about evolution. Then the paper also warns that the official numbers may be inflated: "The Clergy Letter Project [which sponsored the celebration] said that 441 congregations … were taking part in Evolution Sunday, but that was impossible to verify independently. Around Chicago, two churches that were listed on the project's Web site as participants in the event said they were in fact not planning to deliver sermons on the subject." From the media reports, it sounds like the sermons were more about opposing "fundamentalists" than about how science declares the glory of God.
3. Black churches in danger
The biggest threat to historic black churches isn't fire, says the Chicago Tribune: It's changing demographics and social issues. "Churches such as Pilgrim Baptist [one of Chicago's most historic black churches, which recently burned in an accident] have largely lost the vibrant community of middle-class blacks who built them up and now are struggling to attract a younger generation," the paper reports. At a time when many of the mid-19th century buildings need major repairs, renovations, and replacements, there's less money to fund such projects. "While we value the architecture, it should not be at the expense of ministry, and oftentimes that's the dilemma that we're faced with," says Michael Noble, pastor of Olivet Baptist Church.
4. Evangelicals to get a worship center on Mount of Olives
While all eyes have been on plans for an evangelical center near the Sea of Galilee—it particularly made headlines when Israel banned Pat Robertson from participating—along comes news that another evangelical tourism site will open on Jerusalem's Mount of Olives. The Jerusalem Post reports that "a large prayer tent" will host up to 500 worshipers, and that the driving force behind it is evangelicals from Asia rather than from North America. It's temporary for now, but "organizers hope that the center will become a permanent fixture," says the Post.
5. Is ECI DOA?
The folks behind the Evangelical Climate Initiative have to be happy that op-eds and news stories are still talking about its call-to-action statement. But they're probably not thrilled with the Associated Press reporting that it won't make any real political change. "Activists banking on a quick shift in President Bush's environmental policies will be disappointed — support from just any evangelical figure won't do," writes AP religion reporter Rachel Zoll. "Evangelical activism on AIDS in Africa, the civil war in Sudan, and sex trafficking has deeply influenced the Bush administration. But environmental causes don't yet store the same kind of passion among conservative Christians." The suggestion is that the ECI's power won't be in getting Bush's attention, but in getting the attention of evangelical churchgoers. "If you look at public opinion surveys, there's a basis in the evangelical community for these kinds of initiatives on the environment," explains John Green (there he is again!) "But they're not there yet." Well, if they get desperate, there's always the potential for Air Pollution Sunday …
Quote of the day:
"I'm a patient victim. I put up with everything. I sacrifice myself for everyone."
—Italian Prime Minister Silvio Berlusconi, explaining why he calls himself "the Jesus Christ of Italian politics."
More articles
Politics | Italy's PM Jesus remark | Pat Robertson | Divestment | Church and state | Education | Evolution | Evolution Sunday | Church life | Old churches | Catholicism | Limbo | Abuse | Crime | Alabama church fires | Prisons | Missions & ministry | India's anti-conversion rally | Human rights | Caricature conniption | Entertainment and media | Music | Books | Bible | Spirituality | Other stories of interest
Steele expands stem cell position | Research backed with conditions (The Washington Post)


Earlier: Steele apologizes for Holocaust remarks | Compared stem cell research to Nazi medical experiments (The Washington Post)


Also: Md. official elaborates on stem cell views | Maryland Lt. Gov. Michael Steele said Saturday he supports stem cell research as long as scientists approach it cautiously, one day after he apologized for comparing the research to Nazi medical experiments (Associated Press)


Talent takes new tack on stem cells | In a surprise turnabout, Sen. Jim Talent withdrew his support Friday for a controversial ban on human cloning and offered what he said was a compromise proposal that would heal the deep divide over stem cell research (St. Louis Post-Dispatch)


Update: Talent's stem cell switch is under fire | "If nobody likes it, why in the world would I be doing it for political reasons?" he asks (St. Louis Post-Dispatch)


Talent's blunder | The senator gets cloning wrong (Ramesh Ponnuru, National Review Online)


Stem cell bill | 'Pander-monium' rules divisive issue (Editorial, The Clarion-Ledger, Jackson, Miss.)


Planning on Plan B | Experts say students are increasingly using it as a supplement to their usual contraceptives—and apparently, in some cases, as their primary birth control (Newsweek)


Supreme Court decision in right-to-die debate may signal time out | A month after the Supreme Court rejected federal efforts to block Oregon's doctor-assisted suicide law, the issue has not yet hit the top of the national agenda as some predicted. (Peter Steinfels, The New York Times)


Evangelical Climate Initiative;
Stewards of nature | Calls to conjoin our concern with a sense of Christian mission are noteworthy (William F. Buckley Jr.)


And on the eighth day, God went green | We may as well acknowledge that America has one truly national religion: environmentalism (John Tierney, The New York Times¸ sub. req'd.)


House approves prayer resolution | The Indiana House approved a resolution today opposing a federal judge's ruling that limits official prayer in their chamber (The Indianapolis Star)


Berlusconi says 'I am like Jesus' | "I'm a patient victim. I put up with everything. I sacrifice myself for everyone," said Italian Prime Minister (BBC)


Also: Berlusconi says he is like Jesus (The Telegraph, London)


Also: Berlusconi's boundless modesty: first it's Napoleon, now he's Jesus (The Guardian, London)


A wholly controversial holy man | Televangelist Pat Robertson's incendiary remarks raise concerns, even within the religious right movement he helped found (Los Angeles Times)


Robertson to get some in-ear coaching on air | Religious broadcaster Pat Robertson is reining in his television commentaries with the help of a former news producer, according to an interview in World magazine (The Virginian-Pilot)


Archbishop criticized over backing for bulldozer motion | Rowan Williams, the Archbishop of Canterbury, was facing a torrent of Anglican criticism last night over his backing for the Church of England to disinvest from an American company which makes giant bulldozers used by the Israeli army to demolish homes in Palestinian areas (The Guardian, London)


Archbishop apologizes for divestment | Archbishop of Canterbury Rowan Williams has written to British Chief Rabbi Jonathan Sacks to apologize for the Church of England's vote last week to divest from companies whose products are used by the Israeli government in the territories. This despite the fact that Williams himself backed the anti-Israel vote (The Jerusalem Post)


The church's cheap shot | The effects of this call for divestment, regardless of how much Arcibishop of Canterbury Rowan Williams may wish it not so, are to question the legitimacy of Israel and its right to self defense, to inflame anti-Semitism in England and elsewhere and to encourage terrorism against Israel (Editorial, The Jerusalem Post)


Philadelphia school questioned | Some say students at Lutheran Christian only hit the boards (The Washington Post)


In small town, 'Grease' ignites a culture war | In small corners of the country, like Fulton, Mo., only a few objections to high school books or plays can rattle an entire community (The New York Times)


Faith schools 'too selective' | Faith schools should be prevented from discriminating in the way they select pupils, one of Tony Blair's former advisers has warned (The Observer, London)


Also: 'Richer pupils' at church schools | Church primary schools in England are less likely than local authority schools to admit children from poorer homes, updated research shows (BBC)


At churches nationwide, good words for evolution | Ministers at hundreds of churches preached that the opposition many Christians say exists between science and faith is false (The New York Times)


Churches to mark Darwin's birthday | Hundreds to join `Evolution Sunday,' organized by a Wisconsin academic (Chicago Tribune)


Compromise between Darwin and God | In effort to challenge the belief by some that God, Darwin's theories don't jibe, clergy group calls for coexistence (Newsday, Long Island, N.Y.)


Faithful sing praises of science, creation | Churches celebrate Evolution Sunday across state, nation. At least 11 congregations in Colorado tailored worship and classes to the notion that believers don't have to choose either evolution or the Bible (The Denver Post)


Churches exploring how we got here | This weekend is "Evolution Sunday" for more than 400 churches across the country, including six in Connecticut (The Hartford Courant, Ct.)


Struggling to fill needs, pews | Some historic black congregations face choice between ministry, preservation (Chicago Tribune)


Mainline Christians struggle with shifts | The head of the World Council of Churches, the Rev. Samuel Kobia, will urge delegates to fully recognize global spiritual shifts and begin serious dialogue with Pentecostal and other groups, who have often regarded the WCC as a threat to their independence, fundraising methods and animated worship style (Associated Press)


Old churches and new choices | In their efforts to reach more people, especially youth and young adults, churches are feeling the need for change (The Shreveport Times, La.)


Time for a tricky bit of rewiring | Rewiring a historic church leaves scars (Christopher Howse, The Telegraph, London)


Limbo, still, for Catholic churches awaiting an overhaul | Some churches and schools have been waiting for months to see if they will be shut (The New York Times)


Limbo goes to heaven | There are practical reasons to eliminate limbo, and limbo was already being squeezed out by hell, which has been going through its own transformation both at the Vatican and among various Christian branches (Editorial, Los Angeles Times)


Kennebunk priest cleared of abuse charge | The Rev. Laurent Laplante had been on paid administrative leave since early December, after a high school student claimed the priest touched her pants on her knee and inner thigh six years ago (Portland Press Herald, Me.)


Cardinal's supporters speak up | More than 100 allies rally at Holy Name (Chicago Tribune)


George extends his apology to churchgoers | In addressing his handling of sex abuse cases, Cardinal Francis George has issued apologies to priests, the media and members of affected parishes (Chicago Sun-Times)


Investigators have profile in church arson | Investigators believe a pair of men in their 20s or 30s, likely "bosom buddies," are responsible for a string of church fires in rural Alabama, as authorities confirmed the latest blaze at a Baptist church was the 10th case of arson (Associated Press)


Push for Christian prison is faith-based on two levels | Ex-convict's dream since 1986 is closer to reality in San Angelo (Houston Chronicle)


Okla. inmates entitled to kosher meals, court says | Federal judge makes permanent January 2005 ruling that three Orthodox Jewish prisoners have First Amendment right to food that meets religious guidelines (Associated Press)


Some 40 U.S. missionaries leave Venezuela | Denying any wrongdoing, the missionaries have gathered in an eastern city and are wondering what comes next — for themselves and the tribes (Associated Press)


Religious institutions try innovative fund-raisers | Skyrocketing energy costs, fewer members to pay for them and competition from charities are forcing Long Island's religious institutions to wrestle anew with fund-raising (The New York Times)


India's anti-conversion rally:
Report: U.S. is abusing captives | A U.N. inquiry says the treatment of detainees at Guantanamo Bay at times amounts to torture and violates international law (Los Angeles Times)


Desperation in Darfur | Can the United Nations now succeed where African peacekeepers have failed? (US News & World Report)


Evangelical Christians express little sympathy for Muslims' outrage | Concerns about the goals of radical Islamic leaders, a sense that a double standard pervades the Muslim media and a general distaste for organized violence have overridden any empathy most Christian conservatives might feel for angry Muslims (Knight Ridder)


'Missa Solemnis,' a divine bit of Beethoven | The Catholic mass which Beethoven called the Missa Solemnis is rarely performed. It's eclipsed by the better-known Ninth Symphony. But taken together, the two works shed light on the composer's spiritual world view (Weekend Edition, NPR)


Country artist Alan Jackson takes gospel turn | What was originally intended as a Christmas gift for his mother will soon become a treat for all of Alan Jackson's fans (Reuters)


Bible stories 'eyewitness accounts' | Leading biblical scholar Richard Bauckham is to use a series of prestigious Scottish theology lectures to make the controversial claim that the Gospels represent eyewitness accounts of historical events (Sunday Herald, Glasgow)


Falling in love with the erotic Song of Solomon | Tiny book in Hebrew Bible seldom addressed from pulpit (Religion News Service)


Also: Sex and the Bible, and you can sing along | "Song of Solomon" is soft-core God porn. Bible erotica. Pious passion. (Cathleen Falsani, Chicago Sun-Times)


Evangelical center coming to J'lem | The Jerusalem Municipality has authorized the temporary establishment of an Evangelical Christian center for worship on the Mount of Olives for the benefit of those visiting the Holy Land, according to the city and the organizer (The Jerusalem Post)


Rabbi says Messianic Jews are Christians in disguise | Rabbi Tovia Singer seeks to discredit groups such as Jews for Jesus and Messianic Jews, contending that they deceive people by hiding Christian beliefs behind Jewish terms and symbols (The Toledo Blade, Oh.)


French to test reputed remains of Joan of Arc | A team of experts plans a series of tests to determine whether Joan of Arc's supposed remains — a rib bone and some skin — may indeed have belonged to the 15th-century French heroine burned at the stake after a trial for heresy (Associated Press, via Toronto Star)


Related Elsewhere:
Weblog
Launched in 1999, Christianity Today's Weblog was not just one of the first religion-oriented weblogs, but one of the first published by a media organization. (Hence its rather bland title.) Mostly compiled by then-online editor Ted Olsen, Weblog rounded up religion news and opinion pieces from publications around the world. As Christianity Today's website grew, it launched other blogs. Olsen took on management responsibilities, and the Weblog feature as such was mothballed. But CT's efforts to round up important news and opinion from around the web continues, especially on our Gleanings feature.
Ted Olsen is Christianity Today's executive editor. He wrote the magazine's Weblog—a collection of news and opinion articles from mainstream news sources around the world—from 1999 to 2006. In 2004, the magazine launched Weblog in Print, which looks for unexpected connections and trends in articles appearing in the mainstream press. The column was later renamed "Tidings" and ran until 2007.
Previous Weblog Columns: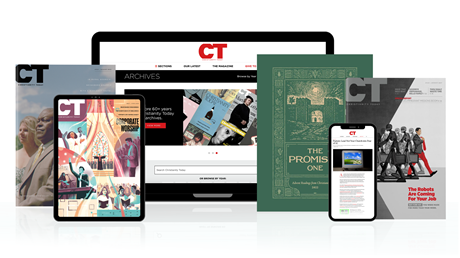 Subscribe to Christianity Today and get access to this article plus 65+ years of archives.
Home delivery of CT magazine
Complete access to articles on ChristianityToday.com
Over 120 years of magazine archives plus full access to all of CT's online archives
Subscribe Now
Why Evangelical Leaders Aren't Joining Muslim Protests
Why Evangelical Leaders Aren't Joining Muslim Protests