Christian leaders split sharply over the 2006 federal budget and deficit-reduction bill. They differed not just on how Washington can help the poor, vulnerable, and aged, but also the extent that government should.
The U.S. House of Representatives narrowly passed the Deficit Reduction Act of 2005 on February 1. The spending measure trims $39.5 billion from the federal budget over five years. The largest cuts target Medicare and Medicaid. The act also reduced $343 million for foster-care programs and $5 billion over 10 years to states for enforcing child support.
Many Christian leaders condemned the spending reductions as immoral. "Today's vote was a callous vote," the Rev. David Beckmann, president of Bread for the World, said in a statement on February 1. "In spite of five straight years of increasing hunger and poverty, this Congress decided to cut aid for the poor to help finance tax cuts for the wealthy."
Some conservative evangelicals, including Richard Land, president of the Southern Baptist Convention's Ethics and Religious Liberty Commission, also voiced concerns about the budget. But many Republicans in Congress with ties to religious conservatives voted for the spending cuts and disagreed that the government should prioritize aiding the poor and marginalized.
"I believe the 'least of these' is my daughter, who's 4 years old, and my son, who's 2 years old, and all of those not born," Rep. Jeb Hensarling, R-Texas, said. "I believe it's unfair to saddle them with debt way into the future."
In December, Capitol Police arrested 115 religious activists, including Jim Wallis and John Perkins, during a protest against the budget when they blocked the entrance to a House office building. Wallis, founder and head of Call to Renewal, said the cuts reflect misplaced government priorities. "Do millionaires really need tax breaks so they can make $20,000 more? My biblical logic would say no." Wallis upbraided Rep. Hensarling when told that the congressman said poor people need paychecks from private employers rather than welfare checks. "It seems like the congressman doesn't know any poor people," Wallis told CT. "They work harder than he does … and they are still poor."
Sen. Tom Coburn, R-Okla., said of the protesters, "They don't know what they're talking about. There's $1.7 billion fraud in the food-stamp program." Congress decided against decreasing funding for food stamps.
Coburn cited other examples of federal waste and said government is not suited to aiding the poor. "If the churches had done their job and followed Jesus' teachings," Coburn told CT, "the government wouldn't have started all these programs and created all these problems."
But Coburn also cautioned against moving forward with further tax cuts. "We need to get our spending in order first," Coburn said."Then we can consider tax cuts, so people will have more money to do things like give to their churches."
Land defended the tax cuts as a way for the federal government to raise billions extra in revenue. "This is not a moral question," Land argued. "This is a prudential question of what works—what policies are going to put more money in the hands of the government, so it can decide what to do with [the money]."
Related Elsewhere:
News elsewhere on the Deficit Reduction Act of 2005 includes:
Evangelicals Branch Out Politically | A growing movement sees myriad causes beyond abortion and gay marriage. What about helping the poor and global warming? (Los Angeles Times, January 31, 2006)
A Religious Protest Largely From the Left | Conservative Christians Say Fighting Cuts in Poverty Programs Is Not a Priority (Washington Post, December 14, 2005)
'Christmas scandal' outcry | Hundreds of Christian activists gather in D.C. to protest bills granting tax cuts for the wealthy while slashing programs for low-income people (The Chicago Tribune, December 15, 2005)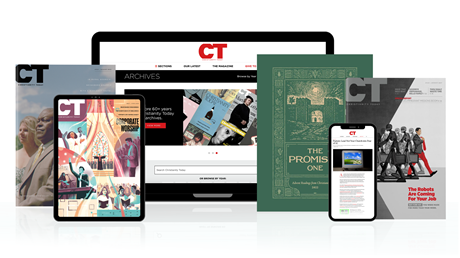 Annual & Monthly subscriptions available.
Print & Digital Issues of CT magazine
Complete access to every article on ChristianityToday.com
Unlimited access to 65+ years of CT's online archives
Member-only special issues
Subscribe
Budget Battle
Budget Battle