Top Five Stories of the Day
1. Evangelicals generally pleased with new Air Force religion guidelines
The new religion guidelines are only one page, about a third the length of the earlier interim guidelines. What was taken out was largely the specifics that had troubled groups like Focus on the Family. Stars and Stripes sums up the response this way: "Civil libertarians say the document goes too far — shifting its focus from protecting airmen from religious persecution to protecting chaplains' rights." Apart from saying it's "too far," that's pretty much what the evangelical groups are saying, too. Rep. Walter B. Jones Jr., who has been pushing for more religious freedom for military chaplains, says he still wants more explicit recognition that chaplains can pray in Jesus' name.
2. Another priest attacked in Turkey
Days after priest Andrea Santoro was shot to death in Turkey, apparently by a 16-year-old Muslim angry over the Muhammad caricatures, priest Martin Kmetec was also attacked in the country by Muslim youths. A group of seven or eight men came to his home, and one "took me by the throat and pulled me inside and said 'we're going to finish you off','" Kmetec told Reuters. As with Santoro's attacker, Kmetec's shouted "Allahu Akbar" (Arabic for "God is great"). Pope Benedict XVI today announced that he will visit the country in November. Meanwhile, Catholic officials said it's likely that Santoro will be canonized as a martyr.
3. Italian judge throws out case over existence of Jesus
But the controversy may not be over: In his ruling, Judge Gaetano Mautone suggests prosecutors should charge atheist Luigi Cascioli, who brought the case against Catholic priest Enrico Righi, with slander.
4. Anne Lamott says abortion may be "moral necessity"
The Los Angeles Times has an odd op-ed today from "Jesusy" writer Anne Lamott. As cute as her writing is, one wonders how many pro-life op-ed pieces like this the Times would publish, especially with lines like, "I wanted to wave a gun around, to show what a real murder looks like." But it'll be her call to see abortion as a moral good that strikes most readers as troubling. "It is a moral necessity that we not be forced to bring children into the world for whom we cannot be responsible and adoring and present," she writes. "We must not inflict life on children who will be resented; we must not inflict unwanted children on society." Being against "inflicting life" is creepy in itself, but extrapolate that line of thinking—that death is better than resentment, that society must not be burdened by the unwanted—and you'll probably need to go lie down.
5. John Piper on the Muhammad caricature controversy
While most Christian commentary on the anti-cartoon riots has focused on how the media feel more free to insult Christians than to insult Muslims, John Piper has a different perspective over at his Desiring God site. "A deep lesson remains: The work of Muhammad is based on being honored, and the work of Christ is based on being insulted," he writes. "This produces two very different reactions to mockery. If Christ had not been insulted, there would be no salvation. … For Christ, enduring the mockery of the Cross was the essence of his mission. And for a true follower of Christ, enduring suffering patiently for the glory of Christ is the essence of obedience." Muslims, it's worth noting, don't believe that Jesus suffered the mockery of crucifixion. The implications for what to do when you face religious insult are worth pondering.
"When did God's country lose the war on this holiday, too? When did the forces of commercialism, hedonism, and secularism wrench the saintliness of Feb. 14 from Cupid's warm, fat fist? And where is the evangelical outcry from Jerry Falwell, Pat Robertson, and the other Christian soldiers who, only two months ago, fought so valiantly to put the Christ back in Christmas?"
—Susan Paynter, columnist for the Seattle Post-Intelligencer
More articles
Air Force guidelines | Iraq | Caricature controversy | Turkey attacks | Alabama church burnings | Crime | Michael Wempe abuse trial | Other abuse cases | Courts | Italy Jesus trial | Politics | Holiday battles | Evangelical Climate Initiative | Abortion | Sexual ethics | Church life | Catholicism | Closing New Orleans churches | Missions & ministry | Media | Music | Books | Education | Tourism | Other stories of interest
Air Force eases rules on religion | New guidelines reflect evangelicals' criticism, general says (The Washington Post)


Air Force sets revised rules for prayers by its chaplains | The move won tepid praise from evangelicals, who see the move as progress but not close to a guarantee that they can pray "in Jesus' name" (The Washington Times)


Air Force softens rules on religious expression | The new interim rules — a one-page memo about a third the length of the first proposal, released in August — scale back specific instructions for commanders on ways to accommodate religious holidays, dietary needs and dress (Stars and Stripes)


Christianity faces its own fight in Iraq | A Catholic nun's first visit home in 3 years reveals a very different village than she left (Chicago Tribune)


Niebuhr's 'Christian realism' | Where would Reinhold Niebuhr stand on the Iraq War? (The Dallas Morning News)


Turkish youths threaten to kill Catholic friar | A group of Turkish youths threatened to kill a Catholic friar, grabbing him by the throat and shouting "God is Greatest", just days after a Catholic priest was shot dead in Turkey, the friar said on Friday (Reuters)


Thousands pay respects to slain priest | As many as 10,000 people paid their last respects Thursday to Rev. Andrea Santoro (Associated Press)


Pope accepts invitation to visit Turkey | The pope accepted an invitation by the Turkish president to visit the country Nov. 28-30 and details of the visit were being worked out, Vatican spokesman Joaquin Navarro-Valls said (Associated Press)


Church juice was poisoned, police say | "We have a crime. We just don't know what the motive is," Darien Police Capt. Fred Komm said (The Stamford Advocate, Ct.)


Also: Contaminant that sickened 40 at church is still mystery | The police say that grape juice that sickened about 40 parishioners during communion at a Baptist church here was deliberately contaminated with a still unknown substance (The New York Times)


Lotto lout gets 9 months | Lotto lout Michael Carroll was jailed for nine months today after admitting his part in a scuffle at a Christian rock concert (The Sun, U.K.)


L.A. priest abuse trial goes to the jury | Jurors began deliberating Friday in the sexual abuse trial of a retired priest, whose own attorney denounced his past as a child molester but argued that he didn't molest this accuser (Associated Press)


Lawyers agree ex-priest was sex predator | In an unusual twist, a prosecutor and defense attorney agreed in their closing arguments Thursday that a retired priest on trial for molestation was a sexual predator who wrecked many lives decades ago. But the defense said Michael Wempe should be acquitted even if jurors hate him because he did not commit the crimes with which he is charged (Associated Press)


Lawyers wrap up arguments in priest abuse case | The defense says Michael Wempe's accuser fabricated his story to avenge his brothers (Los Angeles Times)


Court sets guidelines in multi-religion divorces | Divorced parents who lose the right to make decisions about their children's religious upbringing still have the right to educate them about the parent's religion, as long as the children don't suffer emotionally or physically, the Colorado Court of Appeals said Thursday (Associated Press)


Judge stays on church case | Appeals court rejects bid of Albany protesters to remove jurist for bias (Albany Times Union, N.Y.)


Judge shelves case over Jesus' existence | An Italian atheist lost his legal crusade against the Catholic Church on Thursday when a judge rejected his attempts to sue a priest for saying that Jesus existed 2,000 years ago, the priest's lawyer said (Reuters)


Italy judge throws out Jesus case | The judge said Luigi Cascioli should himself face charges for slandering Father Enrico Righi (BBC)


Judge tosses case of atheist vs. priest | Judge Gaetano Mautone said in his decision that prosecutors should investigate Cascioli for possible slander (Associated Press)


Christians 'are being ignored' as ministers court other faiths | Parliament is being accused of anti-Christian bias after spending more to mark Ramadan, Eid ul-Fitr, Diwali and Chinese new year than they do on Easter and Christmas (The times, London)


Where's the saint in Valentine's Day? | Where are the "War on Christmas" protests now? (Susan Paynter, Seattle Post-Intelligencer)


Evangelical Climate Initiative:
Evangelical alliance targets global warming | Warning of millions of potential deaths worldwide from climate change, a new network of evangelical leaders launched a campaign Wednesday for government and grass-roots action to reduce global warming (Religion News Service)


Falwell won't join friends on global warming initiative | Falwell said the "Evangelical Climate Initiative" could create a "toboggan slide" of hurtful decisions that would diminish America for generations to come (The News & Advance, Lynchburg, Va.)


Evangelicals on environment's side | With bedrock evangelicals who constitute a large part of Bush's political base speaking up, at least there's a prayer he'll start listening (Editorial, The Atlanta Journal-Constitution)


Church youth sexually active, survey reveals | Anglican teenagers in the Western Cape are almost as sexually active as their peers outside the church, according to a survey reported in the latest issue of the South African Medical Journal (SAPA, South Africa)


Group seeks gay-marriage case role | Consider the children, Family Institute says (The Hartford Courant, Ct.)


Finding the faithful | Gay Christians frequently have difficulty finding dates through conventional means (The Washington Blade, gay newspaper)


Family Research Institute responds to Dobson's attacks over Mitchell 'partnership benefits' bill | Dr. Paul Cameron, Chairman of the Family Research Institute (FRI), a Colorado-based scientific and public policy think-tank, said that Focus on the Family's James Dobson should "keep his cool and take a second look at what he said about me yesterday on his radio program. After all, personal attacks are no substitute for good public policy." (Press release)


Don't let your babies grow up to be ex-gay cowboys | If anyone believes that gay men can actually become ex-gay men, I have just one question for you: Would you want your daughter to marry one? (Dan Savage, The New York Times)


Five rules for covering a Vatican visit | Laura Bush's visit with the Pope wasn't all just pomp and circumstance (Time)


Pope says science no threat to faith | Science made such rapid progress in the 20th century that people may sometimes be confused about how the Christian faith can still be compatible with it, Pope Benedict said on Friday (Reuters)


Black nuns share survival story | A member of the first Roman Catholic order of black nuns in the U.S. came to a Fairfax high school yesterday to share with students a story about racial struggles overcome by a firm foundation in faith (The Washington Times)


Catholic hospital infringing ethics code, says peer | The Roman Catholic Archbishop of Westminster has been urged by a senior adviser to take action against a fashionable Catholic hospital in an ethics and abortion row that has embroiled the Vatican (The Telegraph, London)


Archdiocese closes seven churches | Downsized rebuilding plan adjusts to Katrina's damage (The Times-Picayune, New Orleans)


In storm's aftermath, Catholics close parishes | The Archdiocese of New Orleans plans to close 7 of its 142 parishes, temporarily merge about two dozen and consolidate or change many of its 107 schools (The New York Times)


FCC sees cable savings in à la carte | Consumers would save as much as 13 percent on their cable bills if they could buy only the channels they want (The New York Times)


Raining on Spear's parade | Filmmakers erred in hiring a gay activist but made the best of it (Marvin Olasky, World)


Bono's prophetic vox | The Message author says U2's message is refreshing, faithful, and honest (@U2)


Christian rocks to music of 'sinners' | One might ask how Jim Witter, an openly Christian singer, can reconcile singing the music of Elton John, an openly homosexual singer (Edmonton Sun)


Third Day's "Wherever You Are" | In the parallel pop universe of Christian music, Third Day has always embraced two themes: Jesus saves, and Southern rock rules (The Washington Post)


Now romance has a prayer | It's love, Old Testament style. And now it's on CD (The Tampa Tribune, Fla.)


The unbearable brightness of being right | Rupert Sheldrake reviews Daniel Dennett's Breaking the Spell: Religion as a Natural Phenomenon (The Globe and Mail, Toronto)


The gatekeepers | Who decides who can teach at religious schools? (Naomi Schaefer Riley, The Wall Street Journal)


Lord knows, Falwell, Liberty thinking big in football | Of all the fires Jerry Falwell has started with his mouth, this nugget might be among the more incendiary: "I refuse to die," the famous televangelist told SportsLine.com this week, "until we get this done." (Dennis Dodd, CBS SportsLine.com)


Rest, relaxation, and religion | Faith-based travel is turning into a booming business (The Early Show, CBS)


Bible as biology | Creation Museum outside Cincinnati readies its exhibits (The Columbus Dispatch, Oh.)


The panda in winter | Claws out, eyes atwinkle, evangelist Pat Robertson plans to talk on but hold his tongue at times (World)


Having faith doesn't put an end to doubts, evangelists say | This new wave of evangelical writers and preachers is boldly proclaiming that welcoming moments of confusion and pain in our lives is a key to spiritual health (David Crumm, Detroit Free Press)


Artists set minds' eyes on the divine | Cheekwood exhibit shows mighty range in concepts of deity (The Tennessean, Nashville)


Related Elsewhere:
Suggest links and stories by sending e-mail to weblog@christianitytoday.com
See our past Weblog updates:
February 9 | 7
February 3 | 2 | 1
January 25 | 20 | 19 | 18 | 17
January 13b | 13a | 10
January 6 | 5 | 4
December 28 | 21 | 16 | 14 | 12
December 9 | 7 | 6
Weblog
Launched in 1999, Christianity Today's Weblog was not just one of the first religion-oriented weblogs, but one of the first published by a media organization. (Hence its rather bland title.) Mostly compiled by then-online editor Ted Olsen, Weblog rounded up religion news and opinion pieces from publications around the world. As Christianity Today's website grew, it launched other blogs. Olsen took on management responsibilities, and the Weblog feature as such was mothballed. But CT's efforts to round up important news and opinion from around the web continues, especially on our Gleanings feature.
Ted Olsen is Christianity Today's executive editor. He wrote the magazine's Weblog—a collection of news and opinion articles from mainstream news sources around the world—from 1999 to 2006. In 2004, the magazine launched Weblog in Print, which looks for unexpected connections and trends in articles appearing in the mainstream press. The column was later renamed "Tidings" and ran until 2007.
Previous Weblog Columns: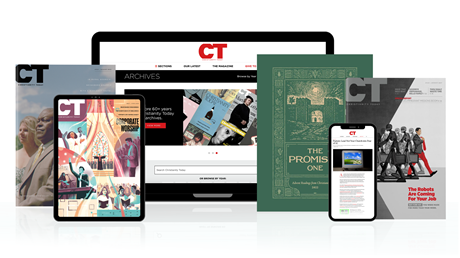 Subscribe to Christianity Today and get access to this article plus 65+ years of archives.
Home delivery of CT magazine
Complete access to articles on ChristianityToday.com
Over 120 years of magazine archives plus full access to all of CT's online archives
Subscribe Now
Evangelical Groups Praise New Air Force Rules
Evangelical Groups Praise New Air Force Rules