Environmentally concerned evangelicals, including megachurch pastors, Christian college presidents, and theologians, announced their support February 8 for a major effort to combat global warming.
During a press conference at the National Press Club in Washington organized by the Evangelical Environmental Network (EEN), a new coalition called the Evangelical Climate Initiative (ECI) released a statement signed by more than 85 evangelical leaders.
The statement, Climate Change: An Evangelical Call to Action, says "human-induced climate change is real," and calls on the U.S. government to pass legislation establishing limits on carbon dioxide emissions—widely believed to be the primary cause of human-induced global warming.
"Millions of people could die in this century because of climate change, most of them our poorest global neighbors," the statement reads. "Christians must care about climate change, because we love God the Creator and Jesus our Lord, through whom and for whom the creation was made. This is God's world, and any damage that we do to God's world is an offense against God himself."
Organizer Jim Ball, executive director of EEN, the group known for its 2002 "What Would Jesus Drive?" campaign, stressed the importance of the statement's theological message.
"This is not a political statement being made," Ball told CT. "We are trying to be faithful to the lordship of Christ. It's my commitment to Christ that's driving me. He's said: 'Love the Lord your God with all your heart' and 'Love your neighbor as yourself.' Global warming is going to affect millions in this century, and we feel we just can't stand by. We have to do something about it."
Among the signatories: bestselling Purpose-Driven Life author and pastor Rick Warren, World Vision president Rich Stearns, Salvation Army national commander Todd Bassett, Christianity Today editor David Neff and executive editor Timothy George, Wheaton College president Duane Litfin, and former National Association of Evangelicals (NAE) president Leith Anderson.
Litfin told CT that some evangelicals have "probably had some bind spots" in responding to environmental issues such as global warming. He said he hoped his involvement would "raise the profile of this issue within the evangelical world."
"I just want to see us more carefully trying to think through: What are the Christian's responsibilities to God's creation? I'm not sure we've fulfilled that stewardship very well, as a nation or as individuals. We can do a better job."
The effort involves a "close to half a million-dollar" ad and publicity campaign beginning with full-page ads in Roll Call and The New York Times on February 9, Ball said. The campaign will follow with a tv spot on Fox News, radio spots on Salem Radio Network, and an ad in Christianity Today.
Ball said the group is also planning tv ads on local channels "targeting some specific, traditional states" such as Kansas, North Carolina, Tennessee, and South Dakota—"areas where we know there is good evangelical interest and concern," in order to further boost support for global warming legislation.
Funding for the ad campaign comes from a $500,000 grant the group recently received from the National Religious Partnership for the Environment, Ball told CT. During the press conference Ball said charitable groups such as the Hewlett Foundation, the Rockefeller Brothers Fund, and Pew Charitable Trusts have also contributed.
Evangelical Climate Initiative supporters kicked off the day with a breakfast meeting with Sen. Joe Lieberman, D-Conn. Last year Lieberman and Sen. John McCain, R-Ariz., cosponsored a bill designed to create a "cap and trade" system to reduce greenhouse gas emissions. That bill died in the Senate.
While not endorsing a specific bill, the statement calls for federal legislation that would establish emission limits and require "sufficient economy-wide reductions in carbon dioxide emissions through cost effective, market-based mechanisms such as a cap-and-trade program." Ball said he was encouraged by a nonbinding resolution that passed the Senate last year affirming this approach, but "the House is a different situation" and "a good place for evangelicals to make a difference."
Not All on Board
Noticeably absent from the group of prominent evangelical supporters are James Dobson of Focus on the Family, Chuck Colson of Prison Fellowship Ministries, and NAE president Ted Haggard and vice president for governmental affairs Rich Cizik.
Cizik originally signed the statement, but said his name was withdrawn "to display an accommodating spirit to those who don't yet accept the science on the severity of the problem."
Last month Dobson, Colson, and 20 other evangelical leaders, including Richard Land of the Southern Baptist Convention, wrote Haggard urging the NAE not to adopt "any official position on the issue of climate change," due to disagreement among evangelicals over "the cause, severity, and solutions to the global warming issue."
Both Ball and Cizik emphasized that the NAE never planned on adopting ECI's statement on global warming. Despite Haggard and Cizik's absence, 34 signers are members of the NAE's board or executive committee, and another 50 Christian organization heads also have ties to the group, according to a knowledgeable source.
Still, many evangelicals remain skeptical of claims on the extent of global warming.
"The evidence is really much shakier than people would tend to see," said James Sherk, an economist and fellow with the Evangel Society, who writes frequently on the global warming debate. The group offers scholarly critiques on current events from an evangelical perspective.
Sherk said the ECI claim that "millions of people could die in this century because of climate change" is "a lot of hype."
"I believe the science on that tends to be more agenda driven," Sherk said. He pointed out that mineral expert and statistician Steve McIntyre of climateaudit.org and economist and climate author Ross McKitrick have challenged the findings of the Intergovernmental Panel on Climate Change (IPCC), cited by ECI.
The problem, Sherk said, is "most of the steps they want to take to combat global warming will inflict tremendous economic damage and do very little to affect climate change. … We have a responsibility to care for the earth, but also have a responsibility to care for poor, and we shouldn't implement policies that would just casually destroy the hundreds of billions of dollars of wealth that could be put to use feeding the poor, aiding the homeless, and providing people with jobs."
Surprising Support
An October 2005 poll conducted by Ellison Research and paid for by EEN revealed that about 750 of 1,000 surveyed born-again or evangelical Protestant Christians support hallmark environmental issues like reducing global warming or protecting wilderness areas from development. About 250 say they support these issues strongly. A slight majority of evangelicals, 54 percent, said they believe Christian faith should generally encourage people to support environmental issues.
Ellison Research president Ron Sellers said he was surprised that even 49 percent of politically conservative evangelicals say "global warming is a long-term problem, we are causing the problem today, so we must begin addressing the issue immediately." Sellers also said 44 percent of politically conservative evangelicals would support taking steps now, even at a high economic cost, assuming "that global warming/climate change is occurring, is mainly caused by human actions, and poses a significant threat within your lifetime."
"And that's before any of their leaders have come out and said it's a serious problem," Ball said. "Once evangelicals are convinced this is happening, the other numbers are going to shoot right up."
Related Elsewhere:
The Evangelical Climate Initiative website offers the call to action statement, a list of signatories, and other resources.
Early press coverage of the statement includes NPR's Morning Edition, The New York Times, MSNBC, Reuters,
The Interfaith Stewardship Alliance has issued a press release against the statement.
Earlier Christianity Today articles on climate change include:
Heat Stroke | The climate for addressing global warming is improving. A Christianity Today editorial (Sept. 16, 2004)
Environmental Wager | Why evangelicals are—but shouldn't be—cool toward global warming. By Andy Crouch (Aug. 4, 2005)
Climate Change Briefing Brings Together Christian Aid Groups | Rising temperatures will disproportionately affect the poor, say analysts. (Oct. 19, 2004)
Tending the Garden | Evangelicals and the environment. By John Wilson (Jul. 7, 2004)
Religious Leaders Rebuke Bush Administration Over Kyoto Protocol | Officials from the National Council of Churches, Presbyterian Church (USA), United Methodist Church, Disciples of Christ, and African Methodist Episcopal Church say U.S. must limit greenhouse gas emissions. (Apr. 6, 2001)
U.S. Churches Join Global Warming Debate | Environmental stewardship is an act of compassion toward the poor, say mainline Protestants and evangelicals, who are joining with other faith groups to reduce the effects of global warming. (October 5, 1998)
Earlier Christianity Today articles on other creation care issues include:
Why We Love the Earth | Our belief in a Creator, not crisis scenarios, drives our environmental concerns. A Christianity Today Editorial by Howard A. Snyder (May 15, 1995)
Bald Eagles and Babies | The case for compassionate conservationism. By John E. Silvius (June 27, 2001)
Eco-Myths | Don't believe everything you hear about the church and the environmental crisis. By David N. Livingstone, Calvin B. DeWitt, and Loren Wilkinson (June 27, 2001)
God's Green Acres | How Calvin DeWitt is helping Dunn, Wisconsin, reflect the glory of God's good creation. By Tim Stafford (June 15, 1998)
Greening of the Gospel? | Evangelical environmentalists press to add creation care to the church's mission. (Nov. 11, 1996)
Evangelical Environmentalism Comes of Age | a brief survey of leaders in evangelical environmental ministry (Nov. 11, 1996)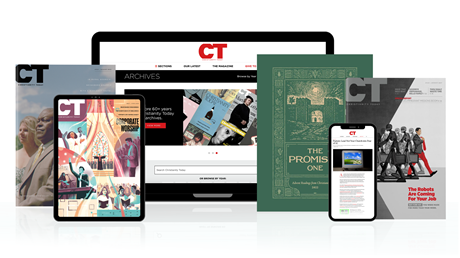 Annual & Monthly subscriptions available.
Print & Digital Issues of CT magazine
Complete access to every article on ChristianityToday.com
Unlimited access to 65+ years of CT's online archives
Member-only special issues
Subscribe
The New Climate Coalition
The New Climate Coalition