Many Palestinian Christians expressed shock and now wait to see what will develop following Hamas's upset victory in January's parliamentary elections, Palestine's first since 1996.
The political party for Hamas, an Islamic fundamentalist group known to support terrorism, won 76 of the 132 seats in the Palestinian Legislative Council. Fatah, a secular party formerly led by Yasser Arafat, had monopolized Palestinian politics since the 1960s. But corruption and ineffectiveness slashed their representation to 43 seats. Smaller parties won the other positions.
"People were surprised," Jack Sara, pastor of the Jerusalem Alliance Church, told CT. "A landslide victory by Hamas in Jerusalem and the West Bank was not expected. It shocked people because the pre-election polls never foresaw this. It was expected that Hamas would gain a high percent in Gaza, but not in Jerusalem and the West Bank. Hamas's absolute majority puts us in a difficult situation."
Evangelicals like Sara and Salim Munayer of Musalaha, an organization that uses the example of Jesus to promote reconciliation between Israelis and Palestinians, point out that Palestinian Christians are not the only ones concerned by Hamas's political dominance.
"There is also concern among Muslims about whether Hamas will try to implement Shari'ah (Islamic) law and Muslim institutions," Salim Munayer told CT. "If Hamas wants to adopt laws and Islamic ideology, they will face resistance from the people."
Palestinian Christians won seven seats in the new legislative council. Presidential decree entitles them to a minimum of six seats. Six seats belong to the Fatah Party, while Hanan Ashrawi won election with the Third Way party.
Lutheran church leader Mitri Raheb, who directs the International Center of Bethlehem, said concern about a potential clash between Hamas and Fatah is real, as is the possibility of international isolation. But he urged people to see the positives.
"This is the only time in the Middle East that one-party rule has ended peacefully by democratic elections," Raheb wrote in a letter to the SAT-7 Arabic Christian TV channel broadcast in the Middle East and North Africa. He said "a new political landscape has to emerge now. The identity of Fatah after Arafat has to be shaped. Hamas is now obliged to show their capability of delivering what they were promising."
He challenged Palestinian Christians "not to be afraid, nor to panic or withdraw from the public sphere." Rather, he said "we are called not to feel as if we are just spectators but rather to participate with many in this quest for a new Palestinian identity.
A pastor in Gaza said he anticipates "more and more pressure on Christians, because in the last five years our region became more religious, more militant, and more violent," due to Israeli occupation and dire unemployment and poverty. But he also warns that Western pressure against Hamas "will also pressure Christians, because many militant Muslims connect the local Christians with the West."
The pastor told CT that Christians don't see Hamas having a "logical and strategic plan to deal with Israel. It seems that Hamas is stuck between what they believe in, what they ran for in the election … and what the West is asking from them."
So far Hamas leaders have sought to calm both Palestinians and an anxious outside world by saying they will not impose any form of Islamic rule on the diverse society in the Palestinian territories. Mahmoud al-Zahar, Hamas's senior leader in Gaza, promised armed protection of churches during this week's demonstrations against caricatures of Muhammad in European newspapers. "You are our brothers," al-Zahar told Manuel Musallam of the Holy Family Church, according to the London Times.
Still, Munayer said Middle Eastern Christians must "mobilize into national Christian organizations." He said evangelicals in particular have been misunderstood and neglected.
"The fundamental problem is that [Christians have] been too quiet and passive," Munayer said. "We have lacked solidarity. Perhaps this has been due to living as a minority in the area for some time. But today we are living in one world. Other communities are more vocal in advocating their religious rights."
Related Elsewhere:
Christianity Today profiled Gaza's Christians in a June 2005 article, "Love in the Land of Enmity."
Last month, Christianity Today talked to Justus Reid Weiner about his research project, Human Rights of Christians in Palestinian Society.
More Christianity Today articles on Israel and Palestine are available in our full coverage area.
Other articles about Christian response to the Hamas victory include:
Hamas alarms Bethlehem's Christians | While Israelis struggle to come to terms with the election of Hamas in Palestinian elections last week, another group also is worried by the rise of the avowedly Islamist organization—the Christian Arab minority centered here in Jesus' birthplace. (The Washington Times, Feb. 3, 2006)
Article continues below
Waking up under a green sky in the Holy Land | The new Palestinian government will be a test for the Christian community (Maria C. Khoury, Southwest News Herald, Ill., Jan. 30, 2006)
Mideast peace process endangered as Hamas wins parliament majority | Ruth Khoury, a member of Jerusalem Baptist Church who operates a pharmacy near Jerusalem's ancient Jaffa Gate, said Hamas' victory "makes us worry, feel heavy, unhappy" over the ascendancy of a "very extremist group" (Baptist Press)
Hamas 'quake' sends aftershocks around the world. | In what many news outlets have termed a political "earthquake," the militant group Hamas swept to a stunning victory in last month's Palestinian parliamentary elections (Canadian Christianity, Jan. 25, 2006)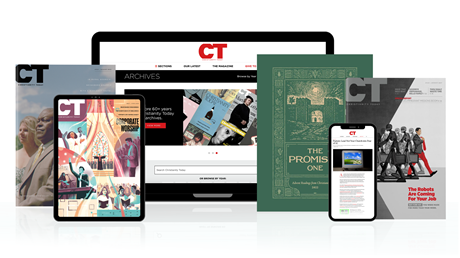 Subscribe to Christianity Today and get access to this article plus 65+ years of archives.
Home delivery of CT magazine
Complete access to articles on ChristianityToday.com
Over 120 years of magazine archives plus full access to all of CT's online archives
Subscribe Now
Palestine's Troubling Democracy
Palestine's Troubling Democracy