1. Lebanon church attacked; was priest's murder part of Muslim outrage?
As worldwide protests against caricatures of Muhammad turn deadly, they have also turned anti-Christian. Retaliation against Christians for European publication of the cartoons has been especially notable in Lebanon, where Christian-Muslim tensions are more acute than they are elsewhere in the Middle East. Rioters with "Prophet's soldiers" headbands attacked a Maronite church in Beirut's largely Christian Achrifiyeh neighborhood, not far from the Danish embassy, and the headquarters of the Greek Orthodox archbishop.
"I thought, 'These are not people. These are monsters,'" Father Elias Feghali, pastor of St. Maron Catholic Church, told Catholic News Service. Some Muslim leaders apparently tried to stop the attack.
Some government officials, church leaders, and others in Turkey are suggesting that the murder of Roman Catholic priest Andrea Santoro on Sunday was also connected to the demonstrations. The murderer, who is thought to be between 14 and 17 years old, shouted "Allahu Akbar" (the frequent Muslim declaration meaning "God is great") as he shot the priest, who was praying after celebrating Mass.
The Vatican called the publication of the cartoons as "equally deplorable" as the "violent actions of protest," and suggested that European countries should crack down against newspapers that published the cartoons. "Authorities might and should intervene eventually according to the principles of national legislation," the Vatican press office said in an unsigned statement. Seriously. The Vatican says the violent riots, which have resulted in deaths, are equally deplorable to the publication of satirical cartoons, and says governments should consider limiting press freedom on this issue. "The freedom of thought and expression, confirmed in the Declaration of Human Rights, cannot include the right to offend religious feelings of the faithful," the Vatican said. "That principle obviously applies to any religion."
Weblog's offended at this kind of moral equivalence from the Roman Catholic Church, which usually has such good things to say about life ethics and human dignity. Since I'm offended, perhaps the governments of the world should crack down and censor the Vatican's comments.
2. Pa. court rules against eminent domain decision
In 2003, the Philadelphia Redevelopment Authority condemned Mary Smith's home in a blighted neighborhood, and then handed it over to the Hope Partnership for Education to build a middle school. But a Pennsylvania Commonwealth Court panel ruled 4-3 Monday that the action "demonstrates the entanglement between church and state" and called it an unconstitutional establishment of religion.
Here's what's so crazy: While the executive director of Hope Partnership is a nun, and workers' religious beliefs motivate them to help the poor, the school isn't religious. It's not a Catholic school, doesn't have any religious qualifications for its students, and it doesn't offer religious instruction. Still, the court ruled, the "land acquisition for the Hope Partnership had a primary religious effect because it directly aided the religious organization's mission to provide faith-based educational services, among other things, to residents in the blighted area."
Nonsense, said Judge Dan Pellegrini in his dissent. "There is no possible Establishment Clause violation because there is no proof that the project is a religious enterprise, but only that it is being run by groups who have religious motivations to educate the poor," he wrote. "What the majority is suggesting is that the Authority or, for that matter, any governmental entity could not convey property that it has in its possession for a church, school, nursing home, a college run by a religious group, or a shelter run by the Salvation Army because that would aid religion and violate the Establishment Clause. To the contrary, what that outcome suggests is 'viewpoint discrimination' against religious groups, which is an impingement on their First Amendment rights that has been condemned by the United States Supreme Court in Good News Club v. Milford Central School."
Pellegrini is right, and Weblog can't see any chance of the majority opinion being upheld in higher courts. If it is, a lot of faith-based ministries serving the poor—even those that don't take government funds—could be in peril. Another question is whether the religious organizations that were so outraged by the Supreme Court's Kelo decision on eminent domain will support Hope Partnership in this case.
3. Church parking battles heat up
Keep your eye on disputes over Sunday morning parking in America's cities. It could be a major issue in the near future, since several cities are having their own localized controversies. In Manhattan, the fight has been over free meters on Sundays and religious holidays. In Pittsburgh, it's over whether a church parking lot is vital to a church's existence, and thus exempt from property taxes. Now comes a Washington Post report noting that D.C. parishioners who park illegally on Sunday mornings get a free pass—even when their double parking prohibits residents from driving to church. "Love your neighbor" isn't quoted in the piece.
4. Priest punished for preaching about Mary's cervix
Thomas J. Quinlan Jr. is 77 and retired as a priest, but the clergy shortage means he still gets asked to preach and perform priestly duties around Virginia Beach. But his Christmas Eve sermon, where he "mentioned the Virgin Mary's birth canal," according to The Virginian-Pilot, got him barred from such duties in the diocese. "Your shock content was crude, offensive, and disturbing," particularly to families, youth, and visitors, Bishop Francis X. DiLorenzo of the Richmond Diocese told Quinlan in a letter last month. Quinlan's behavior "engenders such anxiety and emotional upset that it interferes with the pursuit of the individual's religious experience," the diocesan newspaper said this week. Good thing Denver's Scum of the Earth church isn't part of DiLorenzo's diocese. On a more serious note, though, at what stage does attempting to maintain "good taste" in church cross over into a problematic denial of the earthy, physical realities of life? Discuss.
5. What good are films?
Calvin College film studies professor Bill Romanowski had the Monday religion slot on the USA Today op-ed page this week, and he calls for films that spark conversation, not conversions. "Evangelicals can influence Hollywood when they think of the cinema as an arena for cultural discourse but not a place for converting members of that culture to a specific Christian orientation," he writes. "In other words, evangelicals' goal for the movie industry should be to encourage discourse, not merely evangelizing." Less than one-tenth of 1 percent of The Passion's audience accepted Jesus Christ as their Savior as a result of the film, he says, and Brokeback Mountain isn't turning anyone gay. But movies get people talking, he says. Once evangelicals understand that, he says, "they are in a position to shape that vital discussion."
Romanowski's column was answered in large part a day earlier, in a Los Angeles Times op-ed by Maria DiBattista. Not only are movies poor evangelistic tools, but they're not changing people's minds about anything. "Movies can take on the great social problems of their time, but they may be the least effective — or appropriate — medium for solving them," she writes. "Name any 'problem film' — whether it deals with discrimination (racial, ethnic, sexual, or religious), social reform (of schools, prisons, legislatures) or corporate corruption (national or global) — and you will come up with the same unimpressive results. The more designs a movie has on us, the less willing we are to change our minds, much less our social and business practices." If you want to see the power of film, she says don't look for the "message"—look for the pictures. "What moves us to want to change things—even ourselves—when we watch a movie are its images, not its social agenda, however creditable."
In other words, while Romanowski sees film's changing power in tongues and ears, DiBattista sees the power in the eyes.
Quote of the day:
"It's important to make the first service after what happened. It shows we are still here. All the members are here today. They may have burned the building, but the church is still here. We will go on."
Patsy McElroy, attending Rehobeth Baptist Church in Lawley, Alabama, one of five area churches set ablaze Friday morning. She was quoted by the Montgomery Advertiser.
More articles
Cartoon controversy | Priest killed in Turkey | Religious liberty | Slaves and captives | Military | Church and state | Eminent domain | Education | Higher education | Evolution | Politics | Georgia religion bills | Abortion | RU486 in Australia | Life ethics | Sex and marriage | Abuse | Catholicism | Church life | Ala. church burnings | Megachurch study | Azusa Street memorial | History | Books | Music | Film and TV | Money and business | Missions & ministry | Spirituality | Other stories of interest
A 'single' church | Working with a 'breakthrough' bishop, the Vatican is drawing closer to Beijing (Newsweek)


Pastors thrashed on church premises | Two pastors of Kabitkhedi church were beaten up inside their residence on the church premises by local youths who suspected them of being involved in distribution of inflammable material (Hindustan Times, India)


Bethlehem Christians fear for future under Hamas | The shrinking Christian population of Bethlehem is struggling to conceal its fears for the future after the victory for Islamists of Hamas in the Palestinian general election (AFP)


Islamic prayers could be illegal under new laws | Standard Islamic prayers in mosques may be illegal under new anti-terror laws, international law specialist Ben Saul told a conference in Melbourne (The Age, Melbourne, Australia)


Haitian priest thankful to be out of jail | A Roman Catholic priest who was jailed in Haiti for his political activities thanked his supporters for pressuring the country's government to release him so he could be treated for leukemia (Associated Press)


A modern-day abolitionist battles slavery worldwide | Ambassador John R. Miller is on a mission to help nurture a "21st-century abolitionist movement" against human trafficking (The New York Times)


Out of bondage, into the pulpit | Fleeing slavery, Robert T. Hickman and others journeyed to St. Paul and founded Pilgrim Baptist Church (Pioneer Press, St. Paul, Minn.)


Fatigue, worry clear in faces of captives: ex-hostage | The faces of four Christian peacekeepers paraded in front of a video camera by their kidnappers in Iraq are hauntingly familiar to an American colleague, a former foreign correspondent for CNN, who spent almost a year as a hostage (Canadian Press)


Navy's debate over use of Jesus' name places spotlight on priest | Lt. Gordon James Klingenschmitt, a Navy chaplain, has become the focal point of the debate over a chaplain's right to pray in the name of Jesus (The Toledo Blade)


Government wants Air Force suits dismissed | The Justice Department claims an Air Force Academy graduate has no legal standing to sue the Air Force over allegations of proselytizing by chaplains, and asked a federal judge to dismiss the case (Associated Press)


Russian Army looks to enlist Orthodox chaplains | The influence of the Orthodox Church in the military has been growing with the encouragement of the top brass over recent years, and it could get a further fillip later this year as officials look for ways to improve morale after a brutal hazing on New Year's Eve that led to a conscript's legs and genitals being amputated, prompting a national outcry (The Moscow Times)


Logan Circle group prays for deliverance | Illegal church parking mostly ignored (The Washington Post)


2nd Circuit upholds NYC policy on school holiday displays | Public schools can feature reindeer, Christmas trees, menorahs, Islamic symbols — but not Nativity scenes (Associated Press)


City split by church school's request | Presbyterian Church child care grant request pared by City Council over religious concerns (The Desert Sun, Palm Springs, Ca.)


Is ritual circumcision religious expression? | The uneasy state of church and state (Jeffrey Rosen, The New York Times Magazine)


Money, state, church collide | Suit seeks state funding for Christian college aid. The Justice Department has come to the university's support in a case with big implications on how states can restrict funds for religious institutions (The Denver Post)


Evolution measure splits state legislators in Utah | The bill, which has divided lawmakers, may not have the outcome people would expect in a state as deeply religious as Utah (The New York Times)


Taft may re-ignite fuss over intelligent design | Gov. Bob Taft says that although he's convinced the state's 10th-grade biology teaching standards do not include intelligent design, there should be a legal review of the companion lesson plan to ensure Ohio is not vulnerable to a lawsuit (The Columbus Dispatch, Oh.)


Eden and evolution | Religious critics of evolution are wrong about its flaws. But are they right that it threatens belief in a loving God? (Shankar Vedantam, The Washington Post)


Georgia House's religion bill extravaganza:
Ga. House moves to protect 'Merry Christmas' | Bill says state, local governments can't prohibit public employees from uttering celebratory sentiments concerning public holidays (Associated Press)


Local support strong for Ten Commandments bill | Democrats: Are taxypayers ready to ante up court costs? (Walker Daily Messenger, LaFayette, Ga.)


Thomas says courthouse is not place for religion | Rep. Brian Thomas wasn't just the only member of Gwinnett County's House delegation to vote against the so-called "Merry Christmas" bill last week. The freshman Democrat from Lilburn also was the only Gwinnett lawmaker to oppose the Ten Commandments bill the following day (Gwinnett Daily Post, Ga.)


Legislature gets religion (must be an election year) | Within a four-day span last week, lawmakers upheld the right of students and state employees to say "Merry Christmas," authorized counties to display the Ten Commandments and put Georgia on course to teach the Bible in public schools (Dave Williams, Gwinnett Daily Post, Ga.)


Bible thumping | While it certainly doesn't signal any sort of a "comeback," or even improved chances of ousting Republicans from the governorship or control of the General Assembly, a bill introduced by Sens. Tim Golden, D-Valdosta, and Doug Stoner, D-Smyrna, to allow public high schools to offer an elective course on Bible studies seemed to hoist the GOP on its own petard (Editorial, Rome News-Tribune, Ga.)


RU486 campaign all but lost | Anti-abortionists fighting to keep the RU486 drug out of Australia concede their campaign is all but lost days before Parliament votes on the issue (Herald Sun, Melbourne, Australia)


Parishioners reeling amid abuse inquiries | One church in shock; another tries to heal (Chicago Tribune)


Healing broken trust | Allegations of child sex abuse by a priest give parishioners an unwanted test of their faith (Chicago Tribune)


St. Eugene parishioners say account frozen; diocese won't fund repairs | Parishioners of a battered but standing Catholic church here say the Diocese of Lake Charles has blocked, for now, their attempts to rebuild and reopen the church in lower Cameron Parish (American Press, Lake Charles, La.)


'Black Pope' to stand down | The head of the Jesuits, known as the "Black Pope" because of his black robes, is to step down voluntarily for the first time in the order's 500-year history (The Times, London)


How significant is the Vatican's new order barring gays from seminaries? | Readers respond (The Washington Post)


A needed warning | Pope Benedict's latest encyclical hints at the possibility he could turn out to be the feminists' friend (Catherine Pepinster, The Guardian, London)


What's love got to do with sex? | Is sexual love the same thing as the love of God, or are we just using the word "love" to describe completely different things? (Christopher Howse, The Telegraph, London)


Megachurches growing in number and size | A new survey on U.S. Protestant megachurches shows they are among the nation's fastest-growing faith groups, drawing younger people and families with contemporary programming and conservative values (Associated Press)


Megachurches' way of worship is on the rise | The number of megachurches - Protestant congregations with regular weekly attendance of more than 2,000 - has doubled over the past five years, according to a national study released on Feb. 3 (The Christian Science Monitor)


Study: Megachurches Today 2005 (Leadership Network and Hartford Seminary's Hartford Institute for Religion Research)


Pentecostal memorial is poised for a revival | Stalled project would honor the Little Tokyo birthplace of the religious movement. But some residents in the neighborhood oppose it (Los Angeles Times)


Religious, civic leaders push Pentecostal memorial | The project in the Little Tokyo area of Los Angeles has been bogged down for nearly 10 years in part because the Japanese American Community and Cultural Center has refused to allow a mural on a wall it owns on the Azusa Street site where the Rev. William J. Seymour's church stood in the early 1900s (Associated Press)


A spiritual place to touch every heart | It is intriguing that the reputation of the saint who made Iona famous is higher today than the martyr of Canterbury celebrated in Eliot's play (The Scotsman)


Faith, political duty and one man's costly grace | The theologian whose defiance of Nazism made him a martyr for everyman (The Times, London)


Blessed aren't the 'burbs | Do religious conservatives need to get off their material treadmills and find true spirituality? (The Denver Post)


Lights, camera, introspection: Soul-searching via DVD club | The theme unifying each film the Spiritual Cinema Circle sends subscribers: 'You feel better about being human after you see it' (Los Angeles Times)


Can movies change our minds? | Movies can take on the great social problems of their time, but they may be the least effective — or appropriate — medium for solving them (Maria DiBattista, Los Angeles Times)


It's Clark Kent, superstar | After three decades battling to save Earth, Superman has a new mission. This time he must brighten up religious education as a modern-day model of Jesus Christ (The Sydney Morning Herald)


Will & Grace story not as AFA has stated | Ater the Tupelo-based American Family Association pressured NBC to pull the plug on one TV series recently, rumors began to swirl about an upcoming episode of the popular "Will & Grace" show on which pop story Britney Spears will make a guest appearance (Northeast Mississippi Daily Journal)


Evangelicals miss the big picture | Evangelicals' goal for the movie industry should be to encourage discourse, not merely evangelizing. (William Romanowski, USA Today)


From the Zoo to the pews | Onetime radio zany has a new career, providing Web services to churches (The Dallas Morning News)


The separation of church and job | At work, many forms of religious expression are protected. But there are limits as well (The New York Times)


Desire for religion grows out of human experience | Philosopher posits it evolved in the absence of the supernatural (San Francisco Chronicle)


Related Elsewhere:
Suggest links and stories by sending e-mail to weblog@christianitytoday.com
See our past Weblog updates:
February 3 | 2 | 1
January 25 | 20 | 19 | 18 | 17
January 13b | 13a | 10
January 6 | 5 | 4
December 28 | 21 | 16 | 14 | 12
December 9 | 7 | 6
December 2b | 2a | November 30
Weblog
Launched in 1999, Christianity Today's Weblog was not just one of the first religion-oriented weblogs, but one of the first published by a media organization. (Hence its rather bland title.) Mostly compiled by then-online editor Ted Olsen, Weblog rounded up religion news and opinion pieces from publications around the world. As Christianity Today's website grew, it launched other blogs. Olsen took on management responsibilities, and the Weblog feature as such was mothballed. But CT's efforts to round up important news and opinion from around the web continues, especially on our Gleanings feature.
Ted Olsen is Christianity Today's executive editor. He wrote the magazine's Weblog—a collection of news and opinion articles from mainstream news sources around the world—from 1999 to 2006. In 2004, the magazine launched Weblog in Print, which looks for unexpected connections and trends in articles appearing in the mainstream press. The column was later renamed "Tidings" and ran until 2007.
Previous Weblog Columns: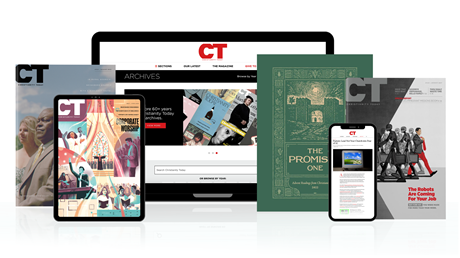 Annual & Monthly subscriptions available.
Print & Digital Issues of CT magazine
Complete access to every article on ChristianityToday.com
Unlimited access to 65+ years of CT's online archives
Member-only special issues
Subscribe
Vatican Says Cartoons and Deadly Riots 'Equally Deplorable'
Vatican Says Cartoons and Deadly Riots 'Equally Deplorable'