Today's Top Five Stories
1. Christians warned they'll face wrath from Muhammad depiction uproar
With tens of thousands of Muslims rioting and demonstrating around the world against published caricatures of Muhammad, Christians fear they'll face a violent backlash. The Chaldean archbishop of Kirkuk, Iraq, told Reuters that Sunday's church bombings were the result of the cartoons, first published in Denmark's Jyllands-Posten newspaper. Christians in Palestine are nervous that they'll be next—and they're not just paranoid, says the London Times: "A leaflet handed out by the militant groups Islamic Jihad and Fatah warned 'infidels' that there are Muslims who 'are tough and ready to become a martyr for their religion' and that 'European provocations have placed offices and churches under fire.'" The Times says Hamas has promised Christians protection, but The Washington Times says others are worried that life under Hamas will be difficult after the demonstrations die down. In related news, a brief line in today's Wall Street Journal is awfully cryptic: "Evangelical Protestants split on whether U.S. should deal with Hamas; 53 percent of nonevangelicals favor diplomacy." So 53 percent doesn't constitute a split? (There's no additional information on the poll.)
2. Anti-Christian militants kill six in the Philippines
At about 1 o'clock this morning, a militant group attacked homes on the Philippine island of Jolo, demanding that residents answer whether they were Christians or Muslims. Three men, two women, and an eight-month-old boy were killed in the attack. Six others, including three children, survived with injuries. One was a Muslim married to a Christian; the others were Christians. The attackers may have been part of the Abu Sayyaf Group, which has kidnapped American missionaries in the past. Jolo is an Abu Sayyaf stronghold, says The Philippine Inquirer.
3. Six churches burn in Alabama, arson suspected
One of the six churches was under construction, and its fire may be unrelated. But as for the rest, "of course it's arson," Jim Cavanaugh, regional director of the federal Bureau of Alcohol, Tobacco, and Firearms told The Birmingham News. "You don't have accidental fires at six churches." And Alabama knows about church fires. "We dealt with all that hate in the '70s and then the resurgence in the '90s and here we are again," Cavanaugh said. "It will be interesting to see what the motive is," he said. "You could have vandalism, hate against religion, or even race-based. These are the obvious, and most likely, motives." Maybe not race—"four of the churches … were predominantly white and Southern Baptist, affiliated with the Bibb County Baptist Association. One was a black Baptist church," says the News.
4. New Orleans religious leaders unite
Bruce Nolan of the New Orleans Times-Picayune has done an amazing job at covering the religious aspects of Hurricane Katrina and its aftermath. His informative and inspirational piece today on the unity of religious leaders is well worth the read:
A remarkable interfaith gathering of many of New Orleans' major religious leaders urged the city's political leadership and citizens Thursday to accept that much of the city is permanently gone. They encouraged their members to come to the planning table willing to rebuild a better New Orleans, lest the city's halting recovery stall completely.
The summons, which seemed to contain equal doses of tough love and compassion, came from an extraordinary assembly of religious leaders speaking with a single voice not heard in New Orleans before Hurricane Katrina. …
"The New Orleans we knew and loved before Katrina will never return!" it began. "We are now called to build a new New Orleans on the ruins of the old. Distrust or suspicion must not prevent us from participating at the planning table."
5. Church discipline in the news
Here's one of those stories where you really wish you could hear the church's side, but you're kind of glad the church stayed silent anyway. Catrina Adams tells WBIR that Fellowship Evangelical Free Church is threatening her with criminal trespass charges if she shows up on church property again. A divorcee whose ex-husband and children also attend the church, she says she was disciplined for befriending a divorced man in the congregation. "We didn't even hold hands. We've never kissed; we never discussed; there was no flirting," she told the TV station. Wow, that sounds harsh. If only Adams stopped there, she might have won more sympathy. But instead, she continued: "It's not right for somebody to try to dictate what I read, who's my friend, or whether or not I'm permitted to do this or that." It's not right for the church to counsel its members on what it considers sin? That kind of response makes you want to read the papers that Adams gave to the media. Turns out she started spending lots of time with the guy while she was still married, and refused to listen to her husband's requests to break off the relationship (which she had characterized as an "emotional affair,") and then refused to listen to the church's requests that she do the same. Read from bottom to top, it seems the church followed Matthew 18 to the letter. And it also shows that this story is five and a half years old. So why is WBIR running it now?
Quote of the day
"Not now, but one day, one day, one day."
—Pat Robertson, on last night's Hannity & Colmes broadcast on Fox News, reiterating his comments that the U.S. should assassinate Venezuelan President Hugo Chavez. After Robertson noted that he had apologized, co-host Alan Colmes responded, "But wait a minute. If you say you apologized to him, what you just said seems to contravene that, because you just now said … "
"I know. I know," said Robertson.
More articles
Christians attacked in Philippines | India | Sudan | Christians and Islam | King Abdullah speaks to evangelicals | Prayer breakfasts | Politics | Abortion | Kansas abortion records fight | Education | Sexual ethics | Religious displays | Massachusetts church finance disclosure bill | Church buildings | Church life | Catholicism | Abuse | Crime | Missions & ministry | Art | Media and entertainment | Da Vinci Code | Venezuela | Other articles of interest
Christians attacked in Philippines:
India's Supreme Court acts on anti-Christian video | The Supreme Court Friday sought responses from the central government and two states on the circulation of video compact discs which suggested that Christians should be attacked and beheaded (IANS, India)


Doctors in India prosecuted for sex determination, but few convicted | Pressure from the medical community is obstructing action against doctors in India involved in illegal sex determination and selective abortion of female fetuses, government officials said last week, echoing concerns expressed by health activists (British Medical Journal)


MP Congress demands ban on Bajrang Dal | Madhya Pradesh Congress on Wednesday demanded a ban on Bajrang Dal accusing it of "making planned attacks" on Christian missionaries, even as the state government assured adequate security to the minority community (PTI, India)


Man stabs lover for refusing to convert | A 28-year-old man stabbed his lover when she refused to accept his condition to convert to Christianity before their marriage here on Friday (New India Press)


Thousands flee mounting violence in south Darfur | Christian Aid partners, the Sudan Development Association, and the Sudanese Council of Churches have abandoned their schools and health centres in the camps in Mershing in south Darfur, following a series of attacks by armed militias (Christian Aid, via Reuters)


A partner in the Sudanese struggle turns her sights to fulfilling peace | Now that her "lion" is gone, Rebecca Garang will roar from his graveside until his dream of a unified Sudan is truly fulfilled (The Washington Post)


King Abdullah speaks to evangelicals:
Jordan's king urges moderates to unite | King Abdullah II of Jordan quoted from the Bible and the Koran in a brief speech to a lunchtime crowd of 2,000 mostly evangelical Christians yesterday, invoking "our Judeo-Christian-Islamic heritage" and urging moderates of the three great religions to unite (The Washington Times)


Jordan's leader calls for unity among religions | King Abdullah of Jordan called upon Christians, Jews and Muslims to discard the idea of a clash of civilizations (The New York Times)


Bono urges U.S. to boost aid to world's poor | U2 singer Bono, wearing a brown suit, a black shirt with an open collar and his trademark wraparound sunglasses, quoted the Koran, the Bible and the rock band Dire Straits as he urged President Bush to boost U.S. aid to the world's poor by more than $25 billion a year (The Washington Times)


Prayer breakfast in Washington sets a more ecumenical tone | Of 12 speakers — including President Bush and Bono, the Catholic rock star and advocate of aid to Africa — half did not belong to the evangelical Protestant groups that spurred forward the American tradition of prayer breakfasts (Jewish Telegraphic Agency)


Prayer breakfast reflects diversity | Coleman was host to religious groups, Orthodox Jewish group praises inclusive tone (Associated Press)


Salazar details spiritual roots at National Prayer Breakfast | Colorado Sen. Ken Salazar, a Catholic abortion-rights supporter who clashed with evangelical leader James Dobson, detailed his spiritual roots Thursday at a prayer breakfast with President Bush and about 3,000 guests (The Denver Post)


Sacred, profane meet over breakfast | The governor's public relations guy was loudly and colorfully challenging the accuracy of the headline on my Jan. 27 story, "Non-Christians left out of Fletcher breakfast," dropping a few F-bombs along the way (Frank Lockwood, Lexington Herald-Leader, Ky.)


Lack of birth control spurs abortions in Uganda | Poor access to contraceptives has led to an unusually high rate of abortions in Uganda, straining already scarce health care in a country where abortion is illegal, researchers in New York and Kampala reported on Thursday (Reuters)


Catholic GPs set to quit over RU-486 | More than 200 Catholic doctors, all members of the Guild of St Luke, are set to resign from the Australian Medical Association and the Royal Australian College of General Practitioners over RU-486 (The Courier-Mail, Adelaide, Australia)


Also: Religious standoff brewing within medical circles over us of RU486 | More than 200 Catholic doctors in Queensland are threatening to resign from the Australian Medical Association and the Royal Australian College of General Practitioners (The World Today, Radio Australia)


Under house arrest: blind activist who exposed forced abortions | Chinese peasant turned legal advocate is punished for revealing dark side of one-child policy (The Guardian, London)


Kansas abortion records fight:
Board: Lane Tech assemblies not faith-based | After listening to audio tapes of the assemblies, attended by nearly all of the school's 4,300 students, and viewing video segments featured during the presentation, Board of Education general counsel Patrick Rocks said Thursday "there is no religious content." (Chicago Sun-Times)


Government argues Air Force religion lawsuit must be dismissed | Justice Department attorneys have told a federal judge that an Air Force Academy graduate has no legal standing to sue the Air Force over allegations of proselytizing by chaplains and that the military already has safeguards in place against improper religious pressure (Associated Press)


Catholic school considers mandatory drug tests | The school has not decided whether to implement the program. Officials have asked parents to respond to a survey on the idea and have not set a timetable for a decision (Associated Press)


Bishop revamps religious ed | Restructuring of instruction for adults, children in Long Island diocese prompts some fears of conservative shift (Newsday)


Galileo groupies | The unlikely rock star of intelligent design. (Peter Dizikes, Slate)


Massachusetts church finance disclosure bill:
Churches should open financial books | This bill was about financial accountability and protecting the citizens of the Commonwealth against fraud. It had absolutely nothing to do with religious freedom or the separation of Church and State. (Bill Gouveia, Norton Mirror, Mass.)


Forgive us our taxes | Secular and religious charities should operate under the same scrutiny and the state should pursue the issue (Dan Mac Alpine, Beverley Citizen, Mass.)


Molestation investigations may be revised | The leader of Chicago's Roman Catholic archdiocese vowed to revise a molestation investigation process that "wasn't adequate," saying he should have removed a priest charged with abusing three boys much sooner (Associated Press)


George 'troubled' he didn't act sooner | 'I'm saddened by my own failure,' says cardinal (Chicago Sun-Times)


Utah rehab program under investigation | A rehabilitation program at a church is facing allegations it forced people to work as telemarketers for 28 cents an hour under the threat they could go back to jail (Associated Press)


Reaching out to forgotten men in cells of county jail | Chaplain steers them to a path other than the one they have already taken (The Ann Arbor News, Mi.)


Man of the (opera) house | Richard Zeller is one of the most decent, easygoing guys you could hope to meet, a devout and devoted family man who also happens to inhabit the uppermost echelons of the opera world, a semi-nomadic milieu where families like his are virtually unheard of (The Oregonian)


Bin Laden artwork now hanging in New York | National Black Fine Art Show has image of Osama Jesus (WCBS, New York)


Quite cross | Gilbert and George have ruffled feathers for 40 years. Now it is religion's turn (The Sydney Morning Herald)


Confronting the 'Code' | Not all religious conservatives are casting stones at the film version of the best-selling book (The Orlando Sentinel)


Why we'll never stop looking for the Holy Grail | The Holy Grail has long fascinated Christians, but the 30 million sales of Dan Brown's book have propelled the legend to stratospheric popularity (Fergus Sheppard, The Scotsman)


Pat Robertson explains his recent controversial comments | The Christian Broadcasting Network's leader again supports assassination of Chavez (Hannity & Colmes, Fox News, video)


Group pushes Venezuela gasoline boycott | "It doesn't make sense to purchase gasoline from a country that wants to bring down the U.S. government," AFA Chairman Donald Wildmon told Reuters (Reuters)


Related Elsewhere:
Suggest links and stories by sending e-mail to weblog@christianitytoday.com
See our past Weblog updates:
February 2 | 1
January 25 | 20 | 19 | 18 | 17
January 13b | 13a | 10
January 6 | 5 | 4
December 28 | 21 | 16 | 14 | 12
December 9 | 7 | 6
December 2b | 2a | November 30
Weblog
Launched in 1999, Christianity Today's Weblog was not just one of the first religion-oriented weblogs, but one of the first published by a media organization. (Hence its rather bland title.) Mostly compiled by then-online editor Ted Olsen, Weblog rounded up religion news and opinion pieces from publications around the world. As Christianity Today's website grew, it launched other blogs. Olsen took on management responsibilities, and the Weblog feature as such was mothballed. But CT's efforts to round up important news and opinion from around the web continues, especially on our Gleanings feature.
Ted Olsen is Christianity Today's executive editor. He wrote the magazine's Weblog—a collection of news and opinion articles from mainstream news sources around the world—from 1999 to 2006. In 2004, the magazine launched Weblog in Print, which looks for unexpected connections and trends in articles appearing in the mainstream press. The column was later renamed "Tidings" and ran until 2007.
Previous Weblog Columns: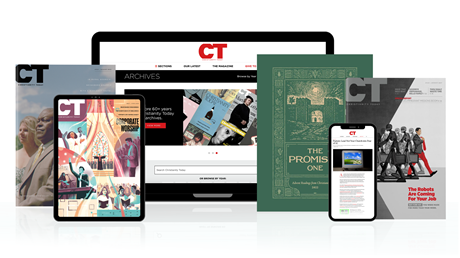 Annual & Monthly subscriptions available.
Print & Digital Issues of CT magazine
Complete access to every article on ChristianityToday.com
Unlimited access to 65+ years of CT's online archives
Member-only special issues
Subscribe
Christians Fear Amid Worldwide Muslim Demonstrations
Christians Fear Amid Worldwide Muslim Demonstrations