This article originally appeared in the August 30, 1974, issue of Christianity Today.
When he assumed the vice-presidency ten months ago, Gerald R. Ford told newspaper reporters that his faith "is a personal thing. It's not something one shouts from the housetops or wears on his sleeve. For me, my religious feeling is a deep personal faith I rely on for guidance from my God." Now that he is President, Ford is still reluctant to publicize his faith—but he's not about to hide it, either.
Faced with uncertainties and conflicting reports about his status in the week preceding Richard Nixon's resignation, Ford continued his regular routine, which included a prayer meeting with two of his close friends in the House of Representatives—Albert Quie, a Minnesota Republican, and John Rhodes, House Republican leader, who is from Arizona (the fourth member of the group, former defense secretary Melvin Laird, was not present). Questioned by reporters who were convinced it was a political strategy session, Ford said the prayer meeting was "a very quiet, much off-the-record group." He reportedly assured his three friends that if he were to become President, the meetings—which have been held at 11 a.m. every Wednesday for several months—would continue.
There were other signs of Ford's quiet faith. At the swearing-in ceremony his left hand rested on a family Bible open at Proverbs 3:5-6, one of the new President's favorite Scripture passages and one that he reportedly repeats nightly as a prayer. On his first Sunday as President, Ford attended Immanuel Church-on-the-Hill (Episcopal), the Fords' family church in the Washington area. (Ford is the nation's tenth Episcopal president.) The Ford family arrived at the Alexandria, Virginia, church shortly before the service started and slipped quietly into a back pew. There they heard prayers for the new President—something he'd asked for at his swearing-in ceremony—and a sermon urging parishioners not to "gloat and glower and grimace" over the events of the week.
Ford's request that he be confirmed as President "by your prayers" was typical of the man, say his congressional colleagues. It was, said his closest friend, Congressman Quie (who was listed by some as a vice-presidential possibility), "the real Jerry Ford." The swearing-in speech plus Ford's address to Congress also impressed Oregon Republican John Dellenback, chairman of the House Prayer Breakfast Committee. "There were such easy references to God," said Dellenback. "They weren't strained or laborious speechwriters' references." In the Senate, Iowa's Harold Hughes, who is leaving the Senate this year for full-time Christian work, said of Ford, "There's no doubt he's with it. He's really committed to God." Senator Jennings Randolph, a West Virginia Democrat, added that Ford brings to the presidency "strength of character, belief in God, and a record of family devotion, regular church attendance, and a reliance on our common Creator." Nebraska's Senator Carl Curtis noted that the intensive investigation of Ford after his nomination to the vice-presidency gave him a clean bill of health for honesty, integrity, and ability. Ford's words, Curtis added, indicate that his thinking "is based on sound Christian doctrine."
But while they are pleased with the new President, many evangelicals in Congress are also cautious. Few are willing to go out on a limb regarding Ford's faith; they'd rather he speak for himself. "Let's not make the same mistake we made with President Nixon," said one congressman, who preferred not to be named. "That is, present him as a born-again Christian without really knowing his true commitment." The congressman said that in several speeches to religiously oriented bodies (Ford spoke to the National Religious Broadcasters in January and the Southern Baptist Convention in June), the President had not mentioned "the name of Christ." Arizona Republican John Conlan agreed that evangelicals should tread lightly on the spiritual side of the President's life. "We should let him speak out for himself about his spiritual commitment and relationship rather than others speaking for him. It's wise for a man to give his own testimony."
But if evangelicals expect President Ford to declare himself on national television, say his supporters, they may have a wait. There are dangers that a President closely identified with one group or another might use his association with that group to garner votes, or else be accused of doing so, said Quie. There is also the danger that religious groups would use that association to further their own ends, he added. Ford, he said, is aware that many people are suspicious of such declarations while others want to turn people "into something they're not." For Quie, it is enough that the President "is a man who believes in prayer and doesn't wear his religion on his sleeve."
While some evangelicals in Washington are reluctant to name Ford as a fellow believer—even though they welcome the signs—Newsweek magazine and The New York Times showed no such hesitancy. In a post-resignation cover story, Newsweek flatly declared that "like a growing number of Washington figures, Ford is an evangelical Christian." Said the Times: "It is widely assumed that [Ford's religious beliefs] embrace the evangelical Christian faith." Similar thoughts were expressed by friends and supporters when Ford became Vice President. At that time also, his son Michael, a 24-year-old student at Gordon-Conwell Theological Seminary in South Hamilton, Massachusetts, described hisfather as "a man very committed to God" who preferred to show his faith through deeds rather than words.
And the son's faith has been an influence on the father. At a House prayer breakfast earlier this year, Ford told his colleagues that he had been strengthened in faith by seeing the impact of a strong faith on Mike's life. Said Dellenback: "Normally, influence flows from parent to child. In this case it flowed the other way. [Ford and his wife Betty] were impressed by the way the Lord took a grip on Mike's life." At a prayer meeting in Congress shortly before his father became President, Michael prayed: "Protect him and keep him strong in spirit. … Grant him the courage to trust in you always and not in the things of this world. Work in his heart … to seek your guidance and direction in all things."
Meanwhile, evangelist Billy Graham called for thankfulness that "the trauma of the past months is passing" and that "a man of the moral caliber of Gerald Ford was waiting in the wings to take over." Graham, along with others, also called for prayer for the former President and his family.
But there were also some backward glimpses. Presbyterian minister John Huffman, formerly pastor of the Presbyterian church that the Nixon family sometimes attended in Key Biscayne, Florida, told newspapers that the Nixon resignation was "the very best thing for the nation." He added that Nixon had "lied to the American people and to me personally." Huffman, now pastor of First Presbyterian Church in Pittsburgh, Pennsylvania, said that he was assured by Nixon in personal conversations that the president was "doing everything in his power" to get to the bottom of Watergate. The resignation and disgrace were a tragedy for the family, Huffman declared, "but justice must be served."
At the Southern Baptist Convention's Home Missions Week in Glorieta, New Mexico, some 2,200 attendees heard Nixon's resignation speech and then knelt in prayer for Nixon, Ford, and the nation.
The troubles facing Ford as he assumed office were many. High on the list were inflation, lingering bitterness over Watergate, a shaky Mideast peace, and the crisis in Cyprus. But his congressional prayer colleagues are convinced that President Ford will meet those problems as he has met many others—in prayer and with a quiet faith.
This article originally appeared in the August 30, 1974, issue of Christianity Today.
Related Elsewhere:
Yesterday, Christianity Today republished Ford's 1977 Gordon-Conwell commencement address.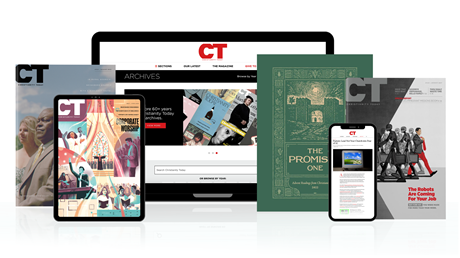 Annual & Monthly subscriptions available.
Print & Digital Issues of CT magazine
Complete access to every article on ChristianityToday.com
Unlimited access to 65+ years of CT's online archives
Member-only special issues
Subscribe
Gerald Ford: Prayer and a Quiet Faith
Gerald Ford: Prayer and a Quiet Faith