true
When I heard they'd made a movie out of Thomas Rockwell's popular 1973 juvenile fiction book How to Eat Fried Worms, I fondly remembered a genre of stories I read in elementary school, including such classics as Tales of a Fourth Grade Nothing and Fudge by Judy Blume, and the Ramona books (Ramona the Pest, Ramona the Brave, etc.) by Beverly Cleary. These were books with lovable, relatable characters who won our hearts and turned us on to reading. I lumped How to Eat Fried Worms in with the rest with a great big nostalgic awww.
Well, it should have been an ewww.
In the book version of Fried Worms, warring factions of 11-year-old male friends dare young Billy Forrester to eat 15 worms in 15 days for 50 bucks. It's a winning battle of wits and stomachs, a classic tale of friendship and boyhood fights. Well, when you cram that story into 83 minutes in the age of Fear Factor, that translates into ten worms on one gastronomically insane Saturday (with no puking). And the loser has to walk down the main hallway at school with a handful of worms in his pants. In other words, the movie version is all about the worms.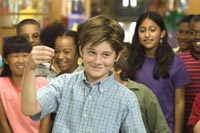 Luke Benward as Billy … and it's all about the worms
At the start of the film, Billy (Luke Benward) has moved to a new town with his mostly clueless parents (Tom Cavanagh and Kimberly Williams-Paisley) and his annoyingly cute little brother, Woody (Ty Panitz). Why have they moved? We don't know. Remember, it's all about the worms. When Billy braves the first day at his new school, he becomes the latest target for the campus bully, Joe, and his band of fifth-grade thugs. Why is he the source of such instant derision? We don't know. Remember, it's all about the worms.
At lunch that first day, Joe and crew sneak a fistful of worms into Billy's Thermos. In the ensuing cafeteria showdown, Billy shows a rare surge in courage (or stupidity) and flings one of the wiggly creatures onto Joe's face. Why does normally cowering Billy suddenly become brave and daring? Oh, you get the picture by now. In return, Joe issues the worm-eating dare, and as anyone who's ever graced a school playground will tell you, you have to take the dare.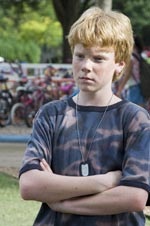 So, while Billy's parents leave him in their brand-new neighborhood to care for his preschool brother that entire Saturday, mayhem erupts. The boys travel from kitchen to kitchen (eventually getting shooed out of each), finding new diabolical ways to prepare each worm. There's the spinach, broccoli, and worm smoothie. The Barfmallow, which contains marshmallow fluff, catsup, and the requisite worm. They even cook up a veggie-and-worm omelet at the diner owned by one boy's uncle—but that one gets accidentally fed to creepy Principal Burdock (James Rebhorn). Can you hear all the 11-year-old boys cheering "duuude" and "awesome!" Yeah, you will. That's if you can stomach this little family flick.
Throughout this fifth-grade Fear Factor, there are scattered lessons on the ills of bullying, the benefit of being true to yourself, the joy of true friendship. But really, what boy is going to remember a moral when there's an exploding worm? (Yes, you get that nagging question of what happens when you nuke a worm answered!)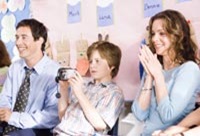 The acting is as varied as the worm concoctions. Luke Benward does an admirable job as our puke-avoiding protagonist. The rest of the boys vary from convincing to melodramatic. When I saw that Billy's parents are played by Tom Cavanagh and Kimberly Williams-Paisley, I was delighted. What perfect casting for family flick folks. Sadly, they're way underused and mainly fed one-dimensional dopey-grown-up lines (as are all the other adults).
If you're an 11-year-old boy, I'll bet this is cinematic heaven. And if you're not (or don't have the sense of humor of one), having your favorite member of this demographic entertained for 83 minutes may just be enough to win you over, too. Just remember to steer clear of the gummy worms at the concession stand.
Talk About It
Discussion starters
At the beginning of the movie, Billy is the new kid in school. Have you ever been the "new kid"? What did it feel like? How did you eventually make friends and start to fit in? How can you use that experience to help a "new kid" around you right now
Why do you think Joe was a bully? Why do you think bullies exist? Have you ever been a bully—or just really mean to others? If yes, why did you pick on others? What were you really trying to prove or accomplish?
Have you ever been bullied? How did you handle the situation? What's the best way to respond to bullies
One by one, Joe's "team" starts to defect to Billy's side. Why do you think they do that? What lessons do we learn about being true to yourself and about true friendship?
The Family Corner
For parents to consider
Though this is a family flick with nothing overtly offensive for young eyes, it does contain some bullying, bathroom humor, and disrespect for adults. One boy talks about his penis. And I wouldn't take any kid—or grown-up—with a weak stomach.
Copyright © 2006 Christianity Today. Click for reprint information.
What Other Critics Are Saying
compiled by Jeffrey Overstreet
from Film Forum, 08/31/06
Thomas Rockwell's book How to Eat Fried Worms is a childhood favorite for me and many other book lovers.
But based on what I'm reading from religious-press critics of the film, I may steer clear of it entirely. The reviews suggest that writer-director Bob Dolman's movie adaptation, which comes to us from Walden Media, fills the story with unpleasantness, and changes the events at the conclusion, changing the meaning of the story altogether.
Steven D. Greydanus (Decent Films) is even more upset about it, giving the movie a D+.
He laments this adaptation, saying "Rockwell's beloved novella … is a cheerfully disgusting tale of boyhood bravado and rivalry among friends that winds up going too far. The new film version … transmogrifies this minor classic into an unpleasant endurance test about coping with bullying by humiliating and degrading yourself before the bullies can do it for you, with a trite, tacked-on message of solidarity that's about as realistic as a package of Gummi Worms."
Greydanus believes that Fried Worms "marks a new low for once-promising Walden Media, which still professes to be education-oriented and once espoused a commitment to faithful adaptations of quality children's literature. Their last film, Hoot, was a poor adaptation of an admittedly flawed novel. … Fried Worms is a melancholy new landmark, their first bad film from a good book."
Similarly troubled, David DiCerto (Catholic News Service) notes that Dolman "alters the story considerably." But he quickly adds, "The plot-tinkering is of less concern than the new message. Standing up to bullies is well and good, but, troublingly, the movie seems to suggest that the best way to deal with peer pressure is to give in to it."
Christian Hamaker (Crosswalk) writes, "Young actors are front and center throughout Fried Worms, and although Benward, Eisenberg and Hicks give it their all, they are surrounded by a young cast that isn't in the same league."
Hamaker notes that Dolman "further tests audiences with a cinematic presentation lacking in flair and visual grace," whereas he was impressed with earlier Walden films like Holes and Because of Winn-Dixie
Adam R. Holz (Plugged In) says that the lack of sexual innuendo and other crass content feels "refreshingly anachronistic," and concludes that it's "about as innocent as anything you're likely to find on the big screen today." Innocent, yes. But excellent? "[M]ore than a few middle school principals will be disappointed with the way it teaches kids to take matters into their own hands … when it comes to dealing with tweenage tyrants."
Mainstream critics are divided over the film, but most don't seem to notice how this adaptation arrives at different conclusions than the book.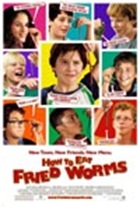 Browse All Movie Reviews By: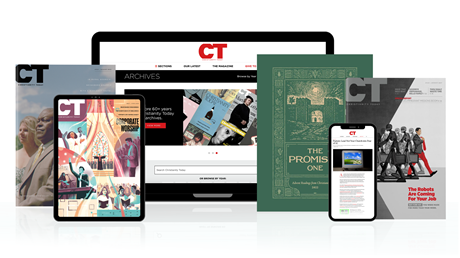 Annual & Monthly subscriptions available.
Print & Digital Issues of CT magazine
Complete access to every article on ChristianityToday.com
Unlimited access to 65+ years of CT's online archives
Member-only special issues
Subscribe
How to Eat Fried Worms
How to Eat Fried Worms