true
As we approach the five-year anniversary of the cataclysmic day in which so much in the world changed, we are reminded that one thing has stayed the same: Hollywood still likes a good story.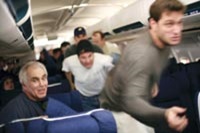 With the recent release of Oliver Stone's World Trade Center, and April's quiet release of United 93, the first entries (not counting several very good documentaries) in the 9/11-set films have arrived. And though some have cried foul that it's too soon, others have proclaimed the timing of the films entirely appropriate and even essential given the current state of the world.
What people forget is that World Trade Center, United 93, and even A&E's Flight 93—while certainly the most explicitly about 9/11—are not the first to have come out on the subject.  Several films in the last five years have referenced or been inspired by that day, and cinema as a whole has been markedly changed.
Post-9/11 metaphors
One of the most interesting—and overlooked—9/11-influenced films before the recent movies was Spike Lee's 25th Hour, which hit theaters in the winter of 2002-03. The film, ostensibly about one man (Edward Norton) living out his last night in Lower Manhattan before going to prison, was seen by many as a powerful metaphor for post-9/11 New York City.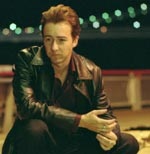 From the opening credits shot against the two towers of blue light that memorialized the twin towers to the numerous conversations about uncertain futures held in front of windows overlooking the ghostly abyss of ground zero, 25th Hour was suffused with an elegiac mood of a dazed city still in shock.
Critics responded favorably to the film and its portrayal of the post-9/11 world. "Lee takes the spiritual moment and crystallizes it into art," wrote Mike LaSalle of the San Francisco Chronicle, "getting that post-Sept. 11 feeling into his movie's molecular structure." Ann Hornaday of The Washington Post also praised the film's timeliness: "Lee has created that rarity in filmmaking: a movie we need, right now."
25th Hour came on the heels of another film about New York released in late 2002, Martin Scorsese's Gangs of New York.  This film, originally scheduled for release in September 2001, was delayed until Christmas 2002 because of its "violence in New York" subject matter.  When it did come out in theaters, Gangs was mostly critically acclaimed, despite a few complaints that its extreme violence was in poor taste.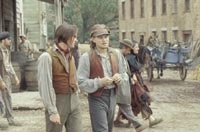 William Arnold of the Seattle Post-Intelligencer was one critic who responded negatively: "As much as any movie of the past year, this one suffers from 9/11. Its ad campaign ("America was born on the Streets!") and dreamy shots of the New York skyline ask us to see something upliftingly American in its story. But its cynicism, corruption and images of exploitation all play like ammo for Osama."
Others appreciated the film for its statement about the cyclical nature of violence. Only in the last few moments of the film, as the camera looks back on the NYC skyline burning in the 1863 draft riots and then morphs into the just-before 9/11 skyline—twin towers featured prominently—does Scorsese's point come full circle: violence begets violence.
Interestingly, Steven Spielberg's 2005 film Munich, with similar themes of reprisal violence, also contained a final shot of the pre-9/11 New York skyline, with the World Trade Center faintly in the distance. Obviously the twin towers have a new iconic symbolism, and any film that makes a point of capturing them certainly has more in mind than mere background. 
Impact on the industry
9/11's impact on cinema goes beyond the artistic content of films, however.  The whole industry was shaken, and the ramifications felt almost immediately. Several films had their release dates pushed back due to their sensitive subject matters, such as Arnold Schwarzenegger's terrorist-themed action film Collateral Damage; and other films were dropped entirely, such as Jackie Chan's Nosebleed, about a plot to blow up the World Trade Center.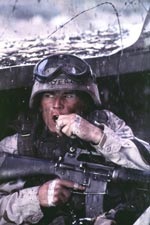 Some studios took advantage of the patriotic climate following 9/11, however, like Universal's CIA thriller Spy Game or Sony's pro-military Black Hawk Down—films that resonated with audiences and performed well at the box office in late 2001 and early 2002, respectively.
The feeling among moviegoers, it seemed, was that in the fearful days following 9/11, the kinds of movies people wanted to see were the uplifting, rousing, heroic kinds. Audiences were glad to have the big screen arrival of Harry Potter in November 2001, and then the first installment of The Lord of the Rings a few weeks later.  Getting their minds away from the turbulent world and into escapist fantasy, audiences quickly catapulted those two films to the No. 1 (Potter) and No. 2 (Rings) box office winners of 2001.
Then in May of 2002 it was Spider-Man—with its record-shattering $115 million opening weekend—that reenergized post-9/11 audiences and ushered in a renaissance of superhero films that has since seen New York City saved by the likes of Batman, Spider-Man (again!), Fantastic Four, and most recently, Superman. (Batman's Gotham City and Superman's Metropolis have often been seen as fictional metaphors for NYC.)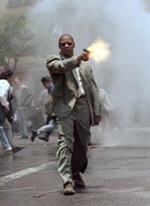 There have been other theories postulated about post-9/11 film patterns. A.O. Scott of the New York Times proposed in 2004 that one psychological impact of 9/11 on film was the renewed resonance of "revenge films" (Kill Bill, The Punisher, Man on Fire, etc). Others, like Movieline.com's Stephen Farber, have argued that post-9/11 has seen an American cinema defined by sorrow and mourning (like 2002's The Guys, about an NYC fireman preparing eulogies for comrades killed on 9/11). Still others have pointed out that post-9/11 geopolitics has ushered in a more politically active cinema; from Michael Moore's infamous Fahrenheit 9/11 to the rise of explicitly political cinema like Participant Productions (Syriana, Good Night and Good Luck, An Inconvenient Truth, etc).
9/11's lasting impact
And this is where I think the lasting impact of 9/11 will be on cinema. The politicization and activism of 21st century cinema—more than anything else mentioned in this article—will truly shape movies in years to come. And of course it isn't just 9/11 that has spawned this change (Michael Moore has been making these types of films since the '80s). One could argue that it wasn't 9/11 per se that created this explosion of "activist" cinema, but rather the post-9/11 Bush doctrine that put ammo in the guns of liberal Hollywood. You didn't see much of this angry statement cinema during the Clinton years, after all (films were provocative then too, but in artsy, indie sorts of ways). But I really do think 9/11 itself caused a couple things to happen that will make the "activist" changes in cinema permanent.
On that day, when so many of our reactions were "I feel like this is a movie," something about the dissonance of reality and cinema crystallized in our consciousness. We began to see that real life is just as gripping, interesting, and—dare I say it—entertaining as anything we might see at the movies. Ratings for 24-hour news channels went through the roof as people sat glued to their television sets for the next "breaking news" or "developing story" to unfold in a suddenly much more surreal, "like a movie" world. And how does this affect cinema? One word: documentary.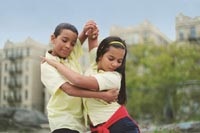 The rise in popularity of the documentary film—beyond PBS, Discovery Channel, or art-house cinema—is unmistakable in the post-9/11 world. Films like Spellbound, Mad Hot Ballroom, Murderball, Born Into Brothels, March of the Penguins, and many others have made an impact in culture like documentaries never used to. Why? Because audiences were awakened on the morning of 9/11 to the notion that reality outside your window or down the street can be just as interesting as anything scripted. And of course reality TV—which certainly was alive and well before 9/11—only became more widespread after that day. 
In the same way that audiences re-examined the intersection of film and reality, so did filmmakers. Hollywood, I think, really did have something of an existential crisis after 9/11, pondering its true relevance and contribution to a troubled, dark world. On one hand, I think Hollywood quickly came to realize that its purpose of providing escapist entertainment was needed now more than ever; but on the other I think many began to ask if there could be a new relevance to film's purpose. 
It is the latter camp—the one that has given rise to production companies like Participant and big-issue statement films like Crash or Fast Food Nation—which I think represents the future of post-9/11 cinema. With the knowledge that film is one of the most powerful mediums in the world, many in Hollywood are trying to make every picture count. To some, "film as art" might seem increasingly frivolous in lieu of the potential of "film as educator."
Sure, individual directors will continue to produce artistic confrontations with specifically 9/11 material—Mike Binder (The Upside of Anger) is one, for example, who has a film (Reign O'er Me) in the works on the matter. And heroic, comic-book escapism will always be with us (though I suspect the current "renaissance" is a short-term fix that we are beginning to grow weary of). And films will continue to mirror the psychology of the filmgoer as it ebbs and flows through patriotism, sorrow, revenge, etc. But it is the activation of both the filmmaker and filmgoer—to realize the potential of film to document, inform, and inspire change in a turbulent world—that I think will ultimately define the "post-9/11" era of cinema.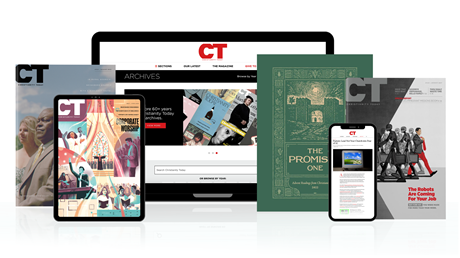 Annual & Monthly subscriptions available.
Print & Digital Issues of CT magazine
Complete access to every article on ChristianityToday.com
Unlimited access to 65+ years of CT's online archives
Member-only special issues
Subscribe
9/11 at the Cineplex
9/11 at the Cineplex