1. Protestant chaplain at Georgetown: God told us to kick out InterVarsity and others
"Blessings and may God's peace be upon you!" begins a letter to six evangelical groups from Constance Wheeler, the Protestant chaplain at Georgetown University. The letter then explains that effective immediately, the ministries
will no longer be allowed to hold any activity or presence (i.e. Bible studies, retreats with Georgetown students, Mid-week worship services, fellowship events, move-in assistance, SAC Fair, etc.) on campus. … Additionally, all websites linking your ministries to a presence at Georgetown University will need to be modified to reflect the terminated relationship. Your ministries are not to publicize in any literature, media, advertisement, etc. that Georgetown University is or will be an active ministry site.
It's God's will, Wheeler explained. "While we realize this comes as a great disappointment, please know we are moving forward with this decision only after much dialogue with the Lord. We have enjoyed working with your ministries in various capacities over the years and will always keep your ministry in our prayers."
While the Protestant chaplain's office may have enjoyed working with the ministries, the problem, according to several sources and a university spokesman, was that the office wanted more control over them.
"With this restructuring has come a desire in the Protestant chaplaincy to build the ministry from within Georgetown and its Protestant student leaders rather than rely on outside groups or fellowships," Erik Smulson told various news sources. "Hopefully this restructuring of the chaplaincy will provide a more consistent and focused effort to work with the Protestant students to ensure that their spiritual needs are being met."
Smulson was even more direct with The Washington Post, explaining that (in the Post's paraphrase) the Protestant chaplaincy "wants more control over its on-campus ministries." "It was hard for Campus Ministry to keep track of them," he said.
Tim Ratp, an adult leader of the Crossroad Campus Christian Fellowship, told the Georgetown student newspaper, The Hoya, that administrators he met with told him that they "have no idea what we're doing, and therefore [they don't] want us on the campus."
Not that school officials haven't tried to control these groups before. First Things editor Jody Bottum writes,
There was something odd going on last year when Campus Ministries demanded that the evangelical groups sign a statement promising not to "proselytize nor undermine another faith community." And there was something even odder when it was done in the name of the school's Catholic tradition—by the Protestant chaplains in the official Georgetown office. … There's an obvious irony here—employed too often to be surprising—in which people begin by protesting in the name of diversity against centralized authority, and later discover, once they're in charge, how useful those old forms of authority can be in controlling diversity.
The "proselytizing" ban wasn't the end of it (InterVarsity leader Kevin Offner told The Washington Times that it wasn't quite a ban on all evangelism, "but I do think we need to be careful in our defining of words and terms.") According to Inside Higher Ed, group leaders also had to sign a statement "expressing respect for the Catholic faith as a legitimate path to God." The groups also had to agree to send staff members to joint Protestant religious services. And that's where there may be a problem with the chaplaincy's desire to "work with the Protestant students to ensure that their spiritual needs are being met."
The services, Offner told Inside Higher Ed, didn't meet the spiritual needs of evangelical students. "It's not that our students hate" the official Protestant chaplains, he explained. "This just isn't how they want to worship, and we don't all worship the same way."
Inside Higher Ed has many reader comments.
2. Cross-eyed in Scotland
Sometimes missing a story is a good thing. There was quite an uproar in British papers over the weekend about Artur Boruc, the Polish goalkeeper for Celtic Football Club, who was allegedly warned by Strathclyde Police that he could be arrested on breaching the peace charges for making the Sign of the Cross in front of fans of a rival Glasgow team, the Rangers. Celtic fans are generally Catholics; Rangers fans are often Protestant Unionists. Ruth Kelly, Secretary of State for Communities and Local Government (Britain's equality office) even defended the Sign of the Cross on the BBC. It turns out, however, that police warned Boruc about "making 'come on' gestures," not for crossing himself. But that's not terribly interesting, so Scottish politicians and others are still arguing about the Sign of the Cross.
3. Remarriage after divorce still called adultery in the Church of God of Prophecy
The Pentecostal denomination originally split from the Church of God (Cleveland, Tenn.) "over disagreements, in part, over divorce and remarriage," The Tennessean explains. "Two years ago, the denomination voted to give local churches greater flexibility in allowing people remarried after a divorce to become members. Previously, pastors had to seek exceptions from state overseers for such individuals to join their churches." Last week, the denomination was due to consider changing its stance that remarriage after divorce is a form of adultery. But the general overseer of the church, Bishop Fred S. Fisher Sr., put off official debate until 2008.
"No, no groaning," Fisher said, according to The New York Times. "The counselors have felt along with me that it would be improper to push this over."
Want some background reading in preparation for next year's battle (which, if we've learned anything from other denominational fights, will surely be hotter now that it has been postponed)? When Christianity Today posted its editorial on "The Christian Divorce Culture" in 2000, we also posted online our 1992 series on divorce and remarriage. Scroll down this page to read it.
4. Uganda cease-fire went in effect today
"The truce does not include details on disarming the rebels or integrating them into Ugandan society," the Associated Press notes today. "Those terms will be part of a final accord to be negotiated at talks in Juba, Sudan, with leaders of Sudan's southern region serving as mediators." Uganda has also promised not to turn leader Joseph Kony over to the International Criminal Court, which has issued arrest warrants. So, as with so many cease-fires, the peace may not yet be won.
5. David Jenkins banned from local pulpits
For all those who thought it was a bit odd that Greg Boyd lost 1,000 of his 5,000 members for criticizing conservative politics rather than for arguing that God doesn't know the future, here's a much better story. David Jenkins, the former Bishop of Durham, argued against the physical resurrection of Jesus, the literal truth of the Bible, and the continued existence of his own Church of England. But it wasn't until he used the words "bloody" and "damn" in a sermon that he got was banned from two area churches. Ah, priorities.
Quote of the day
"The Republicans didn't want the government to run your life, because Jesus should. That was really part of their thing: less government, more Jesus. Now it's like, how about more government and Jesus?"
—South Park co-creator and libertarian Trey Parker
More articles
Georgetown ousts evangelical groups | Embryonic stem-cell research | Vashti McCollum | No Sign of the Cross ban | Steven Flockhart | Terry Hornbuckle | Plan B | Film and theater | Missions & ministry | Media | Sexual ethics | Women | Lawsuits | Uganda's Lord's Resistance Army | Sudan | Books | Church life | Catholicism | Hurricane Katrina | Abuse | Crime | Ohio clergy back Blackwell | Politics (U.S.) | Politics (non-U.S.) | Politics and sex | Religious freedom | New charity rules | Education | Sports | History | EU Constitution | Islam | Apartheid | Strip club on church land | Money and business | Other stories of interest
Georgetown ousts evangelical groups:
Stem cells without embryo loss |Opposition to the new extraction method illustrates the great lengths to which scientists must go to shape research to fit the dictates of religious conservatives (Editorial, The New York Times)


Science by press release | More hype from stem cell entrepreneurs (Wesley J. Smith, The Weekly Standard)


Vashti McCollum, 93, who brought landmark church-state suit, is dead | Vashti McCollum's lawsuit to stop religious instruction on school property led to a landmark ruling by the United States Supreme Court in 1948 (The New York Times)


Vashti Cromwell McCollum dies at 93 | Won her case against religion in schools (Los Angeles Times)


Cross to bear | The Crown Office says Artur Boruc's caution was for more than just blessing himself in front of Rangers' support, but the incident shows Scottish football is still torn by sectarianism (Richard Wilson, The Times, London)


Seeking entry-level prophet: Burning bush and tablets not required | A filmmaker has offered a musician $5,000 to start his own religion, with a film crew tracking his efforts (The New York Times)


Science vs. religion in Southern California | Crispin Whittell's play transforms the argument between science and creationism into a comedy (The New York Times)


Faith and the funny pages | Though other comics occasionally address religious themes, until now mainstream newspapers and syndicates have largely avoided strips that make religion central (John Leland, The New York Times)


American Idolatry | The culture of resentment runs so deep in the American character that the self-pitying drone of immiserated farmers, amplified by the petulant adolescents of the 1950s as a remonstration against parental authority, now dominates the musical life of American Christians (Spengler, Asia Times)


Remarriage issue gives denomination an identity crisis | The Church of God of Prophecy stopped short of changing its official teaching that people who remarry after divorce are adulterers (The New York Times)


Clergywomen find hard path to bigger pulpit | Women in the clergy still bump against what many call the stained-glass ceiling — limits and prejudices within their denominations (The New York Times)


In defense of the (inevitable) ordination of women | This is not designer religion or cafeteria Catholicism. This is the passionate need for wholeness and fullness of life promised by Christ himself through baptism. (Gloria C. Endres, Philadelphia Daily News)


Wife, mother … priest | Eileen Mccafferty Difranco is one of eight women ordained on July 31 by Roman Catholic Womenpriests, a group that aims to bring about what it considers gender equality within the Catholic Church - in defiance of the church hierarchy (Philadelphia Daily News)


Literalism blocks Bible's big picture | First Baptist Church of Watertown, N.Y., fired Mary Lambert for being a woman. They say the Bible told them to do it (Leonard Pitts, The Miami Herald)


Priests, helpers at Novena Church sued over alleged exorcism | The Novena Church, two priests and seven helpers are being sued for an alleged act of exorcism, in an incident believed to have taken place two years ago (Channel NewsAsia, Singapore)


Jackie Mason in court to sue Jews for Jesus | The comic and rabbi filed a lawsuit this week against the group, concerning a free pamphlet using his name and a caricature of his face (The New York Times)


Wife's religious spoofs become central in custody case | Son never attended any of mother's SubGenius events, but New York gave sole custody to father (Religion Clause)


Uganda's Lord's Resistance Army:
Cease-fire brings hope to Uganda | A cease-fire between Uganda's government and a shadowy rebel movement that has terrorized this east African nation for nearly two decades went into effect Tuesday (Associated Press)


Rebel 'prophet' signs deal to end 20 years of fighting | Uganda signed a deal to end two decades of war with the Lord's Resistance Army rebels, raising hopes that almost two million people will return home after enduring the massacres and mass abduction of children that marked one of Africa's longest wars (The Times, London)


Southern Sudanese wonder if nation can remain united | More than 18 months after peace agreement, many Sudanese still wonder whether their 500 different ethnic groups using 130 languages and a variety of religious beliefs can live in harmony (Reuters)


Sudanese Islamists threaten to fight U.N. Darfur force | Sudanese Islamist leaders say they will take up arms against United Nations peacekeepers if they deploy to Darfur, and some have warned they will also fight the Khartoum government if it agrees to the force (Reuters)


Book: Horse-and-buggy Mennonites thrive | The original community of 1,000 adults and children has grown to nearly 18,000 people living in nine states, including New York (Associated Press)


Onward Christian soldiers | The real story behind the missions undertaken in God's name. Christopher Silvester reviews God's War: A New History of the Crusades by Christopher Tyerman (The Times, London)


A holy vagabond | R. W. Johnson reviews The Troublemaker: Michael Scott and His Lonely Struggle Against Injustice by Anne Yates and Lewis Chester (The Times, London)


Bishop banned from pulpit for swearing | David Jenkins, the former Bishop of Durham who survived a storm in the 1980s when he questioned the literal truth of the resurrection, has been banned from preaching in two of his local churches for swearing in the pulpit (The Times, London)


Churches keep on pushing into Lodi greenbelt | The land, outside the cities' limits, is zoned for agricultural purposes. But the county has always exempted churches from that restriction, and in October a Sikh temple is scheduled to become the third religious complex to open on land zoned for agriculture between Stockton and Lodi (The Stockton Record, Ca.)


Uninsured losses high for archdiocese | Archbishop Alfred Hughes disclosed a new, much higher estimate of uninsured property damage to the churches, schools and other buildings of the Archdiocese of New Orleans in a status report Monday (The Times-Picayune, New Orleans)


Compassion on the scene | Marvin Olasky on Katrina, before and after (National Review Online)


Painter said to be focus of FBI probe | The FBI is investigating allegations that self-styled "Painter of Light" Thomas Kinkade and some of his top executives fraudulently induced investors to open galleries and then ruined them financially, former dealers contacted by federal agents said (Los Angeles Times)


What drove the preacher's wife? | No one knows why Mary Winkler killed her minister husband. With few facts, a small Bible Belt town in Tennessee has many theories (Los Angeles Times)


U.S. priest acquitted of sodomy in Kenya | A 70-year-old U.S. Catholic missionary was acquitted of sodomy by a Kenyan Court after no evidence was presented, a magistrate said on Monday (Reuters)


An Enron twist: convicted but not guilty? | A legal precedent could clear Ken Lay, the firm's late founder, making it hard for the US to tap his estate (The Christian Science Monitor)


Porvoo arson trial begins | Defendant told friends of intentions before fire (Helsingin Sanomat, Helsinki)


Also: 18-year old Finn stands trial for arson of Porvoo Cathedral | The chief prosecutor of Porvoo district court, Petri Vaaja, stated on Monday his belief that the arson of Porvoo cathedral was motivated by a hatred of Christianity (NewsRoom Finland)


Jury backs woman's harassment claims | A Kansas City jury decided this week that placing pornographic pictures in a worker's Bible, plus other unwelcome actions, constituted harassment meriting a $101,000 award (The Kansas City Star)


Bring Kaiser's killers to book, clerics demand | Six years later, few answers (The Nation, Kenya)


Pastors stand up for Blackwell | Democrats seek names of donors behind TV attack ad (The Columbus Dispatch, Oh.)


Ministers back Blackwell, challenge IRS | Strickland calls criticism of his convictions inappropriate' (The Plain Dealer, Cleveland)


Ohio GOP hopeful gets church backing | Equating their movement to the civil rights struggle of the 1960s, a group of conservative pastors from across the nation endorsed Republican gubernatorial candidate Ken Blackwell on Monday (Associated Press)


Christian group sues over campaign rules | A Christian conservative group filed suit earlier this morning in a Tallahassee federal court challenging laws that prevent judicial candidates from discussing their views on the campaign trail (The News-Press, Ft. Myers, Fla.)


Harris tries to douse furor over remarks to Baptists | Says she did not mean to offend non-Christians (The Orlando Sentinel)


Also: Harris clarifies comments on religion | Harris' campaign released a statement Saturday saying she had been "speaking to a Christian audience, addressing a common misperception that people of faith should not be actively involved in government" (Associated Press)


In Mexico, the cardinal and the 'crazies' | Religion colors politics as Catholic leaders take stand on presidential fight (The Washington Post)


Religion shouldn't be left to the Right | Kevin Rudd speaks Mandarin, which may, just may, be useful in the future. More important, he speaks fluent Christian, which is mightily important right now. As we approach the next election, Rudd could be the ALP's secret weapon (The Australian)


Senate hopeful explains anti-gay columns | U.S. Senate candidate Stephen Laffey said he regrets that he wrote columns denigrating gays when he was a college student (Associated Press)


Ala. Democrats reinstate gay candidate | An openly gay candidate was reinstated Saturday as the Democratic Party's nominee for a seat in the Alabama Legislature in a vote that turned more on the race of the candidates than sexual orientation (Associated Press)


Oregon employers must consider religious beliefs | All Oregon employers have an obligation to reasonably accommodate the sincerely held religious beliefs of an applicant or employee, unless to do so would cause an undue hardship for the employer (The Register-Guard, Eugene, Ore.)


Christians on death row in Indonesia seek clemency | Three Christian militants facing execution in Indonesia after being convicted of leading a mob that killed Muslims have made a fresh appeal to the president for clemency, a presidential spokesman said on Monday (Reuters)


Also: Poso trio renews clemency request | Three Christian militants facing execution in Central Sulawesi for leading a mob that killed Muslims have made a fresh appeal for presidential clemency, their lawyers and a presidential spokesman said Monday (The Jakarta Post, Indonesia)


Report: Auxiliary bishop in China freed | An auxiliary bishop in China's underground Catholic church has been released after a decade in prison, the Vatican-affiliated Asia News agency reported Saturday (Associated Press)


Charities expect more cash, less trash with new law | Changes allow direct gifts from certain IRAs, set quality standards for donations of goods (Chicago Tribune)


Charitable donations get stricter tax rules | Soon you'll need a receipt or canceled check for every gift. And those old jeans must be in 'good' shape (Los Angeles Times)


A cause for change | New legislation may help charitable organizations receive more money and less junk (Newsday)


NMSU, coach face ACLU suit | The American Civil Liberties Union on Monday filed a federal civil rights lawsuit against New Mexico State University and its head football coach Hal Mumme, alleging three former football players were discriminated against because they are Muslim (Las Cruces Sun-News, N.M.)


Our father who art at home plate | CFL, NHL interested. Sports teams swayed by Christian group to fill the stands (National Post, Canada)


Church to probe poaching scandal | The Uniting Church is launching a "thorough investigation" into Haileybury College, its elite affiliated school, after complaints from other schools that it has poached their students (The Age, Melbourne, Australia)


13th-century papal letters returned | A collection of letters written by popes and kings some 700 years ago that was found among the possessions of a deceased U.S. World War II veteran was turned over Monday to Polish national archives officials (Associated Press)


In touch with the infinite | The centenary of the birth of John Betjeman is a good opportunity to re-examine the role faith played in his poetry (Terry Philpot, The Guardian, London)


EU needs constitution with Christian reference, Merkel says | "I underlined my opinion that we need a European identity in the form of a constitutional treaty and I think it should be connected to Christianity and God, as Christianity has forged Europe in a decisive way," says German chancellor (EU Observer)


Merkel backs more Christian EU constitution | Europe's "Christian values" should be enshrined in a new version of the EU constitution, the German chancellor declared yesterday after meeting the Pope (The Guardian, London)


Achilles' heel | Just as there are rapists who tell themselves their victims are genuinely in love with them, so no doubt there are those who believe that faith can be enforced at the point of a sword (Mark Steyn, The New York Sun)


Curate likens bombers to Christian crusaders | The London bombers are being bracketed by a former Yorkshire curate with Christian crusaders. Both share the "same religious passion," he says (Yorkshire Post, England)


Ex-apartheid minister sparks debate | A former police minister whose name is synonymous with the brutal repression of the white establishment's political opponents during apartheid has apologized for his past actions, a government official said Monday (Associated Press)


Feet washed in apartheid apology | A prominent South African clergyman and opponent of apartheid has told how an apartheid-era minister washed his feet in a gesture of contrition (BBC)


Strip club boss defies threats | Strippers performed at a Hobart bar last night in defiance of an ultimatum from the Anglican Church which owns the premises behind St David's Cathedral (The Sunday Tasmanian)


Church moves to shunt strippers | The trustees of the Anglican Church are considering their legal options for removing an adult entertainment venue operating on church premises next to St David's Cathedral in Hobart (ABC, Australia)


Paying it forward | A Southern California pastor was hoping for a multiplier effect when he gave 100 parishioners $100 each to go out and help others. Now he has started a movement (The Chronicle of Philanthropy, sub. req'd.)


As bigger retailers cut into Christian book market, smaller stores shift focus | Books filled with lessons of faith and Christian values once filled an entire room of Patti St. Clair's shop in Tunkhannock. Now, customers at Paradise Book and Gift Shop have just one wall's worth of titles to peruse (Times-Tribune, Scranton, Pa.)


Christian books moving toward the thought-provoking | An interview with Bill Anderson (Times-Tribune, Scranton, Pa.)


Related Elsewhere:
Suggest links and stories by sending e-mail to weblog@christianitytoday.com
See our past Weblog updates:
August 25 | 24 | 23
August 15 | 11 | 10
August 4 | 1
July 28 | 27 | 26
July 21 | 19
July 14 | 13 | 12b | 12a | 10
July 7 | 6 | 5 | 3
Weblog
Launched in 1999, Christianity Today's Weblog was not just one of the first religion-oriented weblogs, but one of the first published by a media organization. (Hence its rather bland title.) Mostly compiled by then-online editor Ted Olsen, Weblog rounded up religion news and opinion pieces from publications around the world. As Christianity Today's website grew, it launched other blogs. Olsen took on management responsibilities, and the Weblog feature as such was mothballed. But CT's efforts to round up important news and opinion from around the web continues, especially on our Gleanings feature.
Ted Olsen is Christianity Today's executive editor. He wrote the magazine's Weblog—a collection of news and opinion articles from mainstream news sources around the world—from 1999 to 2006. In 2004, the magazine launched Weblog in Print, which looks for unexpected connections and trends in articles appearing in the mainstream press. The column was later renamed "Tidings" and ran until 2007.
Previous Weblog Columns: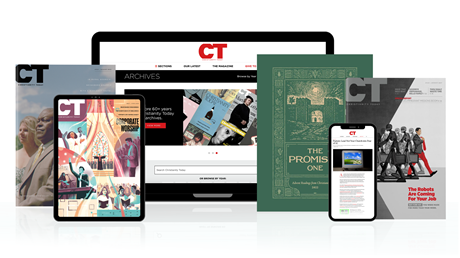 Annual & Monthly subscriptions available.
Print & Digital Issues of CT magazine
Complete access to every article on ChristianityToday.com
Unlimited access to 65+ years of CT's online archives
Member-only special issues
Subscribe
Georgetown Ousts Evangelical Groups
Georgetown Ousts Evangelical Groups