Today's Top Five
1. Army of compassion of one
The Washington Post's Alan Cooperman notes that when the White House announced its appointment of Jay Hein as the new director of the White House Office of Faith-Based and Community Initiatives, it did so using the kind of timing it usually uses for bad news.
"It's part of a continuing story of ambivalence. It's hard to look at the evidence and see any real passion for the initiative from the White House," said David Kuo, former deputy director of the White House's faith-based office.
Hein says Bush is still eager to see progress on the faith-based initiative. "I had 30 minutes of Oval Office time with the president before I accepted the position, and that spoke loudly to me about his personal interest in seeing this initiative made successful and that it remains a high priority on his desk," Hein told the Post.
2. Read the poll, not the headlines
There are many news stories today about the new survey results from the Pew Forum on Religion and Public Life. With so many subjects covered, it can be a Rorschach test for news outlets (e.g.: The New York Times goes with "In poll, GOP slips as a friend of religion," while The Washington Times runs "Few see Democrats as friendly to religion."). But if you like numbers, and if you really want to know what evangelicals think about contemporary political issues—as well as a number of religious issues—you can get lost in this for hours. A few notes:
Almost half of Americans say conservative Christians have gone too far in trying to impose their religious values on the country (up to 49% from 45% a year ago). But the percentage of Americans who have a favorable view of the conservative Christian movement has been relatively steady over the past half-decade. (The unfavorable rating has grown by a few points, pulling from those in earlier years who had no opinion.)


Which should be the more important influence on the laws of the United States? Should it be the Bible or should it be the will of the American people, even when it conflicts with the Bible? Three out of five white evangelicals said the Bible should trump the people's will. Seven percent of Americans who describe themselves as "secular" agree. (Five percent of secular Americans say the Bible is the literal Word of God, and another 29 percent say it's the Word of God, but not everything in it should be taken literally.)


More than 70 percent of Americans want to see more religious influence on American life. But barely a majority—51 percent—want to see more religious influence on government.


There doesn't seem to be much of a "religious left." The Pew report explains, "The survey finds relatively few Americans identify with either the 'religious left political movement' (7%), or the 'religious right political movement' (11%). However, there are far more conservatives who identify with the religious right than liberals who identify themselves as belonging to the religious left." An equal percentage of evangelicals and mainline Protestants—seven percent—say they belong to the religious left.


There's much more, including statistics on evolution, Israel, global warming, biblical literalism, the Second Coming, and what Americans are hearing in church.
3. American bans television
A Pakistani national who lives in New York has been charged with illegally offering customers access to Al Manar, the television station run by Hezbollah. Buying or selling access to Al Manar is prohibited under the Patriot Act, since Hezbollah is designated a global terrorist organization.
"The charge lurking in the background is material support for terrorism," Stephen A. Miller, an assistant United States attorney, told United States Magistrate Judge Gabriel W. Gorenstein, according to The New York Times.
Much of Manar's satellite business has reportedly come from Christians who want more religious programming in their homes.
The New York Post describes the sting operation this way:
In June, a "wired" FBI informant walked into Iqbal's Brooklyn office, asking to be hooked up to the "DISH network."
The informant explained he was Lebanese and wanted to watch the Lebanese Broadcasting Corporation, which transmits secular or Christian shows. Iqbal asked if he was "Lebanese Christian" and when the informant said no, he asked, "Why don't you watch Al Manar?" court papers say.
He described different service packages that would allow the customer to receive Al Manar and other Arab networks, including Al-Jazeera.
Al Manar sounds like a despicable channel. But should it be illegal? Be careful: Christians have been enthusiastic for Sat-7, a Christian satellite network that targets the Middle East and North Africa, where several countries limit Christian media. And the precedent is unsettling. If the U.S. can ban access to Al Manar today for its "death to America" broadcasts, what's to stop a ban on CBN tomorrow for its "death to Hugo Chavez" broadcasts?
4. Jackie Mason and Jews for Jesus get more media attention
Just because Jackie Mason is the celebrity spokesman for Jews Against Anti-Christian Defamation (which was one of the "war on Christmas" groups last December) doesn't mean he's a fan of Jews for Jesus.  He's suing the evangelistic group for $2 million, saying it illegally used him in an evangelistic tract called "Jackie Mason … A Jew for Jesus!?". "The pamphlet uses my name, my likeness, my 'shtick' (if you will), and my very act, which is derived from my personality, to attract attention and converts," he complained. Does Jackie Mason, whose claim to fame is having not given Ed Sullivan the finger, really still "attract attention"? Today he does, I guess.
5. William Martin profiles T. D. Jakes for Texas Monthly
That combo should be all you need if you're the kind of person interested in religion reporting. Martin is the Rice University sociologist whose book A Prophet with Honor is still the top biography of Billy Graham, and whose With God on Our Side beat this year's slew of books describing the rise of the religious right by a decade. Jakes you should know by now (CT's profile was written by Lauren F. Winner). Texas Monthly is one of those wonderful magazines that really gives its writers room to breathe. (Martin profiled Joel Osteen for the magazine a year ago.) There's not much new in the profile, which covers prosperity teachings, the Juanita Bynum controversy, prison ministry, and the immense size of both Jakes and his church. Martin's thesis isn't shocking: "Few, if any, contemporary religious figures can match the prodigious talent, driving ambition, entrepreneurial genius, commanding presence, rhetorical power, and tangible accomplishment manifested by the senior pastor of Dallas's 30,000-member Potter's House." But it's still this week's must-read article.
Update
We got a call from Northeast Mississippi Daily Journal religion editor Charity Gordon, whose article, "Pastor leaves after church turns away biracial boy" we praised earlier this week. The story, Gordon said, did not appear in the print edition of the paper, was posted online while reporting and editing were still going on, and church members have since questioned the account of the boy's dismissal as described by pastor John Stevens. The police officer who had been attending the church and was quoted in the story wasn't actually at the church when the events took place (though the online article never says that he was). Gordon's updated article will appear in Saturday's paper.
Quote of the day
"A recognition of the likely failure of a 'values' approach is paradoxically the surest way to advance a nation's values. A nation will go farthest in representing values it cares about if its every discussion is colored by a knowledge of how little it can do. At times the job of a leader is to rouse the public with an ideal vision no one believes will really be achieved. But year in and year out, the leaders, the electorate and the communicators who connect those two groups will do better if they remember how long, slow, imperfect and sometimes doomed will be the prospects of a 'values' agenda."
—Atlantic Monthly national correspondent James Fallows, in a speech to the Lowry Institute in Sydney. An adapted version of the speech appears in today's Sydney Morning Herald.
More articles
Politics | New Pew poll | Plan B | Life ethics | Church and state | Education | Evolution | War and peace | Church life | Missions and ministry | Media | Books
FDA approves broader access to next-day pill | The agency's decision did little to dampen what became a central part of the nation's debate on abortion (The New York Times)


Advocates want more Plan B pill access | Planned Parenthood wants age restriction drooped (Associated Press)


Easier access to morning-after pills | Thursday's decision will not please advocates of unrestricted access to the emergency contraceptive, but it is an acceptable compromise (Editorial, The New York Times)


Prayers still split Congress | Religion is weaved throughout the federal government, sometimes chaffing critics who say the practice is insensitive, promotional and prohibited by constitutional separations of church and state (The Reformer, Brattleboro, Vt.)


The taxman goes to church | Why is the IRS in the business of reading sermons? (Editorial, The Wall Street Journal)


Uganda agrees to conditional cease-fire | Uganda has agreed to a conditional truce with rebels to end a 19-year insurgency in the north of the country that has left thousands dead, officials said Friday (Associated Press)


Iran ex-president invited to Washington | National Cathedral invites Mohammad Khatami to speak on "the role that the three Abrahamic faiths can play in shaping peace" (Associated Press)


War-torn Middle East seeks solace in religion | As an uneasy truce between Israel and Hezbollah continues, millions of average men and women in the Holy Land are turning to the one simple comfort that has always seen them through the darkest days of their troubled history: the steadfast guidance of their religious faith (The Onion, satire)


Islamists threaten to fight U.N. Darfur force | Sudanese Islamist leaders say they will take up arms against United Nations peacekeepers if they deploy to Darfur, and some have warned they will also fight the Khartoum government if it agrees to the force (Reuters)


An end to 'us versus them' | Fundamentalists are a minority everywhere, but they are stoking widespread fear, loathing, and dreams of salvation, provoking violence and war while weakening moderates forces (Jeffrey Sachs, The Guardian, London)


Related Elsewhere:
Suggest links and stories by sending e-mail to weblog@christianitytoday.com
See our past Weblog updates:
August 24 | 23
August 15 | 11 | 10
August 4 | 1
July 28 | 27 | 26
July 21 | 19
July 14 | 13 | 12b | 12a | 10
July 7 | 6 | 5 | 3
Weblog
Launched in 1999, Christianity Today's Weblog was not just one of the first religion-oriented weblogs, but one of the first published by a media organization. (Hence its rather bland title.) Mostly compiled by then-online editor Ted Olsen, Weblog rounded up religion news and opinion pieces from publications around the world. As Christianity Today's website grew, it launched other blogs. Olsen took on management responsibilities, and the Weblog feature as such was mothballed. But CT's efforts to round up important news and opinion from around the web continues, especially on our Gleanings feature.
Ted Olsen is Christianity Today's executive editor. He wrote the magazine's Weblog—a collection of news and opinion articles from mainstream news sources around the world—from 1999 to 2006. In 2004, the magazine launched Weblog in Print, which looks for unexpected connections and trends in articles appearing in the mainstream press. The column was later renamed "Tidings" and ran until 2007.
Previous Weblog Columns: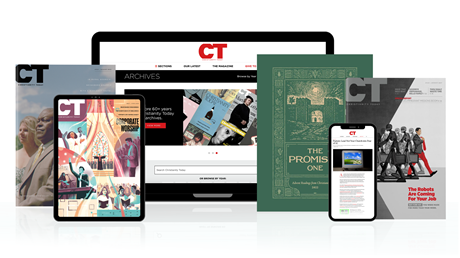 Annual & Monthly subscriptions available.
Print & Digital Issues of CT magazine
Complete access to every article on ChristianityToday.com
Unlimited access to 65+ years of CT's online archives
Member-only special issues
Subscribe
Faith-Based Lack of Initiative
Faith-Based Lack of Initiative