Note: This is the second Weblog posted on Thursday, August 24. The first highlighted religious freedom in Malaysia, a church attack in India, a horrible story of a church member's expulsion in Mississippi, and many other stories.
Today's Top Five
1. Plan B goes over the counter
After today's FDA ruling, the morning-after pill Plan B will be available without a prescription, but only with proof that the buyer is 18 or older. While the pill may prevent a fertilized ovum from implanting in the uterus, the pill is not (though it is often confused with) an abortion pill like RU-486. Notably, the pill has no effect on an implanted embryo. Religious conservatives say the age restriction isn't good enough.
"The FDA has sacrificed women's health in the name of politics," says Family Research Council president Tony Perkins. The press release does not say how women's health will be endangered by the pill, but the organization does have a backgrounder on the subject, and last month it said the drug can encourage sexual abuse and says long-term effects have not been studied.
Focus on the Family has not yet issued a press release on the FDA's approval, but on Tuesday criticized Bush's support for over-the-counter (OTC) status. "Selling this drug over the counter to any adult who wants to buy it virtually guarantees that it will end up in the hands of teenage girls without their parents' knowledge or their doctor's supervision," Focus's Carrie Gordon Earll said in a press release. "Over-the-counter status for Plan B—regardless of the age requirement—is an invitation for adult men to pressure underage girls to have sex with the promise of an easily accessible magic pill to prevent or abort a pregnancy."
"The FDA has overstepped its authority in this decision," Concerned Women for America says in a press release that draws parallels between the FDA's handling of Plan B and its handling of RU-486. "This decision allows anyone over 18 to purchase the drug without a prescription, thereby making the drug accessible to minors who can easily obtain the drug from those meeting the age requirement."
I'm not taking a position on OTC status for Plan B. But I do find it interesting that so many press releases (Focus and the Christian Medical Association being exceptions, as of course is the U.S. Conference of Catholic Bishops) aren't talking about the implantation issue. Most of the arguments are based on how OTC status would make the drug available to minors, which could encourage sexual activity. That may be true, but the argument would be just as true for other forms of contraception. You don't need a prescription for condoms, for example, and you don't have to be 18, either. And while you do need a prescription to get the Pill, you don't have to be 18, and you generally don't need parental consent.
Even the implantation issue doesn't differ much between Plan B and the Pill—which isn't a surprise, given that they're just different doses of the same drug. There's argument over how much the Pill affects implantation, but both Plan B and the Pill are designed primarily to stop fertilization, with preventing implantation as a secondary effect. And far more women are currently on the Pill than are likely to use Plan B.
So why do these pro-life groups have so much to say about Plan B but so little to say about the Pill?
2. Embryonic stem-cell research without destroying the embryo
Given that it's on almost every front page this morning, one might think that the news about coaxing stem cells from embryos without destroying the embryos would be a bigger story than OTC Plan B. Two reasons why not: Very few pro-lifers are talking about it (no comments yet from the organizations named above), and those that are aren't happy.  "I have three preliminary words in response: Ba Low Nee," says Wesley J. Smith on his blog. C. Ben Mitchell over at The Center for Bioethics and Human Dignity calls it "ethical smoke and mirrors." A CBHD press release explains, "The method of extracting cells from the embryo is similar to the procedure used for preimplantation genetic diagnosis, which has ethical problems of its own. The long-term effects of removing a cell or cells from an early embryo are unknown; it is likely some embryos will not even survive the procedure. In addition, it is widely believed that a single cell of a very early embryo may be capable of becoming a new embryo itself." White House spokesman Emily Lawrimore tells The New York Times, "Any use of human embryos for research purposes raises serious ethical questions. This technique does not resolve those concerns." Leon Kass says, "I do not think that this is the sought-for, morally unproblematic and practically useful approach we need." Richard Doerflinger of the U.S. Conference of Catholic Bishops said the process may still harm the embryo and "raises more ethical questions than it answers." The embryos, he said, are "still being treated as a means to an end, even if you're not destroying them." Over at National Review Online, Kathryn Jean Lopez notes that the embryos in the experiment actually were destroyed, but that the paper argues for a "proof of concept" that, in theory, destruction may not be the result in the future. Still, Lopez says, "that leading stem-cell scientists are looking to solve the embryo-destruction problem is terrific and should be praised."
3. Malaysia developments
Today's earlier blog noted Malaysia's ban on discussing religion. Now, in what appears to be another setback to religious freedom in the country, the top court has decided to drag its feet in the Lina Joy case. The court had earlier indicated that it would hurry in its decision on whether Lina must get permission from Islamic courts to convert to Christianity. Perhaps sensing that it's now no use to hold its reporting on the case until the verdict, The New York Times summarizes the situation today.
4. Football coach prayer case goes into overtime
The East Brunswick school district has announced that it will appeal a ruling allowing football coach Marcus Borden to participate in team prayers. The district had earlier said it was pleased with U.S. District Judge Dennis Cavanaugh's decision in the case, and said it clarified the lines of acceptable religious behavior for coaches.
5. Another Christian Coalition defects
Alabama's Christian Coalition has joined chapters in Iowa and Ohio in dropping its ties to the weakened national body and changing its name. In some ways, the surprise is that the break didn't come earlier—the state and national coalitions publicly campaigned against each other in 2003 over a proposed overhaul of the state's tax system.
Quote of the day
"They choose the Christians because we are seen as weak and because we would like to live in peace."
— Basam Hannah, one of thousands of Christians who have fled Baghdad and other Iraqi cities amid concerns that they are being targeted for attacks. Among the latest incidents is the kidnapping of Chaldean priest Saad Sirop Hanna of Baghdad. The kidnappers have demanded a $1 million ransom.
More articles
Embryonic stem-cell research | Life ethics | Sexual ethics | Abuse in the Ozarks | Crime | Cleveland Catholic kickback case | Religious liberty | Malaysia | Church and state | Education | Politics | Church disputes | Missions & ministry | Pope | Other stories of interest
In new method for stem cells, viable embryos | The new technique would seem to remove the principal objection to stem cell research, the destruction of the human embryo (The New York Times)


Economists feud on abortion, crime | A high-profile economist is challenging the conclusion in the best-selling book Freakonomics by University of Chicago professor Steven D. Levitt that the legalization of abortion in the early 1970s led to a major drop in murder and other violent crimes a generation later (Chicago Sun-Times)


Chinese sentences advocate for peasants to 4 years in prison | Chen Guangcheng sought to organize a class-action lawsuit against forced abortions and sterilizations (The New York Times)


FDA eases limits on Plan B sales | Women may buy the morning-after pill without a prescription — but only with proof they're 18 or older, federal health officials ruled Thursday, capping a contentious 3-year effort to ease access to the emergency contraceptive (Associated Press)


Conservatives try to curtail hotel porn | Pornographic movies now seem nearly as pervasive in America's hotel rooms as tiny shampoo bottles, and the lodging industry shows little concern as conservative activists rev up a protest campaign aimed at triggering a federal crackdown (Associated Press)


Nation's first civil union ends | A lesbian couple who entered into the nation's first same-sex civil union officially split up Wednesday (Associated Press)


Labor to alter bill for gay couples | Labor in South Australia is drafting a "more conservative bill" to address the "thorny" issue of granting legal rights to gay and lesbian couples, to make it clear the Rann Government is not supporting homosexual marriage (The Australian)


S.Africa's cabinet gives nod to gay marriage | South Africa's cabinet has given the green light for a bill allowing gay marriage, which would make it the first country in Africa to accord homosexual couples the same rights as their straight counterparts (Reuters)


Cleveland Catholic kickback case:
Former Bishop Pilla implicated in alleged kickback scheme | There is a new development in an alleged kickback scheme within the Catholic Diocese of Cleveland. New allegations implicate that former Bishop Anthony Pilla gave the green light for a secret church bank account (WEWS, Cleveland)


Lawyer says priest duped by associates | The priest who supervised the men at the center of the Catholic Diocese's financial scandal was duped by them, the priest's lawyer said (The Plain Dealer, Cleveland)


Saturday: Priest linked to kickback suspect | He okayed payments, court papers say (The Plain Dealer, Cleveland)


Evolution major vanishes from approved federal list | Evolutionary biology has vanished from the list of acceptable fields of study for recipients of a federal education grant for low-income college students (The New York Times)


Laws of change | Liberty University's School of Law hopes its students will change society (The Roanoke Times, Va.)


School religion rules unworkable—principals | Laws restricting religion in primary schools are impractical and unworkable, New Zealand Principals Federation president Pat Newman says (NZPA, New Zealand)


Body requires rest to nourish soul | The Pope recently suggested that people should try not to work too much. In a speech last Sunday, Pope Benedict XVI invoked the wisdom a 12th-century saint, saying too much work is bad for the soul (Morning Edition, NPR)


Pope Benedict brings new style to Vatican | A much more reserved man than his predecessor, Benedict has installed a new, quieter style in the Vatican's "Sacred Palaces" (Reuters)


Related Elsewhere:
Suggest links and stories by sending e-mail to weblog@christianitytoday.com
See our past Weblog updates:
August 23 | 15 | 11 | 10
August 4 | 1
July 28 | 27 | 26
July 21 | 19
July 14 | 13 | 12b | 12a | 10
July 7 | 6 | 5 | 3
June 29b | 29a | 28
June 23 | 22 | 21
Weblog
Launched in 1999, Christianity Today's Weblog was not just one of the first religion-oriented weblogs, but one of the first published by a media organization. (Hence its rather bland title.) Mostly compiled by then-online editor Ted Olsen, Weblog rounded up religion news and opinion pieces from publications around the world. As Christianity Today's website grew, it launched other blogs. Olsen took on management responsibilities, and the Weblog feature as such was mothballed. But CT's efforts to round up important news and opinion from around the web continues, especially on our Gleanings feature.
Ted Olsen is Christianity Today's executive editor. He wrote the magazine's Weblog—a collection of news and opinion articles from mainstream news sources around the world—from 1999 to 2006. In 2004, the magazine launched Weblog in Print, which looks for unexpected connections and trends in articles appearing in the mainstream press. The column was later renamed "Tidings" and ran until 2007.
Previous Weblog Columns: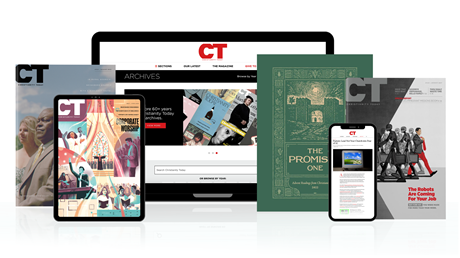 Annual & Monthly subscriptions available.
Print & Digital Issues of CT magazine
Complete access to every article on ChristianityToday.com
Unlimited access to 65+ years of CT's online archives
Member-only special issues
Subscribe
Outrage on Plan B, So Why Not the Pill?
Outrage on Plan B, So Why Not the Pill?