Today's Top Five
1. Malaysia bans all religious discussions
The Malaysian government is concerned that debate over its Constitution's freedom of religion clause is getting too heated. So it has banned any public speech about religion. "Public discussions such as these have the potential to create resentment among the public," Datuk Seri Mohd Nazri Aziz, who holds the title Minister in the Prime Minister's Department, explained to the Malaysian media Monday. "They have widened the gap between the different faiths and because of that, the government has decided to ban all public discussions, forums, and conferences on the matter before it gets out of hand."
It's not so bad, Nazri claimed. "Those who wish to discuss such matters are free to meet the Prime Minister," he said. "We are not concerned with private discussions at home; what we worry about are inter-faith roadshows, public forums, and conferences. … The government has given Malaysians the freedom to discuss any current issue, even the freedom to criticize us in a constructive manner. We, however, cannot extend this freedom to religion because it can incite disharmony in our multi-religious society."
Malaysia's Prime Minister, Abdullah Ahmad Badawi, made it clear that the action was taken as much to protect Islam's status in the country as it was to protect the peace.
"I have always said do not raise this matter [of religion]," he said. "But it emerges here, there, back and forth. If we take the attitude [not to raise religious matters], then only the religion [of Islam] has the status quo. But if it is continuously being raised, what will happen then? A conflict."
Abdullah then criticized four state governments for not outlawing the spread of religions other than Islam. "Why are they still not doing it? To those states that have not [implemented such laws], they should consider. Take whatever actions needed," he said.
Malaysia, frequently praised as one of the world's most religiously tolerant officially Muslim nations, hosted the World Evangelical Fellowship (now the World Evangelical Alliance) meeting in 2001.
2. Pastor killed, five injured at Indian Baptist church shooting
Locals say security forces attacked the Evangelical Baptist Convention Church in Churachandpur, Manipur, during Sunday night services. The Indian Army, however, says Pastor S. Ngaite was killed in the crossfire in a shootout between the military and "an armed cadre of an underground group." Condemnation of the shooting has been widespread.
3. California GOP hires, fires Traditional Values Coalition lobbyist
Facing criticism from religious conservatives that Gov. Arnold Schwarzenegger is too liberal, the California Republican Party hired Ben Lopez, a lobbyist from Lou Sheldon's Traditional Values Coalition. That angered gay and lesbian groups. The party says Lopez's "work is now completed," and he's no longer working for the party. That apparently came as news to Lopez, the San Francisco Chronicle says. Conservative California Republican Mike Spence criticized the move, saying "they fired the only person who could do church outreach."
Really? I mean, in all of California, the only person who can do church outreach for the state Republican party is a guy from the Traditional Values Coalition—a group that religious conservative groups have repeatedly criticized, and that Sheldon himself has said is weak on reaching voters?
Speaking of criticism from religious conservatives, it seems that there are at least some in California who see Lopez's work on behalf of a governor who differs with the TVC on gay rights, abortion, and other issues as TVC "betraying Christians."
4. Jesus gone, but the debate continues
Someone stole the Head of Christ painting from the wall outside the principal's office at Bridgeport High School in West Virginia. The painting is the subject of a lawsuit from Americans United for Separation of Church and State and the state ACLU. "The most logical question is 'Now that the picture's gone, is it moot?'" Harrison County School superintendent Carl Friebel told the Associated Press. "We're all in uncharted water here, but if it resurfaces, then the case wouldn't be moot."
The school board says it won't accept a replacement until the case is resolved.
5. 'Prejudice' that makes the news—and that doesn't
The country's newsrooms are apparently flabbergasted that a church—a Baptist church no less—would prohibit a woman from teaching men in a Sunday school classroom. As it turns out, that storyline is problematic, but the heavy news coverage continues anyway. Meanwhile, Fellowship Baptist Church in Saltillo, Mississippi, voted out a 12-year-old boy who "asked Jesus to live in his heart" at the church two weeks ago. Why the ban? Joe is biracial, and church members didn't want the black side of his family attending with him.
They were "afraid Joe might come with his people and have blacks in the church," church pastor John Stevens told the Northeast Mississippi Daily Journal. "I could not go along with that. There would always be a wall between us, so I resigned that night."
Cliff Hardy, a local police officer, also resigned from the church. "My best friend is a black man," he said. "I wouldn't be comfortable going to a place where I couldn't ask my best friend to go to church with me."
The paper contacted church members, but they refused comment. Here's perhaps one of the most amazing parts of the story: four days later, no media outlet has picked up the Northeast Mississippi Daily Journal's reporting. Are media outlets too busy misreporting the woman Sunday school teacher story? Do they feel burned on bigotry stories, now that they know the story isn't so simple?
Note: See our update on the Daily Journal article.
Quote of the day:
"As more evangelical leaders acquire firsthand experience in foreign policy, they are likely to provide something now sadly lacking in the world of U.S. foreign policy: a trusted group of experts, well versed in the nuances and dilemmas of the international situation, who are able to persuade large numbers of Americans to support the complex and counterintuitive policies that are sometimes necessary in this wicked and frustrating—or, dare one say it, fallen—world."
—The conclusion of Walter Russell Mead's article "God's Country," which appears in the September/October 2006 issue of Foreign Affairs. The full 7,000-word article is worth a read.
More articles
Malaysia bans religious talk | India church attacked | China | Religious freedom | Hezbollah-Israel war | Christians and Islam | John Sentamu's vigil | Sanctuary | Politics | Conservatism and religious belief | Church and state | Religious displays | Controversial Jesus painting stolen | Education | Higher education | Church building disputes | Baptist pastor quits amid real estate questions | Church robberies and vandalism | Crime | Abuse | Churches and sex offenders | That "church fires woman" story | Church life | Anglicanism | Catholicism | Pope on workaholism | Missions & ministry | People | AIDS | Life ethics | Contraceptives and Plan B | Sexual ethics | Boycott the (water) bottle | Art and entertainment | Books | History |The Exodus Decoded | Exhibits | Music | Travel | Other stories of interest
'No' to discussing religion | The Government will not allow public discussions on issues that can arouse anger among the followers of different religions, the Dewan Rakyat was told Monday (Daily Express, Malaysia)


'Ban necessary, but still room to talk' | The door is not closed on those who are concerned about freedom of religion despite the ban on public discussion of inter-faith matters (New Straits Times, Malaysia)


Pastor killed in crossfire | Tension gripped Manipur's Churachandpur district after security personnel allegedly opened fire at the Evangelical Baptist Convention Church, killing a pastor and injuring at least five others (The Times of India)


One killed, five injured in firing at Manipur church | One person was killed and five others were injured when unidentified persons fired at a crowded church in Churachandpur district of Manipur last night, official sources said (PTI, India)


The war for China's soul | As Christianity begins to reshape the nation, Time learns new details about a crackdown on one church (Time)


China adds restrictions in effort to shake the faith of independent congregations | A national crackdown on underground churches comes at a time of booming growth in the churches across the country (The New York Times)


China fires Christian reporter for church protest | Chinese authorities have dismissed a Christian reporter after he posted comments on the Internet denouncing the destruction of a church in the country's east, the reporter said on Monday (Reuters)


Indonesia delays Bali bomber executions | Analysts say the timing of the executions may be linked to those of three Christian militants on death row for their roles in sectarian violence on Sulawesi island six years ago that left 200 Muslims dead. They say it would be politically difficult for the government to execute the Bali bombers before placing the Christians — who represent a minority in Indonesia — in front of a firing squad (Associated Press)


Prosecutors won't probe Madonna's act | German prosecutors said Monday they have decided against opening an investigation into Madonna after the pop diva performed a controversial mock crucifixion scene at a weekend concert (Associated Press)


Hezbollah has few fans among bitter Christians | Residents who fled the town during the war returned to find bloodstains on their couches, or dirty handtowels where Hezbollah fighters had used their toilets (The Sydney Morning Herald)


Relief agencies find Hezbollah hard to avoid | Relief agencies that accept U.S. funds are barred from giving aid through Hezbollah, but the group pervades southern Lebanon (The New York Times)


Archbishop tells church to stay in Lebanon: 'You'll make it' | Chucrallah Nabil Hage, the Maronite Christian archbishop of Tyre, added a twist to his Sunday sermon here: hold your ground (USA Today)


Pope laments length of Mideast conflict | Pope Benedict XVI has expressed dismay that the conflict in the Middle East has persisted for so long and lamented a lack of dialogue to bring lasting peace, according to messages released Monday by the Vatican (Associated Press)


Religion in the dock in Muslim vilification appeal | It is impossible to vilify Islam without also vilifying Muslims, because the two are indistinguishable, the Victorian Court of Appeal was told yesterday (The Age, Melbourne, Australia)


It takes two to beat words into ploughshares | Christians should look at their own history of violence sanctioned by faith (Darren Oldridge, The Times, London)


Archbishop urges inclusion after vigil | Archbishop of York John Sentamu, the second most senior cleric in the Church of England, ended his week-long Middle East vigil on Sunday with a call for concerted international action to ensure a lasting peace (Reuters)


Inside is an odd place to pitch a tent … | … But then it is his cathedral. Halfway through his week under canvas in a side chapel of York Minster, Archbishop John Sentamu tells Stephen Bates what inspired his highly unusual camping trip (The Guardian, London)


Why I've pitched my tent in the cathedral | At a time when the Church of England is ignored or ridiculed, John Sentamu's Old Testament protest about the carnage in the Middle East is a cri de coeur, he tells Martin Wroe (The Times, London)


'Religious agenda' fails to toss Turner | No challenger in Halton riding; Tory MP to be acclaimed (The Toronto Star)


'Heads I win, tails you lose' approach to religion | It would seem that it's OK to have God in politics as long as he's on the progressive side (Dennis Shanahan, The Australian)


God's country? | Religion has always been a major force in U.S. politics, but the recent surge in the number and the power of evangelicals is recasting the country's political scene -- with dramatic implications for foreign policy. This should not be cause for panic: evangelicals are passionately devoted to justice and improving the world, and eager to reach out across sectarian lines. (Walter Russell Mead, Foreign Affairs)


Conservatism and religious belief:
Truthtelling | Heather Mac Donald is right (Michael Novak, National Review Online)


Religiously arguing | A response to Michael Novak (Heather Mac Donald, National Review Online)


Church-state issues topple proposal to restore missions | Concerned over possible church-state conflicts, legislators have rejected an effort to channel state funds into the restoration of California's deteriorating missions (Los Angeles Times)


Lawsuit over prayer rejected | Federal court judge rules in city's favor on prayer policy; Rutherford Institute says case will be appealed (The Free Lance-Star, Fredericksburg, Va.)


Also: Prayers from the bully pulpit | A Fredericksburg councilman can offer nonsectarian prayers. He can't, though, tell citizens what they ought to believe (Editorial, The Roanoke Times, Va.)


Church faces fine for tree removal | First Baptist elders want penalty waived for lack of funds (Daytona Beach News-Journal, Fla.)


Gay police advert investigated after religious hate complaint | A criminal investigation has been started by Scotland Yard into an advertisement from the Gay Police Association that blamed religion for a 74 per cent increase in homophobic crime (The Times, London)


Judge: Navy must turn over some e-mails in chaplain case | The Navy must turn over to defense attorney s by the close of business to day some of its e-mails concerning a chaplain charged with disobeying an order by appearing in uniform at a protest outside the White House, a military judge has ruled (Associated Press)


Praying aloud gets man jailed | Something's wrong with police priorities (Licia Corbella, The Calgary Sun)


Judge allows Ten Commandments monument | A federal judge on Friday said a Ten Commandments monument outside a courthouse can stay, rejecting arguments that it promotes Christianity at the expense of other religions (Associated Press)


Controversial Jesus painting stolen:
Theft doesn't stop school-church fight | Board of Education won't let the theft of a painting of Jesus from Bridgeport High School stand in the way of its fight to preserve its decidedly Christian aesthetic (Associated Press)


Contentious W.Va. Jesus painting stolen | So much for "Thou shalt not steal." Just before 4 a.m. Thursday, an intruder snatched the contentious painting of Jesus Christ from the halls of Bridgeport High School (Associated Press)


Donors defend school's Jesus | A divided school board in West Virginia has decided to use about $150,000 in donated money to fund a legal fight to keep a print of Jesus Christ on display in one of its high schools that has been there for more than 40 years (The Washington Times)


Court ruling prompts ban on groups sending fliers home with students | Montgomery County school officials announced yesterday that they are temporarily banning outside groups such as parent-teacher associations and the Boy Scouts from distributing fliers about activities and events in student backpacks (The Washington Post)


Christian themes split UC, high schools | Lawsuit argues for acceptance of texts and courses (The Orange County Register)


Insults allowed at Georgia Tech | Suit alters speech code in housing (The Atlanta Journal-Constitution)


History repeats for NSU patrons | When the college that would grow into Norfolk State University struggled to get off the ground in the mid-1930s, black churches made sure it had a firm footing. Today, NSU, now in its 71st year, has a growing endowment, but it is still struggling to build a rock-solid base of support for continued growth. And, once again, black churches are leading the way (The Virginian-Pilot)


Hurting for tax revenue, town ponders a freeze on churches | 51 houses of worship crowd out businesses in Houston suburb (The Washington Post)


Churches upset with Scottsdale zone plan | More than two dozen religious leaders congregated at St. Patrick Catholic Church in Scottsdale on Monday to map a strategy for a looming battle. They'll need all the resources they can muster if they want to defeat proposed new zoning codes that could limit where and how they operate in Scottsdale (The Arizona Republic)


Baptist pastor quits amid real estate questions:
Pastor steps down; land deal being reviewed | Pastor Frank Harber submitted his resignation to First Baptist Church of Colleyville this week as church officials were reviewing a questionable deal in which he bought land for well below its value (Ft. Worth Star-Telegram, Tex.)


Colleyville pastor questioned on land deal (WFAA, Dallas)


Pastoral perks can be unethical, even illegal, Texas church finds | Frank Harber, pastor of First Baptist Church of Colleyville, Texas, resigned Aug. 18 amid allegations he benefited from an improper real estate deal. But his is only the latest case illustrating the fine line between ethical and non-ethical benefits that pastors receive from often well-meaning parishioners (Associated Baptist Press)


Church robberies and vandalism:
N.Y. priest protests $115 parking ticket | The Rev. Cletus Forson, of St. Andrew the Apostle Church in the Bay Ridge section of Brooklyn, was ticketed last month when he responded to an emergency call from a parishioner afraid her mother would die without receiving the sacrament of the sick (Associated Press)


Iraq Church gets ransom demand for priest-report | The Catholic Church in Iraq has received a ransom demand for a priest who was kidnapped in Baghdad, Rome-based Catholic news agency Misna said on Tuesday (Reuters)


That "church fires woman" story:
Church fires teacher for being woman | The minister of a church that dismissed a female Sunday School teacher after adopting what it called a literal interpretation of the Bible says a woman can perform any job — outside of the church (Associated Press)


For ousted teacher, limelight too bright | Dismissal from church role sparks countrywide support, media attention (Watertown Daily Times, N.Y.)


Friday: A woman's place | How a church deals with its staff and volunteers is generally a matter for its clergy, church leaders and congregation. But the case of First Baptist Church of Watertown and its action toward Mary F. Lambert, a member for 60 years, is a bit different (Watertown Daily Times, N.Y., link now dead)


Thursday: Church teacher sacked | A First Baptist Church member who recently criticized the church's direction publicly was dismissed Thursday as the congregation's Sunday School teacher (Watertown Daily Times, N.Y., link now dead)


Lawsuit against bishop dismissed | A bitter theological battle between six Episcopal priests and a Connecticut bishop that is rooted in a dispute over the role of gays in the church has no place in a civil courtroom, a federal judge has ruled (The Hartford Courant, Ct.)


Also: Federal judge: Church, not court, should settle Episcopal dispute | Court dismisses lawsuit brought by six parishes that had sought to break away from Connecticut diocese over bishop's support for election of gay bishop (Associated Press)


Pope replaces Intelligent Design critic at observatory | Pope Benedict XVI has appointed a new director of the Vatican Observatory, replacing the Rev. George Coyne, a long-serving Jesuit astronomer and a vocal opponent of "intelligent design" theory (Religion News Service)


When sales fall, they call St. Joe | St. Joseph statues have long been used by sellers to help move property. Tradition has it that if you bury a statue upside down and facing the property you are trying to sell, St. Joseph will direct a buyer your way (The Boston Globe)


Priests struggle to cope with new Polish flock | Roman Catholic clergy are so overwhelmed by the influx of devout Poles to Britain that they are appealing for priests to come from Poland to help them cope (The Telegraph, London)


DiFranco willing to stand up for her beliefs | There are those who might characterize Eileen McCafferty DiFranco as a publicity hound because she has not remained silent about celebrating Mass as a Roman Catholic priest. But the 54-year-old Philadelphia resident said it is only natural for her as a former teacher to want to educate the world about women such as herself who want to serve God as men in their religion do (Editorial, Delco Times, Pa.)


Pope: Working too hard harms the spirit | Benedict quoted Bernard as advising pontiffs to "watch out for the dangers of an excessive activity, whatever … the job that you hold, because many jobs often lead to the 'hardening of the heart,' as well as 'suffering of the spirit, loss of intelligence'" (Associated Press)


Also: Pope says don't work too hard (Reuters)


You won't become a saint by working too hard, says Pope | For those either gearing themselves up to return to the office or factory after a summer break or rushing to clear their desks before going away, the Pope yesterday had a message: don't work too hard, it's bad for the spirit (The Times, London)


Evangelist joins Global Fund chief in battle against AIDS | Evangelist and best-selling author Rick Warren and Richard Feachem, who oversees billions in AIDS spending, said Wednesday that they'll team up to channel more money to faith-based groups in Warren's global church network (USA Today)


African clerics ask for divine help in AIDS fight | What would Jesus do about AIDS? The question has drawn together thousands of African Christians who are praying God will provide the solution to the epidemic devastating the continent (Reuters)


Sen. Clinton delays AIDS law's renewal, citing cut in N.Y. funds | Sen. Hillary Rodham Clinton is holding up renewal of the primary federal law that battles HIV/AIDS, the 1990 Ryan White Act, causing a rift among activists on the subject and threatening approval of the legislation this year (The Washington Post)


And now for the good news | Progress is being made in the fight against AIDS in Africa, thanks in no small part to the president's aid program. But that's not what some people want to hear (John Donnelly, The Boston Globe)


Fighting AIDS with ABC plan | If Rick Warren can get Bill Clinton, Angelina Jolie, Bill Gates and Kofi Annan cooperating with, say, the Catholic Church and a myriad of other faith-based servants in doing what works -- changing behavior -- well, preach it, brother! (Kathryn Jean Lopez)


Petitioning for life | "I had an abortion," Ms. Magazine urges its readers to declare. How about "I wasn't aborted"? (Julia Gorin, The Wall Street Journal)


"Beyond gay marriage" | The stated goal of these prominent gay activists is no longer merely the freedom to live as they want (Ryan T. Anderson, The Weekly Standard)


Drink tap water, church urges | United Church opposes selling of 'sacred gift' (Ottawa Citizen)


United Church considers boycott of bottled water | Richard Chambers, the social policy co-ordinator with the national office of the church, said that water is a human right, and no one should profit from it (CBC, Canada)


Church policy on tap | The well-meaning United Church of Canada is coming out against bottled water because doing so is "commodification" of a basic resource (Editorial, Calgary Herald)


They pity the fools | Mr. T isn't the only 1980s TV personality using retro-star status to spread his gospel (Time)


Fire and brimstone, guns and ammo | Left Behind: Eternal Forces isn't due out until October, but its violence has attracted considerable controversy already (The Washington Post)


God moves in hilarious ways | The unknown comedy duo God's Pottery have lit up the Edinburgh Fringe. Praise the Lord (The Times, London)


Archaeologists challenge link between Dead Sea Scrolls and ancient sect | Two archaeologists are raising new doubts about the link between the Dead Sea Scrolls and an ancient settlement known as Qumran (The New York Times)


What Luther wrought | Protestant Europe and the invention of the modern world (Jay Weiser, The Weekly Standard)


'Crusades': Storming the castle | It's not exactly art, and its history is a trifle tendentious, but the "Castles of the Crusades: A View in Miniature" exhibit at the National Geographic Museum at Explorers Hall is a model of medieval romance that any fan of "The Lord of the Rings" -- or any fan of Orlando Bloom who braved "Kingdom of Heaven," for that matter -- will adore (The Washington Post)


How Bible found a popular language | "In The Voice of the People," a display of four Bibles running until year's end at the Mary Baker Eddy Library in Boston, spotlights the market demand for accessible versions of the Scripture (Rich Barlow, The Boston Globe)


The pilgrim's progress of Bob Dylan | Against a backdrop of mortality and dark visions, faith is again raised. But it's no sure thing (The New York Times)


The long and winding road . . . to God? | In The Gospel According to the Beatles, Steve Turner theorizes that the Beatles vs. Jesus incident marked a kind of cultural turning point, when music fans -- young people in particular -- started to pay attention to what their favorite musicians were saying about their religious or political beliefs as closely as they followed their fashion and hairstyles (Chicago Sun-Times)


A vow of poverty? Not for visitors to these convents | Some ex-convents are going decidedly upscale (The New York Times)


Highways to heaven | When one thinks about forces on religion, does the spirit of the open road come up for consideration? (Peter Steinfels, The New York Times)


Related Elsewhere:
Suggest links and stories by sending e-mail to weblog@christianitytoday.com
See our past Weblog updates:
August 15 | 11 | 10
August 4 | 1
July 28 | 27 | 26
July 21 | 19
July 14 | 13 | 12b | 12a | 10
July 7 | 6 | 5 | 3
June 29b | 29a | 28
June 23 | 22 | 21
Weblog
Launched in 1999, Christianity Today's Weblog was not just one of the first religion-oriented weblogs, but one of the first published by a media organization. (Hence its rather bland title.) Mostly compiled by then-online editor Ted Olsen, Weblog rounded up religion news and opinion pieces from publications around the world. As Christianity Today's website grew, it launched other blogs. Olsen took on management responsibilities, and the Weblog feature as such was mothballed. But CT's efforts to round up important news and opinion from around the web continues, especially on our Gleanings feature.
Ted Olsen is Christianity Today's executive editor. He wrote the magazine's Weblog—a collection of news and opinion articles from mainstream news sources around the world—from 1999 to 2006. In 2004, the magazine launched Weblog in Print, which looks for unexpected connections and trends in articles appearing in the mainstream press. The column was later renamed "Tidings" and ran until 2007.
Previous Weblog Columns: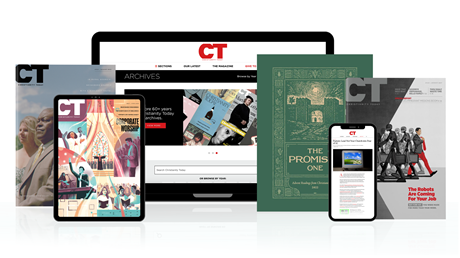 Annual & Monthly subscriptions available.
Print & Digital Issues of CT magazine
Complete access to every article on ChristianityToday.com
Unlimited access to 65+ years of CT's online archives
Member-only special issues
Subscribe
Malaysia Bans Religious Speech
Malaysia Bans Religious Speech