Articles and commentary from Thursday, August 10.
1. Christians to be executed so Bali bombers can be, too
The execution of three Indonesian Christians for their part in murdering more than 200 Muslims during religious fighting in 2000 has become politically tied to the execution of the Bali bombers of 2002. "Two government officials said that for political reasons, it would be very difficult for the government to proceed with the execution of the Bali bombers, if it did not first execute the Christians," reports The New York Times.
But the trial of the Christians was less than fair. The trial was marked by troubling "irregularities," said David McRae, a specialist on the Poso violence at the Australia National University in Canberra. Another expert, Sidney Jones, director of the International Crises Group office in Jakarta, said, "It seems giving the death penalty in this case is just extraordinarily over the top."
2. Christians in Lebanon shocked they're bombed
From the U.K.'s Telegraph:
"A 15-minute air raid soon after dawn yesterday on the attractive port of Jounieh destroyed the complacency of the Christians and served to turn them against the Israelis. The capital of Lebanon's Christian heartland is unused to such violence.
"Even during the 15 years of the 1975-1990 civil war, when Christian and Muslim militias sowed destruction across the country, Jounieh survived unscathed—a party zone of nightclubs and beach resorts 10 miles from Beirut."
3. Bill Hybels, always taking stock
This Chicago Tribune profile of Bill Hybels celebrates the many ways in which the influential pastor has not only changed the direction of evangelicalism, but has also changed his church and himself. In the 1990s,
the church's growth also took a professional and personal toll on Hybels, who had married his longtime sweetheart in 1974 and quickly had children.
By 1990 he felt he had to recharge. Piloting a borrowed sailboat, he renewed a lifelong love of the water and spent more of his summers reconnecting with his family and with God.
In 1994 about a quarter of the church's staff and a third of the lay leadership left, saying they were burned out by the church's fast pace and lack of personal touch. The exodus inspired Hybels to further examine his management style and his expectations. After a long discussion with his wife, he bought a sailboat of his own and started spending his summers at a cottage in South Haven, Mich.
And now, Hybels is changing his approach to race relations and international ministry. "Hybels has contemplated his wife's vision of expanding Willow Creek's global outreach. After a trip to Africa, she challenged her husband to respond to the AIDS crisis there by providing medical and hospice care. Hybels has also used the downtime to develop his vision of building a more multicultural church. Last year he and seven pastors from predominantly white, black, Latino and Asian evangelical churches around Chicago began meeting monthly to collaborate on a community service project," the Tribune reports.
4. Christian school versus U. of California suit to proceed
The University of California lost its effort to dismiss several allegations brought against the university system by a Christian high school. "The plaintiffs—Calvary Chapel Christian School of Murrieta, several of its students and a group representing 4,000 Christian schools nationwide—filed suit last summer accusing UC of discriminating against them by setting admissions rules that violate their freedom of speech and religion," reports the L.A. Times.
"The plaintiffs allege that UC is biased in its admissions standards against courses taught from a conservative Christian viewpoint, while generally approving those from other religious and political perspectives."
The case is being watched closely around the country due to the influence the decision could have on Christian schools elsewhere.
5. Susan B. Anthony—pro-lifer
Feminists for Life is planning on turning the home of Susan B. Anthony into a museum highlighting the work of early American pro-life feminists.
Carol Crossed (who bought the building for Feminists for Life) said the group's pro-life stance will likely help attract the public to the house, reports the Associated Press.
"'They feel this is sort of a niche that will make the house viable,' she said."
Abortion | Morning after pill | AIDS | Politics | ID in Kansas | Church and state | Homosexuality | Lebanon/Israel war | U.S. evangelical response | International affairs | Religious freedom | Disputes | Cuba | Entertainment and media | Family | Sex abuse | Financial scandal | People | Mel Gibson | Church life | Anglicanism | Evangelism | Ministry | Catholicism | Technology | Sin | Crime | Other articles of interest
Abortion foe allen faulted for stock in morning-after pill maker | A leading conservative antiabortion group has joined Democrat James Webb in criticizing Republican Sen. George Allen for opposing abortion while owning stock in the manufacturer of the morning-after pill. (Washington Post)


Maker revives 'morning-after' fight | The maker of the Plan B "morning-after pill" says that within two weeks, it will submit an amended petition to sell the emergency contraception without a prescription. (Washington Times)


Barr to refile Plan B contraceptive application | Barr Pharmaceuticals Inc. will resubmit a request to sell its morning-after contraceptive pill without prescription, the company said on Tuesday after meeting with U.S. Food and Drug Administration officials. (Reuters)


Plan B: To shelve, or not to shelve | Emergency contraception is on the hot seat again (US News & World Report)


AIDS:
When a pill is not enough | Shame, stigma and the pathologies of intimate relationships are the new frontier in the fight against AIDS in Africa. How do you treat what is lodged in people's minds? (The New York Times Magazine)


Call to boost churches' AIDS role | The Christian aid agency Tearfund is calling for more recognition and more international funding for Africa's churches in the fight against HIV/AIDS. (BBC)


So far, candidates fail to fire up evangelicals | Tom Gallagher insists he can still pull off a comeback win in next month's Republican primary for governor with his anti-abortion and pro-family views. (Orlando Sentinel)


The evangelical left | Reverend Gregory Boyd goes after the Religious Right. (Weekly Standard)


Evangelical Christian Says Religious Right `Distorts' Faith | "I write as a jilted lover,'' begins a provocative new book about politics and religion by Randall Balmer, an evangelical Christian and professor of American religious history at Barnard College in New York. (Bloomberg)


Culture wars seen within political parties | The combat of America's "culture wars" takes place within political parties instead of between them (Peter Steinfels, The New York Times)


The Christians are coming! The Christians are coming! | Rest assured: Bush isn't preparing for Armageddon (Kathleen Parker, Dallas Morning News)


ID in Kansas:
Nothing wrong with Kansas | State voters move science education out of the Victorian era (Editorial, The Washington Post)


The culture crusade of Kansas | The culture war will remain with us, both in Kansas and in the nation, because it is larger than any of its leaders, citizen activists and particular causes (Thomas Frank, The New York Times)


Lebanon's Christians turn on Israel as bombs rain down | It was the most astonishing escalation on a particularly bloody day (The Telegraph, London)


Sanctuary for Muslim deportees | Hassan Raza and his wife say they have been warned that a warrant for their arrest may be issued after they and their six kids took sanctuary in a Winnipeg church rather than board a flight to Pakistan Friday morning. (The Edmonton Sun)


Muslim charities say fear is damming flow of money | In a Detroit warehouse, boxes of diapers, water-purification tablets, lentils, rice, powdered milk and cooking oil are stacked almost to the ceiling, destined for Lebanon. More packages, mostly from individual donors across the country, arrive every day. (Washington Post)


Indonesia anti-Israel rallies draw wide spectrum | The demonstration attracted not just Muslims but senior Protestant, Catholic and Buddhist officials and various non-governmental and labor organization representatives (Reuters)


Christian Alliance leaders released without charge | The four leaders from the Christian Alliance who were arrested last Friday were released without charge after being questioned about the activities of their organization. (SW Radio Africa)


Grenades found near Kupang church | A villager has found two grenades near a church, some 200 meters from the East Nusa Tenggara Police dormitory in Kupang on Saturday. (The Jakarta Post)


Ugandan rebels claim cease-fire | Vincent Otti, deputy leader of The Lord's Resistance Army said Friday his group has declared a unilateral cease-fire but government negotiators said they have not yet agreed to peace (Associated Press)


Catholic church hit by shortage of bishops | The Catholic church in Kenya is hit by a shortage of bishops—with the church finding it difficult to fill vacant posts, the Pope's representative to Kenya disclosed yesterday. (Kenya Times)


Cuba:
Cubans offer numerous prayers for Castro | Cubans are publicly praying to the African gods of Santeria, the saints of Roman Catholicism and the God of Protestant faiths in appeals for the health of ailing leader Fidel Castro and peace on the island (Associated Press)


Churches pray for Castro | Cubans across the island turned to prayer Sunday as the nation tried to cope with an uncertain future and still unclear leadership. (Miami Herald)


Religious freedom:
Coast Guard to allow religious clothing | The Coast Guard is changing its regulations to allow religious head coverings such as skullcaps, but Sikh turbans still will be excluded, officials said Wednesday. (Associated Press)


Death sentences for Christians questioned in Indonesia | The planned executions of three Christian men convicted in connection with sectarian violence that killed hundreds of people in Indonesia several years ago are raising questions about the role that their religion has in their facing a firing squad on Saturday, as well as broader questions about the Indonesian judicial system. (The New York Times)


Indonesia to execute Christian militants on Saturday | Three Indonesian Christians on death row for leading a mob that killed Muslims during inter-religious violence in Central Sulawesi province are to be executed on Saturday, the Attorney General's office said. (Reuters)


Southern Jews and evangelicals: Coming together | Decades of distrust have largely subsided. (Mark I. Pinsky, USA Today)


Christian vs. Muslim: Bad times and good | "Sea of Faith" dips back to the Middle Ages for historical context to a complex relationship. (The Philadelphia Inquirer)


Fans cheer Madonna at Rome concert | Religious leaders may have snubbed Madonna, but Italian fans cheered the pop star as she staged a mock crucifixion at her concert in Rome (Associated Press)


Madonna's "diabolical" Duomo ad to stay | Is it appropriate for one of the Roman Catholic church's best known cathedrals to be draped with the giant picture of a pop artist who has made millions from hit songs about sex? (Reuters)


Degrading lyrics lead to early sex, study says | Common sense says exposing children to sexually degrading song lyrics cannot be a good thing. Now, a multiyear study of teen sexual behavior and listening habits, led by a researcher in Pittsburgh, is setting out to prove it scientifically (Pittsburgh Post-Gazette)


Sexual lyrics prompt teens to have sex (Associated Press)


Study: Exposure to degrading versus nondegrading music lyrics and sexual behavior among youth (Pediatrics)


Not-so-new member of Christian pop-rock Newsboys | You can call singer-songwriter Paul Colman the new guy in the Christian pop-rock band Newsboys. But he's not really "new." (The Grand Rapids Press)


Religion top theme as Edinburgh Fringe Festival turns 60 | Fringe performers revel in controversy and 2006 should be no exception with "We Don't Know Shi'ite" about British ignorance of Islam and "Jesus: The Guantanamo Years." (Reuters)


Sam: 'I Am' | Zondervan, the Christian publishing house, is introducing "The Bible Experience," an audio version of the Bible that will feature Samuel L. Jackson as God (Chicago Tribune)


Isolated Americans trying to connect | Some call it social isolation or disconnectedness. Often, it's just plain loneliness. An age-old ailment, to be sure, and yet by various measures — census figures on one-person households, a new study documenting Americans' shrinking circle of intimate friends — it is worsening (Associated Press)


Facing middle age with no degree, and no wife | Many American men without college degrees are finding themselves still single as they approach middle age (The New York Times)


Pastor pleads guilty to sexual relationship with teen | A pastor accused of raping a teenager in his congregation pleaded guilty to a lesser charge Wednesday. (Associated Press)


Judge, lawyers clash on names of victims | Attorney Stan Chesley promised confidentiality to more than 350 people who said they were sexually abused by priests. Then a judge ordered him to reveal their names, along with contact information and a description of the abuse (Associated Press)


Lawyers spar over Calif. abuse records | Lawyers sparred in court Friday over access to records held by the Los Angeles Catholic Archdiocese, and the outcome could impact hundreds of pending molestation cases involving current and former southern California priests (Associated Press)


Lot sale scheme widens | 38 more parcels sold without owners' consent, records show (Chicago Tribune)


The future of Gibson | Road to redemption—or highway to Mel? (Newsweek)


A tale of 2 stories about anti-Semitism | Incident A involved a guy spewing crude anti-Semitic slurs when he was arrested for drunk driving; after sobering up, he publicly and profusely apologized. Incident B involved a Muslim gunman's premeditated assault on a prominent Jewish institution; his attack left one woman dead and sent five to the hospital, three of them in critical condition. Which would you say was the bigger story? (Jeff Jacoby, The Boston Globe)


TV lacks passion for Mel Gibson | As expansive as he can be on many other subjects — perhaps you've lately gleaned some of his random musings on Judaism — Mel Gibson has been uncharacteristically shy in discussing his TV career (Los Angeles Times)


Awaiting the other apologies | Will Christian leaders, including some prominent Catholic bishops, apologize for applauding and recommending his earlier, more-far-reaching expression of anti-Semitism, the movie "The Passion of the Christ"? (Tom Grubisich, The Washington Post)


Driving while anti-Semitic | Instead of getting angry over Mel Gibson's bigotry, let's look at the real moral outrage: drunk driving (Marc Gellman, Newsweek)


Accept Gibson's apologies -- and re-examine your own life | What is it with kicking someone when they're down? Why do so many people want to jump on the bandwagon of wagging their fingers? Does it make them feel bigger to criticize someone bigger than themselves, or is it just an easy cheap shot? (Mary Laney, Chicago Sun-Times)


Maybe we should just make Mel happy | Attacking anti-Semitism hasn't got us far in 3,000 years. It's time for some changes (Joel Stein, Time)


Mel's PC plea | Gibson will hit the skids only if he can't deliver at the box office (Gloria Borger, US News & World Report)


Bigotry pins blame on Jews | What was Mel Gibson's catch-all solution to his woes? `Jews are bad.' (David Mamet, Chicago Tribune)


A damaged man's showdown with the devil | To those who have followed Gibson's confused trail of excess and moral absolutism, the incident is revealing of a persecution complex that has been played out in private and on screen (The Times, London)


Clues dismissed in time of 'Passion' | Why hasn't the press reopened the discussion of Gibson's financially successful but controversial movie, "The Passion of the Christ"? (Tim Rutten, Los Angeles Times)


Mel Gibson's late-night apology | There's no slur a live studio audience can't absolve (John Kenney, Los Angeles Times)


Modern parable of Mel Gibson | As a Christian, I should be forgiving of Gibson. Give him the benefit of the doubt. But I'm finding that a little tough, and anyway, I'm not the one sinned against (James Martin, Chicago Tribune)


Why are we crucifying Mel Gibson? | The actor's drink-fuelled outburst was odious but should not blind us to other, more dangerous, zealots (Mary Riddell, The Guardian, London)


Church's urban mission lifts it to lofty heights | Loop skyscraper holds congregation whose 175-year-old goal of city ministry predates city (Chicago Tribune)


Churches join forces to help aid center | Nauck activist beset by code violations (Washington Post)


In Afghanistan, a crackdown on imported pleasures | In the same week that the government sent alleged prostitutes back to China, it faced a different foreign challenge to Islamic culture -- the arrival of about 1,200 evangelical Christians from South Korea (The Washington Post)


Biker ministry shares the faith | Earl Owens is a big, bearded man who knows well the traditional hard-living biker lifestyle. But the Borger, Texas, man became emotional Sunday when he told how 10 years ago his life changed under the same blue-and-white-striped tent set up for a church service at the Sturgis Motorcycle Rally (Associated Press)


Yousuf puts strong case for faith improving your conversion rate | Our correspondent on how a change of religion has inspired the Pakistan batsman to reach new heights (The Times, London)


Armed with saws, spirit, a youth army mobilizes | Eight clean cut teenage boys and girls -- members of the United Methodist Church's UM Army -- spent a week in mid-July building a 70-foot ramp at the white garrison house that Pepin shares with his mother-in-law, Rita Evicci. (Boston Globe)


AIDS inspires mission for Africa | 5 men travel U.S. to inform, raise money for schools (Washington Post)


Promise Keepers draws thousands to worship | Gerald Orgeron, of Lockport, La., traveled to Jackson this weekend after a chance encounter at a gas station with his former high school football coach. (The Clarion-Ledger, Jackson, Mississippi)


A ministry on the march | In New Jersey, members of an evangelical Christian denomination have been especially busy, quietly creating congregations in some unlikely places. (The Record, New Jersey)


Symantec atones for church spyware mistake | The antivirus vendor has seen the light, after it caused disruption by tagging a sermon-writing application as spyware. (ZDnet UK)


Symantec atones for church spyware mistake | Many Church of England vicars use a software tool called Visual Liturgy to plan, create and deliver church services. On July 8, Symantec issued a new virus definition that had "a significant detrimental effect on Visual Liturgy." (CNET News)


Clerical error leaves Church without an internet service | Clergymen are well acquainted with floods, plagues of locusts and other manifestations of a wrathful Deity. Now it is their turn to be angry at a virus that has played havoc with their Sunday service planning (The Times, London)


Sin:
The guilty party | While men happily embrace their vices, women treat their hard-earned freedoms as a sin. Stephanie Merritt on the modern addiction to guilt (The Observer, London)


Confession is not the end | Forgiving should not always mean forgetting a sin. It is merely the beginning of the process of recovery and reform (John Penny, The Guardian, London)


Forget Judas, let's have sympathy for the Devil | A medievalist professor from California says that Satan is not really bad, just misunderstood (The Times, London)


Related Elsewhere:
Suggest links and stories by sending e-mail to weblog@christianitytoday.com
See our past Weblog updates:
August 4 | 1
July 28 | 27 | 26
July 21 | 19
July 14 | 13 | 12b | 12a | 10
July 7 | 6 | 5 | 3
June 29b | 29a | 28
June 23 | 22 | 21
June 16 | 15 | 14 | 13b | 13
Weblog
Launched in 1999, Christianity Today's Weblog was not just one of the first religion-oriented weblogs, but one of the first published by a media organization. (Hence its rather bland title.) Mostly compiled by then-online editor Ted Olsen, Weblog rounded up religion news and opinion pieces from publications around the world. As Christianity Today's website grew, it launched other blogs. Olsen took on management responsibilities, and the Weblog feature as such was mothballed. But CT's efforts to round up important news and opinion from around the web continues, especially on our Gleanings feature.
Ted Olsen is Christianity Today's executive editor. He wrote the magazine's Weblog—a collection of news and opinion articles from mainstream news sources around the world—from 1999 to 2006. In 2004, the magazine launched Weblog in Print, which looks for unexpected connections and trends in articles appearing in the mainstream press. The column was later renamed "Tidings" and ran until 2007.
Previous Weblog Columns: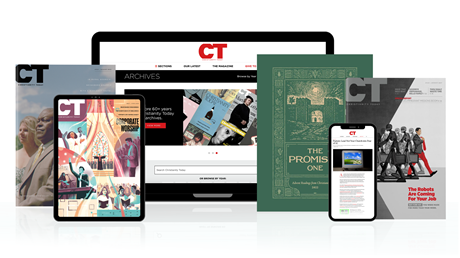 Annual & Monthly subscriptions available.
Print & Digital Issues of CT magazine
Complete access to every article on ChristianityToday.com
Unlimited access to 65+ years of CT's online archives
Member-only special issues
Subscribe
Equal Opportunity Execution
Equal Opportunity Execution