Today's Top Five
1. Korean Christians deported, banned from Afghanistan
Thousands of South Korean Christians reportedly traveled to Kabul for a "peace festival and educational and entertainment programs,"  sponsored by a group called Asian Culture and Development. (Other reports say that only 927 Koreans made it into the country.) Hundreds more were en route when Afghanistan's Ministry of Foreign Affairs and Trade announced that the festival was cancelled and that all Korean Christians would be deported. Ministry officials apparently told the group that it was over "security concerns," but Interior Ministry spokesman Yousef Stanezai has a different story: "The program was against the Islamic culture and customs of Afghans."
"Rumors that Korean prostitutes had entered the country and that the Christian groups were carrying 'giant crosses' marching through downtown did little to defuse the situation," Chosun Ilbo reports dryly.
About 300 Koreans were in India and were forbidden from boarding planes to Kabul. Their group leader says they'll sue the Foreign Ministry in Korea "for damages caused by Seoul's campaign to exaggerate the danger of holding such an event in Afghanistan," the Korea Times reports. "They also plan to file a protest with the Afghan embassy in Seoul for issuing visas that were useless due to the prohibition of entry into Kabul airport."
Interested? Be sure to read our March cover story on the eagerness of South Korean missionaries. It explains a lot about the Afghanistan controversy.
2. Christian sympathy for Hezbollah? Depends what side of the border you're on
 "Christian villages across Lebanon's mainly Shiite Muslim south have been spared the death and destruction wrought by Israeli warplanes," the Associated Press notes today. "As a rule, Christians in southern Lebanon have little sympathy for Hezbollah."
That's a contrast with a Reuters report out of Syria, which reports, "Bishops and priests say Syria's Christians, a devout community of around three million out of a population of 18 million, identify strongly with [Hezbollah leader Sayyed Hassan] Nasrallah's battle with Israel." The paper quotes Father Elias Zahlawi telling his Catholic congregation, "Pray for the resistance, pray for Hassan Nasrallah. He is defending justice."
The Pew Global Attitudes Project has an interesting report about how Lebanon's Muslims and Christians view each other and how they view the U.S., Islamic extremism, and other issues. One thing Muslims and Christians agree on: the Jews. "No one in our Lebanese sample, Muslim, Christian, Druze, or otherwise, said they had a favorable view of Jews," Richard Wike and Juliana Menasce Horowitz report.
Here's another statistic: Catholic persecution watchdog site AsiaNews.it reports that 70 percent of Christians want to emigrate from Lebanon. Pity that AsiaNews only sources that statistic to "some suggest that."
An even greater pity: We probably won't get better details from the mainstream press. It seems that the only Christian angle they care about in the conflict is whether evangelicals think this is the end of the world.
3. Mel-tdown
Lots of links on responses to the Gibson statements. But there are still some stories not touched, believe it or not. Here's one Weblog would like to read: Do those church and ministry leaders who so vociferously defended Gibson against charges of anti-Semitism during The Passion controversy now feel burned? The Passion launched a wave of efforts to get churches and pastors directly involved in film marketing. Churches bought out theaters for the film (and then for Narnia, Cinderella Man, End of the Spear, and even The Da Vinci Code). Movie posters were placed on the cover of church bulletins. Will pastors now be more skittish about such direct involvement?
Another question: Back in February, the controversy over the casting of gay actor Chad Allen as missionary Nate Saint in The End of the Spear largely focused on whether one can separate art from the artist. Are those Christian leaders who argued against the casting of Allen encouraging a "second look" at The Passion in the wake of Gibson's comments? Are those who defended the Allen casting still using "separate the art and the artist" arguments in this case?
One issue that is getting a fair bit of press attention is whether in vino veritas is truly veritas. Weblog's brief take? Sometimes. I've seen alcohol and drugs definitely "loosen the tongue" and let secrets pour forth. Then again, I've seen drunken strangers tell me how much they love me, and seen others say absolutely outrageous things they don't mean at all just to start a fight. Gibson's apology can be similarly ambiguous: I've seen addicts get incredibly honest after a binge with bad consequences. That honesty that comes with "hitting bottom" is often the first step of recovery. And I've seen addicts, after a bad binge, say really wonderful things that they don't really mean simply to get out of trouble. So which statement is true? Which should we believe? Those who've had a lot of experience with addiction will tell you that the question is fairly irrelevant. You don't believe either statement. Rather, you watch the person's future actions, make sure that your trust is where it belongs, and hand the person over to God.
4. Navigators and Awana not in enough states?
Federal employees receive a list of about 22,000 nonprofit groups that they can contribute to for the Combined Federal Campaign, "the world's largest and most successful annual workplace giving campaign." This year, Awana Clubs International and the Navigators were booted from the list because the federal Office of Personnel Management (OPM) says they don't operate in at least 15 states. Not only is Awana in all 50 states—and let's not forget the District of Columbia—it "can also be found in over 3,300 churches in 109 other countries and six continents," according to its website. The Navigators is similarly ubiquitous. The groups appealed, but lost. Now they're suing for inclusion, The Washington Post reports, along with The Michael J. Fox Foundation for Parkinson's Research, the American Association of Kidney Patients, the Allergy & Asthma Network Mothers of Asthmatics, and the Sturge-Weber Foundation.
5. Word of the day: Procreationist
Ellen Goodman frequently uses a word today that's almost as certain to catch on as theocrat has been in political discourse. She's not the first to use procreationist, but it's the most prominent use yet. It brilliantly ties pronatalists (see the current CT cover story that we have posted today) to creationists as part of the same "backwards" movement. For sneer value, it's hard to beat, and is much better than "breeders." It's not like pronatalists are going to respond by talking about "design-er families" or the "unnatural selection" of choosing to have no children. Score one for the antinatalists.
Quote of the day
"Focus on the Family will not be attending future Faith Day events with the Atlanta Braves. Any further questions should be directed directly to the Braves."
—Focus on the Family spokesperson Christina Loznicka, on reports that the baseball team asked it to no longer support its religious promotions. The organization was prominent at the Braves' first Faith Day on July 27. Southern Voice, a gay newspaper, suggests that the Braves decision—"We do not feel it is an appropriate connection for Focus on the Family to be part of this event"—was over Focus's stance on homosexuality. That may be true, but the Voice doesn't mention a more likely cause: Focus's opposition to the team's sale to John Malone's Liberty Media. Focus has called Malone a "porn magnate" because Liberty Media owns On Command, which offers entertainment (including pornographic movies) in hotel rooms. Liberty, by the way, says it has been trying to unload On Command, according to the Rocky Mountain News.
More articles
Korean Christians kicked out of Afghanistan | China | Religious freedom | Hezbollah-Israel conflict | Lebanese Christians | Apocalypticism | Mel Gibson (news) | Mel Gibson (opinion) | Media and entertainment | Film | Books | History | Evolution | Education | Church and state | Politics | Plan B | Abortion | Adoption | Homosexuality | Anglicanism | Catholicism | Church life | Pastor reportedly set parishioners on fire | Crime | Combating crime with prayer | Ole Anthony's Trinity Foundation | Abuse | Missions and ministry | People | Africa | Other articles of interest
Korean Christians kicked out of Afghanistan:
Afghanistan to deport all Korean evangelicals | Afghanistan's President Hamid Karzai has ordered the "complete expulsion" of all Koreans who went there to take part in a "peace march" organized by an evangelical organization, the Foreign Ministry said Wednesday. (Chosun Ilbo, South Korea)


Afghanistan deports Christian Koreans | Afghanistan on Thursday ordered hundreds of South Korean Christians to leave the country, accusing them of seeking to undermine Islamic culture. (Reuters)


Church members detained in China | Police scuffled with members of an underground Catholic church in northern China who were protesting the detention of two clergymen, seriously injuring at least two people, a U.S. group said Thursday. (Associated Press)


Also: Catholics clash with police in China—report | Nearly 100 members of China's underground Catholic church clashed with police in the north of the country this week demanding the release of an arrested bishop and priest, a U.S-based human rights group said. (Reuters)


Archbishop in first China visit | The Archbishop of Canterbury, Dr Rowan Williams, is to visit China for the first time later this year. (BBC)


Chhattisgarh bans "forcible" religious conversions | A sixth Indian state has passed a controversial anti-conversion law, banning religious conversions by force or allurement (Reuters)


Also: Christian anger at conversion law | Christian groups have reacted strongly to a new law passed by the Indian state of Chhattisgarh which requires official approval of any religious conversion (BBC)


Paris shuts airport Muslim prayer rooms | Police have shut down makeshift Muslim prayer rooms at Paris' two main airports after they came under scrutiny following a far-right politician's allegations that Islamists were compromising security. (Associated Press)


Syria's Christians rally behind Hezbollah | Bishops and priests say Syria's Christians, a devout community of around three million out of a population of 18 million, identify strongly with Nasrallah's battle with Israel, which has occupied Syria's Golan Heights since 1967 (Reuters)


Americans' support for Israel unchanged by recent hostilities | Domestic political distemper continues. (Pew Research Center)


Israeli forces pound Hezbollah positions | Missiles target bridges in the Christian heartland north of Beirut for the first time, an attack that further isolates Lebanon from the outside world. (Associated Press)


Save Israel, for Jesus? | Evangelical Christians rally support, lobby Washington with biblical motivation (Nightline, ABC)


To Israel with love | Religion is a big reason why America gives Israel its unconditional support. (The Economist)


Lobbying for Armageddon | Some influential evangelical leaders are lobbying for an attack on Iran. But it's not about geopolitics -- it's about bringing about the End Times. (Sarah Posner, AlterNet)


Armageddon again | Armageddon is hot again and why not? We crave explanations for wars in the Middle East and madness at home, such as the shooting of six Jews in Seattle last week by a man claiming to be a Muslim and wanting revenge against Israel. (Cal Thomas, The Washington Times)


World Trade Center | Oliver Stone's 9/11 movie is filled with . . . religious symbolism (Jonathan V. Last, The Weekly Standard)


Michael Moore fest ignores plea to pull film | Ignoring a request to remove the documentary "Jesus Camp" from its lineup, Michael Moore's Traverse City (Mich.) Film Festival plans two screenings of the film, one Friday and one Saturday. (Reuters)


Random buys Multnomah | Random House made it official this morning, announcing the acquisition of the Christian book publisher Multnomah Publishers. (PW Daily)


Standex international sells Christian book unit to private equity firm | Standex International Corp., a diversified manufacturing and marketing company, said it sold its religious book store business, Berean Christian Stores, to private equity firm JMH Capital for an undisclosed sum. (Associated Press)


'Gospels' considers diverse early Christianity | Lylah M. Alphonse reviews The Missing Gospels: Unearthing the Truth Behind Alternative Christianities by Darell L. Bock. (The Boston Globe)


Stolen Russian religious icon recovered | A religious icon stolen from Russia's State Hermitage Museum was found in a trash bin in St. Petersburg, police said Thursday (Associated Press)


Satan's minions | Has the time come to pardon a 17th-century witch? (John Demos, The Wall Street Journal)


Americans reveal their Puritan roots whether it's in business, sex or war | America's Puritan origins do much to explain why it is the maddening and exhilarating, ancient and modern, progressive and conservative, sophisticated and simplistic, creative and destructive country it is (George Walden, The Times, London)


Separation of church and science | Physicists and cosmologists whose research is too theoretical for federal funding may have a new granting body to turn to, so long as they don't mind using a little money from a foundation that has historically dedicated itself to promoting scientific work that has spiritual repercussions. (Inside Higher Ed)


No tears for Fidel, please | The murderous dictator put revolution ahead of country, so shed them for the people and way of life he repressed (George Weigel, Los Angeles Times)


The Christians are coming, the Christians are coming! | These are rich times for conspiracy theorists, and the mother lode these days may be found in the fevered minds of anti-Christianists (Kathleen Parker)


Catholic Charities scaling back its role in adoption services | After spending nearly 100 years finding homes for children awaiting adoption, Catholic Charities announced that it will no longer provide full adoption services. (San Francisco Chronicle)


Calif. charity ends full adoptions | Catholic agency cites gay dispute. (The Boston Globe)


Black Episcopalians: Minority concerns trump gay ordination | The church should look instead at fighting poverty and racism, and address the conservative versus liberal divide that underlies the gay debate. (The Boston Globe)


Praying Left | The Episcopal church elevates the liberal bishop Katharine Jefferts Schori. (Jamie Deal, The Weekly Standard)


Pastor reportedly set parishioners on fire:
King re-arraigned for murder | Embattled Lagos clergyman, Emeka Ezeuko alias Dr. Rev. King, was yesterday re-arraigned before another Magistrate Court in Yaba, Lagos, in a fresh two-count charge of conspiracy and murder, following the death of one of his alleged seven burn victims, Ann Uzoh, a member of his church, Christian Praying Assembly (This Day, Nigeria)


Rev King back in court for murder | Embattled General Overseer of the Christian Praying Assembly (CPA), Ajao Estate, Lagos, Rev. Emeka Ezeugo King was rearraigned yesterday at the Yaba Magistrate's Court for alleged murder of Miss Ann Uzoh (Daily Champion, Nigeria)


In God's name | What can the state do to protect the dignity and lives of its citizens who have ostensibly chosen, by their own volition, to be members of these sects? (Editorial, This Day, Nigeria)


Ole Anthony's Trinity Foundation:
The cult of Ole | Ole Anthony anointed himself the watchdog of America's televangelists. But who was watching Ole Anthony? (The Dallas Observer)


The thorn in their side | I spoke with Ole Anthony, founder of Trinity Foundation, during eight interviews--more than 25 hours of conversation, covering everything from theology to televangelists to drugs. Though often in pain, Anthony proved to be an intelligent, always fascinating conversationalist. A very brief excerpt follows. (The Dallas Observer)


140 men sue church for sex abuse | More than 100 former pupils of a Catholic children's home are suing for damages over alleged physical and sexual abuse suffered while in care (BBC)


Methodists settle sex suit for $6.7 million | Three men alleged that a youth pastor at a Long Beach church molested them 30 years ago (Los Angeles Times)


Fugitive Catholic priest flees US extradition | A fugitive Catholic priest ordered back to Phoenix from Rome to face child sex charges has vanished, authorities in Arizona said. (Reuters)


Sara White finds peace without Reggie | Death is not bad. (USA Today)


Keeping faith in a sea of prejudice | How one young priest in an era of Catholic church scandals stays on a spiritual track. (The Christian Science Monitor)


Heat makes Pat Robertson a global warming "convert" | Because it's hot outside, Robertson believes in it. What's he going to believe in December? (Reuters)


African Bible | A new 1,600-page book has been released that provides explanations of verses from all 66 books of the Bible, using local proverbs and idioms to make the teachings relevant to most Africans while remaining true to the scriptures. (The Voice, Botswana)


Also: Catholic Church rejects African Bible Commentary | Opposition to book's entries on homosexuality. (Catholic Information Service for Africa)


Related Elsewhere:
Suggest links and stories by sending e-mail to weblog@christianitytoday.com
See our past Weblog updates:
August 1
July 28 | 27 | 26
July 21 | 19
July 14 | 13 | 12b | 12a | 10
July 7 | 6 | 5 | 3
June 29b | 29a | 28
June 23 | 22 | 21
June 16 | 15 | 14 | 13b | 13
Weblog
Launched in 1999, Christianity Today's Weblog was not just one of the first religion-oriented weblogs, but one of the first published by a media organization. (Hence its rather bland title.) Mostly compiled by then-online editor Ted Olsen, Weblog rounded up religion news and opinion pieces from publications around the world. As Christianity Today's website grew, it launched other blogs. Olsen took on management responsibilities, and the Weblog feature as such was mothballed. But CT's efforts to round up important news and opinion from around the web continues, especially on our Gleanings feature.
Ted Olsen is Christianity Today's executive editor. He wrote the magazine's Weblog—a collection of news and opinion articles from mainstream news sources around the world—from 1999 to 2006. In 2004, the magazine launched Weblog in Print, which looks for unexpected connections and trends in articles appearing in the mainstream press. The column was later renamed "Tidings" and ran until 2007.
Previous Weblog Columns: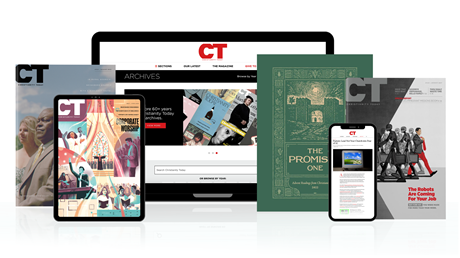 Annual & Monthly subscriptions available.
Print & Digital Issues of CT magazine
Complete access to every article on ChristianityToday.com
Unlimited access to 65+ years of CT's online archives
Member-only special issues
Subscribe
Read These Next
Trending

American Christians Should Stand with Israel under Attack

While we pray for peace, we need moral clarity about this war.

From the Magazine

The Unusual Epistle that Helps Me Counsel on Sexuality

Jude has strong words for immorality in the church. Yet he advocates for mercy for those who doubt.

Editor's Pick

Don't Miss These African Christmas Hits

Jam out this season to highlife, Afrobeats, jazz, a cappella, R & B, rap, dance, and hip-hop artists from Nigeria, South Africa, and more.
Korean Christians Plan to Sue over Afghanistan Expulsion
Korean Christians Plan to Sue over Afghanistan Expulsion