About 15 years ago, I read a very good book by John Hedley Brooke, published by Cambridge University Press, called Science and Religion: Some Historical Perspectives. Ask me what I recall of it, and the first thing to come to mind would be Luther on alchemy. I remember being startled by a quotation that Brooke gives, in which the great Reformer expresses his appreciation for alchemy. (The source Brooke cited was a journal article that I never tracked down; if there's reason to suspect its authenticity, Luther scholars, let me know.) Elsewhere Brooke remarks the Christocentric nature of the theology of Paracelsus; that, too, came as a surprise at the time.
In the intervening years, a number of scholars have been working to revise the received account of alchemy. You may remember as I do a brief mention of alchemy in survey classes, where it was adduced as an instance of the pitiful superstition and mummery dispelled by Enlightenment. (Nothing here about medieval science as studied by Pierre Duhem and others; those were the Dark Ages, you see.) And in literature alchemists turned up right and left, whether as shrewd rogues who exploited human folly or as victims of their own desire for wealth and power.
Earlier this month at the Chemical Heritage Foundation in Philadelphia, a number of these scholars gathered for an International Conference on the History of Alchemy and Chymistry ("chymistry" referring to early chemistry in which alchemical speculation and practice played a significant role). Lawrence Principe of Johns Hopkins University, the chief organizer of the conference, and William Newman of Indiana University, were among the presiding spirits of the event; also present was Allen Debus, to whom many of the speakers paid tribute for his pioneering scholarship on the history of alchemy.
After a superb early music concert on the opening night—music with alchemical themes or affinities, performed by Arcanum—the conference settled down to a program of papers, the standard of which was unusually high, concluding on the final night with a banquet and a tribute to the chemist-bibliophile Roy Neville, whose magnificent library was recently acquired by the CHF.
So: A better than average conference, clearly a high point for scholars in this field, both old and young, who have seen their work attain academic respectability—but what of the implications? Why should an outsider care?
There are many reasons, but a good place to start is with our understanding of modernity. As the vogue for "postmodernity" slowly fades, it is becoming increasingly clear that we are still in modernity, whatever that means, and running parallel to this new study of alchemy are similar trends in many different fields, which have in common their discovery that "modernity" was rather different than had been supposed. That Isaac Newton was deeply engaged in alchemy is emblematic of this reassessment. But equally notable is the way in which early chemistry was interwoven with theological disputes, especially with regard to the Eucharist—a recurring theme at the conference.
Then again, as Newman shows in his brilliant book Promethean Ambitions: Alchemy and the Quest to Perfect Nature, published by the University of Chicago Press in 2004, the history of alchemy has a bearing on our concern over the "rapidly eroding boundaries between the realms of the artificial and the natural," as considered for example by the President's Council on Bioethics. If the alchemist is not our contemporary, he is our ancestor, and we need to know about him—for his own sake, yes, but also better to understand ourselves and our times.
John Wilson is the editor of Books & Culture.
Related Elsewhere:
Books & Culture Corner and Books & Culture's Book of the Week, from Christianity Today sister publication Books & Culture: A Christian Review (want a free trial issue?), appears regularly on Tuesdays at Christianity Today. Earlier editions include:
Welcoming Resurrection | A volume of new poems from Luci Shaw. July 18, 2006)
Truth, Justice, and … | Some critics of Superman Returns are more blinkered than Lex Luthor. (July 11, 2006)
Dining Dilemmas | How shall we then eat? (June 27, 2006)
Incorrigibly Bookish | Michael Dirda on reading and life. (June 20, 2006)
The Not-So-Evil Empire | A report on The Historical Society's conference earlier this month. (June 13, 2006)
Very Important Fiction | The Gospel according to The New York Times Book Review. (May 23, 2006)
Back to the Garden | Digging in the dirt as spiritual formation. (May 16, 2006)
Words Made Flesh | Calvin College's 2006 Festival of Faith & Writing. (April 25, 2006)
Betrayed Again | The Gospel of Judas Roadshow. (April 18, 2006)
American Theocrat | Richard John Neuhaus, Catholic political ambitions, and the evangelical pawns. (April 11, 2006)
Was George Washington a Christian? | A riddle wrapped in a mystery inside an enigma. (April 4, 2006)
Article continues below
The Mystery of the Numbers | B&C's annual baseball preview, 2006 edition. (March 21, 2006)
Passionately Ambivalent | Christians in the art world. (Feb. 14, 2006)
Worship—What We've Learned | A report from the Calvin Symposium. (Jan. 31, 2006)
Making—and Breaking—Vows | A compelling memoir from the son of a priest and a former nun. (Jan. 17, 2006)
For book lovers, our 2006 CT book awards are available online, along with our book awards for 2005, 2004, 2003, 2002, 2001, 2000, 1999, 1998, and 1997, as well as our Books of the Twentieth Century. For other coverage or reviews, see our Books archive and the weekly Books & Culture Corner.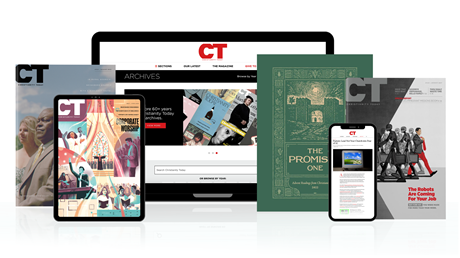 Annual & Monthly subscriptions available.
Print & Digital Issues of CT magazine
Complete access to every article on ChristianityToday.com
Unlimited access to 65+ years of CT's online archives
Member-only special issues
Subscribe
Alchemy in Philadelphia
Alchemy in Philadelphia