true
Before diving into the usual roundup of reviews from Christian publications and websites, consider taking a moment to read a recent commentary by Michael Leary titled, "What on Earth is Christian Film Criticism?"
Leary, of The Matthew's House Project, offers his own thoughts on the subject, and he also invites readers to turn in their own definitions.
With those reflections in mind, we now return to our weekly review roundup:
World Trade Center:

Tribute to heroism?

In 2001, as the nation was reeling from the terrorist attacks that were broadcast on live television, writers, artists, and journalists contemplated how these events would affect different areas of our lives, and how things would change. Some of these writers asked whether Americans would lose their appetite for big-screen horror and violent entertainment. (I addressed this very question in two special editions of Film Forum, here and here.)

Almost five years later, very little has changed. Disaster movies are still big business, and moviegoers consistently make bloody horror movies into huge successes. Whether this is a good or a bad thing — that's open to discussion and debate. Some of these movies make money by sensationalizing violence and appealing to our appetite for excessive spectacle. Others give us perspective on terrorism and violence that proves meaningful and even comforting.

So it was inevitable that the event would inspire works of popular art and entertainment. In the days immediately following September 11, a familiar mantra was repeated by those who experienced it: "It was like a movie." Now … it is a movie. Two movies, in fact.

The first, United 93, directed by Paul Greengrass, has become one of the year's most highly acclaimed films, and there are already whispers about Oscar nominations—but the film's low box office numbers made its big-screen release short-lived. The second film, Oliver Stone's World Trade Center, opened last week, giving us different view of that these devastating events.

Christian film critics are giving the film positive reviews, impressed that Stone has reined in his tendency to provoke us with conspiracy theories and politics.

"Rather than impose his vision on the story, Stone allows himself to become the conduit through which their story is told," writes Peter T. Chattaway (Christianity Today Movies). "This film has been compared to the films of Ron Howard—especially Apollo 13, which also tells a true story of men trapped in life-threatening circumstances and the loved ones who must watch it all on TV—but there is a sharpness to these scenes that cuts just a little deeper."

Chattaway, who also notes the film's "surprisingly high degree of Christian content," concludes: "Whatever hints Stone might be dropping, he has at least done a superb job of capturing on film what that awful day was like. There are missteps along the way … but for the most part, it works. If United 93 was the insider's version, with scenes set at command centers and aboard one of the hijacked planes, World Trade Center allows us to relive the experience from the outsider's point of view."

Steven D. Greydanus (Decent Films) compares the two films as well, and finds World Trade Center to be "more a sentimental melodrama than the story of an event. … Where Paul Greengrass's brilliant United 93 crafted a documentary-like anatomy of events without presuming to get inside people's heads or explain actions or motivations, World Trade Center is a more conventional Hollywood film, with dramatic dialogue, characters following clearly plotted arcs, and a swelling soundtrack to reinforce the mood."

Greydanus also finds it ironic that Stone's film is "as unabashed a tribute to heroism and human decency as Hollywood has produced in years."

Harry Forbes (Catholic News Service) says, "[S]ome may be disappointed by the narrow focus here. … Nonetheless, Stone and screenwriter Andrea Berloff have given us an inspiring picture of bravery, fortitude and sacrifice in the face of enormous adversity, and whatever the film's shortcomings, that's undeniably a story worth the telling."

"[T]he tightly interwoven themes of friendship, family and faith are among the most compelling of any film I've seen in a long time," writes Adam R. Holz (Plugged In). "I couldn't stop thinking about my wife, my parents and siblings, my close friends as I watched this drama unfold. … I was also impressed by the positive treatment given to a Christian man and the guiding role of his faith. … Still, like United 93, World Trade Center is not an easy film to watch."

"Stone has shown admirable restraint in the visual presentation of the material here," reports Christian Hamaker (Crosswalk). "It's a total package that honors a wounded nation and the spirit of its diverse people. Like the actions of so many on that day, and in the days that followed, World Trade Center is something to be proud of."

Most mainstream film critics were pleased with the results, but, as you might expect, films about subjects this controversial and sensitive will tend to provoke some strong reactions indeed.
Step Up

stumbles

Dirty Dancing. Take the Lead. A Chorus Line. Footloose. Center Stage. Shall We Dance? Save the Last Dance. Strictly Ballroom.

Nobody needs to convince Hollywood that movies about dancing are popular. But somebody needs to inspire screenwriters to write more interesting and original scripts about dancers.

In Step Up, a charismatic kid from Baltimore (Channing Tatum) proves that hip-hop and classical dancing can mix when he pursues a dancer of a different stripe (Jenna Dewan). Gee … do you think they'll fall in love?

"[T]he story could not be more worn—we never for a moment doubt how things will turn out," writes Christopher Lyon (Plugged In). "Even a third act tragedy arrives right on cue to move things along to the big finish."

Lyon reports that the film includes "a few nice character moments" and a lot of dancing. And he concludes by applauding the filmmakers for "steering their characters clear of any apparent sexual involvement, and for making an effort to pirouette away from MTV-style hyper-sexual grinding on the dance floor."

David DiCerto (Catholic News Service) calls it a "formulaic, but relatively clean, teen romance … buoyed by some lively dance sequences … and appealing performances."

Mainstream critics say Step Up "lands on its keister."
Zoom

is running on fumes

In what appears to be the worst-reviewed film of the year—Zoom—Tim Allen plays an over-the-hill superhero who must round up a bunch of supernatural youngsters to save the earth.

Giving it just a half-star rating, Josh Hurst (Christianity Today Movies) says, "Despite whatever connotations its title might suggest, Zoom is a movie marked by pure laziness, made by folks who either don't know or don't care what they're doing."

David DiCerto (Catholic News Service) says, "[T]he film, with its zippy action sequences, is entertaining if your expectations are kept low, though its kid-friendly themes of family and teamwork are handicapped by bland performances and a skeletal, only fitfully funny script, padded with strained slapstick humor and tedious musical montages."

Tom Neven (Plugged In) says, "[A]s the younger children in the theater I attended laughed at the slapstick and general silliness, I watched my watch and tallied up the lessons learned … ." He goes on to list the lessons, seemingly unimpressed with the package that contains them.

Mainstream critics—well, let's just say that you won't find a single "thumbs up" vote at Rotten Tomatoes. Jeannette Catsoulis (New York Times) says, "Too infantile for tweens and too stagnant for tots, Zoom bleeds boredom from every frame." And Kirk Honeycutt (The Hollywood Reporter) says, "A crashing, thudding dullness infects every moment of Zoom."
Pulse

doesn't have one

You can cross this one off your list too. Even though it stars Kristen Bell of TV's Vernonica Mars and Ian Somerhalder of TV's Lost, it looks like Pulse is just another cheap Hollywood remake of a popular foreign horror flick about otherworldly monsters attacking us through contemporary technology.

In the hands of an artist, this kind of thing might convey interesting and relevant observations about the destructive effects of dependence on machines. In the hands of most trend-hopping entertainers, it's just empty sensationalism. This adaptation of Kiyoshi Kurosawa's 2001 Japanese horror film Kairo appears to be a wasted effort.



"The movie follows the blueprint of the original," says David DiCerto (Catholic News Service), "but, despite some creepy effects, provides too few frights throughout its incoherent plot and lacks the hauntingly understated eeriness of the Asian version."

Marcus Yoars (Plugged In) says, "Familiar methods. Familiar story line … . And to top off this poor man's mix, Pulse frequently fails to keep good ol' fashioned logic within the confines of its own tale." Yoars also cautions readers about the "language, sex, violence and, well, horror that, while mild for the genre, still manages to crawl off the movie screen and toward unsuspecting victims."

Mainstream critics aren't scared … or entertained.
More reviews of recent releases
Little Miss Sunshine: Stephen McGarvey (Crosswalk) says, "Some fairly harsh language and heartbreaking situations are spread across the film. We certainly see this family at its worst. However, such a strong negative portrayal makes their ultimate redemption all the more powerful. … Clever and comical, Little Miss Sunshine gives us the Hoover family's broken dreams in all their dysfunctional glory. Yet the film doesn't let us pity them as they learn to find happiness overcoming some of their flaws."
Hal Conklin and Denny Wayman (Cinema in Focus) write, "The caricatured dysfunction of the Hoover family gives Little Miss Sunshine a comical appearance. But when we stop laughing and consider the people, we are confronted with painful personal and spiritual emptiness. … With just the right amount of slapstick and drama, music and dialogue, shock and innocence, life and death, they take us on an emotional journey in which love of family becomes the value and life is the process by which it is uncovered. But this is a love that has no transcendent source or purpose and its anemic form within this family reveals a spiritual void."
Lady in the Water: Mike Parnell (Ethics Daily) writes, "The greatest indiscretion is Shyamalan's casting of himself as the writer, Vick. This bit of ego massaging hurts the movie because he places himself in the most sympathetic role." But he concludes that the film "does offer something important: faith in that which may sound too fantastic to believe."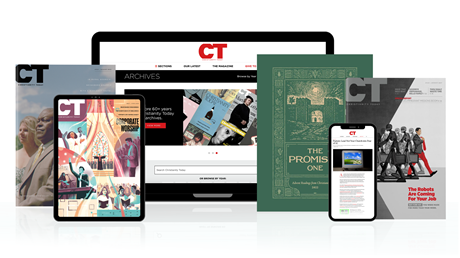 Annual & Monthly subscriptions available.
Print & Digital Issues of CT magazine
Complete access to every article on ChristianityToday.com
Unlimited access to 65+ years of CT's online archives
Member-only special issues
Subscribe
Christian Criticism ...and Movie Heroism
Christian Criticism ...and Movie Heroism