true
Sounds like … quiet and gentle acoustic pop/folk in the same family as Dan Fogelberg, Wayne Kirkpatrick, Michael Card, John Michael Talbot, Paul McCartney, and James Taylor
At a glance … though low-key and not particularly compelling in its content, the soothing sounds and texts of Solace may well be a comfort to the suffering, or those simply looking for some quietly inspirational music
Although the latest album from Canadian singer/songwriter Steve Bell compiles songs from the albums he's released over his fourteen-year career, it is most certainly not intended as a greatest hits anthology. Instead, it comes in response to a letter from a fan and friend dying of cancer, suggesting that Bell release a collection of his most peaceful and comforting songs for others coping with suffering and death. Turns out he wasn't the only fan who found consolation in the music either.
Thus Bell's commitment to release Solace—For Seasons of Suffering, an album intended for people in need of palliative care for the last stages of their life. Since Bell's ailing friend submitted a recommended track listing, the songs all come from previously released albums dating back to 1989, though five of the most dated sounding tracks are newly recorded. It's a collection of the veteran artist's most softly acoustic tracks, demonstrating strong musicianship all around and Bell's gentle tenor vocal, all reminiscent of Dan Fogelberg, Wayne Kirkpatrick, Michael Card, and John Michael Talbot.
Among the highlights of the collection is "Shepherd of Life," a bluesy folk/country take on Psalm 23, and "How Long," which sets Psalm 13 to a bouncy folk/country feel reminiscent of Paul McCartney covering Chet Atkins. Both "Dark Night of the Soul" and "Ever Present Need" feature gorgeous melodies and are based on thoughtful poems by St. John of the Cross and St. Francis of Assisi, respectively. One of Bell's more poetic originals is "Burning Ember," which offers a striking metaphor for the source of our faith: "Burning ember, I remember love's first light in me/I was cold then like a stone when I saw your flickering/Oh what beauty as you draw near me, I could scarcely speak/Somehow I knew I would be new in your glowing."
That said, while the album is indeed beautifully done, it's not necessarily artfully compelling or uniquely comforting. A few songs, like "Wings of an Eagle," feel overlong and repetitive, and the album can be a bit tiresome two-thirds of the way through. Individually, most all of these are good songs; collectively, it can be a bit of a bore. Then again, since I'm not yet (to my knowledge) in the last stages of my life, I'm not exactly the intended audience for this album. Since it's targeted to the sick and the infirmed, sonic consistency is actually the intent, not variation or eclecticism.
Still, is there really anything about Solace that's uniquely comforting to listeners? Musically, it's straightforward folk/pop. A number of other Christian artists are doing it just as well, and while instrumental tracks like "Moon Over Birkenau" and "Hymn Medley" are pretty, they aren't necessarily any more soothing than Phil Keaggy, George Winston, or Jim Brickman. Lyrically, half of the album comes directly from the Psalms, which have also been mined by artists like Shane & Shane and the recent The Message: Psalms compilation to equally comforting effect. It makes me admire an album like Andrew Peterson's The Far Country all the more for exploring the subject of death and heaven with comforting and creative songwriting.
Some will find Solace comforting, and others will prefer a good hymns album, or perhaps something less conventional. It still comes down to what you think of Bell's music at its most tranquil and innocuous. But what does set Solace apart from other quietly tempered albums is its inspiration and intent—and that's reflected in a bonus CD that's included in the package. That disc is a sample of an hour-long audio magazine that Bell used to host called Listening In, similar in style to some of the programs on NPR. This particular issue featured several interviews and reflections pertaining to suffering and loss in relation to God's will, and it generated a strong response among listeners. Conversational and reflective in tone with a few songs sprinkled in between, it's a solid companion to the other disc, together making a thoughtful devotional and even a useful pastoral resource.
Though I wouldn't recommend Solace as an introduction to the music of this gifted and underrated songwriter, it's all in all a better than average album of inspirational music created with musical excellence and a genuine heart to serve the suffering.
Browse All Music Reviews By: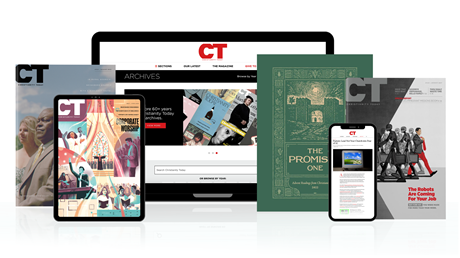 Annual & Monthly subscriptions available.
Print & Digital Issues of CT magazine
Complete access to every article on ChristianityToday.com
Unlimited access to 65+ years of CT's online archives
Member-only special issues
Subscribe
Solace—For Seasons of Suffering
Solace—For Seasons of Suffering