true
Quick: What Christian crooner is one of Billboard's ten best-selling artists of all time? Steven Curtis Chapman? Not even close. Bill Gaither? Nah. Try 71-year-old Pat Boone, the eternally youthful entertainer. Boone broke through in 1955 with a cover of Fats Domino's "Ain't That a Shame," went on to rival Elvis for America's adoration, and charted 61 radio hits—not to mention various stints in film, TV and books—in his storied career, all while standing firm in his Christian faith.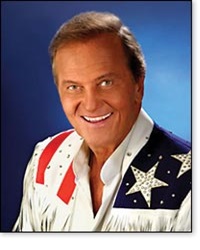 Boone now celebrates 50 years in show business with his new CD Glory Train: The Lost Sessions—an album originally recorded in the 1980s, but misplaced for 20 years before recently resurfacing. Boone added an all-star tribute to the world's most famous evangelist, "Thank You, Billy Graham," as the first track on the CD. The song features an intro from U2 frontman Bono, plus appearances from the likes of Andrae Crouch, dc Talk, Kenny Rogers, LeAnn Rimes, Michael McDonald, Vestal Goodman, Marty Stuart, and even a spoken part from Larry King. The video version of the song includes plenty of footage of Graham through the years, and is worth a look.
In this candid conversation with Christian Music Today, Boone discusses his rediscovery of this record, the all-star cast behind the Graham tribute, and his strange-but-true venture into the world of heavy metal almost a decade ago.
Considering it's been 20 years since you recorded Glory Train, what's your opinion of it today?
Pat Boone I am very proud of the whole album. It's almost archival, yet it was ahead of its time. It was ahead of Jars of Clay, it was ahead of Michael W. Smith's crossover with "Friends" and some of Amy Grant's things. I felt at the time we should quit trying to make gospel music for the Christian ghetto and make music that would communicate with people across the board, but with gospel content.
We thought Motown would want to put it out on their Motown Country label, but they felt it was too much of a gospel album. We took it to a couple of the gospel labels, and they felt it was too commercial. So here we were with a hybrid, it seems, and that's why it got shelved, which was a great disappointment to me and Ray [producer Ray Ruff]. Then when we decided the time had come to put it out, we couldn't find the tapes. They had been lost completely. Oh, it was sickening to us.
How did you find them?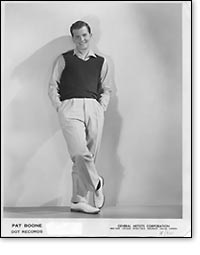 Boone Ray hired a private detective who searched everywhere, but we just couldn't find them. We had given up. Then his wife was cleaning out this big closet in their home and came across these two old boxes. She said to Ray, "Do you want to throw these out?" He asked, "What?" She said, "I think it says 'gospel' and 'Pat Boone'?" He said, "Wait a minute!" And sure enough it was Glory Train.
Why did you add the Billy Graham tribute?
Boone We've had a wonderful friendship going way back. We've visited each other's homes and attended many functions together. I've just admired him as most everybody does. I believe he is the most important human figure since the first century, more than any our of founding fathers, because he devoted his life to not only bettering millions and millions of people's lives in this world, but also helping them to secure their eternal destiny.
I thought somebody better not wait to eulogize and to honor him. I just felt an urgency to do something and to let other people join in and sing our praise of Billy, to honor him while he could receive it. He has heard it and been very gracious in saying how much he appreciates it. He doesn't think he deserves it, but the DVD [included free with the CD] is chock full of images of all these things he's been doing all these years.
You have quite a few celebrities on the project. How'd you hook up with Bono?
Boone I bumped into Bono at a Grammy Award party and I said, "I think it's time Boone-o met Bono." And he said we'd met long before in England when U2 was just getting started; he said I was encouraging at that time, and he remembered it though I didn't. So when I asked him if he wanted to be a part of a tribute to Billy Graham, he gave me his number. When I sent him the video and song as it was shaping up, he added his part in his own words—a verbal tribute to Billy that kicks us into the song.
So far the response has been magnificent, but it's been surprising that some Christian radio stations have passed on it while other mainstream formats are welcoming it. Why would they be negative to playing a tribute to Billy Graham?
It's not the first time Christians have reacted to one of your projects. Let's talk about your heavy metal album in 1997.
Boone When I did my Metal Mood album, I was instantly taken off Christian TV. So many people felt I had freaked out and left the church.
Why did you make a heavy metal album in the first place?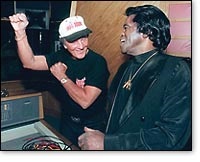 Boone It was not a parody. Having recorded, oh, 120 albums already, sold 45, 50 million records, going out on the road, my younger musicians would say, "We love doing these big hits of yours, but why don't we go in the studio with something different?" And I said, "What could I do differently that I haven't already done ten times? I've done gospel and folk and pop and country and everything I know how to do." And they said, "Well, you never did any heavy metal," and we laughed because it was just a joke.
But then my conductor said, "There are some terrific metal songs, and if we did them a different way, we could come up with some very commercial things." I said, "What do you mean by 'good songs'?" I had total disregard for the whole metal scene—the discordant, angry sounds, the yelling, the way they marketed it, just total disdain for it. They said, "No, there's some really good songs there." I said, "Prove it. Give me a tape of something you think we could redo, and how could we redo it?" And they said "big band jazz."
What happened next?
Boone I started listening to the cassettes they'd given me. I got more acquainted with some of Jimi Hendrix, Deep Purple and Led Zeppelin. I thought, There are some melodies and some meaningful lyrics here. It's not all just all rant and rage. In fact there's a lot of Bible references in heavy metal music—mostly dark, foreboding stuff. So we went to work with Metallica's "Enter Sandman," and we found it was about a guy putting his child to bed and saying his prayers with him!
But I knew that what I was doing would not be instantly understood. I wrote letters to a lot of the ministers on TV because I thought they would probably be hearing some negative reaction to Pat Boone doing heavy metal songs. I explained that I went over ever lyric, and in two or three instances—like in the case of "Stairway to Heaven"—I had changed a lyric, just to make sure there was no reference to witchcraft any word or phrase that I would not want to associate with. The album was very good, enjoyable big band jazz. I told the ministers, "Don't panic!" But they panicked anyway—because I walked out on that stage and shocked even Alice Cooper.
You're talking about your appearance at the American Music Awards when you dressed in authentic costume to promote the project. Whose idea was that?
Boone It was Dick Clark's idea. He had [Elvis Presley's designer] design a leather outfit that had no sleeves—just a vest. We put fake tattoos on my arms and chest, and I wore a choker, leather pants and shades. It tickled me, but it also surprised me that the appearance was that shocking. The audience went into pandemonium. Coop [Alice Cooper], who is a Christian brother now, introduced me as the future of heavy metal, and he thought I was coming out in a tuxedo! Instead I stalked around the corner in this outfit, and everyone was stunned. I walked to the front of the stage and just flexed my pecs a couple times, which was ridiculous, but I couldn't think of anything else to do. I then stalked back to Coop, who was now gathering himself, and we went through the little dialogue. He said, "Does this mean I have to sing 'Love Letters in the Sand?'"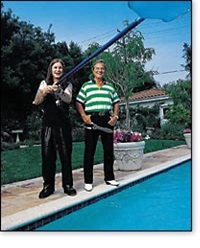 Later, when we gave the award for hard rock/heavy metal to Metallica, the drummer came up and said, "Pat Boone's our new lead singer!" I guess we so stunned everybody that a lot of people believed this was the truth, that I was now going to be a heavy metal guy and sing with Metallica! To me it was like going to a Halloween party wearing a costume. It was just a joke, a reference to the fact that the next day my album of heavy metal songs would come out.
So, how did you defend yourself to skeptics?
Pat Boone We had a meeting on TBN [Trinity Broadcasting Network] and explained it all. [It was] the first and only time that we ever played "Enter Sandman" or "Smoke on the Water" on Christian TV, but it was to let everybody hear this was good music, big band jazz. No it was not a parody. I was very serious about the quality of the music, but I was not oblivious to the humor that was inherent in the idea that Pat Boone did anything with metal songs.
What lessons did you learn from the whole thing?
Pat Boone The Bible says, "Do not judge so that you will not be judged. For in the way you judge, you will be judged" (Matt. 7:1-2). I had been harshly critical of the metal scene, but when I began to identify with some of the performers and some of the music, I got smeared with the same quick brush of disdain and dismissal I had used. I got judged the way I had judged! We are too quick to judge other people solely on the basis of appearance before we know them or what they're about. It was a tremendous lesson for me. I hope other Christians learn some of the same lessons too.
For more about Pat Boone, you can visit his website. Be sure to check out Amazon.com to listen to sound clips and buy his music.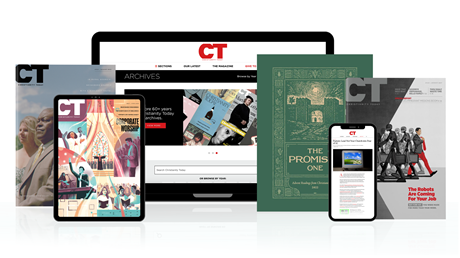 Annual & Monthly subscriptions available.
Print & Digital Issues of CT magazine
Complete access to every article on ChristianityToday.com
Unlimited access to 65+ years of CT's online archives
Member-only special issues
Subscribe
No Pat Answers
No Pat Answers