true
Jonathan Safran Foer's first novel Everything Is Illuminated had a ton of fans among readers and critics alike. Its protagonist (also named Jonathan Safran Foer, played by Elijah Wood) travels to Ukraine to find a woman in a photograph who apparently helped his grandfather escape Eastern Europe just prior to the Nazi invasion. There was an audacity about the author's combination of wildly inventive verbal humor, bold imaginative strokes and dark Holocaust subject matter that somehow, improbably, worked brilliantly. The brashness headed off accusations of sentimentality or over-earnestness (and made for a very engaging read), while the story earned its credibility by rooting a serious rumination on twentieth-century genocide in an essentially personal journey.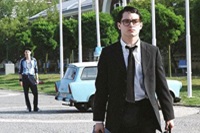 The film treatment is similarly a debut, featuring actor Liev Schrieber in his first turn behind the camera as director and screenwriter. He aims for the same bizarrely effective collision of outrageous comedy, human tragedy and imagistic invention and, if the film doesn't achieve the artistic "perfect storm" of the novel, it does succeed in telling an important story freshly. (Indeed, the style of this film may find an audience among the generation whose defining films include quirky, quasi-absurd character stories like Napoleon Dynamite or Garden State.)
There is wonderfully off-kilter comedy, to be sure, as well as serious grappling with Ukraine's uneasy anti-Semitic legacy, but somehow it plays more as an unevenness of tone than it does as a dazzling collision of opposite energies. And the whimsical magic realism that was woven through the book is seen here only in occasional (wonderful) touches, such as the protagonist's accumulation of odd mementos—lockets, dirt, false teeth—pinned to his bedroom wall in Ziploc plastic bags, or a yardful of white linens dancing in the wind in front of an aging wooden house, surrounded by vast fields of cartoon-esque sunflowers.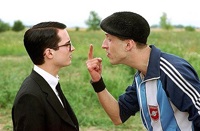 The first portion of the film is mostly for laughs, and it mostly works, especially Eugene Hutz's portrayal of Alex Jr., the story's narrator—think of Steve Martin's wild and crazy Festrunk brother, and you won't be far wrong: "Many girls want to be carnal with me because I am such a premium dancer." The family business, Odessa Heritage Tours, involves driving "rich American Jews" around the Ukrainian countryside in search of their ancestral roots, an utterly cynical exercise given the family's barely-veiled anti-Semitism, appalling interpersonal skills and utter lack of translating expertise. Much of the humor is found in the cultural gap between the grandfather's outrageously offensive comments and his grandson's more socially acceptable translations. While I never tired of the Hutz characterization or his malapropisms, the mistranslation routine did start to wear a little thin, right around the time when the cut-to-the-dog-for-a-reaction-shot and oompah-band punchline underscoring was getting predictable.
Fortunately, that's also the point at which the film begins to change gears, offering one of its most accomplished and multi-layered sequences. The touring trio arrives at an old building that's been converted into something resembling a grotesquely inhospitable hotel, operated by a hostess with the physique and temperament of a defensive lineman. There is a standoff over the fastidious Jonathan's vegetarianism, a peculiar episode concerning a potato, then a sudden series of understated reveals that immediately take the story deeper. Elijah Wood introduces a lovely self-amused note that begins to undercut Jonathan's tightly-packed persona, the Grandfather (also named Alex) is suddenly quiet after viewing a photograph of Jonathan's grandfather (who bears a startling resemblance to Jonathan), and Alex Jr. is clearly troubled when he hears that Ukrainian anti-Semitism may have predated the arrival of the Germans—Jonathan's grandmother had told him, "When the Nazis invaded, she thought it would be an improvement." Even the grandfather's vicious seeing-eye dog—named Sammy Davis Jr., Jr., and they're surprised to learn his namesake was Jewish—takes a sudden shine to the phobic newcomer, lying down to guard his hotel room door after Alex Jr. warns, "There are many dangerous people who would try to steal things from Americans and also kidnap them."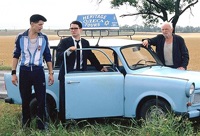 The road trip continues, no one seems to have heard of the village named on the back of the aging photograph, and it becomes clear that Alex Sr.'s general and specific hostilities are rooted in a past not so far removed from that of Jonathan's grandfather and the anonymous woman in the picture. Perhaps the film would feel more challenging if more of the opening wackiness were sustained once the film takes its serious turn: then you'd have the sort of edgy juxtaposition that would be much riskier, but potentially much richer and more memorable. Still, there's considerable artistry in the way the film gradually offers up its revelations, and in the unexpectedness of some of those discoveries. I also appreciated the film's surprisingly unsentimental denouement.
I know a playwright whose Holocaust-themed play was recently rejected by a major American theatre: they celebrated the writing, but felt the "Holocaust genre" to be "supersaturated." As if this is something we should put behind us. God forbid. Alex Jr., infatuated with all things new, tacky and American, begins the film with just such an attitude: "The past is past." At least that's what he always believed until he encountered The Collector, a young Jewish American who is "a compulsive rememberer," gathering the flotsam and jetsam of his life and his family's lives in the plastic bags he carries everywhere. "Why do you do this?" "Maybe sometimes I'm afraid I'll forget."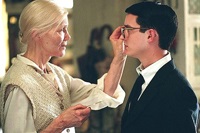 There is something sacramental in this reverent oblation of mundane objects that reminds me of an extraordinary moment in American Beauty. A young videographer has filmed a plastic bag caught up in a whirlwind in an urban alley, a sight whose strange beauty communicated to him the benevolent presence of God: "Video's a poor excuse, I know. But it helps me remember."
Everything Is Illuminated is a film that doesn't want us to forget. Or perhaps it is a film that wants a new generation to remember—to re-member, if you will, to re-assemble—a past beyond its own personal memory, which nevertheless profoundly shapes its present. Whatever its possible shortcomings, this may be a very important film indeed, a story for and about a generation half a century removed from the Holocaust who must come to terms with the horrors of their not-so-distant and not-so-different past—horrors which befell young men and young women not so different than themselves.
Talk About It
Discussion starters
The film contains a number of fascinating parallels among its characters. What similarities do you see between Alex Senior and Sammy Davis Junior, Junior? Between Alex Junior and Jonathan? Between Jonathan and the woman they meet in the field of sunflowers? How are these connections significant?


Does the movie's flippant, irreverent and sometimes crude tone undermine its more serious themes for you, or does it somehow enhance them?


Both Jews and Christians emphasize the importance of remembering. The Old Testament is full of instructions to commemorate God's acts on behalf of his people, and Jesus instituted the sacrament of communion with the words "This do in remembrance of me." Yet there is also value in leaving the past in the past: when God forgives our sins, he "remembers them no more." Is there a danger in dwelling on the past, especially the sins and tragedies that we have left behind, whether as individuals or as a culture? How do you see these themes playing out in the film?


Can audiences become inured to the significance of the Holocaust by over-exposure in film and television? Does this film contribute to the problem? Is its effectiveness diminished for you because of other Holocaust stories you have seen? How can we guard against "compassion fatigue" that may result from media saturation with images of genocide and other human suffering?


When Jonathan is asked about his compulsion to collect strange artifacts, he says, "Why does anybody do anything?" The film implies that's just how he's made, and the film explicitly demonstrates the eventual value of his curious quirk, as well as quietly suggesting something about its origin. Are there aspects of your own personality which seem either useless or inexplicable—mere personal quirks—which have ultimately proven to be of value?


The Family Corner
For parents to consider
The film is rated PG-13 for disturbing images/violence, sexual content and language. One family is prone to sudden acts of violence (hitting), and a fair amount of crude and angry talk. God's name is used as a curse word only once. One character shows his younger brother a porn magazine, and provides a typically ill-informed description of a particular sex act. Holocaust violence is minimal and stylized, but undoubtedly tense and potentially emotionally troubling (appropriately so). We also see the image of a character who has committed suicide in a bath tub; Christians may be less troubled by the depiction than by the suggestion that the character achieves contentment through this act.
Copyright © 2005 Christianity Today. Click for reprint information.
compiled by Jeffrey Overstreet
from Film Forum, 09/29/05
Jonathan Safran Foer's complicated novel Everything Is Illuminated follows the story of a young Jewish man's search for the woman that saved his grandfather from the Holocaust. Well, that's one of the stories weaving through the book.
Under Liev Schreiber's direction, with Elijah Wood in the starring role, the film is a simplified adaptation that focuses primarily on that young man's story. Mainstream critics are describing the result as "a gentle comedy of understanding and forgiveness." A.O. Scott (The New York Times) criticizes Schreiber's version, calling it "thin and soft, whimsical when it should be darkly funny and poignant when it should be devastating."
Article continues below
But religious press critics are impressed. David DiCerto (Catholic News Service) writes, "Lyrically directed, the modest film is by turns poignant and mutedly funny resulting in a moving meditation on identity, memory, guilt, anti-Semitism and the human need for connectedness. And while 'everything' may be a bit of an overstatement, there are several luminous moments which serve to remind us that, to paraphrase novelist E.M. Forster, we cannot understand our present condition unless we remember the past."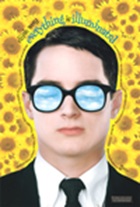 Browse All Movie Reviews By: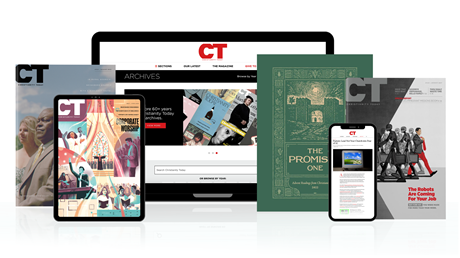 Annual & Monthly subscriptions available.
Print & Digital Issues of CT magazine
Complete access to every article on ChristianityToday.com
Unlimited access to 65+ years of CT's online archives
Member-only special issues
Subscribe
Everything Is Illuminated
Everything Is Illuminated