On January 14, 1908, readers of the Chicago Daily News stumbled on a startling tale. A few pages in—among ads for home furnishings, Clark's thread, and cotton pillowcases—was an article by noted journalist William T. Ellis detailing his recent visit to Mukti, a Christian community in western India. "Have Gift of Tongues," the headline read. "Girl Widows of Christian Church in India Develop Wonderful Phenomena."
For years, many American Protestants had supported Mukti and its legendary founder, Pandita Ramabai. Thousands more followed accounts in the religious press that detailed this Brahman woman's expanding efforts on behalf of high-caste widows, many of whom were children facing hopeless futures. Ramabai first visited the United States in 1886, and her winsome personality, profound Sanskrit learning, and devotion to Indian women immediately won American hearts.
Over the years, Ramabai's American support base shifted, becoming more evangelical as her own sympathies moved in that direction. In time, she made her educational work forthrightly Christian though culturally Hindu. She refused to be co-opted by sectarian agendas: American Protestants of many persuasions considered her one of themselves. By 1905, she had responsibility for over 2,000 people, the majority of whom lived in the settlement she called Mukti ("salvation") near the village of Kedgaon. Beginning in 1905, waves of revival swept the community. When William Ellis reported strange religious happenings at Mukti, he knew he had a story that would fascinate American readers.
O for a thousand tongues

Ellis found at Mukti "an extraordinary religious manifestation, as remarkable as anything in connection with the great revival in Wales." Unwilling to pass judgment, he chose simply to "narrate, soberly and consecutively, what I have seen and heard concerning this 'baptism with fire' and pouring out of 'the gift of tongues,' whereby ignorant Hindoo girls speak in Sanskrit, Hebrew, Greek, English, and other languages as yet unidentified."
Ellis puzzled over a noisy prayer meeting with 30 girls, some praying aloud, others crying "at the top of their lungs." Some sat on the floor, with heads touching the floor; others stood and swayed; a few knelt and rocked; still others twitched and jerked as if convulsing. The girls seemed unconscious of one another, and amid the clamor, their intense concentration surprised Ellis.
Oddly, he learned that occasionally one or another could not speak at all. These believed God "smote them dumb" and obliged them to write messages rather than to speak them. "Sometimes," Ellis reported, "the girls will go about their tasks for days, unable to utter a word though they understand perfectly all that is said to them and are able to pray in other tongues. And when they specially pray for the power to do so, they are able to speak in religious meetings."
When Ellis confronted Ramabai for an explanation, she told him that she did not "make a special point of the gift of tongues." She never "exhibited" the tongues speakers, and she admitted an ongoing problem of "weeding out the false from the true." "There are other spirits than the Holy Spirit," she reminded him, "and when a girl begins to try to speak in another tongue, apparently imitating her sisters without mentioning the name or blood of Jesus, I go up to her and speak to her or touch her on the shoulder, and she stops at once. On the other hand, if a girl is praying in the Spirit I cannot stop her, no matter how sharply I speak to her or shake her."
Ramabai remained untroubled when "manifestations" did not occur and unfazed when they did. What mattered to her was the outflow in effective prayer and vigorous evangelism shown by the revived, whether or not they manifested any spiritual gifts. She seemed less taken personally by utterance gifts (like tongues and interpretation) than by the sense of inner peace she prized as the work of the Holy Spirit.
Spirit-filled evangelism

True to her conviction that authentic revival energized evangelism, Ramabai led a band of revived widows on evangelistic forays into nearby communities. These evangelistic meetings drew a mix of people curious about revival reports: Europeans, nominal Indian Christians, and non-Christian Indians. Before long, revivals at such places as the Methodist Boys' School at Poona, a Zenana Training Home, and a Boys' Christian Home at Dhond traced their roots to Mukti influence. Revival fervor also radiated directly to a famine orphanage in Allahabad, a rescue home near Bangalore, and the American Methodist Episcopal Mission in Telegaon, east of Bombay.
Ramabai's concern about the "lukewarmness" of Indian Christians motivated these ventures beyond the privacy of Mukti: She wanted to demonstrate revival—inspired zeal for evangelism and to encourage others to pray for revival as the key to India's salvation. Attendant publicity soon forced her to acknowledge that her "praying band" of widows had become "fools" for Christ: "The Spirit-filled girls cannot suppress their sorrow for sin or their joy in salvation. They burst into loud crying and laughing, they shake, they tremble, some of them dance with joy, and almost all pray simultaneously in loud voices." Ramabai neither promoted such behavior nor opposed it, though she worked to keep it from becoming an end in itself by channeling its restless energy toward specific evangelistic goals.
A place in Pentecostal lore

At Mukti, William Ellis stumbled on one piece of the larger story of the emerging global Pentecostal movement with its emphasis on gifts of the Holy Spirit, the imminent return of Christ, and the priority of intense religious experience. Though Ramabai herself neither spoke in tongues nor manifested other spiritual gifts associated with early Pentecostals, she played a role in the movement's emergence in India.
In the end, though, Ramabai held herself aloof from the distinctive views of the American Pentecostals who traveled to India to plant their movement. Many of them visited Mukti and associated the tongues speech there with their own understanding of spiritual gifts. Ramabai valued their goodwill, depended on their money, but rejected their doctrinal boundaries. She coveted the peculiar, intense manifestations of the Mukti revival far less than she valued inner rest and effective outreach. When revival intensity waned, it became obvious that Ramabai and Western Pentecostals had shared a fervent moment but would go their separate ways.
Today Pentecostalism is the fastest growing Christian movement in India. The Ramabai Mukti Mission continues but, without the forceful personality of its founder, it does its work without much public notice and with no identification with Pentecostalism. But the revival that swept Mukti from 1905-1907 lives on in Pentecostal lore as part of the story of the planting of Pentecostalism in India. By nurturing revival, permitting speaking in tongues, and identifying with the evangelistic zeal that fueled early Pentecostalism, Ramabai helped jumpstart the movement and shape its collective memory. The first Western Pentecostals who brought their message found in the Mukti revival evidence that Holy Ghost religion had a future in India.
Edith Blumhofer is professor of history at Wheaton College, Wheaton, IL.
Related Elsewhere:
Christian History Corner, a weekly column from the editors and writers of Christian History & Biography, appears every Friday on Christianity Today's website. Previous editions include:
Article continues below
Where Wesley's Followers Went Awry | Three new books by scholars of American Methodism explain why Methodists flourished in the 19th century and faltered in the 20th. (Aug. 05, 2005)
The Man Who Wouldn't Give Up | No matter how great the obstacles, William Carey expected great things and attempted great things. (July 29, 2005)
5 Christian History Books for the Beach | Christian History & Biography staff suggest books for your summer reading list. (July 15, 2005)
When Theology Comes Alive | Living theology: that's what the 17th-century Pietists wanted to see. And so they invented church history. (July 08, 2005)
The Man Behind the Missions | A. T. Pierson who? Dana Robert's biography sheds light on a forgotten ancestor of the modern evangelical missionary movement. (June 10, 2005)
The Secrets of Spurgeon's Preaching | Why would thousands come to hear him speak? (June 03, 2005)
Preaching Augustine | The Christian Classics Ethereal Library came to my rescue in a homiletical emergency. (May 27, 2005)
Victorian Skeptics on the Road to Damascus | Former atheist Antony Flew's admission of the existence of God shocked believers and skeptics alike, but such a turnaround is far from unique. In the 19th century, many leading intellectuals who had once lost their faith ended up reconverting. (May 20, 2005)
In Search of the Real Balian | In Kingdom of Heaven, Sir Ridley Scott turns Balian of Ibelin into an agnostic, but what do we know of the Balian of history? (May 13, 2005)
How Could Christians Crusade? | Why followers of the Prince of Peace waged war. (May 06, 2005)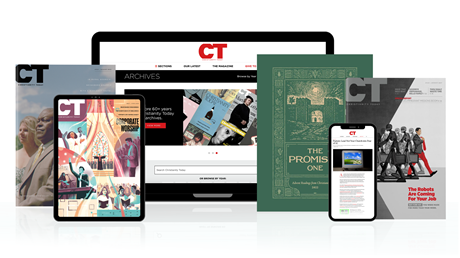 Annual & Monthly subscriptions available.
Print & Digital Issues of CT magazine
Complete access to every article on ChristianityToday.com
Unlimited access to 65+ years of CT's online archives
Member-only special issues
Subscribe
Indian Pentecost
Indian Pentecost