As the flood of 100,000 New Orleans evacuees continued into Texas' biggest city, what may well have been Houston's most religiously diverse gathering with a purpose took place Thursday morning.
The sanctuary of Second Baptist Church, one of the largest churches in the country, filled with Christians from mainline, evangelical, and Pentecostal denominations, plus those from other faiths, including Jews, Buddhists, Muslims, Hindus, Bah'ai, and Unitarians.
Their sole order of business: Feeding the 25,000 homeless, destitute evacuees, many of whom had earlier taken shelter in New Orleans' Superdome and were brought to the city in expectation of being housed in Houston's Astrodome. Many are the poorest of New Orleans' poor. Many will never go back to Louisiana because they have nothing to go back to. Meanwhile, groups such as the Red Cross won't help match evacuees with Houston residents who offer housing because they are concerned about liability.
Second Baptist member Jack Little broke the bad news: "There is no money to do this, folks. There is no federal money available to handle this emergency in Houston." Nor is city, county, or state funding available.
With most of New Orleans flooded, emergency officials won't let anyone back into the devastated city for weeks or months. Many of those who rode out the hurricane were too frail to evacuate New Orleans, had no car to leave in, or had no place to go outside the city. After Katrina passed, New Orleans seemed to have avoided major damage. Then the levees broke. Within three hours, the below-sea-level city was feet-deep in water.
Those who had jobs are unemployed indefinitely. Many who weren't penniless before the storm are now.
So Second Baptist's pastor Ed Young called on Houston's faith community "to do two very simple things. We need money. We need people."
Detailing the needs
Each of three daily meal-line shifts need 240 volunteers. The $1.75 daily cost of feeding each person sounds inexpensive, but it means coming up with $125,000 a day for the Astrodome evacuees. One month of their meals will cost almost $4 million. The Salvation Army will handle clothing distribution and counseling. The Red Cross will supervise cooking teams.
Young named the project Operation Compassion, pledging to raise $1 million among Second Baptist's 40,000 members over the weekend. "We need from you a commitment from your church what you're willing to put up," Little said. Second Baptist will train volunteers in two-hour sessions.
Ed Young, Second Baptist's pastor, said the evacuees' stay is open-ended, possibly six months. "We're in this thing for the long haul," he said.
Young called on representatives from each religious group in the sanctuary—Episcopalians, Presbyterians, Lutherans, Pentecostals, and those of other faiths—to stand and give their names and religious affiliation.
"All those sermons and passions you've generated, now's the time to put up or shut up for every faith or religious community here," Young told the group. "Are you willing to coordinate and cooperate with other people and other denominations? If you're not, sit down."
No one sat.
Young asked those standing to meet with him after the gathering.
Young quoted Gandhi: "'God dares not appear before a hungry man except in the form of bread and water.' We all have our religious agendas. You know mine. The first place to start is food and water," Young said.
William Vanderbloemen, pastor of First Presbyterian Church of Houston, invoked Exodus in his closing prayer: When God led his people out of the wilderness, Vanderbloemen said, the first responsibility he had was to put manna on the floor for his people.
Related Elsewhere:
Our previous coverage of Hurricane Katrina's aftermath includes:
Hurricane Weblog: Little Relief in Sight | Food, water, supplies still making its way to hurricane victims (Sept. 1, 2005)
Hurricane Weblog: Katrina Relief Under Way | Louisiana Governor Kathleen Blanco declares Wednesday a day of prayer (Aug. 31, 2005)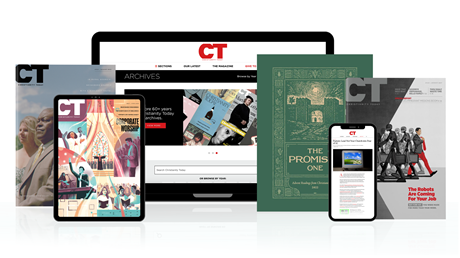 Annual & Monthly subscriptions available.
Print & Digital Issues of CT magazine
Complete access to every article on ChristianityToday.com
Unlimited access to 65+ years of CT's online archives
Member-only special issues
Subscribe
Houston's Religious Communities Scramble to Help Evacuees
Houston's Religious Communities Scramble to Help Evacuees