Larry Eskridge is associate director of the Institute for the Study of American Evangelicals and recently completed his dissertation on the Jesus People.
What is the interest in intentional community in American history?
There is a thread of utopian Christian communities of one stripe or another throughout American history. You don't hear a whole lot about it in terms of evangelical Christians after the Civil War until you get to the '60s. Then you have the utopian, back to nature, back to the garden vision of the hippies.
How did Christians in the counter-culture respond to that vision?
The Jesus People brought the added impetus of the second chapter of the Book of Acts. It was natural for them to combine this hippy urge to live together and the Bible. Also, so many of these people were runaway young people. They were dirt poor, and it was a fairly efficient way to find shelter and to scrounge together a meal on a fairly regular basis. Some of these people were coming from pretty hard places in the counter-culture, and communities played an important discipleship function.
Timothy Miller, a historian who has studied '60s communes, guesses that there were several thousand Christian communes in total from the late '60s to the late '70s. It probably blows away anything that's going on today. A lot only lasted six months or a year, but the fact that they existed at all in the context of American middle-class society and typical evangelical ways of constituting churches and households makes it stand out.
There was an end-times vision in both secular and Christian counter-cultures.
That was what the whole thing about the counter-culture. You were going to drop out and have some sort of spiritual enlightenment with the use of drugs, you would learn to accept your body, and people would learn how to drop all that unnatural stuff.
When people start noticing that we still have people who are taking advantage of others, rape, the downside of drugs, and venereal disease, the utopia doesn't look quite like it had. For the Jesus People, there is a renewal of hope. Now they have a hope in Christ.
Are any communities still alive?
You have JPUSA in Chicago, Plowshares in downstate Illinois, Reba Place in Evanston, Illinois, Twelve Tribes, which moved from the South to New England. The biggest single community was Shiloh, which started in Oregon. The story is interesting. They expanded through the '70s and had 175 different communal houses across the country. But an IRS investigation and leadership problems caused it to collapse.
Such problems were characteristic of communities.
The real tough thing was dealing with living together under our economic system. It's just a hard thing to do.
They were serving people on the margins then too.
They would be concerned about that, but to a large degree these folks were the poor and down and out.
What impact did these groups have on the mainstream American culture?
In one sense, they didn't have a lot of impact. They didn't change the way Americans lived, they didn't change how evangelicals lived. But they did have an effect in the lives of the people who were involved. We did a survey of 800 former Jesus People, and that's what came through the most. Even though there were difficulties and problems, they tend to look back on that as the highlight of their Christian life. There was something there that they've never experienced since.
Related Elsewhere:
The New Monasticism | A fresh crop of Christian communities is blossoming among the urban poor.
A More Demanding Faith | Christian history is full of attempts to lead a more radical faith.
Ct Classic
Remonking the Church | Would a Protestant form of monasticism help liberate evangelicalism from its cultural captivity?
The Jesus People USA has its community and ministry in Chicago.
Reba Place Fellowship has about 35 living in its Evanston, Illinois, homes. More people attend Reba Place Church.
More about Larry Eskridge is available from the Institute for the Study of American Evangelicals.
More about the Camden House and the Simple Way are available from their websites.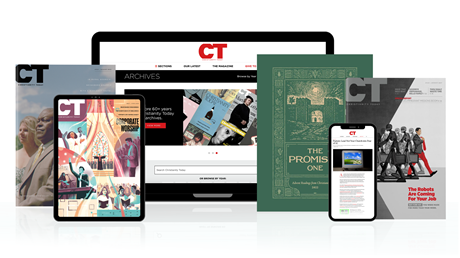 Annual & Monthly subscriptions available.
Print & Digital Issues of CT magazine
Complete access to every article on ChristianityToday.com
Unlimited access to 65+ years of CT's online archives
Member-only special issues
Subscribe
Drop Out and Tune in to Jesus
Drop Out and Tune in to Jesus