Shalaura Daniels shuffles into the stands of the Astrodome, her infant nephew straddling her hip. Another nephew toddles ahead of her. Daniels, a member of a New Orleans Baptist church called My Redeemer, collapses into an end seat and surveys the arena's cot-covered floor with thousands from New Orleans whom Hurricane Katrina made homeless. And she cries.
Those now dwelling on the Astrodome floor began arriving Wednesday in bus caravans from the flood-devastated city. Partly filled Hefty garbage bags near some cots hold the only possessions the murky waters didn't swallow.
A gray-haired man lying on his cot, bare feet protruding from a blanket, struggles to sip water. A small portable urinal hangs on the walker next to him.
A teenager's unbuttoned shirt reveals homemade tattoos covering his chest and arms. He roams the arena's perimeter with other boys whose bodies bear similar markings.
A young woman limps in flip-flops, one foot bound in white tape.
Children and babies are everywhere.
Pink wristbands mark each as Astrodome residents. They rode out the hurricane at home, in the Superdome, in New Orleans's convention center, or elsewhere because they were too poor or too frail to evacuate, had no car to leave in, or had no place to go outside the city. Now they hobble off buses and into the Astrodome in unrelenting waves. Hundreds queue for a meal.
Some 220,000 storm survivors are housed in shelters across Texas; 130,000 evacuees are in shelters and hotels in Houston alone.
And like Daniels, almost all are black.
Daniels's family waited out the storm in the New Orleans convention center with no food, no water, no electricity, and no working toilets. Media broadcast news of rapes, looting, murders, bedlam, and dead bodies everywhere. "If we hadn't left when we did … " Tears end her sentence.
Her mother joins her in the stands. "There's no time for tears," her mother says, taking the baby from her. Daniels wipes her face.
"They told us in New Orleans that we were going to be put in hotels," Daniels says, wondering, then, why all the cots? "Where are we going to sleep?"
She is told: here in the Astrodome.
Daniels pauses to process the news. "This is no way to live. I can't live like this for two months."
So she prays.
Housing the homeless
At first, city, state, and federal responses to Hurricane Katrina and the subsequent flooding were ad hoc at best. The Red Cross, which did not have a permanent presence in the New Orleans because it was considered too risky, swung into action, setting up some 300 shelters in 16 states. Meanwhile, as tens of thousands flooded into cities in Louisiana, Mississippi, and other states, especially neighboring Texas, churches nationwide mobilized.
And the government needs their help.
"We could not take on this project without our partners in the faith-based community," says Rusty Cornelius, administrative coordinator for the Harris County (Texas) Office of Homeland Security and Emergency Management. "This thing is huge. We're only beginning to understand the magnitude of this."
Three days after the August 29 storm, Houston's 42,000-member Second Baptist Church pastor Ed Young called city religious leaders to organize Operation Compassion to feed the Astrodome evacuees. Young recruited leaders from mainline, evangelical, Pentecostal, and Roman Catholic churches and non-Christian faiths to fund and provide volunteers for Operation Compassion.
The bill: $125,000 per day, or almost $4 million per month. Some 4,500 people attended the first Astrodome volunteers' training session September 3 at Second Baptist, where those wearing crosses and Christian T-shirts joined black-veiled Muslim women to learn how to distribute food and comfort the suffering.
"Your being there may be what makes the difference" in these evacuees' lives, Gibbie McMillan of Southern Baptist disaster relief told Operation Compassion trainees. "You've got to get them to focus on one day at a time. If you've lost hope, you've lost it all. We're trying to show these people there is hope."
Many evacuees will never return to New Orleans because they have nothing to which to return. "This to me is a refugee movement equivalent to the boat people of Vietnam," says Gary Moore, Second Baptist's senior associate pastor and spokesman for Operation Compassion. "It's going to be long term."
Needs abound: helping evacuees contact loved ones and find jobs; finding long-term housing; enrolling children in school; and praying with and counseling the grieving and dispossessed. Christian leaders also expect opportunities for evangelism, which may occur naturally as relationships are built.
Churches across greater Houston are "adopting" hotels, where many evacuees have run out of money. Individual Christians, home Bible groups, and Sunday school classes are also sponsoring families, outfitting unfurnished apartments, collecting toys, and assembling personal hygiene kits.
Two days after the hurricane, Carl Davis, pastor of the predominantly black New Life Tabernacle Church of God in Christ, devoted its Wednesday night service to organizing a response to the crisis. An offering that night raised $2,200 and New Life allotted $10,000 more to help evacuees.
New Life volunteers photocopied flyers inviting evacuees to call the church. Ten teams of New Life members passed out the flyers at hotels. The first day, New Life received 1,000 calls from people needing everything from a place to stay to a funeral for an evacuee who died.
The church of 1,400 met those two requests: It paired a young woman with a church member, and one New Life youth pastor who is also a mortician arranged to embalm a deceased woman while the church agreed to provide for the funeral and burial.
The church shuttled evacuees to its campus in two vans, where in the first two hours members served 96 hot lunches in the old sanctuary where shoes and clothing, sorted by size, lay in stacks in chairs and across the floor. Down the hall Davis's wife, Harolyn, helped members set up a mini-convenience-store giveaway of toys, towels, toiletries, gift cards, convenience foods, and over-the-counter drugs.
"We have to show we care," Carl Davis says. New Life will sponsor five families for six months in apartments renting for $500 per month.
A team from Calvary Chapel in Albuquerque, led by administrative pastor Bob Church, invited 500 families to New Mexico, where churches pledged to sponsor them. By the time Calvary's team left Houston on Labor Day, it had bought New Life Tabernacle more supplies for evacuees. The Federal Emergency Management Agency is sending 6,000 evacuees to Albuquerque.
"It'll be a mini-Houston," Church says.
Larger Houston churches are gathering resources, too. The response of 4,200-member First Presbyterian Church includes pairing the displaced with jobs and long-term housing, plus funding and providing 720 volunteers for two days of Astrodome meals.
Televangelist and author Joel Osteen asked those attending a speaking event in Atlanta the weekend after the disaster to bring non-perishable goods, which he then gave to Houston's relief effort. Osteen's nondenominational congregation, the 30,000-member Lakewood Church, is giving 15,000 Bibles to the evacuees and has pledged $1 million of the $5 million needed to feed people in two Houston shelters.
Deann Alford is a journalist based in Austin, Texas.
Related Elsewhere:
The Sunday After | What Gulf churches were doing on the first Lord's Day after Katrina.
Article continues below
I Was a Stranger | Ministry in the Astrodome and beyond.
Earlier coverage of Katrina includes:
Hurricane Weblog: In Every Thing Give Thanks | Even in tragedy, there is hope in Jesus. (Sept. 06, 2005)
Hurricane Weblog: Where Is God in the Chaos? | The theodicy questions change as human depravity rears its ugly head in New Orleans. (Sept 02, 2005)
Houston's Religious Communities Scramble to Help Evacuees | "We're in this thing for the long haul" without government money, church leaders warn. (Sept 02, 2005)
Hurricane Weblog: Little Relief in Sight | Food, water, supplies still making its way to hurricane victims. (Sept 01, 2005)
Hurricane Weblog: Katrina Relief Under Way | Louisiana Governor Kathleen Blanco declares Wednesday a day of prayer. (Aug. 31, 2005)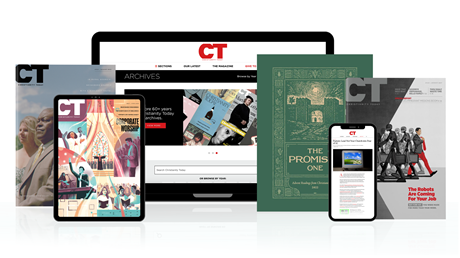 Annual & Monthly subscriptions available.
Print & Digital Issues of CT magazine
Complete access to every article on ChristianityToday.com
Unlimited access to 65+ years of CT's online archives
Member-only special issues
Subscribe
Amid the Evacuees
Amid the Evacuees