Shane and Shelly Cole were a Good Samaritan couple who opened their home to strangers evacuating New Orleans after Hurricane Katrina at the end of August. But just a few weeks later, with Hurricane Rita steering toward the Texas coast, the Coles found themselves in need of a Good Samaritan. Low-lying Pasadena, Texas, was at grave risk of catastrophic flooding.
Both the Coles' vehicles were disabled. Their van needed a $700 fuel pump they couldn't afford. Fixing their other vehicle's transmission would take a week. The Sheppards, the family the Coles hosted following Katrina, were in New Mexico and heard about the Coles' plight. They tried to wire the Coles some money. But Pasadena's Western Unions all had closed ahead of the storm.
In desperation, the Coles called the town's emergency services for a promised evacuation pickup. After three days of waiting, the bus was a no-show. The Coles then walked nearly four miles to a last-ditch pickup point. On arrival, they discovered the last bus out of Pasadena had already left.
They were offered room in the city's shelter, but no food, no water, and no cots were available. Perhaps prompted by the chaos the Coles had glimpsed in the Astrodome shelter, the couple returned home to face the Category 3 storm alone.
"If the Lord above decides to bring me home," Shane Cole said, "at least I know I will die very happy and in the loving arms of my beautiful wife." In the event they perished, Shane Cole e-mailed a journalist for Christianity Today their last messages for loved ones. Then they braced themselves and awaited Rita's worst.
Double Whammy
Since Hurricane Katrina devastated New Orleans, southeastern Louisiana, and the Mississippi and Alabama Gulf Coasts on August 29, the death toll has risen daily and now stands at more than 1,000. Katrina made landfall as a Category 4 storm packing 145-mph winds.
When Hurricane Rita slammed the Texas-Louisiana state line on September 24 as a Category 3 storm, winds were close to 120 mph and the storm surge was 15 feet. Some 3 million fled Rita, fearing her wrath could surpass Katrina's. Ahead of Rita's landfall, on September 23, a bus filled with elderly evacuees caught fire on I-45 in Dallas, killing 23. At press time, two deaths had been attributed to the actual storm.
Already strained from the staggering needs of Katrina's victims, churches and parachurch groups ramped up again to help a new wave of evacuees, this time fleeing Rita to Austin, Dallas, Shreveport, and beyond.
Ironically, those in flight included many people who had evacuated to Houston because of Katrina. It also included people who helped Houston's Katrina evacuees. And similar to Hurricane Katrina, many of those who remained to face the storm were, like the Coles, too broke to flee.
But Rita's evacuees faced challenges different from Katrina's—notably 100-mile-long traffic jams on highways leading out of Houston. Many fled 150 miles northwest to Austin. Along the way, evacuees ran out of food, water, and fuel. Major George Hood said the Salvation Army supplied water to motorists stranded on Interstates 10 and 45.
Once again, churches mobilized, meeting needs that government was too overwhelmed or simply unable to provide. In Baton Rouge, Louisiana, 80 miles northwest of New Orleans, lies the well-known St. Luke's Episcopal Church. St. Luke's isn't new to hands-on ministry, but the church had never faced the front lines of crisis.
"The thing that was most remarkable for me in terms of disaster ministry [is that] I've always written a check and had somebody else do the work," said Brien Koehler, St. Luke's rector. His church has been helping Katrina survivors find permanent housing and still is temporary home to 10 of the 30 evacuees who have lived in its building since late August.
With a major Baton Rouge hospital just a short walk from St. Luke's, among the evacuees are parents of special needs babies flown in from hospitals hit by Katrina. Babies from hospitals in Rita's path were also moved to that Baton Rouge hospital. Koehler expects some of these babies' parents will find shelter in his church as well.
The past three weeks have brought home to Koehler the lesson of Christ's feeding the 5,000. He said the little that the disciples had was enough "if it's in his hands, and they do what he says." "The pieces were there, and all we had to do was open our eyes, say 'Yes,' and do what was in front of us," says Koehler. "Everybody calls all their spiritual gifts and material gifts into play, and they'll get used somehow."
During Katrina, St. Luke's housed 25 Environmental Protection Agency officers and fed 65 hungry workers from Baton Rouge's 911 emergency call center. "The government wasn't giving us help. We were giving help to the government, which I think is an interesting twist," Koehler told CT.
Hotels across Texas and Louisiana remain full of Hurricane Katrina survivors, leaving no place but emergency shelters, church buildings, and private homes to house this second wave. Shelters housing Katrina's homeless reopened to welcome Rita evacuees, many of whom sought help from churches.
While the Red Cross, fearing liability, will not match evacuees with families wanting to take them in, Austin churches had lists of dozens of members happy to house them. Eighteen Spanish teachers from Spain attending a Houston conference evacuated to Austin where First Evangelical Free Church quickly sheltered them in its members' homes.
In Shreveport, Louisiana, some 250 miles northeast of Houston, one of the largest churches is Summer Grove Baptist. Housed in a former shopping mall, Summer Grove was closing its Katrina relief distribution center in the old Dillard's department store when Hurricane Rita prompted a new migration into Shreveport.
The church reopened the center and began handing out leftover Katrina donations to Rita evacuees. Summer Grove hired Cary Windler to coordinate relief and 200 volunteers working with the church's Katrina response. Windler said the church helped Rita evacuees until it had to close in anticipation of Rita, which hit Shreveport Saturday morning as a tropical storm.
Across the Red River from Shreveport in Bossier City, Louisiana, First Baptist Church helped care for Katrina survivors in the CenturyTel Center, a venue for concerts and big gatherings. First Baptist met Katrina evacuees' needs ranging from food to furniture. As Katrina survivors moved to more permanent dwellings, Rita prompted a second exodus into Northwest Louisiana. First Baptist receptionist Kaira Krysinski said Friday that Rita evacuees had been flowing steadily into the church seeking help. "They just see this large steeple from the highway and they pull off because it's a symbol of hope," she said.
Rita's Aftermath
After Rita passed through, the Salvation Army, Texas Baptist Men (a disaster relief group), and the Southern Baptist North American Mission Board (NAMB) moved in her wake to feed the hungry, provide childcare, and help clean up the mess the storms left behind in Texas and Louisiana.
NAMB activated 48 more of its mobile kitchens for Rita—"virtually every kitchen in Southern Baptist fleet," said the NAMB's Jim Burton.
Gary Smith of Texas Baptist Men said that back-to-back disasters created additional stress on his organization, "but it's not like we haven't done it before," he said. Smith estimated that Texas Baptist Men has trained 20,000 volunteers since the December 26 Asian tsunami—training that's mandatory for all volunteers. Many who have stepped forward to work with his organization have been necessarily turned away because they aren't trained.
"This always happens whenever we have large disasters," Smith said. "It's so important for people to prepare ahead of time for the disaster." Training is crucial to what they do when disaster strikes. "We'd love to have new people join us, but we have to maintain our standards," Smith said.
As for the Coles in Pasadena, Texas, Rita knocked out land-line and cellular phone service when it came ashore early Saturday. But cell phone text messaging still worked, and an e-mail from Shelly Cole's cell phone read, "We are OK."
Related Elsewhere:
Our full coverage of Hurricane Katrina and its aftermath includes news, interviews, an editorial, and other articles.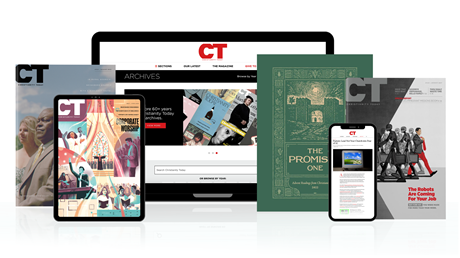 Annual & Monthly subscriptions available.
Print & Digital Issues of CT magazine
Complete access to every article on ChristianityToday.com
Unlimited access to 65+ years of CT's online archives
Member-only special issues
Subscribe
Rita's Punch Strains Gulf Churches
Rita's Punch Strains Gulf Churches