true
Music legend Johnny Cash is the only artist to be inducted into the Country Hall of Fame, the Rock and Roll Hall of Fame, and the Songwriter's Hall of Fame. He is almost certainly the only entertainer nearly disemboweled by an ostrich. And he is also the only person ever to be sued by the federal government for starting a forest fire. (The exhaust on his camper ignited, leading to Cash's infamous defense: "I didn't start the fire, my truck did, and it's dead now.") Walk the Line, the terrific new film chronicling the first half of Cash's life and career, does not mention the ostrich or forest fire incidents. It does an outstanding job, however, of telling many of the other great stories of Cash's life.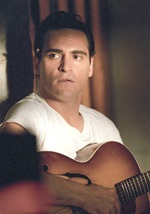 How does the son of an Arkansas cotton farmer become a complex and iconoclastic artist, influencing virtually every genre of popular music in the process? How does he manage to wind up as both one of country music's greatest rebels and one of the Christian faith's most authentic evangelists? What happens when two people (Cash and fellow performer June Carter) share a powerful connection but, for the first decade of their relationship, can only be alone together on a concert stage? Walk the Line director and co-screenwriter James Mangold (Girl, Interrupted, Cop Land) mines two autobiographies (1986's The Man in Black and 1997's Cash: The Autobiography) and seven years of conversation and consultation with Johnny and June Carter Cash in order to explore these questions. The resulting film is engaging for all 136 of its minutes, and crackles with enough musical and emotional sparks to ignite another Cash forest fire.
Walk the Line begins (and eventually ends) at Cash's landmark 1968 Folsom Prison concert and live recording, but within a few frames we are transported to 1944 Dyess, Arkansas. Twelve-year-old J.R. (Johnny's nickname as a kid) and his older brother Jack work hard picking cotton for their humorless and sometimes menacing father (an effectively despicable Robert Patrick), but that doesn't stop them from enjoying fishing, music and each other. J.R. is particularly passionate about music, an inclination his mother (played with appropriate understatement by edgy country artist Shelby Lynn) nurtures and his father demeans, and he wonders why he can't be a better Bible scholar like his "good" brother Jack. When Jack is killed in a tragic accident, J.R.'s enormous grief is compounded by his father's cruelty ("The devil did this and he took the wrong son") and his sorrow becomes the soil for fruit both good (an achingly authentic artistry) and bad (self-destructive patterns of addiction and impulsiveness).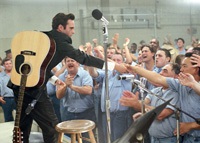 The next scenes introduce Joaquin Phoenix (Ladder 49, Signs) as Cash, and the casting is brilliant. Phoenix gets Cash's curious mix of "chip-on-shoulder/heart-on-sleeve" so right that after only a few minutes I had abandoned comparing him physically to the real Cash and started to forget that he was only the actor portraying him. Even more impressive than Phoenix's acting is, surprisingly, his singing. He nails the vocals, even managing to find Cash's gruff signature bray, and does a great job depicting the developing confidence of the young Cash from a faltering country boy to a guitar-slinging outlaw.
Phoenix's Cash endures a stint as a member of the Air Force and then moves to Memphis, where he is an uninspired appliance salesman by day and an aspiring gospel singer by night, much to his new wife Vivian's (Ginnifer Goodson) dismay. Cash's eventual audition for Sun Studio producer Sam Phillips (who launched the careers of Elvis Presley and Carl Perkins, among others) provides one of the film's truly indelible moments. Phillips (a dispassionate but intense Dallas Roberts) rejects Cash's rendition of a traditional country gospel tune, challenging him to offer something original instead. (Phillips delivers a great speech asking Cash what he'd sing if he'd been hit by a train and only had one song left; I teach a songwriting class and I suspect I will memorize that dialogue and repeat it to every student I meet.) After a truly funny standoff between producer and would-be artist, Phillips manages to provoke Cash into singing a song from his gut ("Folsom Prison Blues") and the rest, as the film sets out to show, is rich and intriguing history.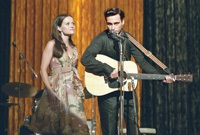 Walk the Line uses a cast of up-and-coming singer/songwriters to portray the artists who toured on Sun Records' packages with Cash—among them Elvis Presley, Jerry Lee Lewis, Roy Orbison, and Carl Perkins. None of the actors is a dead ringer for the icon he portrays, but together the ensemble does a great job capturing an astonishing time in music history when genres were being invented before audiences' eyes. We see Cash's almost maniacal pleasure in the performing, as well as his weariness off-stage as the musicians haul their gear from town to town and attempt to keep up with the frenzied demand for them. We observe the rock-and-roll lifestyle develop organically and destructively as a bunch of young bucks push each other to new musical heights but use alcohol, drugs and the company of groupies to combat loneliness and fatigue. In a seemingly innocuous scene, Cash is offered amphetamines to help him stay awake for the long drive to the next concert—sparking an addiction that will plague Johnny for many years to come and setting the stage for the destruction of Cash's already faltering marriage.
On an early Sun Records' tour, Johnny meets June Carter (Reese Witherspoon). The daughter of rural country legends Ezra and Mother Maybelle Carter, June has sung since infancy (an early moment in the film has a young J. R. Cash listening to the radio and declaring June his favorite Carter). Johnny and June forge a strong friendship and a successful musical partnership in a series of duets, but for years their romantic chemistry must be denied due to other commitments. Their protracted romance is the film's emotional center, and the chemistry between Phoenix and Witherspoon keeps us caring and rooting for them through a decade of detours and demons. Ultimately, June's faith in God—and in Johnny's ability to rediscover himself—becomes the saving grace in Cash's life, and although his own conversion is only hinted at by the film's 1968 close, the groundwork is laid.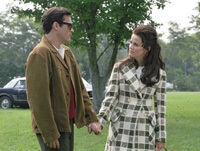 Witherspoon delivers a full-bodied, note-perfect performance as sassy, no-nonsense June, and proves herself an able singer in the process. Walk the Line contains a multitude of concert scenes, and rather than interrupting the plot they propel it, thanks in huge part to Phoenix and Witherspoon's ability to tell us so much about their respective characters by the way they sing a song. Acclaimed producer T-Bone Burnett handled the film's music production and score, and must be given enormous credit for getting it right.
Walk the Line will no doubt be accused by some of being a conventional film, and it certainly does follow standard biopic conventions. But a story as compelling as Johnny Cash's doesn't need innovative camera angles or striking new narrative techniques to make it worthy of our attention. Johnny Cash changed music forever with three or four guitar chords and a voice that people believed. June Carter changed Johnny Cash forever with faith and love. Those are some pretty-old-fashioned ideas, but Walk the Line makes them new again. Johnny and June would be proud.
Talk About It
Discussion starters
When young J. R. Cash envies his brother's ability to memorize Scripture, Jack reminds him of his gift for remembering hymns. Can singers be preachers? Was Johnny Cash?


Cash's record company tries to discourage him from recording an album in a prison because his fans are "Christian folk" who won't be impressed with a singer who's trying make murderers and rapists feel better. Johnny replies that if they feel that way, they "ain't Christians." Do you agree?


Sam Phillips told Johnny that his gospel music wasn't working because it wasn't authentic to who Cash was as an artist and a man. How do you think Sam Phillips would react to Christian music today? How are Christians doing with authenticity in the arts? Where are we getting it right? Where do we need to work on it? How are you doing with authenticity in the way you share your faith?
The Family Corner
For parents to consider
Walk the Line is appropriately rated PG-13. Drug dependency is extensively portrayed but never glamorized. There is more than one depiction of extramarital sex, although there is nothing graphic. There are a few scenes of intense domestic conflict and a scene involving the accidental death of a child that will likely be too disturbing for kids under 13. Ultimately, however, Walk the Line is a redemptive story that champions fidelity and faith. I won't hesitate to recommend it to older teens and adults.
Copyright © 2005 Christianity Today. Click for reprint information.
What Other Critics Are Saying
compiled by Jeffrey Overstreet
from Film Forum, 11/23/05
In James Mangold's new film Walk the Line, Joaquin Phoenix brilliantly portrays Johnny Cash in his maturation from a naïve young soldier to a battle-scarred, reckless, rock-n-roll Tyrannosaurus Rex.
No actor we're familiar with could have done it better. Phoenix masters the walk and the demeanor, and comes surprisingly close to mastering Cash's deep drawl—a voice as distinct as John Wayne's. His singing might convince some viewers that it's actually a clever work of lip-synching to the master's voice, but no, that's Phoenix finding a whole new register.
As June Carter, Reese Witherspoon matches him, stride for stride, song for song, turning their debates and duets into showstoppers. And she makes the turbulence in Carter's heart convincing as she flinches at Cash's advances, despairs at his self-destructive tendencies, and wrestles with her growing affection for him while she keeps his wife and kids in her peripheral vision.
Yes, it's a powerful, glamorous, colorful production.
Article continues below
But according to other Christian film critics, the film is misguided. They conclude that Mangold wants us to believe that a story of sex, drugs, rock 'n' roll, and a saving faith was instead a story of sex, drugs, rock 'n' roll and a saving infidelity.
My full review is at Looking Closer.
"Walk the Line … is a story that is more about Christian guilt than redemption," writes Steven D. Greydanus (Decent Films), "a love story in which the lead character slowly destroys his marriage and family through selfishness and cupidity; a story of addictive behavior in which drugs are eventually supplanted by obsession with a self-possessed but vulnerable young woman."
He concludes, "If Walk the Line is a love story, it strikes me as a remarkably ambivalent, unromantic one. Johnny's fascination with the bubbly Grand Old Opry princess is disturbingly obsessive and overbearing. … In spite of all it does right, Walk the Line leaves one with the nagging sense of a story unfinished—or rather, with something left out."
Christian Hamaker (Crosswalk) agrees, noting that the filmmakers "stop short of showing Cash's own deep religious conversion. … Rather than watching a story of the power of redemption, we mostly see a film about the destructiveness of sin, and of marital unfaithfulness. In that, we learn little that we haven't seen in numerous other films about troubled souls who find solace and peace in each other's arms. Although human love was a potent force in the life of Johnny Cash, it was not the ultimate transforming power that the movie implies."
Harry Forbes (Catholic News Service) calls it "a superior biopic. … Phoenix surpasses all his fine prior work with this heart-wrenching, Oscar-worthy acting, and Witherspoon matches him scene for scene." But he adds, "It must be said that the romance, however touching, between Carter and the still-married Cash is naggingly problematic from a basic moral, as much as a Catholic, perspective. [The filmmakers] are careful not to paint Vivian as a villain but they clearly stack the story in favor of Carter."
Tom Neven (Plugged In) writes, "Johnny's story—the whole story, that is—is a hopeful one, because it's about redemption. Mangold hints at this in Walk the Line, but moviegoers are left thinking that salvation came not from Jesus, but rather from a hit record recorded live at Folsom Prison. That's not fair and it's not true. … Mangold … was much too interested in Johnny and June's love affair with each other to spend much time on what God was preparing them for."
Article continues below
Steve Beard (a Christian writing about film and culture for The National Review) likes the film anyway. "Despite its gaps and shortcomings, however, Walk the Line is powerful and electric—the kind of movie that Johnny Cash could appreciate, warts and all."
Most mainstream critics are calling it one of the year's best films.
from Film Forum, 12/08/05
Denny Wayman and Hal Conklin (Cinema in Focus) say, "Though the film does not adequately display [Johnny Cash's] Christian faith, it does show how his life was changed and that this troubled man used his inner struggles to minister to those who also had such damage in their own lives. It is this message that makes this man in black a truly memorable person."
Related Elsewhere:
A ready-to-download Movie Discussion Guide related to this movie is available at ChristianityTodayMoviesStore.com. Use this guide after the movie to help you and your small group better connect your faith to pop culture.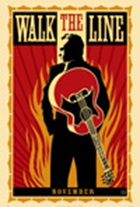 Browse All Movie Reviews By: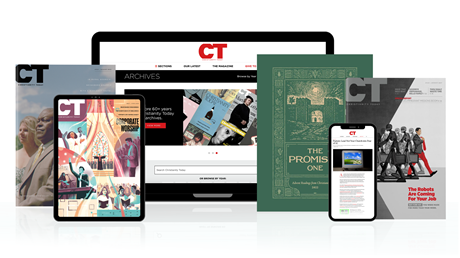 Annual & Monthly subscriptions available.
Print & Digital Issues of CT magazine
Complete access to every article on ChristianityToday.com
Unlimited access to 65+ years of CT's online archives
Member-only special issues
Subscribe
Walk the Line
Walk the Line