true
He sang gospel songs, but he also wrote darker tunes like the one in which he assumed the persona of a man who shot someone "just to watch him die." He was a country star who found his greatest success after he teamed up with a producer of rap albums. He produced a haunting music video shortly before his death at 70 that offered a stark, unflinching look at human mortality, yet he had—and continues to have—many fans many years his junior.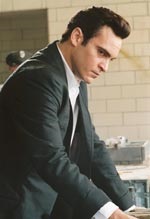 Johnny Cash was a man of contradictions, and Joaquin Phoenix—who plays the Man in Black in Walk the Line, a film developed with Johnny Cash and his wife June Carter Cash prior to their deaths in 2003, and overseen since then by their son John—had a chance to see those contradictions up close, when he accepted a dinner invitation from the Cash family.
"Usually when you get invited to something like that, you show up and it's, like, a table of 20 people, and there's a lot of forks, and you don't know which one to use," says Phoenix, whose film opens this Friday, as he chats with a gaggle of reporters in Los Angeles. "But it wasn't like that at all. There were about six to eight people, and it was all family. And John and June were just wonderful and unpretentious and welcoming."
After dinner, everyone migrated to the living room, and Cash picked up a guitar and began to strum. "He'd been strumming for a while and then he leaned over and said, 'I'm waiting for June to get my nerve up.' I was like, 'You're waiting for June to get your nerve up? That's so odd. I can't believe Johnny Cash is nervous.' And then she comes in, and he says, 'Will you sing a song with me?' And she says, 'Yeah.' And so they started singing a song."
The song was "The Far Side Banks of Jordan," and Phoenix says he was amazed by the "profound sense of love" he witnessed between the Cashes. "And then, moments later, he quoted to me my most sadistic dialogue from Gladiator, saying it was his favorite part of the movie." (The line: "Your son squealed like a girl when they nailed him to the cross. And your wife moaned like a whore when they ravaged her again and again.")
Phoenix says the experience encapsulated the two separate forces that lived within Cash: "It really is night and day. You wouldn't believe it unless you saw it. And he seemed to relish that dialogue as much as he relished looking into June's eyes and singing this song."
Secular vs. sacred tension
Apart from some scenes set during Cash's childhood in the 1940s, Walk the Line begins in the 1950s, when Cash played alongside Elvis Presley and Jerry Lee Lewis at Sun Records in Memphis and on tour across the country. The film alludes to the tension between sacred and secular music at that time—a tension that is still very real to some of the film's cast.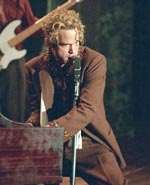 Waylon Payne, the son of country singer Sammi Smith and guitarist Jody Payne and now a country musician in his own right, plays Jerry Lee Lewis in the film. And just as Jerry Lee faced opposition from conservative Christians, including his cousin Jimmy Swaggart, so too Payne was discouraged from taking part in the music industry by his relatives.
"I was raised by my aunt and uncle in a town in Texas that was kind of small," he says. "They were pretty devout Christians, and so music was kind of discouraged, because my Ma ran around with a bunch of thugs, and that wasn't very good. So I was originally destined, I guess, to be a—oh Lord God help me—a Southern Baptist minister."
Payne attended Oklahoma Baptist University for a couple years, but was expelled "because I wasn't quite a Christian." And he says he identified with the notoriously wild Jerry Lee because he had dealt with drugs and alcohol some years ago in his own life.
"I say this without the knowledge of knowing exactly what it was he went through," says Payne, "but the only thing I could compare it to was the struggles that I dealt with when it was really obvious to me that there was a play going on in my mind about, well, do you serve God or do you serve yourself, or what do you do? And I kind of drew the conclusion that I am a man, first and foremost, who is going to fail, and is going to fall; but if I lay down, then that's probably a sin of giving up. So I just keep getting up and try to find serenity and peace in every day."
June Carter's spiritual role
Cash had his own battles to wage against drug addiction, and to the extent that he succeeded, it was largely due to the influence of June Carter and her extended family, who, in one amusing scene, stand guard outside his house with rifles to scare the dealers away.
Reese Witherspoon, who plays June in the film, says the Carters were motivated by their faith—an element she admits may be lacking in the movie. "I think June Carter brought a lot of Christianity into [Cash's] life, and encouraged him to go to church, and to find God," she says. "I think spirituality had a lot to do with him getting off drugs. I don't think it's in the movie as much, but I gather that that had a lot to do—more to do—with it."
Witherspoon says faith is a part of her life, too: "Definitely. I was raised going to church every Sunday, and I go to church most Sundays with my kids … For me, where I'm at in my career, so many people want to put you in a place that you're not real, and treat you like you're not real. For me it's a great experience of grounding, and I stand next to people who have nothing and who have everything, and we all treat each other the same, because we all are the same. It's just like a little weekly reminder. So that's helpful to me, actually."
Cash's pre-faith life
Writer-director James Mangold, who directed Angelina Jolie to an Oscar in Girl, Interrupted and is hearing Oscar buzz again for Walk the Line, concedes that the film does not play up the religious side of Cash's career very much—though he says that is because the film covers only the first two decades of Cash's adult life, from when he was writing songs on an Air Force base in Germany in the early 1950s to his marriage to June in 1968. (It was in the 1970s that Cash became very overt about his faith, hanging out with Billy Graham, sharing his testimony in books and comics, and producing his musical life-of-Jesus movie The Gospel Road.)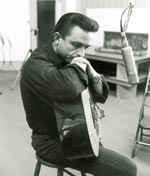 "The part of John's life we're telling the story about is the part where he pushed God away, and really God started coming back to him, as did belief and love and life and living and art, at the point where the movie ends," Mangold says. "A man who's lost, taking pills and trying to destroy himself, is not a man who you can easily just stick in a seed of faith. That is his period of pushing goodness away from himself, because either he can't accept it, he doesn't feel worthy of it, or he doesn't believe in it. But that journey made him, in a way, not only fulfilling his own destiny, but in a way, picking up his brother's. And it still gives me chills."
Mangold is referring to Cash's admiration for his big brother Jack, who died after being pulled into a table saw when Cash was 12 years old. The memory of his brother—and the guilt he felt because he had gone fishing the day of the accident—would haunt, and even motivate, Cash for the rest of his life.
The film, says Mangold, shows how Cash found himself creatively, by finding a way to channel his demons into something "useful." "He had to find the range of his own creativity, and learn how to control this river of darkness that he had been riding, and corral it in some way … Everyone thinks he was born 'the Man in Black,' but in a way, the identity that developed of this 'Man in Black,' as much as it was something highly marketable and a clever turn of phrase and a great wardrobe, it was also a way of taking control and owning himself, and making it something he was in charge of as opposed to something that was running him."
Mangold brings it back around to Cash's memories of Jack. "He so admired his brother, and his brother wanted to be a preacher, and his brother was such a good boy—religious, obeying his dad, working so hard, so much more focus on his studies. But, with no tarnishing of the memory of Jack Cash, I believe that John became twice, a hundred times the preacher his older brother ever would have become.
"It's not like John's path is one you'd recommend to somebody, but he knew what sin was, and he knew what mistakes felt like, and he knew what it was to forgive."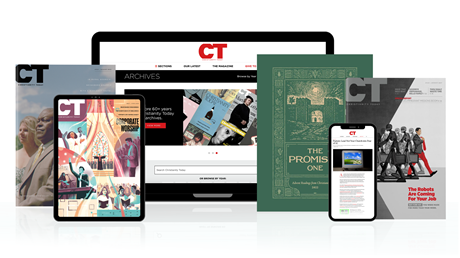 Annual & Monthly subscriptions available.
Print & Digital Issues of CT magazine
Complete access to every article on ChristianityToday.com
Unlimited access to 65+ years of CT's online archives
Member-only special issues
Subscribe
The Man in Black
The Man in Black