true
Sounds like … classic progressive rock in the tradition of Kansas, Yes, and Spock's Beard, possibly appealing to fans of contemporary prog rock from the likes of The Mars Volta
At a glance … though perhaps a little less pop accessible than his previous efforts, Morse's latest is still quite admirable as a complex progressive rock symphony exploring the mystery of God and his holy temple
Progressive rock has long carried a stigma as a dying niche genre because of its lengthy compositions, heady lyricism, and intricate instrumental solos, thus keeping it from being radio friendly and commercially viable. But that seems to be changing now that corporate radio is losing favor with listeners, and bands like The Mars Volta, Sigur Ros, and System of a Down continue to sell out venues. It's not quite a revival, but the public does seem more receptive to the complexities of prog rock, pioneered by the likes of Genesis, Yes, and Kansas.
Which makes this a prime time to discover Neal Morse, an artist too good to be ignored in Christian music. It's remarkable that someone can create three albums in three years with such artistic depth. His first major solo release was 2003's Testimony, a stunning two-disc autobiography that put his lifelong spiritual journey to music. Nearly as impressive was 2004's One, a modern day mix of prog rock and pop that traced back to the Garden to explore the rift between God and man. Now comes the unconventionally titled ?—that's right, a simple question mark—exploring the mystery of God and his relationship with man as represented by the law and his temple. It confirms that Morse is progressive rock's answer to Michael Card, probing deep biblical topics and theology with intelligence and artistry.
The album shouldn't be viewed as a collection of 12 songs as much as a continuous hour-long rock symphony with 12 movements—a number that's almost certainly intentional since one of the movements deals with the significance of "12" in Scripture. The initial premise is that we all long to see "The Temple of the Living God" and be in his presence, yet our imperfection and unworthiness keep us from experiencing communion with him. Both pop ballad "Outside Looking In" and "The Outsider" take the perspective of an unclean leper and shame-filled sinner longing to bask in God's glory: "I am lonely and dead inside/Clearly God doesn't love me, so I'll just wait outside."
"The Glory of the Lord" offers a glimpse of just that, with choral bombast that would do Handel or Wagner proud. But as Christians, we know that because of what Jesus accomplished for us, we don't have to wait outside the temple. "In the Fire" confirms the need to sacrifice our sinful nature, while the funk-flavored "Solid as the Sun" suggests there is One who has been appointed to stand in God's presence to represent mankind. The symphony concludes with joyous rocker "Entrance" and the peaceful power ballad of acceptance "Inside His Presence," in which Morse declares, "When He died and was born the temple walls were torn/And God's Spirit poured out to all the ones without/Now the temple of the living God is you."
Like most prog rock efforts, the themes are deep and perplexing, but in contrast to a confusing album like Genesis' The Lamb Lies Down on Broadway, a little bit of effort clearly reveals what ? is all about. The words are poetic, yet biblically informed, and the booklet cites Scripture references throughout the lyrics. Thus, we've an album that's both artsy and evangelical, appealing to both Christian and non-Christian prog rock enthusiasts even more so than Testimony and One. It can still be hard to follow since the movements occasionally swing back and forth between unworthiness and acceptance, rather than adhering to a clearly established journey, but perhaps this was done to pace things stylistically.
All of this performed by a band that's somewhat less orchestrated and produced than Morse's previous two albums, relying on the traditional prog rock base of guitars, keyboards, and rhythm to more closely evoke classic Kansas and Yes. The musicianship remains breathtaking with Morse's amazing vocals, guitars, and keys at the core, surrounded by the equally impressive drums of Mike Portnoy and bass of Randy George. The album also features such guest prog rock luminaries as Steve Hackett (original guitarist for Genesis), Jordan Rudess (Dream Theater), and Neal's brother Alan (from their band, Spock's Beard).
Still, I miss the pop feel of Morse's previous two albums, which helped make his music sound a little more timeless. This album seems slightly more dated because of the overall flow of the music, the style of the instrumental solos, and dated effects like the talking guitar sound made famous by Peter Frampton. So unless you're already a fan of classic progressive rock, chances are you won't easily latch on to this one as easily as others. Yet even if ? may not be quite as enjoyable as Morse's past work, it's unquestionably admirable for its artistic and spiritual merits.
?
Metal Blade
2005-11-01
79.93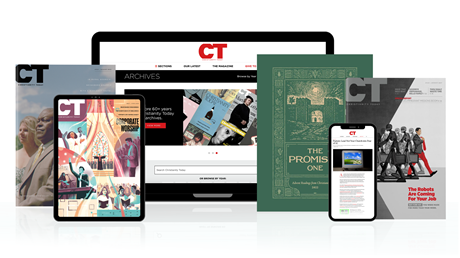 Annual & Monthly subscriptions available.
Print & Digital Issues of CT magazine
Complete access to every article on ChristianityToday.com
Unlimited access to 65+ years of CT's online archives
Member-only special issues
Subscribe
?