| | |
| --- | --- |
| | • |
Memorial crosses:
Atheist group wants memorial crosses removed | A lawsuit filed by the American Atheists in U.S. District Court on Thursday seeks to remove steel crosses that dot roadways throughout Utah and memorialize Utah Highway Patrol troopers who have died in the line of duty (The Salt Lake Tribune, Ut.)
Crosses honoring troopers protested | Atheists' suit says Utah markers unconstitutional (Deseret Morning News, Ut.)
Atheist group demands removal of memorials (Associated Press)
Church and state:
State to monitor church operations | Government will monitor the mushrooming numbers of churches in Zambia to ensure that they operate within the confines of the law (The Times of Zambia)
Air Force's interim religion guides expected to be revised | The U.S. Air Force's interim guidelines on religious expression, which have drawn sharp criticism from evangelical Christian groups and members of Congress alike, probably will be revised, said Rabbi Arnold E. Resnicoff (Stars and Stripes)
Car tag proposal won't be blessing | "God Bless America" plates are far more likely to be another needless, expensive legal battle caused by those who cannot or will not understand the necessity of keeping government neutral in matters of religion (Editorial, Montgomery Advertiser, Ala.)
Indiana invocation ruling:
Ministers divided over federal court's prayer ruling | Even those who support decision would have preferred reaching a compromise out of court (The Indianapolis Star)
Judge has stirred controversy before | Experts divided on prayer ruling; prior decisions included abortion, DNA cases (The Indianapolis Star)
Some disinclined to give House prayer | Judge placed limits on Indiana practice (The Courier-Journal, Louisville, Ky.)
Religious tolerance takes a hit | Federal judge should not have made himself a censor of religious leaders' prayers (Editorial, The Indianapolis Star)
Making a mush of faith | Court rules that naming Christ is going out of bounds with official prayer (Bob Caylor, The News-Sentinel, Ft. Wayne, Ind.)
December dilemma:
Some retailers give the word 'Christmas' a nod | The word "Christmas," nearly absent in marketing by major retailers in recent years, has been quietly revived by some stores (USA Today)
Do they know it's Christmas? They'd better | Nova Scotia town bans use of other names (The Globe and Mail, Toronto)
Unhappy with 'holiday' | Religious groups decry wording as 'war on Christmas' (The Baltimore Sun)
Christmas is our present to the rest of the world, says Archbishop | The Archbishop of Canterbury, Dr Rowan Williams, spelt out the meaning of Christmas last night. "Christmas is the Christian's Christmas present to everybody else," he said. "Christmas, for a Christian, tells us why people matter" (The Times, London)
'Eat yuletide, you atheistic bastard!'| The Christmas wars in America (with a special appearance by Nova Scotia!) (Jonah Goldberg, National Review Online)
Let's get real; the ACLU isn't out to steal anyone's merry Christmas | It is these Web-site Christians who are taking Christ out of the season (Fran Quigley, The News-Sentinel, Ft. Wayne, Ind.)
ACLU should display religious tolerance | It is thoroughly repugnant when the ACLU legally supports hate mongers in their use of public property, while legally opposing both Christians and Jews doing likewise with Christmas and the Festival of Lights (Thomas E. Dennelly, Newsday)
And a 'Merry Pluralism' to all | There is no effort to ban Christmas (Bill Wineke, Wisconsin State Journal)
Traditional' Christmas rites miss meaning | Christmas is best kept around family hearths and community churches rather than in public schools, commercial outlets or through Hollywood productions (Steve Gushee, Palm Beach Post, Fla.)
Keep the Christ in Christ | It's not just about Christmas anymore (Patrick Hynes, The American Spectator)
Peace, joy and happy shopping -- right, Jesus? | Just because all these holiday cliches of joy and togetherness and hope don't really hold, just because they're a little more bogus than we might want to admit, must we give in so desperately, so fundamentally to the real engine of the holidays, the all-devouring retail sector? (Mark Morford, San Francisco Chronicle)
How the secular humanist grinch didn't steal Christmas | The right-wing crusade against the liberal "war on Christmas" is great for rallying the troops. Too bad the war doesn't exist (Michelle Goldberg, Salon)
Education:
Academics consider "intelligent design" museum talk | A panel of academics took a cool look at the increasingly heated issue of evolution versus "intelligent design" on Thursday, variously holding up the latter as a cultural battle, a global phenomenon or even a brilliant marketing scheme (Reuters)
For Christian schools and Grand Rapids | The school-closing debate under way in the Grand Rapids Christian Schools won't come to any sort of public vote, but it's hardly an altogether private matter. The Christian schools are deeply embedded in the life and history of Grand Rapids, so what happens from here will have serious implications for the community. (Editorial, The Grand Rapids Press, Mi.)
Dockery sets a Christian example | David Dockery is a religious leader who is actually, in practice, a Christian (David P. Gushee, The Jackson Sun, Tenn.)
KU class dismissed:
KU religion class pulled | Chancellor calls professor's e-mails 'vile and repugnant' (The Topeka Capital-Journal, Kan.)
KU faculty respond to controversy with vote on fairness, freedoms | Concerned about a damaged image, a faculty group at The University of Kansas on Thursday encouraged respect for the opinions of others while asserting a need to tackle controversial topics in university classrooms (The Topeka Capital-Journal, Kan.)
KU pulls intelligent design course | State legislators still want hearings on alleged anti-religious bias at university level (The Kansas City Star)
Intelligent design course canceled | Less than two weeks since Kansas University religious studies professor Paul Mirecki first publicly voiced plans to teach intelligent design as mythology, the embattled professor has withdrawn his course (Lawrence Journal-World, Kan.)
E-mails kill a course | Kansas professor — following more reports of anti-religious comments — withdraws class on intelligent design (Inside Higher Ed)
KU religion course - Tact, please | A University of Kansas professor was out of line with his Christian-bashing e-mails (Editorial, The Topeka Capital-Journal, Kan.)
Pressing their point | Criticism of a proposed Kansas University course can be adequately aired and responded to without a legislative hearing (Editorial, Lawrence Journal-World, Kan.)
Vatican Instruction on seminaries:
In letter, the Vatican expands gay controls | A letter attached to a Vatican directive that would bar most gay men from entering seminaries also bars priests with "homosexual tendencies" (The New York Times)
Letter advises against gay seminary teachers | Experts split on how it will affect priests (The Washington Post)
Also: Gays shouldn't teach seminary, Vatican says | A Vatican letter sent privately to Roman Catholic bishops worldwide instructs them to bar men "with homosexual tendencies" from being rectors or teachers at seminaries (Associated Press)
Ungracious instruction | On gay priests, the Vatican shoots first and asks questions later (Kenneth L. Woodward, The Wall Street Journal)
Nature or nurture? | Somewhere along the way, the dividing line over gay issues picked up and moved. It's no longer between red and blue states, or left and right wings, but between nature and nurture. Or to be more precise, between those who believe that homosexuality is a choice and those who believe that homosexuality is innate (Ellen Goodman, The Boston Globe)
'No sex' ruling no surprise | The new Instruction says merely that under some circumstances gays can become priests, and under other circumstances they cannot be ordained and it leaves to the local officials, bishops and seminary rectors, to decide in individual cases (Andrew Greeley, Chicago Sun-Times)
Homosexuality:
S. Africa's top court blesses gay marriage | Parliament given one year to amend law (The Washington Post)
Also: High court in S. Africa backs gay marriage | Ruling in favor of a lesbian couple, the justices give Parliament a year to enact changes (Los Angeles Times)
Belgian lower house approves gay adoption law | Lawmakers voted 77 in favour and 62 against the bill giving same-sex couples the right to adopt children, with seven abstentions (Reuters)
Gay rights measure irks blacks | Pastors press council to oppose protections (The Indianapolis Star)
Openly gay student's lawsuit over privacy will proceed | The student brought the lawsuit against her California high school after a principal called her mother about her sexual orientation (The New York Times)
It's official now: Gay rights law upheld by Maine voters | State election officials said turnout in the Nov. 8 election was better than 40 percent, well over the average in Maine referendum elections since 1971 (Associated Press)
Gay marriage panel sharply divided | A study commission concluded Thursday in tumultuous fashion, with the minority accusing the majority of giving no meaningful consideration to extending legal recognition to gay and lesbian couples in New Hampshire (Associated Press)
AIDS:
'Purpose Driven Life' author takes on AIDS fight | Influential pastor says evangelicals need to do more (World News Tonight, ABC)
O.C. steps up for AIDS Day | Saddleback Church conference on AIDS wins praise from those who took part (The Orange County Register)
Suburban pastor sees devastation of AIDS in Africa | "Some have criticized evangelical megachurches for all but ignoring AIDS in America. That's why Willow Creek co-sponsored a California conference of 2,000 pastors on how to best battle AIDS here at home (WBBM, Chicago)
Vatican defends banning singer who supports condoms | The Vatican on Friday defended its decision to exclude Brazilian singer Daniela Mercury from its Christmas concert, saying she had threatened to promote the use of condoms to fight AIDS during the show (Reuters)
Life ethics:
Experts plead for stem cell cash | Leading UK stem cell scientists have called on the government to invest at least £350m in research by 2016 (BBC)
End of life decisions | Clinical decisions are increasingly shaped by legal judgments (Editorial, British Medical Journal)
Death penalty:
A river of human sorrow | Among the mourners at St Ignatius church (The Age, Melbourne, Australia)
The endless death penalty debate | As the US carried out its 1,000th execution since capital punishment was reintroduced in 1976, catapulting the issue back into public debate, a look at global attitudes towards the death penalty (Peter Philipp, Deutsche Welle, Germany)
The politics of punishment | Virginia Gov. Mark Warner's decision this week to grant clemency in a death penalty case will be seen in coming years as a landmark in the nation's debate over capital punishment (E. J. Dionne Jr, The Washington Post)
Crime:
Financial guru charged with tax fraud | Wade Cook is author of Business by the Bible, among other works (Associated Press)
3 youths arrested for busting up crèche | The small New Kensington church that fell victim to vandals earlier this week has been overwhelmed with offers of help to replace its ruined crèche. (Valley News Dispatch, Tarentum, Pa.)
Abortion:
Oops-onomics | Did Steven Levitt, author of Freakonomics, get his most notorious paper wrong? (The Economist)
Pay women not to have abortions, say Italian MPs | 'Baby bonus' proposal gets cross-party endorsement as low fertility rate threatens to undermine economy (The Guardian, London)
Abortion reargued | The first abortion case since 2000 heard by the Supreme Court this week is not primarily about requiring minors to notify their parents before they can obtain an abortion; 43 states already have parental notification or consent laws. What makes the New Hampshire case so controversial is that it does not include an exception for the health of the mother, a violation of requirements in the 1973 decision Roe v Wade (Editorial, The Boston Globe)
Endangering Roe | There are many—and subtle—clues to an Alito court in Ayotte v. Planned Parenthood (Scott Lemieux, The American Prospect)
Alito:
Alito assures Specter on abortion views | Supreme Court nominee Samuel Alito, who expressed strong opposition to abortion rights two decades ago, pledged Friday that his personal views on the subject "would not be a factor" in his rulings, the chairman of the Senate Judiciary Committee said (Associated Press)
After memo, Democrats are taking firmer stance against Alito nomination | For moderates, new disclosures about Judge Samuel A. Alito Jr.'s positions on abortion are complicating the Supreme Court nomination process (The New York Times)
Newly released papers energize Alito's critics | Credibility questions are raised anew (The Washington Post)
Abortion issue heats debate on Alito nomination | The battle over replacing Supreme Court Justice Sandra Day O'Connor is shaping up to be the major ideological fight both sides had been expecting (The Washington Times)
Top Democrats question Alito's credibility | Say his responses on abortion, funds show lack of candor (The Boston Globe)
Assessing Alito | On abortion, would nominee put personal views aside? (Editorial, USA Today)
Politics (U.S.):
Religion in the News: Evangelizing for God and GOP | Evangelist Rod Parsley wants to gather voters as he wins souls, a mixture that's causing a stir in the state that put President Bush back in the White House (Associated Press)
Conservative activist eyes '06 gubernatorial bid | Conservative advocate Len Munsil, who has fought against abortion, gay marriage and "activist judges," is getting ready to shed his activist role and jump into the 2006 governor's race (The Arizona Republic)
Politicians invoke, cheapen God | The Lord Impersonator is back again. (Molly Ivins)
$4,499 can advance a lot of family and moral values | Some family-value-minded folk took out an ad in the Tampa Tribune this week, a full-page attaboy in black and white applauding the Hillsborough County Commission (Sue Carlton, St. Petersburg Times, Fla.)
Politics (non-U.S.):
Praying for Cabinet crisis | Norwegian TV pastor Jan Hanvold urges his Christian viewers to pray for the collapse of Norway's fledgling government (Aftenposten, Oslo)
Evangelicals back Arroyo as transition President | A major group of local evangelical churches is open to having President Gloria Macapagal-Arroyo as both head of state and of government in preparation for a shift to a federal, parliamentary form of government (The Philippine Inquirer)
NCCK calls for a new group to restart law review | The National Council of Churches of Kenya yesterday asked the President to appoint a stakeholders committee to restart the constitution review process (The East African Standard, Kenya)
Also: Churches' proposal on constitution opposed | Three organizations have opposed the proposal given by the National Council of Churches of Kenya to kick-start the Constitution review (The East African Standard, Kenya)
Human rights:
Five Chinese nuns hospitalized after land dispute | At least five Catholic nuns resisting a government plan to sell land claimed by their church to a real estate developer are hospitalized in the Chinese city of Xian after thugs armed with sticks and clubs assaulted them, a witness and others familiar with the incident said Thursday (The Washington Post)
US keeping tabs on Vietnam on religious freedom | The US Congress will keep a close eye on Vietnam to ensure that the communist country fulfills its pledges to expand religious freedoms, US lawmaker Christopher Smith said here (AFP)
Sudan: It'll do what it can get away with | Outside powers all seem to want a piece of Sudan. But none of them has been able to stop the government in Khartoum from continuing to mistreat its people (The Economist)
Missions & ministry:
Storm victims praise churches | Louisiana residents gave churches higher marks than government agencies in responding to Hurricanes Katrina and Rita, and most prefer that the federal government control rebuilding funds rather than local officials, according to a Louisiana State University study (The Washington Times)
Study: 2005 Louisiana Survey Post-Hurricane Community Audit (Public Policy Research Lab, Louisiana State University)
Christians move toward creating peace, good will | Increasingly in this job, I'm hearing voices of faith seriously calling for peace on earth and good will and a square deal for all people (Kay Campbell, The Huntsville Times, Ala.)
Church life:
Presbyterians say meeting in Middle East isn't official | Officials of the Presbyterian Church (USA) are distancing themselves from a meeting in Lebanon between a Hezbollah commander and a Presbyterian delegation (The New York Times)
Minnie movement | Disney executive moonlights as director of church-planting effort (World)
Anglicanism:
Anglicans reject bishop-elect | The Anglican Church of Central Africa has rejected the confirmation of Nicholas Paul Henderson, bishop-elect for Lake Malawi Diocese (The Nation, Malawi)
Malawi Anglicans reject pro-gay UK bishop | The Anglican Church in Malawi has rejected the appointment of a liberal British vicar as one of the country's three bishops because of his support for gay rights, a church statement said on Friday (Reuters)
Archbishop tells warring Anglicans "cool it" | Britain's first black archbishop, conceding that the Anglican church could face schism over the divisive issue of gay clergy, bluntly urged the warring factions to "cool it, just cool it" (Reuters)
Narnia:
Is that lion the King of Kings? | Can Disney succeed by selling the movie on two tracks — as a sort of cross between The Lord of the Rings and The Passion of the Christ? (USA Today)
C.S. Lewis opposed a filmed lion | Wardrobe director Andrew Adamson says advances in computer imaging over the past two or three years made it possible for Aslan to be Aslan (USA Today)
A closer look at the world of Narnia | It is all but certain Walden Media and Disney will make more Narnia movies (USA Today)
Morissette, Finn contribute to 'Narnia' disc | Singer/songwriters Alanis Morissette, Tim Finn, Imogen Heap and Lisbeth Scott have contributed songs for the soundtrack to The Chronicles of Narnia: The Lion, the Witch and the Wardrobe (Reuters)
Narnia's magic casts its spell | At last, C.S. Lewis's classic saga comes to the big screen - and it's a gripping and spectacular journey (The Telegraph, London)
Andrew Adamson: The man bringing Narnia to the big screen | From Shrek to Aslan (The Independent, London)
The Good Book | Aslan the lion vs. the lamb of God (OC Weekly, Ca.)
Books:
Dale Buss 'takes five' | He wrote the book on evangelical mover and shaker Dobson (Milwaukee Journal-Sentinel)
Homicide detective writes his way to relief | The Santa Ana police officer lightens his career's psychic load with crime novels for teens that also affirm Christian family values (Los Angeles Times)
A saint for sore eyes | Carolyn See reviews On the Road with Francis of Assisi by Linda Bird Francke (The Washington Post)
Prayer as it links humans to spirit | Wherever there are humans, "one finds humans at prayer," Smith College religion scholars Philip and Carol Zaleski write in their new book (Los Angeles Times)
Her passion for the Christ | As Anne Rice tours in support of her latest novel, Christ the Lord, media coverage has been largely respectful even among people who don't like the book, if for no other reason than showing disrespect to somebody who has "consecrated myself and my work to Christ," as she does at the book's conclusion, probably earns you a fast-track ticket to Hell (GalleyCat, MediaBistro.com)
History:
Seal with image of Jesus found in Tiberias | Two embassy volunteers find lead seal from sixth century in Tiberius depicting Jesus on one side and a cross on the other side (YNet)
A dig into Jerusalem's past fuels present-day debates | Archaeologist Eilat Mazar, guided by the Bible, believes she has uncovered the palace of King David on a site outside Jerusalem's Old City. Others disagree (The Washington Post)
Ancient royal tomb is uncovered | Experts believe they have uncovered the tomb of England's King Edward the Confessor in Westminster Abbey (BBC)
Also: Edward the Confessor's original tomb found | "We have never found it before because we always looked in the wrong place" (Reuters)
Other stories of interest:
Onward, Christian shoppers | Corporate America has spotted the elephant in the room—religion (The Economist)
Who are the evangelicals? | About 3 in 10 white, non-Catholic Christians describe themselves as "evangelical" (Gallup Report)
Battle of the network popes | CBS and ABC offer competing biopics of the late pontiff (Slate)
Miracle tears on Calif Virgin Mary statue | Steady numbers of Catholics have made their way to the Vietnamese Catholic Martyrs Church in Sacramento, California's capital, to view an outdoor statue that has clearly visible dark streaks running down from the eyes (Reuters)
Related Elsewhere:
Suggest links and stories by sending e-mail to weblog@christianitytoday.com
See our past Weblog updates:
December 2a | November 30
November 23 | 22 | 21
November 18 | 17 | 16b | 16 | 15
November 11 | 10 | 8
November 4b | 4a | 3
October 31 | 27 | 24 |
October 19 | 12 | 11
Weblog
Launched in 1999, Christianity Today's Weblog was not just one of the first religion-oriented weblogs, but one of the first published by a media organization. (Hence its rather bland title.) Mostly compiled by then-online editor Ted Olsen, Weblog rounded up religion news and opinion pieces from publications around the world. As Christianity Today's website grew, it launched other blogs. Olsen took on management responsibilities, and the Weblog feature as such was mothballed. But CT's efforts to round up important news and opinion from around the web continues, especially on our Gleanings feature.
Ted Olsen is Christianity Today's executive editor. He wrote the magazine's Weblog—a collection of news and opinion articles from mainstream news sources around the world—from 1999 to 2006. In 2004, the magazine launched Weblog in Print, which looks for unexpected connections and trends in articles appearing in the mainstream press. The column was later renamed "Tidings" and ran until 2007.
Previous Weblog Columns: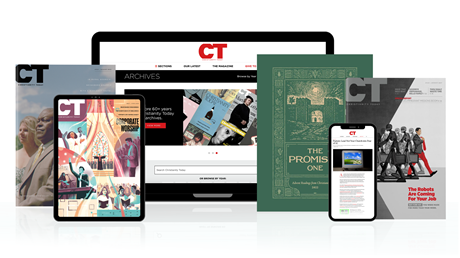 Annual & Monthly subscriptions available.
Print & Digital Issues of CT magazine
Complete access to every article on ChristianityToday.com
Unlimited access to 65+ years of CT's online archives
Member-only special issues
Subscribe
Weblog Bonus: Group Says Roadway Crosses Are Unconstitutional
Weblog Bonus: Group Says Roadway Crosses Are Unconstitutional