| | |
| --- | --- |
| | • |
Courts:
Court upholds Calif. school's sex survey | The three-judge panel of the 9th U.S. Circuit Court of Appeals rejected the parents' claim that they have the exclusive right to tell their children about sex (Associated Press)
Press release: Appeals court 'declares parenthood unconstitutional' (Focus on the Family Action)
Justices take issue with ban of religious tea | U.S. attorney faces resistance when he takes categorical stance against importation of hoasca (First Amendment Center)
The Supreme Court hears its first religion case with Chief Justice Roberts at the helm | Why it's important that this case is about RFRA and not the Free Exercise Clause (Marci Hamilton, FindLaw.com)
Alito:
Judges: Alito unlikely to overturn Roe | Judges who have served with Samuel Alito say he's unquestionably a conservative who would push the Supreme Court to the right, likely favoring new abortion restrictions that retiring Justice Sandra Day O'Connor would not (Associated Press)
Judge said he struggled on '91 abortion opinion | Judge Samuel A. Alito Jr. told a pivotal Democrat that he had wrestled intensely with a 1991 opinion favoring an abortion restriction (The New York Times)
Right to wife | Why does Judge Alito treat women like girls? (William Saletan, Slate)
Judges attest to Alito's conservativism | Judges who have served with Samuel Alito say he's unquestionably a conservative who would push the Supreme Court to the right, likely favoring new abortion restrictions that retiring Justice Sandra Day O'Connor would not (Associated Press)
Brain trust | Why Catholics are the Court's new brain (Franklin Foer, The New Republic)
Politics:
Why Jesus is welcome in the public square | Religiosity isn't just the right's territory (Jennifer Moses, The Washington Post)
O'Flaherty plans to move church finance bill to House | Decision draws praise, suspicion (The Boston Globe)
Conservatives may skip N.J. governor race | Doug Forrester's increasingly vocal support of abortion rights in his campaign against liberal Democratic Sen. Jon Corzine has so alienated Republican conservatives that they are threatening to withhold their votes on Election Day (Associated Press)
For Kaine, a faith in service | Mission trip as student put Democrat on new course (The Washington Post)
Abortion, death penalty set rivals apart | Two former prosecutors who have each served in the General Assembly for 14 years are battling to become Virginia's attorney general (The Washington Post)
California parental notice initiative:
Voters support parental notice | Respondents narrowly favor the abortion initiative. They are leaning against two prescription-drug discount measures (Los Angeles Times)
Some Calif. ballot measures losing steam | California voters are increasingly leaning toward rejecting two dueling prescription drug initiatives, as well as an abortion measure requiring parental notification, according to a new statewide poll (Associated Press)
Abortion least-known measure in California ballot | California, seen as one of the most sexually liberated U.S. states, could limit teenagers' access to abortion next week in the least known but most divisive ballot measure in a lackluster special election (Reuters)
Marriage:
MSPs reject quickie divorce plans | Members of a Scottish Parliament committee narrowly voted against plans to reduce the separation period for divorce with consent from two years to one (BBC)
Spare us the doormat wives, please | What does a Christian marriage look like? The Louisville-based Council on Biblical Manhood and Womanhood says it has the answer. Put simply, the wife dances to the husband's tune (The Kentucky Post)
Homosexuality:
Rowan Williams has 'candid' meeting with gay US bishop | A Lambeth Palace spokesman said: "The encounter came as part of the Archbishop's commitment to listening to the voices of all concerned in the current challenges facing the Anglican Communion" (The Times, London)
Also: Gay bishop at Oxford Union debate | The first openly gay Anglican bishop is to appear at the Oxford Union to debate the question of whether homosexuality is a bar to becoming a bishop (BBC)
Hate words spark biblical search | A Scripture-quoting hate crime directed at gay and lesbian students at Lane Community College has spawned a series of forums beginning next week that will examine what the Bible has to say about sexual orientation and gender identity (The Register-Guard, Eugene, Ore.)
Lesbian partner may seek parental rights | The state Supreme Court on Thursday ruled that a woman who raised a child from birth to age 6 while dating the girl's biological mother can seek parental rights as a "de facto parent," essentially creating a new class of parent in the state (Associated Press)
Texans gear up to decide on gay marriage | - Opponents of a proposed constitutional amendment to ban same-sex marriages in Texas have a message for you: The proposition could mean trouble for marriage between a man and woman (Associated Press)
Gay rights supporters have fundraising advantage | Supporters of Maine's gay rights law have a nearly 3-to-1 fundraising lead over groups that want to scrap the law, according to finance disclosure reports (Associated Press)
Homosexual kiss causes stir on Brazil TV | Brazilian TV is no stranger to scandal, but Friday night's final installment of the TV Globo telenovela "America," which may air a scene involving a kiss between two men, has created more than the usual stir (Associated Press)
Military:
4 officers join Air Force evangelism suit | Four second lieutenants, all graduates with the class of 2004, joined the suit filed by a Jewish graduate of the academy and former Air Force officer, Mikey Weinstein, said Sam Bregman, Weinstein's lawyer (Associated Press)
Army captain banned from being chaplain | U.S. Army chaplain who pleaded guilty to sexually assaulting soldiers will not be allowed to serve again as a Roman Catholic chaplain, a military spokesman said Wednesday (Associated Press)
Crime:
Abuse risk linked to abortion | Women who have abortions are significantly more likely to physically abuse their children than women who do not have abortions, said a study by a research group and professors at Bowling Green State University (The Washington Times)
Man convicted in abortion clinic attack | A man who rammed his van into the front doors of an abortion clinic in 2003 was convicted of violating a federal law aimed at penalizing such attacks (Associated Press)
20 people arrested for sorcery | Police in Papua New Guinea have arrested 320 people for practicing sorcery and religious cults, the National newspaper reported Thursday (Reuters)
Police to speak to stabbed vicar | The Rev Ian Brady, 45, is said to be in a stable condition in hospital, but has been unable to say anything about his attacker, other than he was "big" (BBC)
Dover ID trial:
Origin of board decision probed | Dover school officials were asked about a creationism seminar, board discussions (York Daily Record, Pa.)
In court Wednesday | Daily updates from the Dover trial (York Daily Record, Pa.)
Did we mention that Dover's clueless? | Before I resurrect my effort to get the Dover Area schools to teach the theory that cows think in Spanish, let's take a look at exactly how that particular school district decides what to teach its kids (Mike Argento, York Daily Record, Pa.)
Education:
'Evangelical pruning' ahead? | A key Vatican official tells Notre Dame audience that new pope will place a premium on colleges' Catholic identity (Inside Higher Ed)
Boys will be … girls? | The fifth grade boys of Blessed Sacrament Catholic School gave everyone quite a shock when they wore the standard female uniform of a jumper or skirt with a shirt, glamming up with makeup, wigs and fake nails (Midland Daily News, Mi.)
Missions & ministry:
Prison ministry helps inmates begin new lives | Vision New England is a network of evangelical Christian churches and other organizations providing ministry services throughout New England (Wilmington Advocate, Del.)
Strip club owner weighs offer from church | The owner of a strip club says he's considering a six-figure offer from a church to buy and shut down the location (Associated Press)
Christmas wars:
Hindus call for protests over 'offensive' stamp | Hindus are being urged to attempt to clog up the postal service after the Royal Mail refused to withdraw an "offensive" Christmas stamp (The Telegraph, London)
Tax office exposed as Christmas killjoys | Staff at the Inland Revenue have been banned from donating to a charity which sends toys to needy children - because of its Christian links (Daily Mail, London)
Catholicism:
Vatican: Faithful should listen to science | Religion risks turning into "fundamentalism" if it ignores scientific reason, says Cardinal Paul Poupard, who heads the Pontifical Council for Culture (Associated Press)
Catholic weekly stirs storm with nude ad | Leading Catholic publication Famiglia Cristiana stirred up a media storm in Italy Thursday with its first ever photograph of a naked woman, part of an advertisement for a bathroom ventilation system (Reuters)
Virgin / Whore | The Catholic Church and women — can't live with 'em, can't live without 'em (LA Weekly)
Immigrant women speak about leaving the church | Where feminism has cut the biggest swath — North America and Europe — Catholicism has lost the most turf. There's also a gusher of leakage, though, in regions where the patriarchy remains nearly unchinked (LA Weekly)
My life with the radical nuns | Immaculate Heart, home of the brave (Kate Sullivan, LA Weekly)
Anne Rice:
A boy tells of angels, Bethlehem and family | Even in biblical times and in the Holy Land, Anne Rice keeps her obsession with ritual (The New York Times)
Religion Today: Anne Rice turns to Jesus | Her innovative new novel "Christ the Lord: Out of Egypt" depicts Jesus as a 7-year-old lad, speaking in his own words as the holy family moves from Egyptian exile to Nazareth (Associated Press)
Anne Rice's rebirth | Leaving vampires and witches behind, author centers novels—and new life in La Jolla—around Christ (San Diego Union-Tribune)
Rice takes leap of faith from vampires to 'Christ' | Anne Rice goes way out on several limbs with her new, first-person narrative by the 7-year-old Jesus (USA Today)
Interview with … Jesus? | In her new novel, Anne Rice leaves behind the vampires and turns her attention to young Jesus Christ -- and it's good! (Laura Miller, Salon.com)
More books:
In the name of the family | With 'Vows,' writer Peter Manseau tells the story of his parents -- his father a priest, his mother a former nun -- and their struggles (The Boston Globe)
Discovering Narnia | "The Lion, the Witch and the Wardrobe," a $150 million film combining religion and fantasy, is being pitched to churches as a cross between "The Passion of the Christ" and "The Lord of the Rings" (The Washington Times)
TV:
Coptic Christians get own satellite television station amid Egypt tension | Secular Copts fear church's patronage of channel will fuel sectarian strife (AFP)
Television's god couple | Michael Dwyer explores the unorthodox pairing for the cameras of a priest and an agnostic streaker (The Age, Melbourne, Australia)
Music:
A rap minister works the aisles | Rev Run of Run-DMC and his wife, Justine, head to Paramus, N.J. to buy china for their new home in Saddle River (The New York Times)
Rev. Run keeps it old school on album | Now a 40-year-old father of five, Rev. Run stands alone on "Distortion." (Associated Press)
Other stories of interest:
Copernicus' grave found in Polish church | Polish archeologists believe they have located the grave of 16th-century astronomer and solar-system proponent Nicolaus Copernicus in a Polish church, one of the scientists announced Thursday (Associated Press)
5 Mennonite siblings die in Wash. crash | Five siblings who were members of a Mennonite family died when the pickup truck their father was driving was struck head-on by a pickup truck traveling in the wrong lane, the Washington State Patrol said Wednesday (Associated Press)
Devotion to Mary breaking boundaries | More Protestants taking interest in Jesus' mother (The State, Columbia, S.C.)
Religion news in brief | Church of Sweden approves blessing ceremony for same-sex partnerships; NBA exec taking leave to guide Mormon missionaries in western Pennsylvania; and other stories (Associated Press)
Can biology do better than faith? | Religions continue both to render their special services and to exact their heavy costs. Can scientific humanism do as well or better, at a lower cost? (Edward O. Wilson, New Scientist)
Related Elsewhere:
Suggest links and stories by sending e-mail to weblog@christianitytoday.com
See our past Weblog updates:
November 3
October 31 | 27 | 24 |
October 19 | 12 | 11
October 6 | September 30 | 29 | 28
September 22 | 21 | 20 | 19
September 16 | 15 | 14
Weblog
Launched in 1999, Christianity Today's Weblog was not just one of the first religion-oriented weblogs, but one of the first published by a media organization. (Hence its rather bland title.) Mostly compiled by then-online editor Ted Olsen, Weblog rounded up religion news and opinion pieces from publications around the world. As Christianity Today's website grew, it launched other blogs. Olsen took on management responsibilities, and the Weblog feature as such was mothballed. But CT's efforts to round up important news and opinion from around the web continues, especially on our Gleanings feature.
Ted Olsen is Christianity Today's executive editor. He wrote the magazine's Weblog—a collection of news and opinion articles from mainstream news sources around the world—from 1999 to 2006. In 2004, the magazine launched Weblog in Print, which looks for unexpected connections and trends in articles appearing in the mainstream press. The column was later renamed "Tidings" and ran until 2007.
Previous Weblog Columns: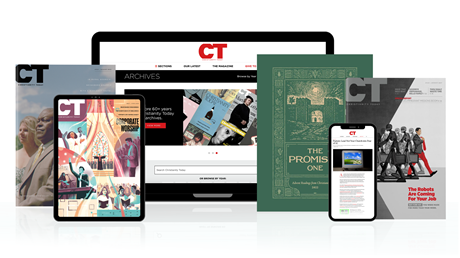 Annual & Monthly subscriptions available.
Print & Digital Issues of CT magazine
Complete access to every article on ChristianityToday.com
Unlimited access to 65+ years of CT's online archives
Member-only special issues
Subscribe
9th Circuit 'Declares Parenthood Unconstitutional,' Says Focus
9th Circuit 'Declares Parenthood Unconstitutional,' Says Focus