| | |
| --- | --- |
| | • |
An openly gay United Methodist minister lost her bid to return to the pulpit Monday (Oct. 31) when the church's highest court upheld her conviction on charges of being a "self-avowed practicing" lesbian.
And, in a separate decision that could have even wider implications, the church's Judicial Council said gays and lesbians have no automatic right to church membership and upheld the power of local pastors to turn them away.
The twin rulings represent a major setback for liberals who advocate greater inclusion of homosexuals in the nation's second-largest Protestant denomination, and served to reinforce church policy on homosexuality as ironclad.
The Rev. Irene Elizabeth "Beth" Stroud, the openly gay pastor at the center of the debate, called it a "sad day" for the 8.3 million-member church.
"I think it's clear that the whole policy one day is going to be something that the church is going to be ashamed of," said Stroud, who will remain at Philadelphia's First United Methodist Church of Germantown as a lay minister.
The Judicial Council ruled 6-2 against Stroud, who disclosed her homosexual relationship in 2003. A church court convicted her last December of conduct that is "incompatible with Christian teaching" and revoked her ordination.
An appeals panel later threw out the verdict, citing legal errors, but the high court ordered the trial court's penalty reinstated. The court said the evidence against Stroud was "uncontradicted and overwhelming."
The court rejected Stroud's argument that her "status" as a lesbian protected her from discrimination under church law. "We hold that (church law) is not directed at the status of being a homosexual or having a particular homosexual orientation," the court said.
Two members of the panel, Susan Henry-Crowe of Atlanta and Beth Capen of Kingston, N.Y., dissented in part. "While the Judicial Council must be faithful to its charge from the church, we are also sensitive to the hurt, pain and brokenness of the family of God," they said.
Conservative church leaders praised the court decisions for affirming decades-old church policy. Win or lose, a "standard is a standard and the church needs to abide by it," said the Rev. Jim Heidinger, head of the evangelical Good News movement.
"We've talked and debated and dialogued, and we do know what the church's position is," Heidinger said. "That's not agreeable or acceptable to everyone, but these two decisions have affirmed and sustained what the majority of folks … believed to be the church's position."
The only way Stroud could return to the pulpit was if she renounced her relationship with her partner, Chris Paige, and promised to live a celibate life. In an interview, Stroud said she and Paige recently were certified as foster parents and intend to stay together.
"I'm going to continue to work for change, with or without the credentials," Stroud said.
Bishop ordered to reinstate pastor
In the case involving church membership, the court sided with the Rev. Ed Johnson of South Hill, Va., who refused to admit an openly gay man as a church member and was subsequently ousted by his peers.
Johnson was charged by Virginia Bishop Charlene Kammerer with "unwillingness or inability to perform ministerial duties." Other Virginia pastors voted 448-114 in June to place Johnson on an involuntary leave of absence.
Twin decisions by the high court found that Johnson's due process rights were violated, and said the church's constitution allows pastors to exercise "pastoral judgment in determining who may be received into the membership of a local church."
The court overruled Bishop Kammerer's decision to oust Johnson and ordered him to be reinstated with back pay. Capen, Henry-Crowe and Jon Gray of Kansas City, Mo., all dissented. "Nothing in the (church constitution) gives pastors discretion to exclude persons presenting themselves for membership in the church," Henry-Crowe said in her dissent.
The decisions by the eight-member Judicial Council were reached Saturday and released Monday. One member of the panel, Shamwange Kyungu of Zambia, did not attend oral arguments in Houston on Thursday or join in the decisions.
Related Elsewhere:
The Judicial Council's decisions regarding Stroud and Kammerer are online. The latter case actually has two decisions: one on the details of Johnson's ousting, and another on whether the pastor-in-charge can make the determination of a person's readiness to affirm the vows of membership.
More on the Stroud case is available from the Associated Press, Reuters, and The Philadelphia Inquirer. The Washington Post covers both cases.
Previous CT coverage of the Beth Stroud case include:
Lesbian Is Eligible for Reappointment, Bishop Says | Differing interpretations of Methodist court ruling prolong denomination's fight. (May 06, 2004)
Methodists Strengthen Stand Against Homosexual Practice | Lesbian pastor may not be reappointed. (May 05, 2004)
Weblog: Methodist Council Says Homosexuality Is 'Incompatible' with Christian Teaching (May 03, 2004)
Flouting Church Law | Two gay controversies likely to dominate United Methodist General Conference this week. (May 2004)
A Methodist Mob Mugging | There are real victims in the farce that was the Methodist church trial of a lesbian minister. (March 25, 2004)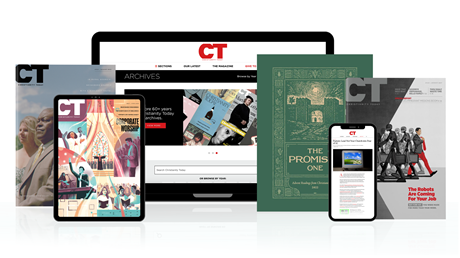 Annual & Monthly subscriptions available.
Print & Digital Issues of CT magazine
Complete access to every article on ChristianityToday.com
Unlimited access to 65+ years of CT's online archives
Member-only special issues
Subscribe
Methodist Rulings Reinforce Traditional Church Policy on Homosexuality
Methodist Rulings Reinforce Traditional Church ...