true
| | |
| --- | --- |
| | • |
How many American priests end up in their own reality show on British television? James McCaskill did just that when he moved last year from Pittsburgh to the town of Lundwood in England's South Yorkshire district. He was brought in to revitalize a church whose congregation had dropped below ten, and his turnaround efforts were filmed for one year by a camera crew. The results will air—under the name Priest Idol—in a three-part series in November on the UK's Channel 4. Nate Anderson sat down with McCaskill on a recent visit to the U.S. to talk about ministry and media.
Why did you take the job?
Stardom on TV [laughs]. No, I spent two years of seminary at College of the Resurrection in West Yorkshire, and the college there knew at some point I would enjoy coming back and serving the Church of England. I received an email in the summer of 2004 from the college, saying, "We know you want to come back, so quit your job, come over here, and we'll give you a flat so you'll have a base to work from and find a job." So I did. I was at a point where I was looking for something new.
The bishop of Wakefield had this parish of Lundwood, which had not had a full-time vicar for four years. It's a small parish by England's standards, around 6,000 people, and the church there was about to close. It was the last Christian presence in the community. My primary interest was in going someplace where I felt like the church could make a big impact.
What made you think Lundwood was that place?
It's an ex-mining village now suffering social deprivation, and the church is physically at the center of the community, and I thought it could be a beacon of hope in a place that's experiencing some darkness. So I agreed with it on paper; I was a bit shell-shocked when I actually saw the place.
In what way?
Well, I really had to think, did I need to come all the way from America to England for this? I could have stayed in Pittsburgh and had a similar experience. One of the differences, though, was the interest of the diocese to put some resources into this particular parish. You could go anywhere in the Western world and find similar problems, but you might not always have the support of the diocese.
Did having a film crew around change the way you approached ministry?
Yes, they pushed me into things I wouldn't have necessarily done on my own. For instance, there's a great scene in the first episode where they follow me into the Workingmen's Club, which is the local watering hole. If the club stayed open 24 hours, people would be in there 24 hours; it is just that sort of place. My first week there, many people from the village had heard this American was coming, and my first introduction to these people was walking in to the Workingmen's Club with this camera behind me. I was really embarrassed, to be honest. I didn't want people to have their first meeting with me and think, "Who's this young American in the limelight with his camera?"
How "real" were the events in the show?
For the most part, it was very real. But there was one time when a local community organization leafleted the village and the film crew had me knock on five, six doors, so they could film me doing that. In some ways, I think there's a real dishonesty in that, because the story is told in such a way in the episode to make it seem I went around knocking on a thousand doors—when the most I did was ten.
The filmmakers brought in a marketing firm to help you sell the church to the town. Was this a positive experience?
It really was. The marketers—a firm called Propaganda—were very respectful and sensitive. They brought a fresh perspective from the world. I don't think it was selling out to the world. I think it was a way of learning what is going on in the culture, what does the immediate society want, how do they view church? I don't know the story very well, but I wonder if Bill Hybels used a similar approach when he went knocking on the doors around Willow Creek, asking what folks would like to see in a church. The most positive thing this did was to raise the profile of the parish in the community, to say, "We're here and open and alive."
What would you say to those who argue that the church does not need to market itself?
I would say that we did not take a secular approach and put the label 'Christian' on it and therefore redeem it. What I would say is that we used a tool available in Western society and used it in such a way to produce something that is worthy of the church. For instance, the marketers challenged us to say, "What is special about the Christian faith?" It was a challenge for us to articulate it; in fact, the congregation was not able to articulate it. By taking a sales point of view and asking, "How are you are you going sell this place, if you can't tell people what's great about it?" the marketers weren't asking us to make things up; they were asking us to genuinely examine ourselves. It sounds pathetic that the congregation was not able to articulate those things already—this is our faith we're talking about, after all—but obviously it wasn't happening.
Does the show play into the idea that "bigger is better" as opposed to "deeper is better"?
I don't think it does. Certainly, the first thing everyone looks at is numbers, and numbers are played up in the show. The marketers asked the archdeacon, for instance, "What is success? 30?" He said, "No, I think for the church to have a viable future there needs to be 70 people there." There is a sense that the church really does need a certain number at the core to be a self-sustaining ministry. For me, success would be reaching a place where the church would be able to take care of itself, and sustain ministry in the community. Whether that's at 50 people or 200 people is not the point, I don't think.
The real issue is quality of faith. Liturgical traditions—places where there's an emphasis on the sacraments, the mystery and the holiness of God—look at the mega-churches and say that you'll never experience the holiness of God in those big places. But on the other hand, they're not always the best at evangelizing and spreading the Word. I think it's good for the Christian church perhaps to have both things, to have that tension. A little place like Lundwood is in no great fear of being too big and not having any quality of faith.
What was the best thing about having your first year in a new country filmed?
Having the profile of myself and the parish raised. It has made more people willing to help, to donate, to give of themselves. It added a buzz of energy and excitement to the project that would not have been there otherwise. As annoying as it was, overall, it was fun. How many people get to do this?
And the worst?
The worst aspect of it was that I did feel a lot of pressure from the film crew to "film this tomorrow," and I was trying to earn the trust of people in the congregation who didn't want things to happen so fast, and I had the archdeacon tell me, "You need to make this happen and that happen," and all this is being filmed, and they're all watching me, and I'm supposed to perform and produce and succeed—which really overwhelmed me at times. There was a point, after I'd been there about three months, I started having a panic, thinking, "We're not going to have anything to show; we're not going to have anything to make good TV." Which sounds terrible—a minister of the church saying that he's worried about making good TV.
Did your own spirituality suffer with those cameras on you all the time?
The spring was very tough, because I didn't have an ounce of time to myself for a whole host of reasons—stuff going on at church, the film crew, the marketing company, meetings at the diocese. I'm committed to the daily office—morning and evening prayer. To me that's a bedrock. It's a different dynamic, though, than having quiet contemplation. I felt like I was surviving, just surviving, for several months.
July came, and I went on holiday for two weeks in Scotland and was still worn out. When I did get back, I was really drained, and I thought, "How can I be burned out after seven months?" One of the things I did was go over to College of the Resurrection, which is run by the Community of the Resurrection, a monastic order, and I went to see one of my favorite monks there for an overnight tune-up. He convinced me to sign on to an Ignatian prayer adventure for eight or nine months. So I'm now seeing Father Nicholas once a week. He gives me five passages to work with in the Ignatian way. Each time I check in with him, I get another five. The Anglican church has a great emphasis on clergy having spiritual directors to keep people sane, to keep their feet grounded, to keep them healthy spiritually, mentally, and physically.
How much is church growth dependent on the Holy Spirit, apart from what the church does?
Isn't it more of a symbiotic relationship? You can't steer a parked car—that's one of my favorite expressions. When I was younger, trying to choose a major, trying to choose what vocation to follow, I would sit there and wait for God to tell me what it was going to be. Then I realized, through the wisdom of others, that to experience God's Spirit working in our lives, we have to do something. We have to act. I think God takes our actions, for good or for ill, and uses them, but he adds some surprises.
Recently, we had a woman appear to play piano. Her mother's cousin was a long-time member and they happened to come for a service one day, and they came the next week and the next week, and it came out that this woman plays piano, and she said, "Yes, I would be happy to play for you." Something had been missing from her life, and she thinks she's discovering it at the church in Lundwood. And, again, that's God's Spirit working. We didn't do anything. That had been one of my prayers, that God would send us a musician. Now I want a youth worker.
What do you think the airing of Priest Idol can accomplish?
It tells a really positive story about our particular church and about the church in general. That was one of the concerns of the bishop. He thought that if this was a success, it would be a success not just for Lundwood, but for the Christian church in the UK. It shows hope, it shows excitement, it shows people rallying around a church. It shows a church willing to take risks. It raises a lot of issues for churches to think about how, why, and to what extent they can reconnect with their communities.
The Church of England has done a really good job of compromising itself, lowering the standard to where people are, rather than calling the people to something greater in the church. I think we sell ourselves short when we sing only one song, because it will make the service thirty minutes instead of forty minutes, but will take away from the beauty of the service. Maybe it's actually the beauty of the service and not the timing [that draws people].
Do you think of yourself as a missionary?
Yes. I am a missionary; this is mission work. It's not the same as the great missionaries who went where there was no written language and tried to translate the Bible, living in a place for twenty years before they had one convert. I think of those people, and in comparison, what I'm doing is hard, but not as hard as other missionary endeavors around the world.
Going to Wheaton College, where there's a great emphasis on missions, I never pictured myself as a missionary. I'm laughing at myself, looking at the situation I'm in now. It's humbling—really humbling. We never know where God's going to take us.
Related Elsewhere:
Channel 4 has more about the show, including a clip.
Articles elsewhere include:
Branding God | Huddersfield marketing man Julian Kynaston has completed his toughest assignment - selling God. Mr Kynaston, who lives at Upper Denby, was given the job of boosting attendances at a struggling South Yorkshire church - and the results can be seen when Channel 4 screens a three-part series, Priest Idol, next week. (The Huddersfield Daily Examiner, UK, November 11, 2005)
American know-how helps vicar breathe new life into parish | An American vicar hired to resuscitate a dying parish has more than quadrupled his congregation with an innovative marketing campaign. (Daily Telegraph, UK, November 11, 2005)
In God they now trust | The village church in Lundwood, Yorkshire used to have a congregation of just three. Then a young American vicar, a marketing company and a TV crew arrived … (The Observer, UK, November 6, 2005)
Channel 4 to screen 'Priest Idol' | Channel 4 will screen a new series which aims to boost a congregation in a parish with poor church attendance. (BBC, September 16, 2004)
Thank heavens for reality TV | 'Priest Idol' show helps to save church that didn't have a prayer (The Independent, UK, November 11 2005)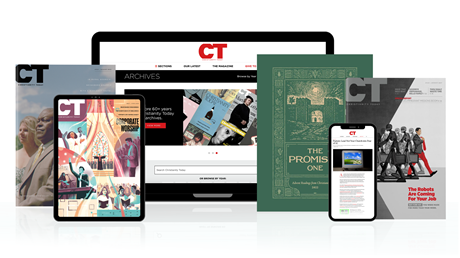 Annual & Monthly subscriptions available.
Print & Digital Issues of CT magazine
Complete access to every article on ChristianityToday.com
Unlimited access to 65+ years of CT's online archives
Member-only special issues
Subscribe
Priest Idol
Priest Idol