| | |
| --- | --- |
| | • |
Attending one of five state-sanctioned churches in Beijing, President Bush urged Chinese officials to allow more religious freedom. "It wasn't all that long ago that people were not allowed to worship openly in this society," the President said after the service, his first public event during this trip to China. "My hope is that the government of China will not fear the Christians who gather to worship openly. A healthy society is a society that welcomes all faiths."
The Associated Press reports, "The service at Gangwashi Church, one of five officially recognized Protestant churches in Beijing, was in Chinese, but its structure and content would have been familiar to any Protestant parishioner in the United States. Bush and other guests listened to a translation over headphones." According to the London Times, the President's father attended the church when he lived in Beijing between 1974 and 1975 as head of the U.S. Liaison Office.
At the same time, The Dallas Morning News reports that Rep. Frank Wolf, R-Va., said the recent report on religious freedom by the State Department and the work of the U.S. Commission on International Religious Freedom showed that religious freedom in the country is deteriorating. "The communist government views religion as a threat to their power and acts accordingly," Wolf said.
Simlarly, The Independent reports that there is little evidence that China is listening to the U.S. State Department or the American President. "The between 40 and 80 million Chinese Christians routinely face religious persecution. Earlier this month, the Protestant minister Cai Zhuohua, his wife, and brother were sentenced to three years in jail for printing Bibles without the permission of the authorities, while when the Catholic Bishop Xie Shiguang died in August, he had spent 28 of his 88 years in prison."
More Articles
More on Bush in China:
Chinese Christians forced to worship in secret | ABC news visits ghostly church ruin and learns of secret services in defiance of Chinese communists (ABC News)
Bush attends church in Beijing | U.S. President George Bush made a point of attending a Protestant church in Beijing Sunday after calling for more social, political and religious freedoms. (Washington Times)
Bush attends Beijing church, promoting religious freedom | Bulk of his China trip focuses on trade and security issues (Washington Post)
In China, Bush urges religious freedom | President Bush took a front-row seat at a church service Sunday, sending a quiet signal to China's leaders that they should expand religious freedom in this communist nation. (Associated Press)
Bush pokes Chinese with church visit | President Bush has had his eye on church here for quite a while, eager for his worship today to champion greater freedom throughout China. (The Dallas Morning News)
Bush stresses freedom of expression in China | He visits church, cites value of society that 'welcomes all faiths' (The Dallas Morning News)
Bush makes faith a topic in China | On whirlwind tour, the president visits church in an effort to push notions of religious freedom (Newsday, N.Y.)
US President George Bush opened a rare visit to China yesterday by attending a Chinese church. | Bush goes to church amid crackdown (The Age, Australia)
Chinese Christians step out of shadows for Bush | China's Christians are more used to police surveillance and harassment and worshipping in secret than basking in the limelight. (Independent, UK)
China's Christians worship in state shadow | U.S. President George W. Bush attended a state-run "patriotic" Christian church service in Beijing on Sunday, while across town underground worshippers applauded his call for unfettered religious freedom. (Reuters)
Bush preaches religious freedom | The President uses a pulpit in Beijing to speak up for the persecuted Christian minority in China (Times, London)
China releases Christian group ahead of Bush visit to Beijing | China released a group of underground Christians ahead of U.S. President George W Bush's visit to Beijing, a Christian aid agency said Sunday. (Japan Today)
China & the Vatican:
Taiwan may be left in limbo as Vatican and China make up | A senior Vatican cardinal is to hold talks in Taiwan this week amid speculation that Rome is preparing to break its links with the island and establish diplomatic relations with Beijing. (Times, London)
U.S. backs Vatican's efforts in China | The U.S. ambassador to the Holy See said Monday that supporting the Vatican's push for greater religious freedom in China was a priority. (Associated Press)
Religious freedom:
Pakistan Christians in a precarious position | Violence rocks churches as Muslims invoke anti-blasphemy law (San Francisco Chronicle)
Religious minorities fearful after attack in Pakistan | The enraged mob had already started to scale the walls of the Catholic compound in Sangla Hill when the Rev. Samson Dilawar hurriedly ushered the nuns, teachers, and 23 teenage students to safety. (Boston Globe)
Russia chides report on religious freedom | The Russian Foreign Ministry on Friday lashed out at a U.S. State Department report criticizing alleged discrimination against religious minorities in Russia. (Associated Press)
Sudan's U.S. public-relations firm | "The security situation in Darfur will continue to worsen and the political process will remain stalemated unless the African Union mission in Sudan is armed with more troops, a more robust mandate and assured new funding." But Reuters, reporting from Washington on Nov. 2, disclosed that "U.S. lawmakers stripped out $59 million in funding for African Union troops struggling to keep the peace in Darfur. The money was taken out of a foreign funding appropriations bill." (Nat Hentoff, Washington Times)
Religion & politics:
Pastor: Rally spiritual, not political | Event offered free food, clothing to 4,000 people (Dayton Daily News)
Jewish leader blasts 'religious right' | The leader of the largest branch of American Judaism blasted conservative religious activists in a speech Saturday, calling them "zealots" who claim a "monopoly on God" while promoting anti-gay policies akin to Adolf Hitler's. (Washington Post)
Alito often ruled for religious expression | Judge Samuel A. Alito Jr. has compiled a brief but unmistakable record, lawyers and analysts say, that makes him a leader in the camp of conservative theorists and judges who believe federal courts have been too quick to limit religious activities in public life. (The New York Times)
Activists seek marker for Till's church | In a small, nondescript church, the mutilated body of 14-year-old Emmett Till was put on display in an open casket because his mother wanted the nation to see what racism looked like. Historians and activists call that one of the most significant early statements about civil rights and now, a half century later, there is a movement to turn that church, the Roberts Temple Church of God in Christ, into a historic city landmark. (Associated Press)
Gay marriage push long way off in Maine, say advocates, observers | A push for gay marriage in Maine may be inevitable, but a campaign is still a long way off in the state, say gay rights advocates and some political observers. (Associated Press)
Church & state:
Commandments draw 300 to Okla. courthouse | A group of pastors fired up a crowd of more than 300 people during a rally around a monument engraved with the Ten Commandments on the Haskell County Courthouse lawn. (Associated Press)
Judge in crucifix dispute gets jail | An Italian judge who refuses to hear cases because there are crucifixes in the nation's courtrooms was convicted Friday of failing to carry out his official duties and sentenced to seven months in jail. (Associated Press)
Atheist now sues to take motto off money | An atheist who has spent four years trying to ban the Pledge of Allegiance from being recited in public schools is now challenging the motto printed on U.S. currency because it refers to God. (Associated Press)
Atheist sues over "In God We Trust" on money | A Californian atheist who has fought a series of legal battles seeking to bar religious references from American public life sued on Friday to remove the phrase "In God We Trust" from U.S. money and coins. (Reuters)
IRS reviews church's status | 2004 antiwar sermon sparked look at tax exemption (Washington Post)
December dilemma:
Falwell fighting for holy holiday | He threatens to sue, boycott groups that subvert Christmas (San Francisco Chronicle)
Hubble, bubble, Steve's in trouble over Christmas | Witches and pagans yesterday cursed the Bracks Government for asking all Victorian schools to celebrate Christmas with carols, nativity scenes and other Christian traditions. (Melbourne Herald Sun, Australia)
Don't forget Christmas, schools reminded | The Victorian Government will be sending schools a letter reminding them not to ban Christmas. (ABC Online, Australia)
How the secular humanist grinch didn't steal Christmas | The right-wing crusade against the liberal "war on Christmas" is great for rallying the troops. Too bad the war doesn't exist. (Salon.com)
Education:
Coptic Orthodox school enjoys growth | Bishop visits for fundraiser for St. Clement academy (The Tennessean)
Millikan Bible class a lesson in history | For at least 15 years, Long Beach Unified students have discussed the literary devices and historical evidence in Scripture in the "Bible as Literature" class. (Long Beach Press-Telegram, Ca.)
University is accused of bias against Christian schools | The suit, scheduled for a hearing on Dec. 12 in Federal District Court in Los Angeles, says many of Calvary's best students are at a disadvantage when they apply to the university because admissions officials have refused to certify several of the school's courses on literature, history, social studies and science that use curriculums and textbooks with a Christian viewpoint. (The New York Times)
Baptist, college ties being put to test | Fund-raising often at center of debate (Louisville Courier-Journal)
Bible ban puts policy in national spotlight | Campus controversy over free speech not easily resolved (Pioneer Press, Minn.)
The truth about God in public schools | Attacks on the "Godless public schools" have been at the top of the culture-war hit list for more than 40 years. Hardly a day goes by without some politician or televangelist reminding Americans of how the Supreme Court kicked God out of the schools in the 1960s - and how the nation has been sliding down a slippery slope of moral and spiritual decline ever since. (Charles C. Haynes)
Intelligent Design & evolution:
Evolving into a tricky exhibit | An exhibition celebrating the life of Charles Darwin, which is slated for the National Museum of Australia later this decade, has failed to find a corporate sponsor in the United States because American companies are anxious not to take sides in the heated debate between scientists and fundamentalist Christians over the theory of evolution. (Sydney Morning Herald)
Intelligent design built by controversy, not science | The controversy about getting school boards to include "intelligent design" in science classes has been manufactured to create the illusion it is a legitimate, scientifically supported alternative to evolution It isn't. (Ron Eachus, Salem Statesman Journal, Ore.)
ID is really religion | Bringing it to public schools would violate Constitution (Amy Haley, Marion Chronicle Tribune, Ind.)
Catholics on ID:
Vatican official refutes Intelligent Design | The Vatican's chief astronomer said Friday that "intelligent design" isn't science and doesn't belong in science classrooms, the latest high-ranking Roman Catholic official to enter the evolution debate in the United States. (Associated Press)
Interview - Vienna cardinal draws lines in Intelligent Design row | When Austrian Cardinal Christoph Schoenborn waded into a heated debate over evolution in the United States, his goal was not to persuade American schools to teach that God created the world in six days. (Reuters)
Pope addresses genome conference | Pope Benedict XVI on Saturday urged participants at a conference on the ethics of new advances in genetic testing to help people struggling through "unexpected and delicate" decisions. (Associated Press)
Catholicism:
Catholic activists organizing boycott of holiday dinner | Menino's stance mischaracterizes faith, they say (Boston Globe)
Church panel: Union contract invalid | What was believed to be the first union contract within a U.S. Roman Catholic Church has been declared invalid by an internal church court, church officials said Friday. (Associated Press)
Catholics, Jews keep lines open | Bishop D'Arcy speaks on common beliefs of the two faiths. (South Bend Tribune, Ind.)
Pope curbs autonomy of Franciscan friars | Pope Benedict XVI has curbed the independence of Franciscan friars running the famed St. Francis Basilica in Assisi, decreeing they must now get permission for their activities from the local bishop. (Associated Press)
Vatican beatifies 13 Mexican martyrs | The Vatican on Sunday beatified 13 Mexicans who died during a Roman Catholic uprising in the late 1920s that was crushed by the Mexican government. (Associated Press)
Ultra-traditionalist says pope should convert Jews | A leader of an ultra-traditionalist Catholic group that broke with the Vatican said on Saturday that Pope Benedict should tell Jews and members of other religions to convert because they are part of "false systems". (Reuters)
Berlusconi meets Pope amid debate on Church role | Prime Minister Silvio Berlusconi held a private audience with Pope Benedict on Saturday, amid concern voiced by some politicians that the Vatican has too much sway on Italian politics. (Reuters)
Abuse:
Boston archdiocese, prosecutors OK deal | The Boston Archdiocese avoided federal charges Friday by agreeing to be more open about priests' backgrounds as part of a settlement with prosecutors investigating whether the church transferred a priest without revealing past accusations that he "fooled around with kids." (Associated Press)
Boston Archdiocese agreement ends criminal probe | The Roman Catholic Archdiocese of Boston, the center of a scandal over pedophile priests, will surrender background information on its priests to the U.S. government under a deal to end a criminal probe. (Reuters)
Alaska women also allege abuse | A lawsuit accuses a Catholic missionary of molesting four villagers in the '60s and '70s. He admits being naked but denies sexual misconduct. (Los Angeles Times)
Missionary's dark legacy | Two remote Alaska villages are still reeling from a Catholic volunteer's sojourn three decades ago, when he allegedly molested nearly every Eskimo boy in the parishes. (Los Angeles Times)
The moral hypocrite in the Vatican | Conservative Catholics rejoiced at the election of Pope Benedict XVI because, as a cardinal, he had famously decried "moral relativism." Now, however, the pope appears to be backtracking and, worse yet, he is tolerating a scandalous moral relativism by the Vatican secretary of state. (Jason Berry, Los Angeles Times)
Crime:
Prayers are not enough to end this | Standing directly on the whitewashed blood of Amon Beckles — Toronto's latest gun murder victim, cut down during a funeral on Friday, at a church — pastor after pastor yesterday drove home this message, punctuated with "Amen" and "Yes sir." (Toronto Star)
Priest arrives home for Rwandan probe | A Belgian priest detained in Rwanda on genocide charges arrived in Brussels on Sunday after a Rwandan court agreed he could be tried in Belgium for his role in the 1994 massacre of 800,000 people. (Reuters)
Pa. teen remains in care of relatives | Kara Borden sat with her four siblings in the chapel of Lancaster Bible College for her parents' funeral on Saturday. On the Bordens' street, white ribbons were affixed to mailboxes to honor their memory. (Associated Press)
Death row inmate stirs spiritual debate | Day and night, a cadre of the condemned -- 3,500 men and 54 women -- await their fate on the death rows of US prisons. But the life of a single convict scheduled to die by lethal injection at California's San Quentin prison on Dec. 13 -- Stanley ''Tookie" Williams -- has reignited a passionate debate among people of faith over accountability and punishment, forgiveness and redemption. Jewish, Christian, Muslim, and Buddhist clerics and scholars said last week that the Williams case is fraught with ethical and moral implications. (Boston Globe)
People:
The journey of Judge Joan Lefkow | Nine months ago, Judge Joan Lefkow discovered her husband and mother murdered in her home. Grief. Guilt. A devastated life. How would she go on? (Chicago Tribune)
The man who invented management | Why Peter Drucker's ideas still matter (Business Week)
Longtime pastor isn't letting up | At a point in life when most people his age are settling into retirement, Wall is back to doing the work he holds dear to his heart. Wall is starting a new Quaker church, New Life Friends, in Oak Ridge. The first services were held Sept. 11. (Greensboro News Record, N.C.)
Anglican Communion:
Archbishops threaten split | Rowan Williams, the Archbishop of Canterbury, faced the gravest threat to his authority as leader of the worldwide Anglican communion on Wednesday night, as nearly half the church's presiding archbishops launched an unprecedented attack on his leadership over the issue of gay clergy. (Mail & Guardian, South Africa)
Episcopal church leaves Va. diocese | A small Loudoun County church has become the first to formally sever ties with the Episcopal Diocese of Virginia over the national church's elevation of an openly gay bishop in 2003. (Washington Post)
Again, Akinola decries gay marriage | Primate, Church of Nigeria, Anglican Communion Most Rev. Peter Akinola has again criticised same sex marriage otherwise known as gay marriage as an abomination and one of the signs of the end of this age. (This Day, Nigeria)
Church life:
Church claims mouthful of miracles | A growing number of people at Highland House of Prayer are claiming he has. If Jesus could turn water into wine, why wouldn't God turn teeth into gold? (San Bernardino Sun, Ca.)
A communion: After Katrina, churches connect | One is a business executive-turned-Baptist minister, presiding over a predominantly white parish in Needham. The other is a Southern preacher, slowly but surely cobbling together a congregation after Hurricane Katrina displaced two-thirds of his mostly black parishioners. (Boston Globe)
Churches shift to new locations | The town's churches are playing musical chairs. Highrock Church, an evangelical church renting space in Somerville, has announced it is in the final stages of negotiations to purchase the Greek Orthodox Church when it closes in December. (Boston Globe)
Awaiting God's decision | In Case of Emergency" was the topic of a recent Sunday morning sermon at Canaan Baptist Church of Christ on West 116th Street in Harlem. (The New York Times)
Missions & ministry:
Churchgoers giving less, records show | When payday arrives every other week, Steve and Amy Howsare of New Paris automatically deposit 10 percent into the church offering plate. (The Tribune-Democrat, Pa.)
Missionaries' mission at issue | Venezuela's president is kicking out evangelists he says are spying for the U.S. Their role among the indigenous tribes has been controversial. (Los Angeles Times)
Food banks struggle to aid the hungry on holiday | With many surplus supplies being routed to help hurricane victims, agencies say they will be hard-pressed to fill the needs of local families. (Los Angeles Times)
Charities have faith, hope in givers | There's confidence that gifts will fill the need (Modesto Bee, Ca.)
Money & business:
Turning to Bibles for divine returns | More people are turning to the Bible as a safe refuge from a struggling stock market and rising inflation, pouring large sums of cash into rare 1611 King James Bibles, centuries-old Matthew-Tyndale Bible leaves, Hebrew scrolls, prayer books and other ancient liturgical texts. (Associated Press)
Christian values in workplace go further than words | In the workplace, exemplifying Christian values is a Christian business leader's best testimony, according to Kent Humphreys, president of the Fellowship of Companies for Christ International. (The Post and Courier, S.C.)
More, more, more | In a culture where we often measure success in terms of material possessions, is there a way to find balance -- especially as Americans prepare to hit the malls at the start of the holiday season? (Indianapolis Star)
Narnia:
God or fantasy? | Evangelicals and Hollywood are engaged in a battle to claim "The Chronicles of Narnia" for their side. (Denver Post)
Chronicling 'Narnia' | Disney's grand plans to take a Hollywood fantasy tale to church (Chicago Tribune)
'Narnia' blitz kicks off in NY bookstore | Scottish actress Tilda Swinton may be one of the stars of "The Chronicles of Narnia: The Lion, the Witch and the Wardrobe," but she says she never read the world-famous C.S. Lewis books from which the film is adapted. (Reuters)
Through the wardrobe door: Narnia and Christianity | An undeniable correlation can be drawn between the story of "The Lion, the Witch and the Wardrobe" and the story of Christ. (Knight Ridder)
Churches revel in Narnia paradise | Many welcome Disney's film portrayal of a novel laced with Christian imagery. (OC Register)
Music:
Jars of Clay once again manages to break the mold | Twelve years ago, Dan Haseltine and his band, Jars of Clay, transformed contemporary Christian music, drawing young fans with their mix of rock and sacred music. (The Birmingham News)
Creed's Stapp stands alone on 'Great Divide' | The day after staying up until 3 a.m. to work on his solo debut, former Creed lead singer Scott Stapp listens to the raw recordings, laughs and says, "Wow, what was I thinking with that verse?" (Reuters)
Singer Johnny Cash walked a line bordered by vicious criminals and gospel music | Johnny Cash was once asked what kind of music he liked. He thought about the question for a moment, then answered, "I love songs about horses, railroads, land, Judgment Day, family, hard times, whiskey, courtship, marriage, adultery, separation, murder, war, prison, rambling, damnation, home, salvation, death, pride, humor, piety, rebellion, patriotism, larceny, determination, tragedy, rowdiness, heartbreak and love. And Mother. And God." (Los Angeles Daily News, via SouthFlorida.com)
Marriage & family:
Forum: Pregnant student services | Colleges and universities address many important issues at student orientations, in handbooks, in classes and in the student newspaper -- drinking, drugs, free speech, sexual assault, sexually transmitted diseases, discrimination, minority rights and more. But they never bring up pregnancy. (Washington Times)
California parental abdication | California's parents are no longer legally in charge of teaching their children about sex and it appears they just might like it that way. A court has ruled the state, not parents, has the primary authority to educate California's children about sex. (David P. Mcginley, Washington Times)
Hello, I'm your sister. Our father is donor 150. | For children who often feel severed from half of their biological identity, finding a sibling - or in some cases, a dozen - can feel like coming home. It can also make them even more curious about the anonymous father whose genes they carry. (The New York Times)
Spirituality:
Building up the brain | Regular meditation is shown to add heft to a region vital to thoughts and emotions. (Los Angeles Times)
Entering the realm of the divine through icon paintings | It's a pity some people think the Middle Ages were a great big bore, a time in history when nothing much happened beyond the usual pillaging, pestilence and slaughter. They may miss out on a terrific new show. (Baltimore Sun)
History:
Boston Jews lauded as heroes of 1930s | In face of disdain, protested Nazi evil (Boston Globe)
Searching for the historical Jesus | In a series of radio programmes, In the Footsteps of Jesus, the BBC's Edward Stourton brings to life the world in which Jesus lived. In this article, he explains why tracing the historical facts about Jesus is so important. (BBC)
More articles of interest:
Vampire-writer's Christ bloodless, boring | Stunned into earnestness by a personal tragedy that she refers to in an afterword, Rice cannot summon any of the literary blood that throbbed through her multiple neck-biters. She strives diligently, but she's so respectful that no messy humanity whatsoever comes from her deity. (Fort Wayne Journal Gazette, Ind.)
Forgotten but crucial issues surface in final moments | Among the clauses that have not been in the eye of the political storm that has raged in the run-up to the referendum but have led to raised eyebrows among lower key 'No' crusaders, are those dealing with family, Christian courts, citizenry and the legislative powers of the AG. (The East African Standard, Nairobi)
Churches smooth Nando's feathers | In an attempt to smooth ruffled feathers, South Africa's churches came out in support of Nando's fast food company on Monday after it denied any involvement in an allegedly distasteful advert depicting Christ's Last Supper. (iAfrica.com, South Africa)
Related Elsewhere:
Suggest links and stories by sending e-mail to weblog@christianitytoday.com
See our past Weblog updates:
November 18 | 17 | 16b | 16 | 15
November 11 | 10 | 8
November 4b | 4a | 3
October 31 | 27 | 24 |
October 19 | 12 | 11
October 6 | September 30 | 29 | 28
September 22 | 21 | 20 | 19
Weblog
Launched in 1999, Christianity Today's Weblog was not just one of the first religion-oriented weblogs, but one of the first published by a media organization. (Hence its rather bland title.) Mostly compiled by then-online editor Ted Olsen, Weblog rounded up religion news and opinion pieces from publications around the world. As Christianity Today's website grew, it launched other blogs. Olsen took on management responsibilities, and the Weblog feature as such was mothballed. But CT's efforts to round up important news and opinion from around the web continues, especially on our Gleanings feature.
Ted Olsen is Christianity Today's executive editor. He wrote the magazine's Weblog—a collection of news and opinion articles from mainstream news sources around the world—from 1999 to 2006. In 2004, the magazine launched Weblog in Print, which looks for unexpected connections and trends in articles appearing in the mainstream press. The column was later renamed "Tidings" and ran until 2007.
Previous Weblog Columns: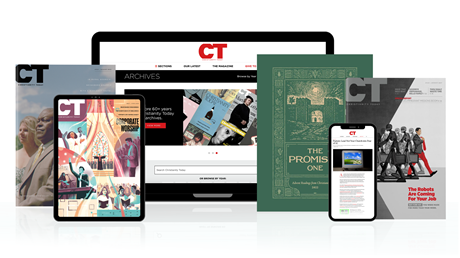 Annual & Monthly subscriptions available.
Print & Digital Issues of CT magazine
Complete access to every article on ChristianityToday.com
Unlimited access to 65+ years of CT's online archives
Member-only special issues
Subscribe
Bush Pushes for Religious Freedom in China
Bush Pushes for Religious Freedom in China