| | |
| --- | --- |
| | • |
Missions & ministry:
Tribes protest Chavez expulsion order | Hundreds of indigenous Venezuelans marched Friday to protest President Hugo Chavez's threat to expel a group of U.S.-based evangelists, amid intensifying government scrutiny of foreign missionaries operating in the country (Associated Press)
Church 'banks' face tax blitz | The finance industry watchdog is preparing to target churches operating quasi-banks: multi-million-dollar enterprises offering loans and deposit services to customers but avoiding the strict regulations imposed on commercial banks (The Australian)
Dispute between O.C., Christian group heats up | Commune members are jailed after refusing an inspection of their store's kitchen. Code enforcement violates their rights, they say (Los Angeles Times)
Katrina:
Keep the faith, and they will come | Nearly two months after Katrina hit the Gulf Coast, religious groups have pledged that feeding, clothing and sheltering survivors of the storm will continue for as long as necessary. Cleaning up and rebuilding has just begun (The Washington Times)
Displaced La. students see good and bad | An estimated 75,000 college students were displaced from New Orleans by the storm (Associated Press)
Church, state get closer after Katrina | As congregations in the Gulf Coast and surrounding states begin to focus on long-term recovery from Hurricane Katrina, a closer relationship between churches and state and local governments is developing (Associated Press)
Church & state:
U.S. to use religious charity to run storm relief project | FEMA intends to give a $66 million grant to a religious charity to expand services for 100,000 families displaced by Hurricane Katrina (The New York Times)
Former Iowa prisons chief testifies about Christian rehab program | The former director of the Iowa Department of Corrections that Christian prison program was meant to be a values-based approach to helping prisoners, not a "praise the Lord" approach (Associated Press)
Christ Church wants full tax exemption for 107 acre site | Letter to Rockaway Twp. asserts religious institution is duty-free (Daily Record, Rockaway Twp., N.J.)
Group says mayor allowed 'prayer fest' | Christians were allowed to pray in City Council chambers (Peoria Journal-Star, Ill.)
Court battle over prayer in House begins | ICLU is challenging sectarian invocations in state Capitol (The Indianapolis Star)
Also: Assembly prayers lawsuit in court | ICLU challenging long practice of sectarian prayers to open legislative business day (South Bend Tribune, Ind.)
Group claims bias over prayer feather | Letter: Indian's religious rights violated (Arkansas Democrat-Gazette)
Madagascar bans a popular church | Madagascar's government has shut down a popular protestant charismatic church which is winning followers from the more traditional Protestant movement (BBC)
A founding father on faith | Ben Franklin and his colleagues were committed to building "a wall of separation between church and state." That principle is worth remembering today (Eric Utne, Minneapolis Star-Tribune)
Religion & politics:
Danforth criticizes Christian sway in GOP | "I think that the Republican Party fairly recently has been taken over by the Christian conservatives, by the Christian right," the a Missouri Republican and an Episcopal priest said in an interview. "I don't think that this is a permanent condition, but I think this has happened, and that it's divisive for the country" (Associated Press)
Christian think tank opposes Question 1 | Christian Policy Institute of Maine says gays should not be denied rights (Bangor Daily News, Me.)
New 'gay rights' law: A blessing or a curse? | Local religious leaders offer starkly different views on Question 1 (The Times Record, Brunswick, Me.)
Gay-marriage ban may land Texas in legal lab | Many unsure of courts' interpretation if voters OK broad proposal (The Dallas Morning News)
Harriet Miers:
Strategist's bid for Miers drowned out by critics | No one championed Harriet Miers' Supreme Court nomination more than Jay Sekulow , an evangelical conservative who leads the American Center for Law and Justice (The Virginian-Pilot, Hampton Roads, Va.)
Church support rapidly fell away | Nominee's 1993 statement cited Bush may have erred in thinking that Miers' faith would carry more weight with conservatives (The Denver Post)
Miers withdrawal puts Bush in a difficult corner | Conservatives will want one of their kind; Democrats urge consensus nominee (The Denver Post)
Answered prayers | When Harriet Miers withdrew her nomination, religion was once again at the heart of the drama (Slate)
Conservatives demand nominee in their image | The Miers battle, meanwhile, has left scars on the Bush coalition, with some conservatives saying that Mr. Bush hoodwinked evangelical Christian leaders including James Dobson and Richard Land into supporting Miss Miers (The Washington Times)
Right stares down White House, and wins | Activists may feel emboldened in this early battle for control of the party's future (Los Angeles Times)
Miers failed to win support of key senators and conservatives | The president said he reluctantly accepted her decision, after weeks of insisting that he did not want her to step down (The New York Times)
Nominee is pressed on her abortion views | Harriet E. Miers was also confronted with questions about how she would approach cases involving President Bush's military policies (The New York Times)
Withdrawal means O'Connor still unretired | Justice Sandra Day O'Connor's retirement has been delayed again, putting her at the center of upcoming Supreme Court debates on abortion, the death penalty and gay rights (Associated Press)
Miers's supporters wince at how she was treated; she seems to bear up well | "She asked us to pray for her, but she was still strong and determined," said the Rev. Ron Key, Ms. Miers's former pastor at Valley View Christian Church in Dallas (The New York Times)
Opinion & editorial:
A departure's lasting damage | Conservatives will come to regret making their willingness to contradict their own principles plain for all to see (E. J. Dionne Jr., The Washington Post)
Why the right was wrong | This triumph of the conservative punditocracy will have lasting consequences, and I hope my fears are misplaced. The first returns will come in the decision on parental notification statutes that will be argued before the Supreme Court in late November. Absent a miracle of Senate efficiency, Justice Sandra Day O'Connor will cast one of her last votes on the most important abortion-rights case in a few years. And then the accounting will begin in earnest. (Hugh Hewitt, The New York Times)
Harriet Miers exits stage right | Mr. Bush will compound the Miers disaster if he responds to only the pressure from conservatives - if he tries to placate right-wing Republicans with someone who simply passes their increasingly restrictive litmus test on abortion and is on the fringe of mainstream judicial thinking (Editorial, The New York Times)
Abortion:
Abortion issue's opponents wary of the fine print | The principal debate over Proposition 73 is whether doctors should have to notify a pregnant teen's parents before performing an abortion. But other controversies are lurking in the fine print (San Francisco Chronicle)
Abortion depression link queried | There is no credible evidence that women who terminate an unwanted first pregnancy are at a higher risk of depression, researchers say (BBC)
Abortion does not increase depression risk, study finds | Aborting an unwanted foetus during a woman's first pregnancy does not increase her risk of depression and may actually make her less likely to suffer the blues, a report says today (The Guardian, London)
Woman charged with obstructing justice after counseling on abortion:
NHC social worker faces charges | At the center of the charge is evidence that officers sought in order to build their case in the statutory rape probe—the girl's unborn child (Wilmington Star News, N.C.)
DSS worker: I was doing my job | The county social worker charged with obstruction of justice because of her role in counseling a teenage client about abortion says she was only doing her job (Wilmington Star News, N.C.)
Woman charged with obstructing justice | Prosecutors have charged a social worker with obstructing justice by helping a teenager get an abortion, which authorities say resulted in the destruction of DNA evidence investigators wanted for a statutory rape case (Associated Press)
Life ethics:
'Dr. Death' coming to big screen | An unpublished biography of Dr. Jack Kevorkian, the incarcerated proponent of physician-assisted suicide, is being turned into a movie by Oscar-winning documentary filmmaker Barbara Kopple (Reuters)
Comparing extremists | On the question of who's more out of the mainstream, the conventional wisdom is dead wrong (Matthew Yglesias, The American Prospect)
Education:
ACLU accuses New Mexico St. football coach | The American Civil Liberties Union of New Mexico has filed a grievance against New Mexico State football coach Hal Mumme, saying he discriminated against a now-released Muslim player by repeatedly questioning him about al-Qaida (Associated Press)
School calendar will be strictly secular | Hillsborough School Board members vote to end vacation days for all religious holidays (St. Petersburg Times, Fla.)
Also: Schools scrap religious holidays | After weeks of delay and debate, the Hillsborough County School Board approved a 2006-07 calendar minus holidays for Yom Kippur, Good Friday or the Muslim holiday Eid Al-Fitr (The Tampa Tribune, Fla.)
School dispute persists after plea deal struck | Parents and community members continue to examine what role schools should play in teaching children about sensitive social issues (The Boston Globe)
Christian message at school angers parents | Principal apologizes for talk by Eagles players (The News-Journal, Wilmington, Del.)
Apology follows Christian-themed assembly | The principal of a public high school apologized to parents for allowing a Christian-themed assembly that featured two pro football players, saying he was misled about what the presentation would cover (Associated Press)
N.J. students ordered to take down blogs | Catholic high school in Sparta, N.J., orders students to remove personal blogs from internet; safety cited (Associated Press)
Controversial painting won't be pulled from college exhibit | A Hugo Bastidas painting, "Mary Magdalene Mourning Her Lover," will not be removed from a Dutchess Community College exhibit celebrating Hispanic artists despite objections from some who say the piece - which depicts the same scene as Michelangelo's sculpture "Pieta" - is offensive to Christians (Daily Freeman, Kingston, N.Y.)
These courses are condemned | "Christian Morality in American Literature" is biased. "Feminine Perspectives in Literature" is not. (Naomi Schaefer Riley, The Wall Street Journal)
Intelligent Design & evolution:
Evolution debate in Kansas spurs battle over school materials | Teaching of theory's doubts spurs National Academy of Sciences, teachers association to bar use of curriculum guidelines (The Washington Post)
Kansas fight on evolution escalates | Two science organizations have denied the Kansas Board of Education permission to use their materials because of the board's critical approach to evolution (The New York Times)
Board member denies religious motive on intelligent design | William Buckingham, who pushed intelligent design, disputed reports that he had spoken of creationism (The Philadelphia Inquirer)
'Creationism' conflict | Buckingham testifies he never meant to use the word (York Dispatch, Pa.)
Science groups balk at Kansas proposal | Two national groups say the state can't use their copyrighted material in proposed science standards that critics contend promote creationism (Associated Press)
Is US becoming hostile to science? | A bitter debate about how to teach evolution in U.S. high schools is prompting a crisis of confidence among scientists, and some senior academics warn that science itself is under assault (Reuters)
Evolution of Darwin vs. design | Defenders of Darwin last week charged critics of evolution with turning students against science, while advocates of intelligent design accused evolutionists of trying to prevent students from hearing half of an important scientific dispute (The Washington Times)
Ex-school trustee 'misspoke' on evolution | A former school board member who denied saying creationism should be taught alongside evolution in high school biology classes changed his story Thursday after being confronted in court with TV news footage of him making such comments (Associated Press)
Intelligent design advocate denies religious agenda | A leading critic of teaching evolution in a Pennsylvania school district denied on Thursday he wanted students to learn about biblical accounts of the origins of life (Reuters)
Vatican celebrates 40 years of outreach to Jews:
Forty years of revolution | There is no doubt that there is still a long way to go until the effect of this amazing turnaround in the approach of the Catholic Church toward Judaism and Israel reaches every individual and every parish in the Church, but there is definitely reason to mark 40 years since the publication of "Aetate Nostra" (David Rosen, Haaretz, Tel Aviv, Israel)
Vatican celebrates outreach to Jews | Pope Benedict XVI marked the 40th anniversary of a landmark Vatican document on relations with Jews by calling Thursday for a renewed commitment for Catholics and Jews to deepen their bonds and work for the good of all humanity (Associated Press)
Pope says committed to good relations with Jews | Pope Benedict assured the world's Jews on Thursday that he and the Vatican were irrevocably committed to good Catholic-Jewish relations and to never forgetting the Holocaust (Reuters)
Also: Rome rabbi criticised for boycott of Vatican event | Rome's chief rabbi sparked controversy on Thursday by boycotting a major Vatican inter-religious event because of the presence of a French Catholic cardinal who had converted from Judaism (Reuters)
Catholicism:
Exorcising evil spirits: it's a devil of a job but someone has to do it | A Sydney bishop with knowledge of the Catholic rite of exorcism has warned of the dangers of dabbling in the occult and New Age ideas of spirit channelling and tarot card reading (The Sydney Morning Herald)
Vatican, Russian Orthodox officials meet | The Vatican's foreign minister held talks Friday with Russian Orthodox Church leaders and government officials in an effort to expand ties between the Holy See and Moscow (Associated Press)
O'Malley meets with pontiff in Rome | Archbishop bids to change aides (The Boston Globe)
Vatican seeks diplomatic ties with Russia | The Vatican and Russia should establish full diplomatic relations because the current ties don't correspond to the weight each wields in the world, the Vatican's foreign minister said in comments released Thursday (Associated Press)
A pint with your priest: church books bar | Theology on Tap spreads (Associated Press)
A year later, Everett church continues a prayer for itself | A year after St. Therese Church in Everett celebrated a closing Mass, worshipers still fill its worn pews, 24 hours a day, praying that Archbishop Sean P. O'Malley will reopen the Catholic parish (The Boston Globe)
Cuenin asks supporters to halt efforts | The popular former pastor of a Newton parish, ousted last month over alleged financial improprieties, has appealed to parishioners and other supporters to stop pushing for his reinstatement at Our Lady's Help of Christians (The Boston Globe)
Court clerk has role in sainthood tribunal | His recovery weighed as possible miracle (The Boston Globe)
Two sidelined after protesting altar call on ban on gay marriage | Cantor fired for comments against petition, organist quits in protest (The Boston Globe)
Popular French priest confesses sin, backs reform | One of France's most popular men, a 93-year-old Roman Catholic priest who champions the cause of the homeless, speaks out for married and female priests in a new book where he confesses having broken his vow of chastity (Reuters)
Sex confessions of 'living saint' shock France | A leading Roman Catholic cleric who is regularly voted one of France's most popular personalities has shocked the country by admitting he has had casual sex (The Guardian, London)
Abuse:
Archdiocese settles with 24 accusers | The Roman Catholic Archdiocese of Chicago has reached an out-of-court settlement with two dozen men and women who say they were sexually abused as minors by priests of the archdiocese, lawyers for the victims and a spokesman for Cardinal Francis George said Thursday (Chicago Sun-Times)
2 men testify against priest | Two men in their 30s from Indiana said they suffered silently for years, but the hurt spilled out Thursday as they testified in Maricopa County Superior Court against a former West Valley priest accused of molesting six Arizona boys (The Arizona Republic)
Ex-religious brother charged with rape | Denies allegations of abusing 2 boys in 1970s and '80s (The Boston Globe)
Diocese releases abuse statistics | The largest Catholic diocese in NI has released statistics which show that 15 priests have been accused of sex abuse there over the past 50 years (BBC)
N.I. bishop reveals child sex abuse allegations | Allegations of child sex abuse have been made against 26 priests in the Derry diocese over the past 50 years, the bishop, Seamus Hegarty, revealed (The Guardian, London)
Priest murdered in Tijuana:
Priest's slaying shakes Tijuana | A popular cleric's death, blamed on drug trade, gives the border city a record year for killings (Los Angeles Times)
Scores attend funeral | Shooting of pastor adds to rising violence in Tijuana (San Diego Union Tribune)
Human rights & religious freedom:
Parks honored in king's former Ala. church | Hundreds of people packed a historic church Friday to remember Rosa Parks, and a veteran of the Montgomery bus boycott encouraged them to carry on her legacy of civil rights activism (Associated Press)
Pope condemns human trafficking for sex | Pope Benedict XVI on Friday condemned the human trafficking that fuels the sex industry and called for just treatment of women migrants (Associated Press)
Two aid workers killed in the north by suspected LRA rebels | Three separate attacks on aid workers in the region resulted in the death of the two individuals on Wednesday and the injury of four others (IRIN)
A legal lesson from Down Under | If you still have any doubts over whether the House of Lords was wise to re-write the Racial and Religious Hatred Bill this week, just look at the chaos that resulted when a similar law was introduced in Australia (Joshua Rozenberg, The Telegraph, London)
Evangelist and professor engage in lively dialogue on race | Bishop T.D. Jakes and Cornel West hold wide-ranging discussion at Princeton University event (Princeton Packet, N.J.)
Church life:
Deadly serious | Church group hopes production will make youth think about choices (The Press-Enterprise, Riverside, Ca.)
Pastor uses 'Simpsons' to help keep the faith | 'The Simpsons are the most spiritual family on television,' says the Rev. Jim Reinarz, who is using the TV icons in his church's Sunday school class in Grand Prairie (The Dallas Morning News)
Anglicans battle over new leader | Melbourne Anglican Archbishop Peter Watson formally finishes his ministry tomorrow as the church's factions prepare to battle over who will succeed him (The Age, Melbourne, Australia)
Landmark Dresden church completes rise from the rubble | Dresden's rebuilt Frauenkirche, or Church of Our Lady, a searing symbol of the suffering of German civilians after its destruction in World War II bombing and now of reconciliation between the one-time enemies, will be officially re-opened on Sunday (AFP)
U.S. clergy warn about divesting in Israel | Several U.S. Christian clergy joined Jewish leaders in Canada Thursday to protest a growing effort by some U.S. Protestant leaders to divest in companies they believe profit from Israeli control of the Palestinian territories (Associated Press)
Church agrees to stop practice of swallowing live goldfish | "We love God's creatures and would never want to show them harm," First Assembly of God pastor tells PETA (The Times Daily, Florence, Ala.)
Church agrees to ban swallowing goldfish | The First Assembly of God Church has agreed to discontinue its practice of swallowing live goldfish as part of its Fear Factor ministry (Associated Press)
Robbers get into church safe, but it's a rather poor target | Three masked men targeted a safe the size of a refrigerator in the Sacred Heart Roman Catholic Church in Cambria Heights, Queens (The New York Times)
Methodists rule on gay minister:
Case of gay worshiper in Va. splits Methodists | Case has split a 650-member congregation in southern Virginia and that threatens to divide the 8 million-member United Methodist Church (The Washington Post)
Methodist leaders hear about gay minister | A lesbian Methodist minister should retain her ordained status because defrocking her would amount to discrimination, and would fly in the face of the inclusiveness that the church preaches, representatives of a Pennsylvania minister argued Thursday before the church's Judicial Council (Associated Press)
Sexuality:
'Ex-gay' ministry reaches out to Hub | Critics abound, but converts credit God (The Boston Globe)
Reviving an ancient question: Must Christians obey Old Testament laws? | In the Anglicans' and Episcopalians' heated dispute about homosexuality, liberals say Old Testament teachings against same-sex behavior should be seen as part of ritual purity codes that Christians no longer follow. Conservatives emphasize that regarding sex, the New Testament retains Old Testament morals (Associated Press)
Religion news in brief | Skylstad condemns "witch hunts and gay bashing" against priests; W.Va. Baptists reject proposal to split from national church; Interfaith group calls for immigration reform (Associated Press)
Preaching is no prophylactic | Those who bemoan teenage pregnancies should be promoting better contraception not abstinence (Camilla Cavendish, The Times, London)
Tom Brokaw on evangelicals:
A religious revolution in America | 'Tom Brokaw Reports: In God They Trust' explores why so many Americans are turning to this expression of faith (NBC)
Brokaw's balanced look at Evangelicals | You will likely not be repelled by what they have to say, or converted either, but you will definitely gain a fuller understanding - and that's what good journalism is all about (Newsday)
Evangelicals Brokaw's focus | Informative, evenhanded hour examines why so many Americans are turning to this conservative expression of faith (Rocky Mountain News)
Brokaw's 'Trust' short on facts | Consisting almost entirely of anecdotal evidence, conversations with church leaders and various faithful, this "Report" is short on facts and long on generalizations (Albany Times Union, N.Y.)
Film:
The lion, the witch, and the franchise | Disney is counting on Narnia to reel in an audience of kids, gamers, and Christians (Business Week)
Hollywood tests appetite for message movies | The studios hope to entertain mass audiences with movies about war, politics and human interest topics that are typical fodder for documentaries or niche cable TV networks (Reuters)
Books:
It takes one to know one | Lionel Barber reviews Charles W. Colson: A Life Redeemed by Jonathan Aitken (Financial Times)
'Da Vinci Code' garbled, says author | Birmingham lectures to take on popular novel's claim Jesus married (The Birmingham News, Ala.)
The coffin was too confining | The hushed atmosphere at Anne Rice's house in La Jolla, Calif., feels more devotional than gothic (The New York Times)
Rice attempts to get into the head of Jesus | James C. Howell reviews Christ the Lord: Out of Egypt by Anne Rice (The Charlotte Observer, N.C.)
Is killer's life story best left untold? | Victims' families resent concept of Sampson book (The Boston Globe)
Music:
Hymns ancient and extremely modern top viewers' chart | How Great Thou Art tops list of tens of thousands of viewers of BBC1's Songs of Praise (The Telegraph, London)
Our foolish ways | Fewer and fewer children now learn these hymns, which were once the common heritage of Britons of all religions (Editorial, The Telegraph, London)
Bright days ahead for Switchfoot | "I'm a believer, and a lot of these songs are very honest songs that have to do with my own doubts and my own faith. I think that fine line is nothing new, whether it's Johnny Cash or Bob Dylan or Bob Marley. We're all kind of walking the line." (The Boston Globe)
Gospel according to Stryper | The band that prays together, stays together (Asbury Park Press, N.J.)
Halloween:
Halloween falls out of favor | Once, Halloween was all about trick-or-treating and the sugar rush that came with scoring enough candy to last until Thanksgiving. Then came the fear of bullies and razor blades. Now, a holiday that grew from Celtic rituals finds itself squarely in the middle of modern-day culture wars (The Sacramento Bee, Ca.)
Student ghosts unmasked in Newton | Primary school cancels Halloween celebration (The Boston Globe)
Reformation anniversary a true treat | Little can sidetrack the sheer fun of Halloween or trump the joy of All Saints Day that follows it on Nov. 1. The anniversary of the Protestant Reformation, however, easily does so (Steve Gushee, Palm Beach Post, Fla.)
Related Elsewhere:
Suggest links and stories by sending e-mail to weblog@christianitytoday.com
See our past Weblog updates:
October 27 | 24 | 19 | 12 | 11
October 6 | September 30 | 29 | 28
September 22 | 21 | 20 | 19
September 16 | 15 | 14
September 8 | 2 | 1 | August 31 | 30
Weblog
Launched in 1999, Christianity Today's Weblog was not just one of the first religion-oriented weblogs, but one of the first published by a media organization. (Hence its rather bland title.) Mostly compiled by then-online editor Ted Olsen, Weblog rounded up religion news and opinion pieces from publications around the world. As Christianity Today's website grew, it launched other blogs. Olsen took on management responsibilities, and the Weblog feature as such was mothballed. But CT's efforts to round up important news and opinion from around the web continues, especially on our Gleanings feature.
Ted Olsen is Christianity Today's executive editor. He wrote the magazine's Weblog—a collection of news and opinion articles from mainstream news sources around the world—from 1999 to 2006. In 2004, the magazine launched Weblog in Print, which looks for unexpected connections and trends in articles appearing in the mainstream press. The column was later renamed "Tidings" and ran until 2007.
Previous Weblog Columns: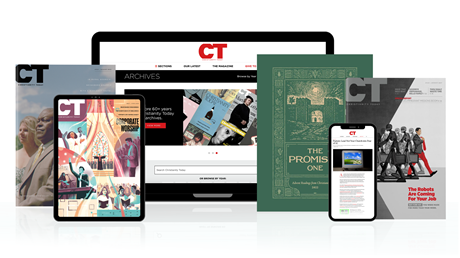 Annual & Monthly subscriptions available.
Print & Digital Issues of CT magazine
Complete access to every article on ChristianityToday.com
Unlimited access to 65+ years of CT's online archives
Member-only special issues
Subscribe
Indigenous Venezuelans Protest Mission Expulsion
Indigenous Venezuelans Protest Mission Expulsion