The Indian Christian community is "greatly disappointed" over the May 19 Orissa high court's decision to commute the death penalty for Dara Singh, who had been sentenced for the murders of Australian missionary Graham Staines and his two sons. The court cited "tainted evidence" and also acquitted another 11 people who were accused of taking part in burning the three alive in January 1999. Seven were freed yesterday.
Graham Staines and his two sons, Phillip, 11, and Timothy, 7, were burnt to death by a mob while they were asleep inside their station wagon at Manoharpur village in Orissa, a region where Christians make up 2 percent of the population. The attacks occurred after an annual Christian gathering for fellowship and teaching. In September 2003, the trial court had sentenced Singh to death and 11 others to life imprisonment.
Although, Gladys Staines, the wife of Graham Staines, had publicly forgiven Singh, a Hindu extremist, for her husband and young children's murders, this recent judgment has come as a shock to Christians who have continued to demand justice and security.
The Christian minority, which makes up 2.4 percent of India's population according to Operation World, has lately suffered numerous attacks from Hindu radicals. Church leaders met with Indian Prime Minister Manmohan Singh and presented him an unofficial white paper recording more than 200 recent cases of violence against Christians.
Christians are upset over the state's inability to bring justice to the culprits. While Singh, the leader of the mob that murdered Staines, has become a symbol of Hindu radicals' growing intolerance toward Christians and minorities, Christians have also questioned why the other 11 convicted were set free. Still, Singh remains the focus as he has repeatedly stated his pro-Hindu fundamentalist views and is being supported by Hindu radicals.
Pran Paricha, Orissa chapter president of the All India Christian Council (AICC) told CT, "We don't see any logic in the judgment. If it is not these people who killed Staines, then the question is who killed them? Who is guilty? And why is justice not being done? It's a threatening development for the Christian minority."
"This court judgment is very frustrating for the Christian community, even though we are against capital punishment," says John Dayal, AICC secretary general and a senior Delhi church leader. "We are also disturbed at the state's response to this heinous crime."
Indian Christians are motivated by a sense of justice, rather than revenge, says Donald H. R. De Souza, a spokesman for the Catholic Bishops' Conference (CBCI) in Delhi. "Although we respect the verdict of the court, this legal decision in no way condones or lessens the gravity of the crime. We seek compassion coupled with justice. The church hopes that this life imprisonment sentence would make [Singh] accept and repent for the gravity of his crime."
However, news reports say Singh's reaction to the court decision was anything but remorse, "It is the happiest day of my life," he said. "I was doing social service, and I will continue to do that once I am acquitted." He also contemplated running for public office. His counsel promised to pursue Singh's acquittal in India's Supreme Court.
The Orissa high court noted that Singh was "not individually liable," and said the Central Bureau of Investigation (CBI), which is investigating the case, attempted to "procure tainted evidence." The court also said that it was not possible to hold the accused guilty on the basis of CBI's "speculative evidence." CBI will challenge the verdict in India's Supreme Court, and seek death penalty for Singh.
P. K. Das, a minister of the Church of God in Orissa, says Christians seek justice, "We are unhappy about the court's decision. I only wish justice would be done, even though I may expect or wish Dara to accept the Lord and repent, this remains only a hope."
John Dayal, too, blames the government and the investigating agency. "CBI has its own share of blame. It has not done its job well. Now the Supreme Court will decide the case on the merit of evidence."
The Hindu radicals are openly supporting Singh and have given him a hero status. "Although Gladys Staines forgave Dara as a gesture of Christian compassion, the state gave Singh the opportunity for press interviews, and he reiterated his association with Hindu fundamentalists."
Christians are questioning what signal this judgment sends to the minorities. Dayal says the cases of Christian persecution have risen in the states of Orissa, Rajasthan, Madhya Pradesh, Gujarat, and Karnatka. "Christians are worried," he says. "Hindu radicals are forcibly reconverting Christians and threatening them to give up their faith," says Dayal.
Das deplores the situation. "Some anti-Christian political parties are openly supporting Singh for a murder. If these things are allowed to happen, I don't know what will happen to our country."
Article continues below
Related Elsewhere:
News elsewhere includes:
Hindu who killed missionary escapes death penalty | The public prosecutor told the Guardian that the case against Singh had been "thinned" because witnesses were too scared to come forward in 1999 (The Guardian, London, May 20, 2005)
Court lifts death penalty in Staines' murder | The high court also acquitted 11 people sentenced to a life term by a lower court for burning alive Graham Staines and his two children in a remote village in the state (Reuters, May 20, 2005)
Indian court commutes death sentence of Australian missionary's killer | The ruling Thursday came in response to a plea filed by Singh to the Orissa High Court in October 2003 challenging the death sentence (AFP, May 20, 2005)
Missionary killer's sentence cut | It is still not clear why the court has now decided to commute Dara Singh's death sentence and release all but one of the others (BBC, May 20, 2005)
Missionary widow's emotional return | Gladys Staines, the Australian missionary recently awarded India's second-highest civilian honour, has been speaking about her return to the country in which her husband and children were killed in 1999 by religious extremists (BBC, May 20, 2005)
God will judge killer: Staines brother | "I don't want to see the man put to death," John Staines said from Beaudesert, south of Brisbane (AAP, Australia, May 20, 2005)
Dara Singh's death sentence set aside | But life term for Dara Singh upheld; 11 others acquitted (The Hindu, May 20, 2005)
CBI says commuting of Dara death sentence not a setback | His conviction has been upheld," CBI counsel Suryakanta Padhi said (Outlook, India, May 20, 2005)
Earlier CT coverage of the Staines includes:
Arrest made in India murder of missionary Graham Staines | Hindu radical apprehended after one year, but Christians claim state oppression now main problem. (January 31, 2000)
Weblog: 13 Hindu Extremists Convicted of Murdering Missionary Graham Staines and His Sons | India fears violence as Dara Singh and a dozen others are found guilty of murdering missionary and sons (Sept. 15, 2003)
'Once You Forgive, There Will Be Healing' | How a martyr's widow turned her life around and won India's prestigious Gandhi harmony award. (Jan. 31, 2003)
Take Up Arms Against Missionaries, Says Hindu Leader | Clouds darkening over India. (March 6, 2001)
Australian Missionary's Murderer Arrested | Evading police for more than a year, Singh was arrested in February for the murder of Australian Baptist missionary Graham Staines. (April 3, 2000)
Article continues below
Murdered missionary's widow will continue his work with India's lepers | Impression of India 'not at all' changed by murder of husband and children (Dec. 1, 1999)
Hindu Radical Fingered in Staines Killing (Sept. 6, 1999)
The Fiery Rise of Hindu Fundamentalism | After a missionary and his two sons are martyred, Christians in India press for greater religious freedom. (Mar. 1, 1999)
Earlier coverage of persecution in India includes:
Cover Story
India Undaunted | Escalating repression can't seem to dampen the church's growth. (April 28, 2004)
Hindu Radical Redux | Church leaders report more than 200 new incidents of persecution. (April 15, 2005)
Christians Fear Some Backlash After India Elections | Still, they're heartened by voters' chastening of nationalist Hindus. (June 15, 2004)
India's Historic Elections and the Hand of God | Persecution will continue, but without as much implicit state support, says the president of the All India Christian Council. (May 14, 2004)
Indian Churches Hail the Defeat of Hindu-Nationalist Government | "Vote consciously" campaign urged Christian voters to elect secular political parties. (May 14, 2004)
The Immense Commission | Most postal areas still don't have any Christian workers living in them. (April 28, 2004)
Watch Those Web Postings | What Indians say American Christians should, and shouldn't, do to help. (April 28, 2004)
Blockbuster Evangelism | Millions have been converted after seeing films about Jesus, and Hindu radicals are responding with violence. (Nov. 26, 2003)
Hindu Leaders Crack Down on Conversions | Potential converts must ask permission (Oct. 13, 2003)
Power in Punjab | Christians see churches—and opposition—grow among Sikhs. (June 18, 2003)
Fending off Hindutva | Indian Christians blast Nazi-like survey, "draconian" conversion law. (May 16, 2003)
Gujarat Religious Survey Troubles Indian Christians | Government of Indian state says it has been gathering statistics on the minority at the behest of federal officials. (March 14, 2003)
Machete Attack on American Alarms Local Christians | Hindu militants threaten to expel evangelists, stop conversions. (Feb. 18, 2003)
Indian Christians 'Living in Terror,' Rights Groups Report | Accusations against priest lead to intense conversion pressure in Rajasthan. (Nov. 6, 2002)
Indian State Bans Conversion | Christians say Tamil Nadu ordinance threatens relief work. (October 11, 2002)
Hounded, Beaten, Shot | What you can do to help persecuted Christians in India. (June 11, 2002)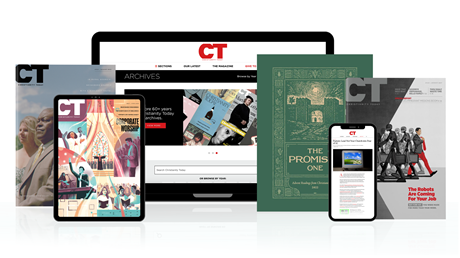 Annual & Monthly subscriptions available.
Print & Digital Issues of CT magazine
Complete access to every article on ChristianityToday.com
Unlimited access to 65+ years of CT's online archives
Member-only special issues
Subscribe
Indian Court Commutes Death Penalty for Staineses' Murderer
Indian Court Commutes Death Penalty for Staineses' Murderer