The Supreme Court upped the ante in the filibuster fight today when it decided to take on Ayotte v. Planned Parenthood, and rule on the legality of a New Hampshire parental consent law. The 1st U.S. Circuit Court of Appeals overturned the law saying that it did not provide a health exception for the mother.
New Hampshire officials argued that other state provisions requiring a health exception also cover the parental notification law. The state asked the Supreme Court "to clarify the legal standard that is applied when reviewing the constitutionality of abortion laws," says the Associated Press. Pro-life groups complain that the health exception effectively nullifies any abortion restriction because any pregnancy can be seen as a health threat. However, restrictions passed without the exception have been overturned even before going into effect when courts rule that such laws place an "undue burden" on mothers.
In Ayotte v. Planned Parenthood the Supreme Court could place a more stringent standard on courts overturning the law before it goes into effect. "The attorney general of New Hampshire argued that a law such as New Hampshire's must be upheld unless a challenger meets the difficult burden of showing that 'no set of circumstances exists' under which it would be constitutional," according to The Washington Post. "Abortion-rights advocates believe that few, if any, challenges could survive such a test, which, in any case, has been rejected by most appeals courts."
"The decision to review the emotional case, which also comes at a time of bitterly partisan fighting in the Senate over President Bush's nominees for federal judgeships, will be heard in the next term beginning in October," the Associated Press says. Some have speculated that Chief Justice William Rehnquist, who has cancer, will have retired from the bench by then. "Liberal groups have vowed to fight any Rehnquist replacement who opposes the high court's landmark 1973 decision legalizing abortion," according to the AP.
The decision could also affect the Child Interstate Abortion Notification Act, which passed the House this month. "This is a critical area of the law that needs to be corrected," Jay Sekulow, chief counsel of the American Center for Law and Justice, told Reuters. "We are hopeful the high court will determine that parental notification laws enacted by states are proper and constitutional."
More Articles
Bush speaks at Calvin graduation:
Not all follow Bush Gospel at Christian school | His address to Michigan graduates draws cheers, but some highlight the diversity of views. (Los Angeles Times)
Bush praises faith-based activism | President Bush yesterday delivered a commencement address at the Christian-focused Calvin College, telling more than 800 graduating seniors that faith-based community activists have been "at the front of every great movement in American history." (Washington Times)
Bush has tips for Grand Rapids grads | The president's commencement visit gets mixed response at Calvin College. (Detroit News)
Bush visit stirs controversy at graduation | President Bush delivered the commencement address at Calvin College Saturday, whisking in from the Gerald R. Ford Airport long enough to bow his head in prayer, sing a hymn, shake some hands and deliver a 14-minute speech that touched on the school's Dutch heritage and the importance of community involvement. (Herald News, New Jersey)
The Calvin connection | Calvin College, its seminary and the surrounding community form the hub of the Christian Reformed Church, an evangelical branch of Protestantism founded in 1857 by Dutch immigrants. The church, which thrived in Dutch enclaves such as Prospect Park, now has about 250,000 members in the United States and Canada. (Herald News, New Jersey)
Bush gets mixed reception at Christian College | President Bush on Saturday championed faith in American society, but ran into some criticism as he courted his Christian base in a commencement speech at a Michigan college. (Reuters)
Bush to 2005 grads: Get involved | Letters of protest run in local paper (CNN)
Preaching to the choir? not this time | Calvin College, a small evangelical school in the strategic Republican stronghold of Grand Rapids, Mich., seemed a perfect stop on Saturday for the president's message. Or so thought Karl Rove, the White House political chief, who two months ago effectively bumped Calvin's scheduled commencement speaker when he asked that Mr. Bush be invited instead. (The New York Times)
Protesters line roads with signs | It is perhaps to be expected that a visit by President Bush would attract a crowd of demonstrators. All his trips as president have sparked some kind of local dissent. (The Grand Rapids Press)
Bush urges graduates to volunteer in community | President Bush told graduates of Calvin College in western Michigan on Saturday that the "public good depends on private character" and that they should embrace the American traditions of volunteerism and community service as they set out into the world. (The New York Times)
Bush vows to veto cloning bill:
Stem-cell research: A matter of faith? | Tupelo couple gathers support for federal funding of the controversial science. (Northeast Mississippi Daily Journal, Miss.)
President vows veto on stem cell research | Bipartisan measure seeks to ease curbs (The Washington Post)
Next step on stem cells | Congress needs to pass an important bill to liberalize President Bush's restrictive policy on stem cell research. (Editorial, The Washington Post)
Stem cell researchers feel the pull of the golden state | Up and down the East Coast, stem cell researchers are feeling the tug of a powerful, invisible force. It is a wave of recruiting calls from institutions in California seeking to expand their research programs with help from Proposition 71, the state's $3 billion stem cell initiative. (The New York Times)
A surprising leap on cloning | In the upcoming struggles over stem cell legislation, supporters of sound science must ensure that no ban is imposed on therapeutic cloning that would further shackle American researchers while scientists in Asia and Britain forge ahead. (Editorial, The New York Times)
US senator predicts passage of bill to allow more stem cell research | An influential Democratic senator is predicting congressional passage of a bill that would expand federally-funded medical research involving embryonic stem cells - despite a veto threat by President Bush. (Voice of America)
Bush's veto plan more philosophy than biology | President's opposition to expanding federal funding for stem cell research out of touch with America (Neal Heller, Boca Raton News, Fla.)
In rare threat, Bush vows veto of stem cell bill | Setting up a showdown with the Republican-controlled Congress over the thorny issue of embryonic stem cell research, President Bush vowed Friday to veto a measure, now pending in the House, that would expand federal financing for the studies - an extremely rare personal threat from a president who has never exercised his veto power. (The New York Times)
Koreans report ease in cloning for stem cells | South Korean researchers are reporting today that they have developed a highly efficient recipe for producing human embryos through cloning, and then extracting their stem cells. (The New York Times)
S. Korea takes lead in stem cell research | Just a few years ago, Michigan State University scientist Jose Cibelli was considered the leading expert on cloning human embryos to treat and study disease. Now, there's no debate that the cloning king is Hwang Woo-suk of Seoul National University. (Associated Press)
Bush Condemns S. Korea stem cell advances | President Bush has condemned stem cell research advances in South Korea and said he worried about living in a world in which human cloning was condoned. He said he would veto any legislation aimed at loosening limits on federal support in the United States. (Associated Press)
Related Elsewhere:
Suggest links and stories by sending e-mail to weblog@christianitytoday.com
See our past Weblog updates:
May 20 | 17 | 16
May 13 | 11 | 9 | 6
April 28 | 26 | 25 | 22 | 19
April 15 | 14 | 13 | 11
April 5 | 1 | March 31 | 30
March 24 | 23 | 21 | 16 | 11
Weblog
Launched in 1999, Christianity Today's Weblog was not just one of the first religion-oriented weblogs, but one of the first published by a media organization. (Hence its rather bland title.) Mostly compiled by then-online editor Ted Olsen, Weblog rounded up religion news and opinion pieces from publications around the world. As Christianity Today's website grew, it launched other blogs. Olsen took on management responsibilities, and the Weblog feature as such was mothballed. But CT's efforts to round up important news and opinion from around the web continues, especially on our Gleanings feature.
Ted Olsen is Christianity Today's executive editor. He wrote the magazine's Weblog—a collection of news and opinion articles from mainstream news sources around the world—from 1999 to 2006. In 2004, the magazine launched Weblog in Print, which looks for unexpected connections and trends in articles appearing in the mainstream press. The column was later renamed "Tidings" and ran until 2007.
Previous Weblog Columns: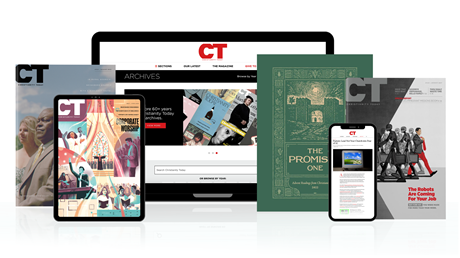 Annual & Monthly subscriptions available.
Print & Digital Issues of CT magazine
Complete access to every article on ChristianityToday.com
Unlimited access to 65+ years of CT's online archives
Member-only special issues
Subscribe
Supreme Court Takes on Parental Notification Laws
Supreme Court Takes on Parental Notification Laws