true
Call it "Prequels Week." Two films took viewers back in time, offering prologues to legendary blockbusters from the late 1970s, both of them exploring shadowy spiritual territory and characters who are drawn over to "the dark side."
Star Wars: Episode Three — Revenge of the Sith continues to kick life into a box office slump, earning a head-spinning $158.5 million in four days, annihilating the former four-day record set by The Matrix Reloaded ($134.3 million) in 2003. The Force is strong in this one.
Meanwhile, more Christian press critics are responding to Sith. (We featured the first wave of reviews last week.) Their differences of opinion are as striking as the difference between the original Star Wars trilogy and the new trilogy.
Gene Edward Veith (World) argues that Revenge of the Sith "has many fine moments … and none of the annoying sidekicks and sappy sentimentality that marred the first two episodes. Is the movie an allegory critical of the Bush administration and the war in Iraq, as some liberals and defensive conservatives interpret it? Not really."
David DiCerto (Catholic News Service) raves, "Visually, Sith is the most stunning, if at times overwrought, of the entire series. Lucas strikes a balance between technical video-game-style wizardry and human drama, bringing all the loose story threads to a coherent ending (or middle). [It's] more fun than a barrelful of Wookiees. As the final curtain falls, it's nice to see a film that finally captures the true force of his vision!"
"The film's opening is filled with the unexpected promise of a return to the action-packed fun of the original movie," says Michael Elliott (Movie Parables). "Lucas, in addition to providing the brilliant special effects that has been the standard of the franchise, gives us what the first two prequels have sorely lacked—humor. Unfortunately, this light-hearted attitude doesn't last beyond the opening scenes. Lucas loses himself in the space soap opera quagmire that he has constructed and allows himself and the talented cast he has assembled to be sucked down into a humorless dark place."
Annabelle Robertson (Crosswalk) argues, "What could have been a brilliant film is … a mediocre one. Although it does not live up to the quality of the first three Star Wars films, Revenge of the Sith is a worthy endeavor that merits viewing. By overlooking its faults—as well as its more-than-questionable theology—most people will find it to be a fun film."
But in her blog, Barbara Nicolosi (Church of the Masses) calls it "abominably, laughably, inexcusably bad. If you haven't gone yet, please do not pour your money into the Lucasfilm dark side. It's a terrible movie."
Jonathan Avants (Phantom Tollbooth) says, "We're given more of what Lucas does best—sensational action scenes that capture and enthrall the imagination. Perhaps the only disappointing feature of Revenge of the Sith is how frustratingly close it gets to being a true masterpiece. The film is held back from greatness by overall poor dialogue."
David Kenney (Relevant) raves, "Does Episode 3 deliver? Yes … oh my gosh, yes. The first 30 minutes alone are enough to scream, 'Thank you, Mr. Lucas!' Star Wars fans get the movie that they have always wanted. The performances given in this movie were much better than seen previously."
But Kevin Miller (Hollywood Jesus) objects. "If this film didn't have the Star Wars label on it and it had been written by a relatively unknown screenwriter, do you really think anyone would have bought the script, much less made it into a movie? Set your nostalgia aside for a moment, and you'll see what I mean. It's okay, you can admit it: This film stinks!"
At the same site, Ed Travis notes "zero romantic chemistry" and "the excellent look and feel of the character- and imagination-driven original trilogy." He also notes "many questions worth asking. What makes someone a hero? What might someone hold on to so hard that it could destroy them? Just why do dark things tempt humankind? These are some of the great questions of life and faith. Ultimately, Star Wars remains such a huge phenomenon because those elements of humanity we all relate to shine through in a fantastic and imaginative way."
Tom Price, also at Hollywood Jesus, says, "Ultimately, Revenge of the Sith is like its principal character—dark, flawed, very interesting and perhaps worthy of redemption as time will tell."
Most mainstream critics continue to praise this as a worthwhile conclusion and the best of the prequels.
Critics cast out another
Exorcist

prequel:

Dominion

Exorcist: The Beginning, Renny Harlin's prequel to William Friedkin's classic horror film The Exorcist, arrived to poor reviews last August. Critics accused Harlin of crafting a cheap horror flick based on shock value, a wasted opportunity to make something meaningful and memorable.

But Harlin's version wasn't the original plan. Paul Schrader was the first director hired for the project, but the studio decided Schrader's version didn't have enough blood, guts, and jump scenes to be a hit. So they fired Schrader and hired Harlin—then filmed the entire movie over again with the same cast but a new script. When that film reached theatres, the reviews made it clear: critics wanted to see Schrader's version.

Now they have. And the results aren't much better. Dominion follows Father Lancaster Merrin (Stellan Skarsgård) in his early years during an East African investigation where he encounters the demon Pazuzu and wrestles to regain his faith.

Peter T. Chattaway (Christianity Today Movies) says the film "provides a unique opportunity see how tweaking a screenplay can produce a very different film, even when many of the same elements are in place … But the contours of the story are quite different. Schrader is not at all interested in the gore and sadism that characterized Harlin's film … [T]hose looking for a film of some spiritual significance will surely find Schrader's prequel better and more interesting than Harlin's, which went for shocking sensationalism. But as a prequel … it still isn't especially satisfying."

Mainstream critics aren't as hard on this film as they were on Harlin's version, but they still find it sorely lacking.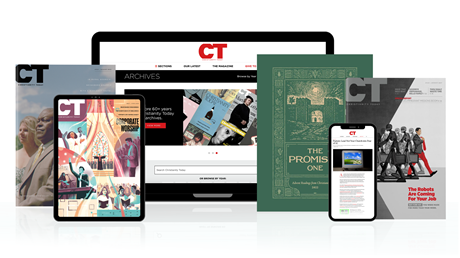 Annual & Monthly subscriptions available.
Print & Digital Issues of CT magazine
Complete access to every article on ChristianityToday.com
Unlimited access to 65+ years of CT's online archives
Member-only special issues
Subscribe
Is Revenge of the Sith "a Masterpiece" or "Inexcusably Bad"?
Is Revenge of the Sith "a Masterpiece" or "Inexcusably Bad"?