Schiavo autopsy released
The Piniellas-Pasco Medical Examiner released Terri Schiavo's autopsy report today. The full version is here. Highlights:
What caused her collapse 15 years ago is still a mystery. There's no evidence of an eating disorder or of a heart attack.
No evidence of trauma, abuse, or harmful substances were discovered.
Schiavo died from dehydration, not starvation.
She would not have been able to ingest food or water after the tube was removed.
Schiavo's brain weight "was approximately half of the expected weight."
Schiavo was blind at the time of her death.
This last point is of particular interest, notes the Associated Press, since it "countered a videotape released by the Schindlers of Terri Schiavo in her hospice bed. The video showed Schiavo appearing to turn toward her mother's voice and smile, moaning and laughing. Her head moved up and down and she seemed to follow the progress of a brightly colored Mickey Mouse balloon."
Early response from those who opposed removal of the feeding tube suggests that the autopsy won't change many minds.
"There is no medical condition or disability that should ever be championed as a justifiable reason to deny water to a human being," CWA senior policy director Wendy Wright says in a press release.
Priest for Life's Frank Pavone agrees. "No details of this autopsy change the moral evaluation of what happened to Terri. Her physical injuries and disabilities never made her less of a person. No amount of brain injury ever justifies denying a person proper humane care. That includes food and water."
United Church of Christ proposal to declare Jesus as Lord will probably fail
What's the basic belief that would separate a Christian denomination from a non-Christian religion? Declaring Jesus Christ as Lord? Believing that Jesus was divine?
Turns out that the United Church of Christ will be voting on a resolution affirming such statements at the denomination's upcoming convention—and NorthJersey.com (the website of the The Record and Herald News newspapers) reports that it's likely to fail.
"Religiously speaking, it sounds like apple pie," First Congregational Church of Park Ridge pastor Ray Kostulias said. "But there is a judgmental quality to it that implies very strongly that those who do not agree with us are condemned or damned or hopeless - and that's exactly the thing that UCC is against."
Sherry Taylor, Associate Conference Minister for the New Jersey Association of UCC's Central Atlantic Conference, agrees. "If you join the UCC, you are not given a list of things and asked, 'Do you believe in this?' " she said."There are no tests of faith."
But that doesn't mean that there should be no faith, says Albert W. Kovacs of the Hungarian Reformed Church in Woodbridge, New Jersey. "The whole point of this is that many of these people have a very fuzzy idea of faith in God," he said. We have significant numbers of clergy who don't believe in God."
The UCC's General Synod meets July 1-5 in Atlanta. It will be interesting to compare the outcome of this resolution against other resolutions proposing divestment from Israel, "saving Social Security from privatization," support of same-sex marriage, and other issues.
More articles
Politics:
Christian right's alliances bend political spectrum | Conservative Christians have forged coalitions with — or sometimes simply pulled in the same direction as — activists who more often are their adversaries (USA Today)
Houston minister could help decide next governor | Reverend Laurence White is pastor at a Lutheran Church in northwest Houston and head of an organization called the Texas Restoration Project (KHOU, Houston, Tex.)
Perry camp's strategy taking shape | Firm hired to target 'values voters' for re-election bid (Denton Record-Chronicle, Tex.)
Reed an albatross for GOP | Party stands to suffer in 2006 if candidate doesn't withdraw (Bob Irvin, The Atlanta Journal-Constitution)
Sen. DeWine's son loses House primary in Ohio | The Republican's upset is attributed to Christian conservatives and his father's filibuster deal (Los Angeles Times)
Black pastors criticize Bush on aid to Africa | A letter from prominent clergy urges the White House to back a plan to double assistance (Los Angeles Times)
Same-sex marriage:
N.J. court rules against same-sex couples | A state appeals court ruled Tuesday that New Jersey's Constitution does not require the recognition of gay marriage, rejecting the efforts of seven same-sex couples who sued the state to allow them to marry (Associated Press)
Group to seek referendum against gay marriage | Plan would counter bid for civil unions (The Boston Globe)
Abortion:
Official: Italy abortion law could change | Italy's law permitting abortion might be up for revision, a Cabinet minister suggested in an interview published Tuesday, after a Vatican-backed voter boycott helped defeat efforts to ease restrictions on assisted procreation and embryo research (Associated Press)
Christians urge rallies to protest abortion | Websites suggest busloads head to Western to demonstrate (London Free Press, Ontario)
Stem cells:
Scientist to continue stem cell research | The world's leading stem-cell researcher, Hwang Woo-suk, said Wednesday he would push forward with his research while maintaining respect for human dignity after confronting Catholic critics who have condemned his work as unethical (Associated Press)
Schröder wants stem cell laws eased | A day after Italians rejected easing their prohibitive law on fertility and bioethics, Chancellor Gerhard Schröder declared that Germany should liberalize its own restrictive legislation on stem cell research (Deutsche Welle, Germany)
Cloning ban bill falls one vote short | The Louisiana Senate on Tuesday sounded the death knell for the current legislation to a proposed state ban on human cloning (The Advocate, Baton Rouge, La.)
Stem cell ban stalls in committee | Attempt at revival falls one vote short (The Times-Picayune, New Orleans, La.)
Ethical contradiction | Why is stem-cell research wrong, but other killing OK? (Luke Blount, Waco Tribune-Herald, Tex.)
Lebanon elections:
Aoun success jolts Lebanon poll race | Christians sidelined (BBC)
Why wouldn't the Christians vote for Michel Aoun? | During the past 15 years, Christians have condemned the perceived ingratitude against their confession's leaders (Rosana Bou Monsef, The Daily Star, Lebanon)
Asylum seeker fights deporation to Muslim Indonesia:
Dover immigrant to be deported | Unknown if Indonesian man might already be gone (Foster's Daily Democrat, Dover, N.H.)
Earlier: As Dover man sits in jail, family seeks explanations on immigration status | William Pangaribuan and Hartaty Sri Haveline, both Christians, have asked for asylum in the U.S. to flee from religious persecution in their homeland dominated by Muslims (Foster's Daily Democrat, Dover, N.H.)
Church & state:
Plaintiff expects to lose monument suit | But for a man who wrote his legal notes on the back of paper recovered from wastebaskets, Thomas Van Orden considers his litigation to remove the Capitol grounds' Ten Commandments a success (The Dallas Morning News)
Martineau: Don't let case divide society | The lead attorney for the State in the legal challenge to the Trinity Cross as this nation's highest award has said cases like the one being argued have the potential to adversely affect the society (Trinidad and Tobago Express)
Former editorial writers sue Indy Star for religious discrimination:
2 ex-employees sue The Star | Former editorial writers allege racial, age and religious discrimination (The Indianapolis Star)
Former editorial writers sue Indy Star over alleged religious discrimination | James Patterson and Lisa Coffey saw things say a switch in ownership lead to less conservative view and eventually discrimination (WISH, Indianapolis)
Federal lawsuit filed against the "Star" (WTHR, Indianapolis)
Media:
The interactive truth | The DaVinci Code's success does point up something critical. We're happier to swallow a half-baked Renaissance religious conspiracy theory than to examine the historical fiction we're living (and dying for) today (Stacy Schiff, The New York Times)
Archbishop to attack news media | The news media is often "adversarial and suspicious" and uses practices that are "lethally damaging" to journalism, the Archbishop of Canterbury is to say. (BBC)
Televangelist breached guidelines: ruling | When televangelist Jimmy Swaggart said he would kill a homosexual who looked at him romantically, he violated the Canadian Association of Broadcasters' ethics code, an industry panel has ruled (CBC, Canada)
Education:
Religion question simmers at school board | A Thames Valley school board committee will review distribution of New Testaments and other religious materials through schools, following complaints from the parent council of a London elementary school. (St. Thomas Times-Journal, Ont.)
Gary schools sued over religious rights | A woman who pulled her 13-year-old son out of classes so he could attend a five-day religious festival is suing school officials for refusing to count those days as an excused absence (Associated Press)
Give them a pass to observe religion | Students should be excused for legitimate religious observances provided schoolwork is made up (Editorial, The Indianapolis Star)
Religious schools are a top choice | Expansion of vouchers has resulted in unprecedented level of public funding of religious education (Milwaukee Journal-Sentinel)
'Intelligent design' gets partial okay | Intelligent design won't be part of the curriculum at Gull Lake Middle School, but the Gull Lake Community Schools Board of Education says it can be included in elective social-studies classes at Gull Lake High School (The Kalamazoo Gazette, Mi.)
Book's religious theme rankles Pa. county | Critics contend that "Missing Heaven," the book chosen for the new Chester County reading program, has faith in God as a central theme (Associated Press)
Higher ed.:
Ex-professor sues DePaul for old job | His lawyer says, "The message is if you're not tenured, don't speak up on behalf of Israel or Christians in the Middle East at DePaul" (Chicago Tribune)
Two Baylor administrators announce resignations | Marilyn Crone, Baylor vice president for enrollment and retention, and Rick Creel, associate vice president for operations and facilities, will leave the university at the end of June. The resignations bring to five the number of high-level Sloan-era appointments to be replaced or announce their resignations in the last two weeks (The Waco Tribune-Herald)
Commissioners OK Ave Maria project | Collier County commissioners gave a unanimous thumbs-up Tuesday to the $220 million development of a new Roman Catholic university and a town that could have 11,000 dwellings in the next 10 years (News-Press, Fort Myers, Fla.)
Social justice:
City clergy to double efforts on violence | 14 hot spots targeted for meetings, walks (The Boston Globe)
Social issues at forefront of march | The Rural Organizing Project events will look at concerns such as Social Security and rights (The Oregonian)
Church life:
Religious right, left meet in middle | Clergy aim to show that faith unifies (The Washington Post)
Baptists accepting women as leaders | The number of women taking on leadership roles in Baptist churches continues to grow, and they have come a long way within the last five decades, said Sarah Frances Anders, a retired professor of sociology from Louisiana College and an expert in the history of Baptist women (The Birmingham News, Ala.)
Conservative Anglicans' church plan revealed | Conservative Anglicans have drawn up detailed plans to set up their own church within a church, with their own constitution and decision-making synods, according to a document seen by the Guardian (The Guardian, London)
Where zoning seems a test of tolerance | Did land-use concerns or religious discrimination foster a strict zoning law? (The New York Times)
Missions & ministry:
Billy Graham's final 'crusade' invigorates city's Christians | The Reverend Billy Graham's final "crusade" is set to draw tens of thousands of Christians from around the world to New York next week. Yet the historic gathering is also having a profound local impact, invigorating the city's Christian community in advance of the revival, and giving the faithful a renewed sense of long-term purpose. (New York Sun)
Christians find great joy in Mudville | Coming Saturday to the 66ers baseball game: Christian punk rock and talking vegetables (San Bernardino Sun, Ca.)
YMCA CEO suddenly resigns | Bagala said he was essentially forced to resign because of his commitment to including a Christian message in programs (KGET, Bakersfield, Ca.)
Holy orders fall on deaf ears among heathen youth | George Pell, Australia's most powerful Catholic, reckons the answer to widespread youth godlessness is for teachers to tell their charges to worship more (Emma Tom, The Australian)
Wildmon's day: Running the business of ministry | When he gets to work each morning - habitually early - the Rev. Don Wildmon usually unlocks the front door himself (Northeast Mississippi Daily Journal)
AFA Center for Law & Policy offers pro bono help for Christians (Northeast Mississippi Daily Journal)
Ministry in Africa:
Missionaries aren't scared off by strife | Park Cities: They care for AIDS victims in Ethiopia despite gunfire (The Dallas Morning News)
Darfur in darkness | Liberal evangelicals are picking up where conservative evangelicals left off (Rob Garver, The American Prospect)
Catholicism:
Priests seek to block bishop's installation | Over the past two weeks, seven priests have sought help from senior Catholic officials in Chicago and Washington to stop Edward K. Braxton's installation on grounds that the normal process for matching a new bishop to a diocese was not followed, and that church leaders who traditionally participate in the selection were not consulted (St. Louis Post-Dispatch)
Church cautioned against fearing Vatican | One of Ukraine's top religious leaders said Wednesday the Orthodox Church should not fear the Vatican and there are no obstacles to greater cooperation between the two Christian churches (Associated Press)
Weymouth parish achieves vigil's goal | Archdiocesan decree reopens St. Albert's, occupied 10 months (The Boston Globe)
Bishop meeting to avoid gay issue | U.S. Catholic bishops will sidestep the issue of whether homosexual men should become priests at their semiannual meeting, which begins tomorrow, despite the Vatican's concern about the role of homosexuals in the church's massive sex-abuse scandal (The Washington Times)
People:
Kenneth Taylor, publisher, dies at 88 | Taylor was best known as the creator of the Living Bible, which sought to make Scriptures more accessible to a broader audience by paraphrasing the King James version of the Bible, putting passages in simple, easy-to-understand English (Associated Press)
Taiwan's gangster-turned-preacher | David Lu was given two jail terms before he reformed (BBC)
Onward, Christian soldier | As the vicar of Baghdad, Canon Andrew White has been robbed by gunmen and summoned to supper with Saddam's sons (The Telegraph, London)
Courage under fire: Profile of Archbishop Pius Ncube | A Catholic cleric who has earned praise for confronting Zimbabwe's dictator plays a prophetic role in battling oppression (Beliefnet)
Crime & abuse:
Springfield pastor charged with molesting girl, 4 | An associate pastor at a Springfield Lutheran church has been charged with molesting a 4-year-old girl, Fairfax County police said yesterday (The Washington Post)
Gathering urges full probe of church | Carolyn Clark, 43, of Plymouth Township, was found beaten to death early May 7 at an Ashtabula home where she had been staying. She was trying to leave her estranged husband and the Apostolic Faith Church Body of Jesus Christ of the Newborn Assembly (The Plain Dealer, Cleveland)
Science & health:
Suing to stay on life support | A court case that speaks to choice in healthcare (Editorial, The Christian Science Monitor)
A bone to pick in Indonesia | Discovery of remains in a cave that may be of a previously unknown species of tiny human has set off a full-sized row among scientists (Los Angeles Times)
The age of autism: Feedback on the Amish | Readers of this column have reacted strongly to our series of reports on autism among the Amish (UPI)
Studies challenge earlier report on virginity pledges:
Abstinence-only data released | Study reporting hopeful signs, but it's too soon to see effect on behavior (The Dallas Morning News)
Studies rebut earlier report on pledges of virginity | Two new studies reported that young people who took virginity pledges had lower rates of acquiring sexually transmitted diseases and engaged in fewer risky sexual behaviors (The New York Times)
Spirituality:
The evil that men do | Fear of witchcraft can lead to great barbarity, as we have just seen. But it is not barbaric to believe in demonic possession (Theo Hobson, The Spectator)
Spiritual path | Church's prayer labyrinth provides respite from trouble (Ft. Worth Star-Telegram)
The rise of religion in American life | I simply don't know what to make of the phenomenon (Roger Rosenblatt, The NewsHour with Jim Lehrer, PBS)
Money & business:
God and money: a good mix | Is regular churchgoing good for your wallet? (U.S. News & World Report)
Study: Is religion good for you? | Religious market structure, religious participation, and outcomes (Jonathan Gruber, National Bureau of Economic Research)
Related Elsewhere:
Suggest links and stories by sending e-mail to weblog@christianitytoday.com
See our past Weblog updates:
June 14
June 10 | 9 | 3 | 2 | May 31
May 27 | 26 | 24 | 23
May 20 | 17 | 16
May 13 | 11 | 9 | 6
Weblog
Launched in 1999, Christianity Today's Weblog was not just one of the first religion-oriented weblogs, but one of the first published by a media organization. (Hence its rather bland title.) Mostly compiled by then-online editor Ted Olsen, Weblog rounded up religion news and opinion pieces from publications around the world. As Christianity Today's website grew, it launched other blogs. Olsen took on management responsibilities, and the Weblog feature as such was mothballed. But CT's efforts to round up important news and opinion from around the web continues, especially on our Gleanings feature.
Ted Olsen is Christianity Today's executive editor. He wrote the magazine's Weblog—a collection of news and opinion articles from mainstream news sources around the world—from 1999 to 2006. In 2004, the magazine launched Weblog in Print, which looks for unexpected connections and trends in articles appearing in the mainstream press. The column was later renamed "Tidings" and ran until 2007.
Previous Weblog Columns: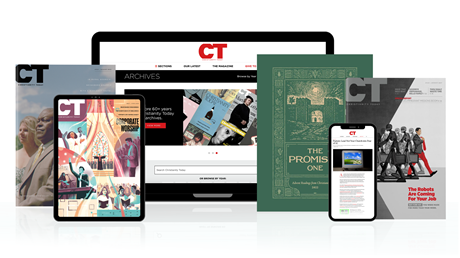 Annual & Monthly subscriptions available.
Print & Digital Issues of CT magazine
Complete access to every article on ChristianityToday.com
Unlimited access to 65+ years of CT's online archives
Member-only special issues
Subscribe
Schiavo Was Blind and Unabused, Says Autopsy
Schiavo Was Blind and Unabused, Says Autopsy