Slogans, celebrities, politicians, and Christian activists are grabbing headlines globally this week in anticipation of the international Group of 8 meetings in Scotland.
The potent mix includes the heads of eight leading industrialized nations along with Live 8's Bob Geldof, U2's Bono, Jars of Clay, Kanye West, Rick Warren, Pat Robertson, and evangelical churchgoers.
Normally, the G8 summit elicits about as much evangelical interest as moss growing on trees. But this year evangelicals are joining the ranks of activists at the annual gathering, held this year in Edinburgh, Scotland.
Their shared goal is to change government policies that will save lives in Africa. A broad coalition of religious and political leaders has endorsed:
Doubling financial aid sent to the world's poorest countries.
Debt cancellation for the poorest nations.
Reform of trade laws so poor nations are not shut out of global markets.
Activists hope all these steps will result in new growth in African economies and that in turn will translate into fewer deaths from malaria, HIV/AIDS, and starvation.
ONE, the campaign "to make poverty history," has become the focal point of advocacy for the G8 meetings and includes leading evangelical groups, such as World Vision, Bread for the World, and World Concern.
ONE campaign leader Geldof helped organize the July 2 mega-rock concert series Live 8 to raise public awareness and sway the leaders of the G8 countries to make these policy reforms. Geldof in 1985 organized the historic Live Aid concert that raised funds to fight famine in Africa.
Geldof told CT that Africa's poverty and misery is "the great moral sorrow of our time." Many G8 leaders favor debt cancellation and significant increases in aid, but fewer leaders support reform of trade laws because it may result in job losses within their own nations.
In planning for the concerts this past weekend, Geldof realized something that many of his secular European colleagues fail to recognize: The solutions to Africa's needs will only come about if evangelicals are brought into the fray.
"In the U.S. evangelicals are a huge force for change," he told CT. He said in Africa the roles of evangelical Christians, Roman Catholics, and Muslims have become the fundamental facts of life. "People fail to understand how important a role religion takes in Africa."
Geldof's partner in the Live 8 concerts is mega-rock star Bono, U2's charismatic leader who has acknowledged Christian beliefs. Bono has worked through his organization DATA (Debt, AIDS, Trade, Africa) to partner with Christian relief and development groups.
In Philadelphia, the Live 8 concert featured evangelical Christian artists like Jars of Clay—fresh from an appearance with evangelist Billy Graham in New York City, along with headliners Kanye West and Destiny's Child.
The Bono Effect
Shayne Moore, a member of the Wheaton Bible Church in Wheaton, Illinois, says she has come to Edinburgh because her heart was broken by Bono's descriptions of African suffering. (For example, every day, 6,300 Africans die of AIDS, more than 1,200 of them children.)
"Bono came to Wheaton College in December 2002," Moore said. "By the time I left the concert, I had changed."
At Wheaton, Bono issued his challenge, "If the church doesn't respond, who will?"
The change inside of Moore was a deep transformation. She moved from being the classic suburban mom who happily shops for family bargains at Target into a person with global concern. She now considers herself a faith-oriented activist and has come to Edinburgh with other evangelicals linked with the ONE Campaign. They will be networking, organizing, and strategizing how to change government policy and push for local church involvement.
Like many of the evangelicals here in Edinburgh, Moore came with a new compassion for Africans. She and her husband even helped sponsor an entire Zambian village through World Vision. Moore looks at her own children when she see pictures of African kids dying of malaria and AIDS. "I don't have to go miles to get clean water for my kids."
Bono, Geldof, and others working to end poverty in Africa have tapped into the vein of evangelical compassion, typically channeled through local churches and charities, but now also directed into reform of government policies on trade and aid.
For Moore, it is a long way from the foreign missions appeals at Wheaton Bible Church, which she joined in 2004.
G8 meetings in Scotland run July 6-8. Live 8 leaders are saying, "The whole world is watching." Moore and other evangelicals in Edinburgh hope the whole church is paying close attention too.
Tony Carnes is a senior writer for Christianity Today.
Related Elsewhere:
Videos of Jars of Clay playing Flood and Show you love at Live 8 are available from AOL.
World Vision's G8 call to action is available on their website.
More about the concerts is available from the Live8 website.
Articles elsewhere on evangelical participation at the rallies outside the G8 Summit includes:
Article continues below
US evangelicals boost green lobby | Environmentalists are blaming US President George Bush and his friends in the energy industry for wrecking a G8 deal on global warming before he has even boarded the plane to the summit in Gleneagles. (BBC, July 5, 2005)
Bush goes with flow of rightwing tide | President guards his legacy but supporters start to show movement on vital issues (The Guardian, UK, July 5, 2005)
US Churches Unite Against Poverty Ahead of G8 Summit | Religious leaders in the US have put aside theological and political differences ahead of the G8 summit in Scotland next week and joined forces against global poverty and hunger, especially in Africa. (Christian Today, UK, June 29, 2005
Poverty takes center stage | Rock stars, religious leaders and others show renewed zeal in war on world hunger (The Dallas Morning News, June 25, 2005)
Whose jubilee? | Powerful names in Christendom join music moguls to mount a seductive campaign to cancel poor-nation debt—a plan more likely to benefit oppressors of the poor than the truly impoverished (World, June 25, 2005)
'Earthy evangelist' changes US climate | Europe's environmental activists are not renowned for their faith in the power of prayer. But in the run-up to the G8 summit they should put their hands together for the Rev Richard Cizik. (Daily Telegraph, UK, June 23, 2005)
Christian activists welcome Live 8 opportunity | The campaign to end poverty in Africa will soon get a boost from some big-name entertainers, and Christian anti-poverty activists are welcoming the effort. (Canadian Christianity)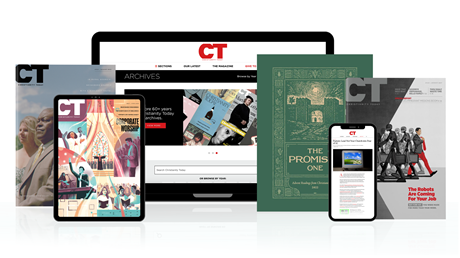 Annual & Monthly subscriptions available.
Print & Digital Issues of CT magazine
Complete access to every article on ChristianityToday.com
Unlimited access to 65+ years of CT's online archives
Member-only special issues
Subscribe
Jesus at G8
Jesus at G8