A few billion years ago—according to one widely accepted Creation scenario—there was a Big Bang: creation ex nihilo, as the Church fathers described it. (For an excellent account of why that doctrine matters, see Creation Out of Nothing: A Biblical, Philosophical, and Scientific Exploration, by Paul Copan and William Lane Craig, published recently by Baker Academic. It offers a helpful corrective to some misconceptions in Simon Singh's Big Bang: The Origin of the Universe, just out from Fourth Estate.)
Somehow that primeval beginning leads to my little corner of spacetime, where books appear like newborn matter, forming galaxies, occasionally exploding or imploding. Who can count the stars in the heavens—or the books in my office?
Impossible, then, to take note of the significant books from the year just past. But here are a few, in addition to the favorites mentioned last week, that caught my eye.
As usual, B&C's regulars did their share, and there isn't room to list all the books they contributed to 2004's total. With apologies to the many not acknowledged here, let me mention two books that appeared late in the year. Joseph Loconte's The End of Illusions: Religious Leaders Confront Hitler's Gathering Storm (Rowman & Littlefield) juxtaposes pieces by influential thinkers opposing U.S. participation in the war with pieces arguing for the moral imperative to resist Nazism by force. Most of the writers on both sides speak from an explicitly Christian perspective. Loconte contributes an introductory essay relating this debate from the 1940s to our current preoccupations.
I'm not a Calvinist, as some of you may have gathered by now, but I have many friends who are, and I have learned a great deal from them and their tradition—not least from Richard Mouw, the president of Fuller Theological Seminary. His latest book, Calvinism in the Las Vegas Airport (Zondervan), is a model of robust engagement, unapologetically but not uncritically grounded in his Reformed heritage and looking for points of contact with people who need to hear the Good News, as we all do.
A year or so ago in this space I mentioned looking forward to the second installment of Erasmo Leiva-Merikakis' ongoing commentary on the Gospel of Matthew, Fire of Mercy, Heart of the Word (Ignatius). It did not disappoint. I urge you to get both volumes now published—and join me in waiting for volume 3. (Warning: it may a long wait!)
Books to look at? The most ravishing book I saw this past year was Barnett Newman: A Catalogue Raisonne, by Richard Shiff et al. (Yale Univ. Press). While looking through this massive, God-haunted volume I was also reading Mark Rothko's The Artist's Reality, written in the early '40s and only now published (also by Yale), with an introduction by Rothko's son Christopher. In Rothko as in Newman there's a mix of humility and hubris, an ache for the transcendent and a certain pomposity that creates inadvertent comedy. I was also reading de Kooning: An American Master, by Mark Stevens and Annalyn Swan (Knopf), which offers a very different angle on the same moment.
A lovely, unexpected book, Japanese Kite Prints, by John Stevenson (The Drachen Foundation/Univ. of Washington Press), offered—simply by its existence—a warning against sweeping generalizations about Art, and granted admittance to another world. The world as seen in Shohei Tomatsu: Skin of the Nation (Yale Univ. Press), the catalogue of a photography exhibition I hope to catch on its travels, is that of postwar Japan, site of cultural collisions that are in some ways as familiar as the local mall. (The book comes with a preface by the photographer Daido Moriyama.)
Bedside books? Along with David Markson's Vanishing Point, mentioned last week, one of the year's best was Brooke Allen's collection of literary essays, Artistic License (Ivan R. Dee), funny and sharp and full of piquant detail. Also a pair of books on writing, The Sound on the Page: Style and Voice in Writing, by Ben Yagoda (HarperCollins) and The Writer's Voice, by A. Alvarez (Norton).
For a poem or two a night, there was Czeslaw Milosz's posthumous collection, Second Space (Ecco), and the big volume of Richard Wilbur, Collected Poems 1943-2004 (Harcourt); both will be reviewed in B&C sometime in the next year. Also All the Poems of Muriel Spark (New Directions), a beautifully made book.
Reissues? For me, the reissue of the year, hands down, was The Notebooks of Simone Weil (Routledge), long out of print and very hard to find. Others include the Library of America edition of Isaac Bashevis Singer's Collected Stories (in three volumes); a 20th-anniversary edition of William Gibson's Neuromancer (Ace), with a new preface by Gibson; and some scrapings near the bottom of the Philip K. Dick barrel. I remain enormously grateful to Vintage for this magnificent project, which will be complete in 2005. Still to come are two PKDs for completists, The Crack in Space and Dr. Futurity, plus (in August) a new anthology to be called Vintage PKD. There will also be some buzzing about the Richard Linklater film based on Dick's novel A Scanner Darkly—one of my least favorites of his books.
Mention of these forthcoming items reminds me that I had promised this week to include some new arrivals and coming attractions—and The Worst Book of the Year (2004, that is). I will have to defer those to next week.
John Wilsonis editor of Books & Culture.
Related Elsewhere:
The books mentioned above are available from Amazon.com, Christianbook.com, from the publisher, or other book retailers.
Two weeks ago, Wilson listed his top ten books of 2004. For more books, see Christianity Today's 2004 book awards and our collection of articles, interviews, and reviews from all the CT book awards through 2000, including the books of the century.
Books & Culture Corner appears every Tuesday. Earlier editions of Books & Culture Corner and Book of the Week include:
The Top Ten Books of 2004 | And a warning about the risks of reading. (Dec. 28, 2004)
Modern, All Too Modern | Tom Wolfe's new novel, largely reviewed as a satiric report on the sexual mores of today's college students, is fundamentally about the nature of the human will. (Dec. 14, 2004)
Unfashionably Good | A savory collections of essays by Alan Jacobs. (Dec. 07, 2004)
Communicating Communication | A roundup from the National Communication Association's annual convention. (Nov. 30, 2004)
"Summer's Ebullient Finale" | A richly varied anthology offers a "spiritual biography" of autumn. (Nov. 15, 2004)
Autumn Books | Some that stand out in this season's plenty. (Nov. 15, 2004)
Reaching the Light | A review of On Broken Legs: A Shattered Life, a Search for God, a Miracle That Met Me in a Cave in Assisi. (Nov. 09, 2004)
The Prayers of a Self-Governing People | A psalm for Election Day. (Nov. 02, 2004)
In Memoriam: Jacques Derrida (1930-2004) | Remembering a philosopher who never forgot about death. (Oct. 19, 2004)
Whose Independence? | All the Founding Fathers of America celebrated "independence," but what the word meant depended on who was speaking. (Oct. 12, 2004)
Darkness Visible | An unsparing new memoir by the author of Slackjaw. (Oct. 05, 2004)
After Worldview? | A lively conference offers a state-of-the-art assessment of the concept of "worldview," with both advocates and dissenters represented. (Sept. 28, 2004)
A Forgotten Founder's Fatherhood | Race, nature, and patriarchy meet in Rhys Isaac's biography of early American diarist Landon Carter. (Sept. 21, 2004)
The Great American Hustle | The first volume of an ambitious new history of America highlights the engine of "worldly ideals"—and the role of evangelical religion in creating a distinctive American identity. (Sept. 14, 2004)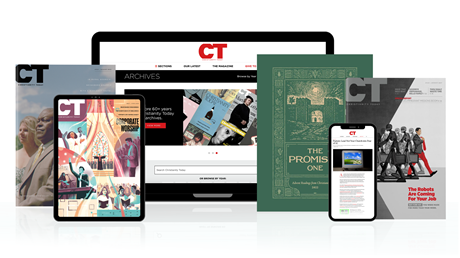 Annual & Monthly subscriptions available.
Print & Digital Issues of CT magazine
Complete access to every article on ChristianityToday.com
Unlimited access to 65+ years of CT's online archives
Member-only special issues
Subscribe
From the Big Bang to my Office
From the Big Bang to my Office