true
Like the precious, precocious little girl she plays in Because of Winn-Dixie, a warmhearted, family-friendly film opening Friday, 11-year-old AnnaSophia Robb just wants everybody to be happy. "Opal has a lot of love in her heart," AnnaSophia says of her character in the movie, "and she just wants to give it to people."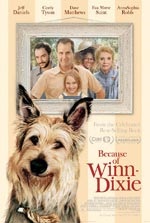 The film, based on the best-selling book of the same title, tells the story of a lonely young girl, Opal, who adopts an orphaned dog she has named Winn-Dixie—for the supermarket where she found him. Together, Opal and the dog bring together hurting people in a small Florida town—including her own relationship with her father, a pastor (played by Jeff Daniels) whose wife left him years earlier and who doesn't really know how to connect with his daughter. "He loves Opal so much," says Daniels, "but there's a wall between them. And then this funny stray dog shows up and just pounds away until the wall starts to crumble. Because of Winn-Dixie is much more than a film for the entire family; it's a movie about the power of communication and universal feelings of love."
"Opal and Winn-Dixie have something in common," adds AnnaSophia, a homeschooled fifth-grader who lives with her parents in Denver. "She doesn't have a mother, and he doesn't have a home. They both want somebody to love, and somebody to love them. And, as a team, they begin to realize that other people just might want the same thing."
The dog guides Opal into the lives of other hurting people—an eccentric librarian (Eva Marie Saint), a poor recluse (Cicely Tyson), a down-on-his-luck pet store clerk (Dave Matthews)—and magic things begin to happen: "Opal needs somebody to love," sayd AnnaSophia, "and Winn-Dixie does too. Then he teaches her not to judge people by what they look like when you first meet them."
We recently interviewed AnnaSophia, who went through a long audition process for Because of Winn-Dixie, beating out 650 other girls for the coveted lead role.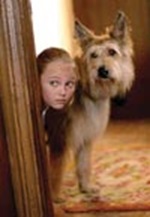 Why did you want to play this part?
AnnaSophia:
I read the book before I auditioned for the part. And I loved the book. When I heard they were making it into a movie, I auditioned for the part of Opal. It was a long process, but in the end I got the part.
What did you like about Opal that made you want to play that part?
AnnaSophia:
There are not many characters for kids that have much depth. And she really has a quality to her. She has an understanding of human beings. She can kind of sense their sadness, sense that they need somebody, and she's that person.
What do you hope people will get out of watching the movie?
AnnaSophia:
I hope they think about other people and how they can relate to them. I hope they think about how friends and family and love are so important in life—that you can't just be mean to someone that you don't like, or if someone is mean to you. You have to be kind to them, talk to them and try to be friends. And they can end up being some of the best friends that you'll ever know.
In what ways are you like Opal?
AnnaSophia:
Opal loves to be around people. She likes to make new friends, and I love doing that. And I think Opal is a little bit competitive, and I think I'm a little bit competitive.
I bet you had to be competitive when you were auditioning for the part.
AnnaSophia:
Well, yeah. You have to want it. If you're not a little bit competitive, you won't try your hardest and you won't try to do a good job.
How old were you when you first realized you wanted to act?
AnnaSophia:
I was three.
What kind of acting did you do then?
AnnaSophia:
I did a lot of school plays. I think I had a solo. When I was five I had a solo up in church. I sang a song, but I don't remember what it was.
Do you still sing in church?
AnnaSophia:
Not really, because I'm a little bit busy with the acting in LA and everything.
How do you feel about dogs?
AnnaSophia:
I love dogs! Even before this movie, I loved dogs. They're my favorite animal. They are so sweet. I love working with a dog because dogs have a mind of their own. So you can teach them. But they'll always have personality.
Do you have a dog at home?
AnnaSophia:
Yes, a Maltese and poodle mix named Bella Roux.
Do you have any funny stories about working with a dog on the movie set?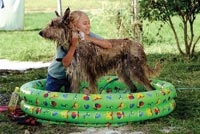 AnnaSophia:
Yeah, a lot of things almost every day. One day when we were eating, the dog was eating peanut butter and making so much noise smacking his lips, they had to take the mike off, so it couldn't hurt anybody's ears. Another time, I was washing the dog in this little blow-up bathtub. And the dog did not like the water and ran away—he did a circle around the trailer. He just ran around so I couldn't put him back in the water, but then he came back.
Did the director yell Cut! at that moment?
AnnaSophia:
No, he liked it, so he kept that in the movie.
The director, Wayne Wang, describes you as somebody who's not afraid to do anything. Is that true?
AnnaSophia:
Yes. I'm not really afraid to do anything. I'd do skydiving, if I could be with someone. Yeah, I think.
What kinds of things do you like to do when you're at home?
AnnaSophia:
I like to swim and dance, hang out with my friends, go shopping, play with my dog, and baking. I love to cook.
Besides Winn-Dixie, what is your favorite movie?
AnnaSophia:
The Harry Potter and Lord of the Rings movies. I love fantasy. They're whimsical. And I think they're wonderful books.
Have you read them all?
AnnaSophia:
Yeah, all of them. I've read the fourth Harry Potter twice and I'm reading the fifth Harry Potter twice now. And I've read all the Lord of the Rings books.
What's next for you?
AnnaSophia:
I don't know. I'm going out to LA to audition for some things and see what happens.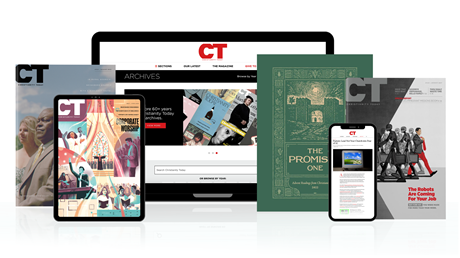 Annual & Monthly subscriptions available.
Print & Digital Issues of CT magazine
Complete access to every article on ChristianityToday.com
Unlimited access to 65+ years of CT's online archives
Member-only special issues
Subscribe
Puppy Love
Puppy Love