In the early 19th century, the Huichol miners, who climbed a thousand feet by ladders every day in the silver mines of Mexico's Sierra Madre Mountains, found a way to save energy: They made the ascent in a zigzag motion. This way of proceeding gives a method of organization as well as a title to Anita Desai's new novel, in which she knits together the experiences of both living and dead protagonists, shifting back and forth between the past and the present.
In this book, as in previous novels such as Baumgartner's Bombay and Fasting, Feasting, Desai once again takes up the themes of foreignness and displacement. TheZigzag Way follows Eric, a world-weary recent Harvard graduate and aspiring writer who has just finished his dissertation on immigration patterns in early 20th-century Boston. A bit of a dreamer, he can't muster the enthusiasm to expand his work into a book, so when his live-in girlfriend, Em, is offered a sabbatical in Mexico, he wants to go. Em has misgivings—"You're an Americanist," she tells him—but he isn't dissuaded.
As soon as he steps off the plane, Eric is enchanted by Mexico, "distracted by everything … the booths displaying textiles bright with rainbow stripes and rainbow flowers, tequila bottles shaped like cacti, sweets made out of cacti and fruit … more people with black hair and brown skin than he had ever encountered."
But after the two settle in, Em takes off for the forests of Yucatán with her colleagues to conduct field research; Eric is left alone and without a sense of purpose. He remembers that his grandfather worked in the mines of the Sierra Madre and determines to connect with his ancestry by visiting the town where his grandparents lived—where his grandmother died giving birth to his father just as Pancho Villa and the Mexican Revolution came through.
Eric's journey is interwoven with those of two others. His first stop is at the hacienda of Dona Vera, "Queen of the Sierra," whose existence Eric learns of when he attends her lecture on the mystical Huichol trinity of deer, maize, and peyote. An eccentric and formidable Viennese woman with a mysterious past, Dona Vera has dedicated her fortune to preserving the culture of the Huichol. She has made her "Hacienda de Soledad" a Mecca of art, artifacts, and history books on the Huichol.
Unfortunately, Dona Vera is an arrogant woman —a terror to both her visitors and servants. "Dona Vera was too angry to speak for awhile. When she did, she sputtered, 'What? What? We are not a mu-se-um of min-er-ology, are we? Did you tell [Eric] that he has made a mistake? I will tell him so.'" She doesn't know the Huichol language, and can't understand that that the greatest desire of the Huichol people she knows is to escape the Sierra Madre to make a living in the city.
Still, it is in Dona Vera's hacienda that Eric begins to uncover traces of his past. The magnificent centerpiece, the book's gem, is the story of another European émigré, Eric's grandmother Betty Jennings. Desai flashes back to Betty's youth, when she leaves her native Cornwall for Mexico to be with her fiancé, Davey Rouse, a mine worker.
Only one of the book's four short sections is devoted to her, but it is Betty's story that produces the book's real momentum. Like both Dona Vera and her grandson many decades later, she is entranced by the spirit of Mexico. Betty's story of adjustment to her new life in this strange land is so full of innocence, wonder, discovery, and eventually drama and sadness that it could have been a much longer novel in itself.
At every turn, the vitality of Mexican life is contrasted with the more subdued ways of the Cornish. "'We have moved into our own home,'" Betty writes to a friend. "'They are not so unlike the ones we have at home in Cornwall, except they have red-tiled roofs and the walls are as colored as a rainbow—bright blue next to yellow and pink or orange next to green.'"
When the pale, weak Betty dies during childbirth, her motherless son is cared for by a Mexican woman "with two brown eyes below painted eyebrows" and a "head of black ringlets" who recently delivered a stillborn baby. And all the strands of the story come together on the Mexican holiday el dia de los muertos, the Day of the Dead, when Eric meets a woman on a hillside who appears to be the ghost of his grandmother, waiting for her husband and son.
Desai is at her best when she is describing the landscape of a country she portrays as steeped in God, life, death, magic, and legend. At times, the book reads like a travelogue—she carefully fleshes out the texture of her subjects, thoroughly unpacking every detail and writing as if photography had never been invented—but her characters are pilgrims who cross into places not found on any map.
Rachel DiCarlois an editorial assistant at The Weekly Standard.
Article continues below
Related Elsewhere:
The Zigzag Way is available from Amazon.com and other book retailers.
More information is available from the publisher.
The Guardian and The Telegraph in the UK, have reviews, as does California's Mercury News.
Books & Culture Corner and Books & Culture's Book of the Week, from Christianity Today sister publication Books & Culture: A Christian Review, appears regularly on Tuesdays at Christianity Today. Earlier editions include:
What Do You Mean, 'Moral' Fiction? | John Gardner, Martin Amis, and the ethics of the novel. (Jan. 25, 2005)
Taking the T.U.L.I.P. Out of the Garden | Relating Calvinism to "the complexities of contemporary life." (Jan. 18, 2005)
Booking Ahead | The conclusion of our seasonal roundup—and, at last, truly, this time we mean it, The Worst Book of the Year (Jan. 18, 2005)
From the Big Bang to my Office | More books to note from 2004. (Jan. 11, 2005)
The Top Ten Books of 2004 | And a warning about the risks of reading. (Dec. 28, 2004)
Modern, All Too Modern | Tom Wolfe's new novel, largely reviewed as a satiric report on the sexual mores of today's college students, is fundamentally about the nature of the human will. (Dec. 14, 2004)
Unfashionably Good | A savory collections of essays by Alan Jacobs. (Dec. 07, 2004)
Communicating Communication | A roundup from the National Communication Association's annual convention. (Nov. 30, 2004)
"Summer's Ebullient Finale" | A richly varied anthology offers a "spiritual biography" of autumn. (Nov. 15, 2004)
Autumn Books | Some that stand out in this season's plenty. (Nov. 15, 2004)
Reaching the Light | A review of On Broken Legs: A Shattered Life, a Search for God, a Miracle That Met Me in a Cave in Assisi. (Nov. 09, 2004)
The Prayers of a Self-Governing People | A psalm for Election Day. (Nov. 02, 2004)
In Memoriam: Jacques Derrida (1930-2004) | Remembering a philosopher who never forgot about death. (Oct. 19, 2004)
Whose Independence? | All the Founding Fathers of America celebrated "independence," but what the word meant depended on who was speaking. (Oct. 12, 2004)
Darkness Visible | An unsparing new memoir by the author of Slackjaw. (Oct. 05, 2004)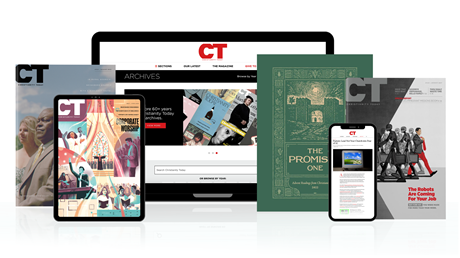 Annual & Monthly subscriptions available.
Print & Digital Issues of CT magazine
Complete access to every article on ChristianityToday.com
Unlimited access to 65+ years of CT's online archives
Member-only special issues
Subscribe
Wayfaring Strangers
Wayfaring Strangers