Habitat for Humanity International announced January 31 that it had fired founder and president Millard Fuller and his wife, Linda.
In a statement, HFH said, "The termination decisions culminate several months of differences between the Fullers and the board over an allegation of inappropriate personal behavior of Millard Fuller toward a now-former female employee, and the Fullers' behavior as the investigation into that complaint unfolded." HFH said there was insufficient evidence to corroborate the complaint, but said Fuller engaged in a "pattern of ongoing public comments and communications … that have been divisive and disruptive to the organization's work."
What is certain is that the events that led to the firing reveal the changing culture of the highly successful housing ministry, and the inability of its charismatic founder to thrive in the environment he helped create.
The Fullers' high-profile departure brings to an end a 29-year effort that started just as dramatically when Millard and Linda stepped away from successful business ventures that had made them millions, sold everything, and with the money began Habitat for Humanity. The organization has become the world's largest nonprofit housing organization, and has provided safe, decent, and affordable shelter to 750,000 people in more than 3,000 communities.
Replay of anguish
For Millard Fuller, 70, the current battle with the board is reminiscent of the anguish of the early 1990s, when he was accused by five women of untoward familiarity and was exiled from the Americus headquarters in south Georgia to Atlanta for a year. According to a former Habitat executive, the conflict and recriminations of 1990-1991 left the organization shaken and nearly ended the involvement of Habitat's key patron, former President and fellow south Georgian Jimmy Carter.
"I don't know if any of the allegations, then or now, are true. They were never proven. But Millard certainly made some bad judgments," this former executive said. "It's hard to believe he'd get in a car alone with a female member of the staff, even after so many years. He put himself in a situation in which he has a hard time defending himself."
Carter was one who concluded there was no basis for the 2004 allegation. He wrote to board chairman Rey Ramsey on May 1, 2004: "I have considered carefully the information you gave me in our telephone conversation and that was provided by the directors to Millard and his attorney, and it is obvious that there is no proof of impropriety, much less of actual sexual abuse. It is a case of conflicting reports, the earliest notice of which was made by the accuser more than a year after the alleged incident."
The current CEO and the Fullers have signaled that the relationship between Millard Fuller and the board was wearing thin for many reasons.
Chief executive officer Paul Leonard fueled speculation when he told the Associated Press: "You have to have the enthusiasm Millard brings. But right alongside of it you have to be organizing and putting in place the people that you need to carry things forward."
A senior Habitat official said on the condition of anonymity that it was not the harassment charges but a need to find more skilled management for the booming organization that prompted the board's final decision. The official said Habitat faced what many organizations have in the past when the demands of what had become a large enterprise outstripped the abilities of its visionary founder.
Millard Fuller told Christianity Today he fears that the board used the controversy to ease him out in order to find a "high-paid bean counter" instead of someone with "strong Christian commitment," and that Habitat will become "just another nonprofit doing good work across the country and around the world."
Fuller recognizes that the board is yearning for a different kind of leader: "Habitat has been a movement, and I still see it as one. But that is messy, and our professional board members want a neat, crisp, clean business. That does create conflict."
The culture change goes beyond management style, Fuller contends, to a shift in spiritual emphasis.
"We've overloaded the board with 'money' people, all of whom are nominal Christians, but many of whom are not spiritually grounded," said Millard Fuller. "Some seem put off by my overt declaration of Jesus."
Fighting for reinstatement
Habitat spokesmen would not respond directly to these assertions, but the organization's church relations director, Rick Beech, said the firing was a personnel matter, not a difference over Christian identity.
"Habitat is and continues to be a Christian ministry," Beech said. "We do not hide this in our literature or communications, we start construction work days with devotions, and we present Bibles to homeowners as a witness to Jesus Christ."
The last chapter may not be written. A group of Habitat for Humanity affiliates around the country has banded together to form Habitat Partners. The day after the announcement of the firing, the group sent letters to all 1,700 U.S. affiliates asking that they support Millard Fuller's reinstatement, and established a website (http://www.habitatpartnersunite.com/) to coordinate action.
Chris Clarke, Habitat's senior vice president of communications, told CT that "there doesn't seem to be the groundswell the Fullers were expecting."
The website had 3,000 visitors and 100,000 hits in the first three days, and the petition has more than 1,260 signatures, many with fiery comments.
"The number of people who are supporting the petition, and their comments, are humbling," Millard Fuller told CT. "I am so encouraged, and I don't understand how the board could remain silent and unmoved."
The organizers are more devastated than angry.
Speaking from a Habitat building site in Westchester County, New York, local Habitat director Jim Killoran explained, "I don't have animosity for anyone who made the decision, but I want everyone to pray, to recommit to building more and more homes, and to reinstate Millard. God has used Millard Fuller and he is an inspiration to us."
David Snell, secretary of Habitat's Colorado affiliate, started the dissident movement.
"While we would like to see the numbers move higher more quickly, we continue to be encouraged," Snell said. "We now have signatures from 25 countries, and we expect to see a large increase this week as we get information to more people and countries."
While Habitat building sites were buzzing with the news over the weekend, and about 150 people rallied for the Fullers' reinstatement in an Americus park, Millard and Linda Fuller met Saturday with Jimmy and Rosalynn Carter to discuss the board's action.
Snell admits that he doesn't know what will become of their effort.
"Habitat folks are good Christians and not real confrontational," he said. "They've been presented with a situation that many are clearly unhappy with, but don't quite know how to handle. This is now in the hands of the Lord, the affiliates, and the volunteers."
Related Elsewhere:
Earlier Christianity Today articles about Habitat for Humanity and Millard Fuller include:
How to Build Homes Without Putting Up Walls | Habitat for Humanity strives to keep its Christian identity—a tricky task, when everybody wants to join. (May 31, 2002)
Sidebar: Evangelism of the Hammer | How Habitat's Christian identity gets translated in Costa Rica. (May 31, 2002)
Sidebar: Keeping the Faith | How other Christian organizations stay true to their mission. (May 31, 2002)
Article continues below
God's Contractor | How Habitat for Humanity's Millard Fuller persuaded corporate America to do kingdom work. (June 14, 1999)
Habitat Builds 50,000th Home | Habitat for Humanity had its busiest week ever starting September 8, constructing 150 homes in 70 cities. (Oct. 26, 1998)
Building Straw Houses on a Firm Foundation | Habitat for Humanity goes low-tech with big results. (Feb. 3, 1997)
A 2002 column by Philip Yancey focused on Jimmy Carter's work with the organization.
ChristianBibleStudies.com, a Christianity Today partner, has a study based on our 2002 cover story on Habitat.
The official Website for Habitat for Humanity has extensive information on where it builds and what the organization does including a quick tour, history, and profiles of Millard and Linda Fuller. It also has a press release about the Fullers' termination.
More news coverage of Fuller's firing includes:
Work suspended on Cleveland Habitat for Humanity house | Work on a Habitat for Humanity house in Cleveland was suspended Saturday in a symbolic show of support for the fired director of Habitat for Humanity International (WRWH, Cleveland, Ga., Feb. 7, 2005)
Group protests Habitat firings | More than 100 people gathered in Americus on Saturday to protest last week's firing of Millard Fuller, founder and president of Habitat for Humanity, the South Georgia-based Christian charity that builds homes for the poor (The Atlanta Journal-Constitution, Feb. 6, 2005)
Supporters rally for embattled Habitat for Humanity founders | More than 100 people gathered at Rees Park in Americus, where the organization's headquarters are located, with petitions calling for the rehire of Millard Fuller and his wife, Linda (Associated Press, Feb. 6, 2005)
For Habitat, a house divided | Ousted founder Fuller wants to return; quiet protests expected today (The Charlotte Observer, Feb. 5, 2005)
Fullers' firings stir up Habitat | Letter urges Habitat affiliates to observe work stoppage today (The Ledger-Enquirer, Columbus, Ga., Feb. 5, 2005)
Support builds for ousted Habitat founder | Stunned Habitat for Humanity volunteers and staffers nationwide are scrambling to support Millard Fuller, who was the organization's president until board members fired him this week (The Atlanta Journal-Constitution, Feb. 4, 2005)
Local chapters unite behind Habitat founder | Petitions from all 1,700 Habitat for Humanity chapters have been mailed to the organization's board of directors, and the message is clear: They are not willing to let ousted founder Millard Fuller go without a fight (Associated Press, Feb. 4, 2005)
Article continues below
Reinstatement of Habitat founder urged | Volunteers nationwide say he is instrumental in fund raising and has inspired them to carry out the group's mission of building homes for the poor (Associated Press, Feb. 3, 2005)
Habitat founder: Chapters want me back | The founder of Habitat for Humanity, fired over a dispute involving a sexual harassment allegation, says his dismissal has outraged many of the housing ministry's local chapters, and he predicts they will demand his reinstatement (Associated Press, Feb. 1, 2005)
Habitat founder, wife dismissed | The man who built Habitat for Humanity International from an idealistic dream born in rural Georgia into one of the world's best-known nonprofit organizations was fired Monday afternoon (The Atlanta Journal-Constitution, Feb. 1, 2005)
Habitat for Humanity fires its founder (Associated Press, Jan. 31, 2005)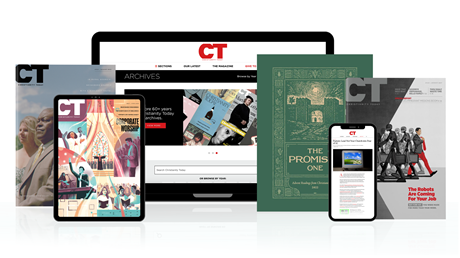 Annual & Monthly subscriptions available.
Print & Digital Issues of CT magazine
Complete access to every article on ChristianityToday.com
Unlimited access to 65+ years of CT's online archives
Member-only special issues
Subscribe
Questions Follow Fuller's Firing from Habitat for Humanity
Questions Follow Fuller's Firing from Habitat for Humanity