true
In 1998, director Gus Van Sant released a near shot-for-shot remake of Alfred Hitchcock's 1960 classic Psycho. This proved something of a challenge for film critics. How do you review a film so true to the original? On the one hand, it offers nothing new. On the other, it's skillfully made and there's no denying the strength of the source material.
Now here's an even trickier challenge: a film adaptation of a musical based on a film about the worst musical of all time: The Producers.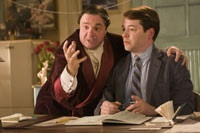 Mel Brooks wrote and directed the original 1968 movie about struggling Broadway producer Max Bialystock (originally played by Zero Mostel to comic perfection), who schemes with accountant Leo Bloom (an equally perfect Gene Wilder) to stage a musical so terrible that it's sure to flop opening night. That failure would lead to their success by allowing them to pocket the money of their investors: a long line of elderly women romanced by Bialystock. Comic hi-jinks ensue as the two producers set out to find the worst script they can find (Springtime for Hitler, written by Nazi Franz Liebkind as a love letter to the Fuhrer) and hire the worst director in town to oversee it (flamboyant cross-dresser Roger De Bris).
The film marked Brooks' directorial debut and is still considered a comedic classic—and one of his best films—to this day. Thirty years later, he teamed with composer Thomas Meehan to craft a Broadway musical based on his film. It ended up a major success in 2001, earning a total of twelve Tony awards—more than any musical before it. Directed by choreographer Susan Stroman, the show sold out regularly thanks to the inspired casting of its two leads, Nathan Lane as Bialystock and Matthew Broderick as Bloom.
Based on its successful theatrical run, not to mention a revival of movie musicals, it's not surprising that they've decided to bring The Producers to the big screen … again. But hopefully now you see the dilemma. How do you review a movie like this? Do you need to be a fan of Mel Brooks' brand of humor to appreciate it? Is a love of musicals essential to its enjoyment? Will fans of the original film mind seeing the story redone with a different cast and some changes to the story? Will non-fans even want to give this movie a chance? Not to mention that comedy is such a subjective genre. There are a lot of factors that play into a movie like this, which probably explains why critics are so evenly divided on it.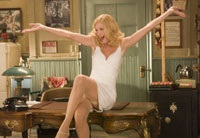 All I can say for sure is that I laughed my head off, even without the benefit of personal friends to share the experience with—though an equally amused audience also laughed along. Having seen the original film but not the stage production, there were times where I felt this new film improved on the original, and times where I preferred the comedic timing of the '68 version. But ultimately, the two movies are so similar, it does beg the question of whether or not the new movie needed to be made—especially when the original is readily available.
The movie's first ten minutes—when Bialystock and Bloom first meet—are nearly identical to the beginning of the original. And about eighty percent of the original story is preserved in this one, with sets that are very close to what we've seen before. Also, Mostel and Wilder were so good in the first film, that it's almost impossible to see anyone else in the same role.
I did say "almost." There's something to be said for recasting a movie with today's actors to reach a new generation. Though Mostel and Wilder will never be forgotten for originating the roles, it's fun to see other talented performers giving their best game in reinterpreting the parts. Say what you will about their performances in relation to their predecessors, but Lane and Broderick are awfully good in this movie.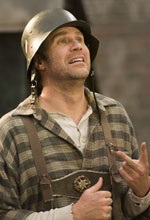 Lane is no surprise; he's one of Broadway's best comedic actors—a sort of cross between Jackie Gleason and Billy Crystal. He's perfectly smarmy-yet-loveable as Bialystock, to the point where you can't help but root for the guy, even though he's cheating so many people in the process. He's re-teamed with Broderick, his co-star from the stage (and The Lion King), who hasn't been this funny since his star-making turn as Ferris Bueller twenty years ago. Now in his early forties, Broderick mixes over-the-top neurosis with zaniness reminiscent of Jerry Lewis, yet he somehow manages to play Bloom as a likeably pathetic-but-innocent sap.
Broderick and Lane are also reunited with two others from the Broadway production: Gary Beach as flamboyant stage director Roger De Bris and his equally gay "common-law assistant" Carmen Ghia, played by Desperate Housewives regular Roger Bart. These two have some of the film's funniest bits, particularly Ghia's unforgettable introduction to Max and Leo.
That leads us to two newcomers to the franchise—Will Ferrell and Uma Thurman. Ferrell is the height of insanity as Nazi playwright Franz Liebkind, but the greater revelation is Thurman, who reveals herself as more than just a sexy blonde bombshell—even as she's playing a sexy blonde bombshell as Swedish office assistant Ulla. Thurman actually sings pretty well and has good comedic timing. In context, "Why Bloom go so far camera right?" may well be one of the year's funniest lines.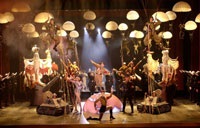 But the real reason to see this film is the addition of the musical numbers—catchy and clever songs, written in the style of classic 1950s Broadway musicals like Singin' in the Rain or Guys and Dolls. Particularly inventive is the way Bialystock woos the rich old ladies in a hilariously huge song-and-dance number involving scores of them dancing with walkers. Later, Lane gives a show-stopping song that quickly recaps the entire film as he wonders, "What went right?" with his scheme.
Which leads to the primary reason I prefer this remake. The original cast a hippie as the lead in Springtime for Hitler, but hippie humor isn't as funny today. Instead, let's just say that another character is cast in that role, and it helps explain why the musical ends up a hit instead of a flop. From there, the movie goes even further than the original, offering some funny new twists. The downside to all this is that the 1968 film served as a morality play in that our two conniving producers get their comeuppance. In this film, it's a little more "all's well that ends well."
There's something perfectly ironic about the whole thing. Here's a movie musical that parodies the theater business by attempting to stage the world's worst musical, and yet it also manages to pay homage to classic movie musicals in the process, not only with song-and-dance numbers, but also with its sense of humor. Still, only you can best decide whether this is the film for you, or if you should wait for the stage production instead, or rent the classic original, or just skip the whole thing altogether.
Talk About It
Discussion starters
This film includes "sexual humor." Is such innuendo as "bad" as explicit sex and bad language? Is one worse than the other?


Where do Bialystock and Bloom go wrong (or "right") in their scheme? What could they have done differently to ensure their success (or "failure")?


Based on this film's ending, do you feel it promotes bad behavior? Or is there still a lesson to be learned? Or is it simply all intended as fun?


Do you agree Bloom's comments at the trial? Is everyone happy and content with what happened, or was someone wronged in the process?
The Family Corner
For parents to consider
The Producers is rated PG-13 for sexual humor and references. Mel Brooks is the king of innuendo, and there's plenty of it here. Although there's nothing explicit, plenty is implied, and it's decidedly more "adult" than something like Young Frankenstein or Spaceballs. There's a scene where two characters are mistaken for a compromising homosexual position. There's also some bad language, including irreverent references to God, and some flamboyant gay humor that portrays it more as a freakish persona than a sexual lifestyle. Despite the PG-13 rating, this might even be inappropriate for younger teens altogether.
Copyright © 2005 Christianity Today. Click for reprint information.
What Other Critics Are Saying
compiled by Jeffrey Overstreet
from Film Forum, 01/05/06
Matthew Broderick and Nathan Lane reprise their famous Broadway roles in the big screen adaptation of the stage musical The Producers, which was adapted from a previous movie from the bizarre imagination of Mel Brooks. Susan Stroman, who directed the Broadway stage version, also directed this film version.
Does Brooks' outrageous story, which follows a Broadway producer and his accountant as they assemble a misguided musical about Hitler, still get laughs?
Bob Smithouser (Plugged In) was let down. "It was very disappointing to find the sexual content in Brooks' story cranked way up here—especially the playful treatment of homosexuality by flamboyantly gay characters. The audience found the steady flow of crass innuendo hysterical. For me it spoiled an otherwise colorful, artfully done film."
Keith Howland (Christian Spotlight) praises "good music and performances," but he finds the content "so besmirched with sexual (and homosexual) 'humor' that the whole production is degraded beyond pardon. It is a shame that a number of genuine belly laughs must suffer alongside such tastelessness. … If there is a 'moral' to the story of The Producers, it is that dishonesty and trickery triumph. That is not too good, either."
Christian Hamaker (Crosswalk) says, "Often riotous, this silly romp provides lighthearted laughs during a holiday season heavy with the weighty fare studios save for the Oscar derby." He concludes that "the often bawdy content … could have been much more imaginative. … But moral lessons are not the order of the day for this zany musical."
Mainstream critics have reached a split decision.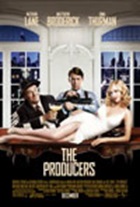 Browse All Movie Reviews By: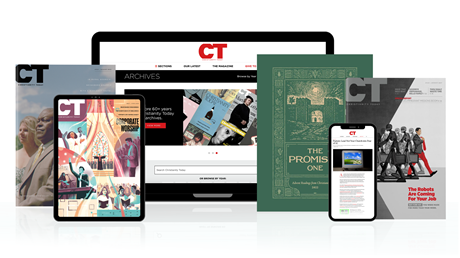 Annual & Monthly subscriptions available.
Print & Digital Issues of CT magazine
Complete access to every article on ChristianityToday.com
Unlimited access to 65+ years of CT's online archives
Member-only special issues
Subscribe
The Producers
The Producers