true
"Awesome!" "Aslan was cool." "I hope to see it again."
Such were some of the audience reactions to The Chronicles of Narnia: The Lion, The Witch and The Wardrobe, which opened worldwide last week and pulled in a cool $67 million domestically to finish No. 1 at the box office. The above comments were from moviegoers who had just seen the film at Seattle's Pacific Place Theaters.
Stefan Ulstein, one of our critics who teaches film studies at Bellevue (WA) Christian High School, took some of his students to see Narnia, and with a little help from Stefan's wife, Jeanne, the students rounded up the following comments from moviegoers. (Some of those interviewed were reluctant to give a name or age, so we've included what information we were able to gather.)
"It was really realistic," said 11-year-old Alexander Jackson. "You can actually see how real the lion is!"
"Awesome. Very powerful," added Bill Newman, 43, of Westminster Church.
"Great!" said Caron Eve, 65, "but not a Christian allegory. I take a wider perspective. All paths go to God."
"It's faithful to the story," said Jeff Snyder, who identified himself as an evangelical Christian. "It's great for kids and adults."
"Aslan wasn't scary, he was cool," said Kai Lake, a 10-year-old Christian. "My friends will want to see it!"
A writer for a gay magazine who didn't identify herself won't be taking any of her friends: "It was a great movie from the action standpoint, but I really didn't like the subtext of Christianity. I am outraged and angry and want to punch somebody in the face.
"As a feminist I didn't think it was right. Women are bringing their daughters and shouldn't. Females should be upset after seeing this movie. The male took over the female. I'm outraged and angry. I wish I could bring back C.S. Lewis and have a talk with him!"
But Brent Schuler, 25, a Christian who attends Mars Hill Fellowship, liked the Christian imagery: "The movie had helpful images. It was clear that a sacrifice was needed. Something had to be done because some consequence was required."
Kevin Smith, 33, who also attends Mars Hill, added that "it's hard to miss the Christian allegory."
Jonathan Docter, 35, said he "identified with Lucy. Lucy believed in something everyone else objected to." When asked if he saw the film as Christian allegory, he said, "I'm surprised you even asked that. I'm Jewish."
Jonathan Ross, 30, also "identified with Lucy. Who in their life hasn't had moments when everyone else said something was nuts and yet you know it was true?" He went on to say the film "had great appeal as a fantasy. It was a simpler story than The Lord of the Rings. It will appeal to children and adults."
Hoy Chou, an 18-year-old Buddhist, said the film was "so real, especially when they go through the wardrobe and you see the two worlds. I am reading the book in my English class. I didn't really see a Christian message at first, but now I can see that Aslan is Jesus."
Gene Baddle, a 62-year-old Lutheran pastor in Renton, said "it was very true to the book. Allegory? Yes. With C.S. Lewis's background, there's no way not to see it like that. I don't believe it's meant to be an in-your-face attempt to convert people, but it is inescapable. It takes a philosophical approach to faith. The story had to be high intellectually but also good for children."
Emma, 8, and Ethan, 6, who didn't give their last names, said their dad read the book to them, and agreed that the movie was "really good. I hope to see it again."
Bellevue Christian High School students who contributed to this story: Rachel Fox, Aubrey Jones, Spencer Kraker, Julie Kuoch, Christina Mawer, Jonathan Mawer, Nick Miller, Jusssie Naughten, Grant Olfert, Valerie Schoner, Amber Thomas, and Andrew Thomas.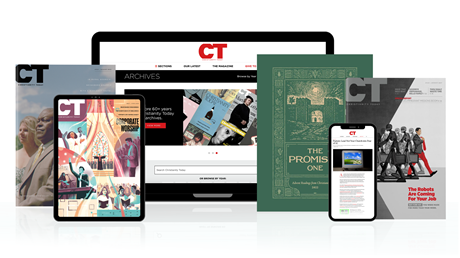 Annual & Monthly subscriptions available.
Print & Digital Issues of CT magazine
Complete access to every article on ChristianityToday.com
Unlimited access to 65+ years of CT's online archives
Member-only special issues
Subscribe
"Aslan Was Cool"
"Aslan Was Cool"