Anti-ID decision probably won't be appealed, but board members still might end up in court
There are countless discussion questions prompted by yesterday's court decision barring a Pennsylvania school district from requiring its schools to mention Intelligent Design and describe Darwin's theory of evolution as "a theory … not a fact."
We could discuss whether it's best to have a solitary judge rule on whether science requires methodological naturalism. We could discuss the propriety of a judge issuing a ruling that religion, and specifically with Christianity, are compatible with evolution. We could discuss William Saletan's interesting argument that Judge John Jones falls prey to the same "contrived dualism" that he condemns. We could talk about Jones's statement "no other tribunal in the United States is in a better position than are we to traipse into this controversial area" when Jones himself admits that the supposed supporters of Intelligent Design in this case "had utterly no grasp of ID" (one board member "consistently referred to ID as 'intelligence design' throughout her testimony.") And surely we could talk about the future of Intelligent Design as an academic pursuit in the wake of this ruling.
But first, before we talk about any of those things, let's talk about one of the major issues in Jones's ruling: honesty among the board members supporting Intelligent Design.
"Witnesses either testified inconsistently, or lied outright under oath on several occasions," Jones wrote. "The inescapable truth is that both [Alan] Bonsell and [William] Buckingham lied at their January 3, 2005 depositions. … Bonsell repeatedly failed to testify in a truthful manner. … Defendants have unceasingly attempted in vain to distance themselves from their own actions and statements, which culminated in repetitious, untruthful testimony."
Jones was particularly grieved that board members denied using the term "creationism" before switching the term to "Intelligent Design," and that some board members claimed not to know how copies of the book Of Pandas and People were donated to the school when Buckingham personally raised funds for the books at his church. If you're interested in the details, the York Daily Record has enough to choke a panda.
In Jones's conclusion (the entire 139-page decision is Scalia-like both in its readability and causticity, if not in its legal perspective), Jones twists the knife: "It is ironic that several of these individuals, who so staunchly and proudly touted their religious convictions in public, would time and again lie to cover their tracks and disguise the real purpose behind the ID Policy."
"Yes, ironic—at the very least. But also sinful according to the 9th Commandment. And perhaps also criminal," said an editorial in the York Daily Record. "We can only hope that the appropriate authorities are investigating possible perjury charges in this case. … The unintelligent designers of this fiasco should not walk away unscathed. They've damaged and divided this community, and there should be repercussions—a perjury investigation—beyond a lost election."
Bearing false witness?
Are these calls for perjury charges short-lived responses from a community angry at being "made a national laughingstock," as the editorial puts it? Or are Bonsell, Buckingham, and perhaps others at real risk of criminal charges?
It may be that the board members are safe, for the same reason that this case won't go higher in the court system: Eight of the nine school board members behind the ID policy were voted out in a recent election and replaced with members staunchly opposed to the policy.
"Those school board members have given conflicting statements as to whether they would allow the case to continue to the appeals courts in hopes of making it a national test case to ban intelligent design from the classroom," Time notes. But it's highly unlikely: The locals are really tired of being in national spotlight and have no desire to make their town an even larger issue. And because the town wishes this story would just go away, they may not want a criminal trial, either. But who knows?
In a separate news article, the Daily Record looks at the perjury question: Professor Richard Fallon of Harvard Law School said a judge wouldn't have the authority to level perjury charges in a case that he or she had tried. That authority would go to a prosecutor. Steve Harvey, a lawyer for the plaintiffs, said Jones would be able to forward any such concerns to federal prosecutors."
The paper does not quote Bonsell on the subject, but paraphrases him saying "he disagreed with the judge that the board provided a disservice to the public and that members lied to cover their tracks."
Buckingham was more direct in an interview with The New York Times. "If the judge called me a liar, then he's a liar," the former board member said.
Meanwhile, it's worth remembering that other supporters of Intelligent Design, like the Discovery Institute, are being sullied by the board members' actions. (The Discovery Institute actually opposed the Dover policy and every other policy requiring the teaching of Intelligent Design.) In fact, closing arguments in the case claimed that the board members' dishonesty was an outgrowth of the deception of the Intelligent Design movement in its "shell game" attempt to say it's not religious.
In an interview with the York Daily Record, Dover science teacher Rob Eshbach again equated the deception of the board members with the ID movement. "We are certainly glad that Judge Jones saw it for what it was," Eshbach said. He saw the lies that took place. The deception that took place. That's what we were hoping for."
Such equations are spurious, but expected. It is not terribly difficult to use the sins of a few to tar the intentions of the many. Nor is it difficult to criticize Darwinists for taking advantage of the opportunity.
What is more difficult is to recognize that so many of us are tempted to "forget" inconvenient facts, to retell events in a more positive light, to take shortcuts for the benefit of what we think is the greater good. When it comes down to it, though, which do you think God cares more about? That those who act in his name got a school district to call Darwinian evolution a theory, or that the entire world now considers them perjurers?
More articles
Intelligent Design decision (news) | Intelligent Design decision (opinion) | What's next for ID | Intelligent Design & evolution | Cobb County evolution stickers | Education | Higher education | Christmas at school | Christmas & state | Christmas wars | Christmas wars opinion | Fake Christmas war | Bill O'Reilly & Christmas | Christmas wars posters, etc. | Christmas & Jews | Christmas history | Archbishops condemn PC Christmas | Non-western Christmas | Caroling | Trees, wreaths, and candles | Christmas cards | Christmas commercialization | Pope's Christmas comments | Midnight mass | Closing church on Christmas | Christmas at church | The meaning of Christmas | More Christmas | Bethlehem | Persecution | Iraq | Sudan | Australian riots | Stem cells (Australia) | Stem cells (U.S.) | Life ethics | Abuse | Homosexuality | Same-sex marriage | Dick Otterstad | Crime | Osteens booted off plane | Ralph Reed | Politics | Church & state | Ten Commandments | Anti-Christianity | Military chaplains | Missions & ministry | Wrestling evangelism | Tsunami ministry | Charity | Money & business | Media | Christian gaming | Music | Books | C. S. Lewis and Narnia | Film | Television | Barbara Walters on heaven | Catholicism | St. Louis excommunication | Church life | Anglican Communion | People | Other religions | Spirituality | More articles of interest
Judge rules against Intelligent Design (news):
Judge rules against Intelligent Design (opinion):
Intelligent Design & evolution:
Cobb County evolution stickers ruling:
11th circuit skeptical of evolution sticker ruling | Judges decry inconsistencies in lower court's timeline of events (Fulton County Daily Report, Ga.)


Man who fought evolution stickers won't be silent | While awaiting a Court of Appeals ruling on the sticker suit, Selman busied himself gathering ammunition for a lawsuit to stop Christian prayers at government meetings (The Atlanta Journal-Constitution)


Appeals judges skeptical about Cobb ruling | Evolution disclaimers were 'literally accurate' (The Atlanta Journal-Constitution)


Appeals panel criticizes evolution ruling | A federal district judge had ordered the removal of stickers in a Georgia county's science textbooks that called evolution a theory (Los Angeles Times)


Federal judges consider evolution stickers | A federal appeals panel Thursday questioned the accuracy of a judge's ruling that a disclaimer in school textbooks describing evolution as "a theory, not a fact" represents an endorsement of religion (Associated Press)


Teach, don't preach, the Bible | A nonsectarian way to educate young people about faith (Bruce Feiler, The New York Times)


The poll says … Merry Christmas! | A USA Today/CNN/Gallup Poll taken Friday through Sunday finds that 69% of adults surveyed say "Merry Christmas" is the greeting they most likely would use this time of year when first meeting someone. That's up from 56% in 2004 (USA Today)


'Christmas' still thriving in public | There are only a few times of the year when banks, governmental offices, public and private schools, businesses big and small, and retailers all simultaneously either shut their doors in celebration or out of reverence - or shift work and production schedules to observe a holiday. And two of those are centered on the most sacred events in Christian tradition (Issac J. Bailey, The Sun News, Myrtle Beach, S.C.)


A fictional 'war on Christmas' | Merry Christmas from the ACLU! And for believers in all other traditions: Thank you for enriching our world! (T. Jeremy Gunn, USA Today)


"War on Christmas" is just hype | The so-called War on Christmas is a load of headline-grabbing hype. Most shoppers don't care how the advertising reads or what store clerks say - as long as the price is right (Al Lewis, The Denver Post)


A challenge for Bill O'Reilly | When you've seen what real war does, you don't lightly use the word to describe disagreements about Christmas greetings (Nicholas D. Kristof, The New York Times)


A mixed holiday message from Fox News | Bill O' Reilly's message hasn't gotten to the corporate office, apparently (Broadcasting & Cable)


Name that holiday, some say | Clothing urges 'Christmas' greeting (The Ann Arbor News, Mi.)


Posters put Christ into Christmas | A Midlands Church of England diocese says it is fighting back against the "politically correct" approach to Christmas with a new poster campaign (BBC)


Signs of the times | Placards promoting Christmas spirit a hit (Asbury Park Press, N.J.)


Archbishops condemn PC Christmas:
Stand up for Christmas, archbishops tell their flock | Political correctness or fear of offending other religions should not be allowed to cloud the fact that Christianity lies at the heart of British culture, the Archbishop of Canterbury and his predecessor said yesterday (The Telegraph, London)


Archbishop attacks 'PC' Christmas | Christian leaders have condemned politically correct approaches to Christmas for stifling religious expression (BBC)


Also: Don't stifle Christianity by political correctness, says Carey (The Times, London)


Asia celebrates Christmas with a twist | Few Asians are Christian but people across the vast continent are embracing the holiday as a great excuse for shopping, partying and even romance (Reuters)


A holiday by any name, Kenyans will celebrate | With a population of more than 40 ethnic groups encompassing a cornucopia of religions, Kenyans say they are a model of religious tolerance (Reuters)


Bleak outlook as Silent Night slips | The carol In the Bleak Mid-winter has supplanted Silent Night as the nation's favourite, says a survey (The Telegraph, London)


Carol singers are wrapped in red tape herald angels can't sing | Carol singers have found themselves tied up in red tape this Christmas because of confusion over new licensing laws (The Telegraph, London)


3 quit gym over fetus Christmas Tree | Birthright provided tree with plastic dolls (KMBC, Kansas City)


Holiday season is the time of the year for candles | The $2 billion candle industry, which enjoyed its heyday in the 1990s, has shown signs of maturing in recent years. Annual sales growth, once 10 to 15 percent, has slowed to 2 to 3 percent (Associated Press)


Wreaths | The demure symbol of Christmas (Slate)


Reporters on the Job: Christmas Trees in Iraq | Holiday in Baghdad (The Christian Science Monitor)


For this holiday, religious themes are in the cards | Move over, Santa, and take a flying leap, Rudolph: Christmas or Hanukkah greetings in the mail these days often reflect the sender's faith (Los Angeles Times)


Pope says true gift of Christmas is joy | Pope Benedict XVI urged people to spread joy through smiles and acts of kindness, saying it was an antidote to the ills of society (Reuters)


Pope decries commercialization of Christmas | Pope Benedict urged Roman Catholics on Sunday not to commercialize Christmas, saying joy -- not expensive objects -- was the real gift of the season (Reuters)


Pope doesn't have U.S. spirit of Christmas | I hate to say this, but Pope Benedict XVI is starting to meddle with Christmas (Bill Wineke, Wisconsin State Journal)


For some local Catholic churches, Midnight Mass isn't necessarily at that time | Only two of the city's Catholic churches still offer a true midnight Mass these days (Racine Journal Times, Wi.)


Debatable -- Does it matter if the midnight Mass isn't at midnight? | Years ago, the first Mass to celebrate Jesus' birth in Catholic churches was always held at midnight (Racine Journal Times, Wi.)


Church reverses decision to cancel Christmas services | Bowing to public pressure, the pastor of South Florida's largest church reversed position and announced that he would, after all, hold Christmas Day worship (South Florida Sun-Sentinel)


Fewer attending Christmas services | Churches closing for the holiday might be just following trend (Lexington Herald-Leader, Ky.)


Word that best describes closed churches this Sunday | Sad (Jon Mark Beliue, Amarillo Globe News, Texas)


This year's Christmas must-have: a church service | As well as cramming into the shops for a frenzy of consumer spending, Britons will be going to church in increasing numbers this Christmas, according to an opinion poll (AFP)


Churches eliminate, reduce Christmas Day services | Across Southwest County, at least three churches reported this week that they will forgo Christmas Day services—despite the fact that it falls on a Sunday—while others will hold fewer services than normal (North County Times, San Diego)


Cheasters, relax: 'Twice a year is better than zero' | Twice a year, you find yourself in unfamiliar and discomforting surroundings in a church pew, on Christmas and Easter (Cathleen Falsani, Chicago Sun-Times)


Christian rhyme and unreason | Love thy neighbour as thyself? That sounds about as likely as having a stress-free post-Christian Christmas (Stuart Jeffries, The Guardian)


Witches' brew at winter solstice | How Wiccans do themselves in (Mark Oppenheimer, Slate)


Iraq expats narrowly favor Christian slate | Iraqi expatriates, some traveling hundreds of miles to participate in their war-torn homeland's national elections, cast the most ballots for a slate of Assyrian and Chaldean Christians in a second round of U.S.-based voting (Associated Press)


Colleague hopeful for hostages in Iraq | A Baghdad-based colleague of four Christian peace activists kidnapped in Iraq says she remains hopeful despite eight days passing since the expiry of a deadline on their lives (The Sydney Morning Herald)


Hostages' friends still 'waiting and praying' | Candles lit for four hostages held in Iraq were extinguished partway through a prayer service yesterday in Toronto, but hope for the safe release of the Christian aid workers still burns bright (The London Free Press, Ont.)


Pray for captives, not the captors (Rosie Dimanno, Toronto Star)


No plan seen for more Darfur funds | Rice lobbies, but Congress aides say budget stretched (The Boston Globe)


Sudanese refugees head home from Kenya | The voluntary repatriation of 147 refugees is the first such return by some of the hundreds of thousands of Sudanese who fled the country during its long-running civil war (Associated Press)


Embryo cloning gains backing | Scientists could soon be creating cloned embryos for stem cell research after a Government committee yesterday backed the controversial technique of "therapeutic cloning" (The Age, Melbourne, Australia)


Stem cell research ban may be lifted | Scientists will be able clone human stem cells for scientific research under controversial recommendations for new laws that will entrench ethical divisions in parliament. (The Australian)


One step closer to embryo cloning | The easing of laws on cloning and embryo research to permit controversial procedures, including the creation of cloned human embryos for scientific study and mixing of animal and human material to obtain stem cells, have been urged by an independent revieweasing of laws on cloning and embryo research to permit controversial procedures, including the creation of cloned human embryos for scientific study and mixing of animal and human material to obtain stem cells, have been urged by an independent review (The Sydney Morning Herald)


Libs clash over stem cells | Senior Howard Government ministers are divided over the contentious issue of cloning embryos for stem cell research, with Treasurer Peter Costello saying he does not believe potential lives should be created and destroyed (The Age, Melbourne, Australia)


Review redefines embryo | Researchers and fertility experts will have a brand new definition of an embryo if the federal Government accepts the recommendations of the Lockhart review into Australia's embryo research and anti-cloning legislation (The Australian)


Time is ripe to ponder freedom and our future | Liberty of action and speech comes from having a moral society, (Peter Jensen, The Sydney Morning Herald)


Votes back use of adult stem cells | Bush to OK easier access to umbilical tissue (The Baltimore Sun)


Senate approves umbilical cord blood bill | The Senate on Friday passed legislation to promote collection and expand therapeutic use of umbilical cord blood, which can be used to treat such diseases as leukemia (Reuters)


New Jersey awards $5 million in grants for stem cell research | The grants represent an important step in New Jersey's effort to establish a stem cell research industry (The New York Times)


Faith and consequences | What Terri's Law cost the Republicans in Congress (St. Petersburg Times, Fla.)


Bioethics on trial | At the first national bioethics conference held in Mumbai, the discussions centred on India as a hot destination for clinical trials and medical research (Frontline, India)


Bishop: Arroyo backing Church on birth control | President Macapagal-Arroyo has assured that her administration would promote only natural family planning methods as legislators set debates on a population management bill, the chair of the Catholic Church's commission on family life said on Sunday (Philippine Daily Inquirer)


Priest charged over girl's rape | A County Fermanagh priest has been remanded in custody charged with indecent assault and facilitating the rape of a 12-year-old girl (BBC)


'Secret projects' were cover for sex abuse, accusers say | Fourteen former students have filed a total of 13 suits in Missouri and Colorado, alleging that the psychological experiments were a cover for sexual abuse (St. Louis Post-Dispatch)


Warner protects gays in Va. hiring | State workers given right to challenge (The Washington Post)


Gay rights issue splits Christians | Second Council vote on ordinance is expected tonight (The Indianapolis Star)


Cliff: 'Church must accept gays exist' | Christian pop legend Cliff Richard has urged the Church to "learn to deal" with homosexuality, and accept the world is very different from when Jesus Christ was alive (Ireland Online)


Here comes the religious gay right | Civil partnerships will lead to the introduction of a new morality into the gay and lesbian community (David Self, The Guardian, London)


Dick Otterstad, Fred Phelps wannabe?
Group fights Wal-Mart on 'happy holidays' | A group of religious protesters demonstrated outside a Wal-Mart superstore Saturday, hoping to turn away customers by calling attention to the retailer's decision to use "Happy Holidays" rather than "Merry Christmas" in its seasonal advertising (Associated Press)


Earlier: Church group faces off against another over subsidized gas | Protesters say they object to 'merchandising' activity (Auburn Journal, Ca., Nov. 14)


Anti-gay trucks stir controversy in EDH | El Dorado Hills residents and visitors couldn't help but notice the three so-called "truth trucks" parked on El Dorado Hills Boulevard last Wednesday and Thursday (Village Life, El Dorado Hills, Ca., Mar. 9)


Pope says French riots were "a message" from youth | Pope Benedict said on Monday that France had to heed the warning from the riots that rocked cities across the country last month and urged the French to do more to promote racial integration (Reuters)


Osteens booted off plane after dispute:
Osteen family leaves plane after dispute | FBI agent says the pastor's wife didn't follow a flight attendant's instructions (Houston Chronicle)


Wife of Joel Osteen asked to leave plane | The wife of the pastor of the nation's largest church was asked to leave a plane after she failed to comply with a flight attendant's instructions, the FBI said Tuesday (Associated Press)


County attorney weighs Ralph Reed inquiry | Georgia candidate may have lobbied in Texas (Cox News Service)


Reed admits misstep in work | Says he shouldn't have taken job for Abramoff (The Atlanta Journal-Constitution)


Ralph Reed regrets taking Abramoff money | Reed did not mention Abramoff by name, but said the efforts "associated my long-standing opposition to gambling with those who did not share it and has caused difficulty for the faith community with whom I worked, which I deeply regret" (Associated Press)


Court allows Mercer display | Judges rule that it's historic, not religious (Lexington Herald-Leader, Ky.)


6th Circuit upholds Ky. Ten Commandments display | Three-judge panel finds courthouse posting is constitutionally acceptable because other historic documents are also included (Associated Press)


Unholy alliance | The "Christianity as a threat" theme in the Times ad echoes campaigns by the American Civil Liberties Union and others (Investors Business Daily)


Stop apologizing for being Christian | The modern Left exercises a militant anti-Christianity not so much because of a cultural cringe in the face of immigrant minorities, but because of its general wish to dismantle history (Simon Heffer, The Telegraph, London)


Lawmakers take issue with Air Force guidelines on prayer | Members of Congress on Wednesday again called for a presidential order supporting the religious freedom of Christian military chaplains, labeling proposed Air Force guidelines on prayer "absolutely un-American" (Stars & Stripes)


Military chaplains told to shy from Jesus | To pray—or not to pray—in Jesus' name is the question plaguing an increasing number of U.S. military chaplains, one of whom began a multiday hunger strike outside the White House yesterday (The Washington Times)


Spreading the gospel through pro wrestling | Evangelical Christianity's new and unusual outreach approach (World News Tonight, ABC)


ABC News to feature local evangelical wrestling | Harvest Church of Athens (Athens Banner-Herald)


Much tsunami aid still unspent, report says | Groups cite unexpected snags in coordination and distribution, and the recovery effort's transition to long-term rebuilding programs (Los Angeles Times)


God finds converts in wake of tsunami | As the first anniversary approaches there are a score of churches where there once were none, mostly set up by United States-based evangelical groups that moved in following the deluge (The Telegraph, London)


Claims tsunami aid used as evangelical opportunity | As Thailand prepares to hold commemorations to mark the first anniversary of the tsunami, Christian aid groups in the mainly Buddhist kingdom are being accused of exploiting the tragedy for their own ends (The World Today, ABC, Australia)


Donations for victims of South Asian earthquake exceed $50-million | But the pace of giving has slowed even as relief workers prepare for additional challenges in providing aid during the winter months (The Chronicle of Philanthropy)


Study shows the superrich are not the most generous | Working-age Americans who make $50,000 to $100,000 a year are two to six times more generous in the share of their investment assets that they give to charity than those Americans who make more than $10 million, a pioneering study of federal tax data shows. (The New York Times)


Outbreak of faith | Wherever disaster has struck this year, compassion has quickly followed (Cardinal Cormac Murphy O'Connor, The Observer, London)


Times-Dispatch accepts ad; publisher apologizes | It's fine to declare in a Richmond Times-Dispatch personal ad that you're looking for a "spiritual man who puts God first," or that you love "lobster and church," as two recent examples said. But what about help-wanted ads? (Style Weekly, Richmond, Va.)


Catholics hope to get in on religious radio boom | Among the 2,014 religious stations in the country, Catholic stations number only about 120 (Associated Press)


Christian pop culture on the upswing | We now have confirmation from entertainment circles abroad that spiritual productions are on a roll (Philippine Daily Inquirer)


Christians converting video games to reflect their beliefs | Video games, long berated for explicit content and nihilistic themes, are gaining popularity in an unexpected arena: the Christian marketplace (The Atlanta Journal-Constitution)


Video games rated 'G' for God | Though some Christian-themed PC games have been around for years, this fall Los Angeles-based Crave Entertainment became the first to break the console Bible barrier (The Kansas City Star, Mo.)


'Idol' worship shapes Christian, gospel genres | The power of the "American Idol" franchise is clearly evident at the peak of this year's Christian and gospel music charts (Reuters)


Clear Channel converts Austin rock station to Christian | Clear Channel Communications Inc. has switched Austin classic rock station KPEZ-FM 102.3's music format to create the company's first contemporary Christian radio station in the United States (Austin Business Journal)


Murphey lets his faith ride tall in the saddle | What was new this year was Michael Martin Murphey's candid, and frequent, declarations of his own Christian faith (Jim Jones, Ft. Worth Star-Telegram, Tex.)


Switched | Rock grows up (Mark Joseph, National Review Online)


His ad here | A biography of Bruce Barton, who gave Jesus a modern makeover. Michael Kazin reviews The Man Everybody Knew: Bruce Barton and the Making of Modern America (The New York Times Book Review)


Jesus skeptics on the run | Anne Rice's latest novel relies on a biblical scholarship more trusting of the New Testament. (Charlotte Allen, Los Angeles Times)


The 'Code' breakers | The most popular—and controversial—novel of our time hits the screen in May. An exclusive report on the second coming of The Da Vinci Code (Newsweek)


Two gay cowboys hit a home run | Brokeback Mountain arrived at a time when America's attitude toward homosexuality has shifted (Frank Rich, The New York Times)


Looking for similarities where others see differences | The thought-provoking documentary Three Faiths, One God sets out to prove that the three world faiths involved in current global conflicts are really one big religion (The New York Times)


When you ride with Jesus, don't tailgate | A new NBC drama that features a walking, talking Jesus is already stirring up a lot of controversy in a country that takes its religion seriously (The New York Times)


FCC to delay new rules on children's TV | The FCC said Friday it would delay implementation of new rules governing children's programming on digital television to consider an agreement struck by entertainment companies and children's advocates (Associated Press)


You'll never get to heaven watching this | Here's the problem: the title, "Heaven: Where Is It? How Do We Get There?" implicitly and explicitly states that not only does heaven exist, but that you, the viewer, will learn how to get to there if you spend two hours watching this broadcast (Newsday)


St. Louis Archbishop excommunicates priest, board after turf fight:
Excised All Saints church aligns with Church of Uganda | A church that was recently voted out of the local Episcopal diocese has aligned itself with the Church of Uganda (Rochester Democrat and Chronicle, N.Y.)


Resignation of priest 1st sign of rift in S.D. | An Episcopal priest has resigned from his church and taken much of his congregation with him in the first significant sign that the divisions between the U.S. Episcopal Church and its Anglican counterpart have arrived in San Diego (San Diego Union-Tribune)


Nigerian Anglicans seeing gay challenge to orthodoxy | The Christian population of the developing world is standing up for orthodoxy in the face of increasing liberalism in the West (The New York Times)


Religions stand to be counted | Non-Christian faiths such as Islam are the fastest growing religions in Victoria, a new report reveals (Herald Sun, Melbourne, Australia)


The hard sell | Jews consider proselytizing to fight assimilation (Naomi Schaefer Riley, The Wall Street Journal)


Muslim leader forges interfaith accord | Popular imam boosts Islam in Md., beyond (The Washington Post)


'Your body is a temple,' class urges | "PraiseMoves" marketed as a Christian alternative to yoga (The News-Dispatch, via South Bend Tribune, Ind.)


Rooney pipped by God in survey of under-10s | Forget holidays by the sea, computer games and religion. According to a survey of under-10s released today, "money and getting rich" is the top priority for the nation's children (The Guardian, London)


Peer into today's Aladdin's cave and try to detect a spiritual life | The opium of the masses was in fact the vitamin supplement of the poor, whether in terms of providing a code of values or practical help and a sense of moral worth to even the most disadvantaged (Michael Burleigh, The Times, London)


Philip Roth was wrong | How simplistic to blame our innate human aggression on religion (Robert Winston, The Guardian, London)


Trust in God … or Jamie | We live in an age of illusion where faith in just about anything has replaced rationalism (Mary Riddell, The Guardian, London)


Last of the true believers | Christianity in Britain tends to become a repository of presumed goodness and wisdom which has no, or at best a very distant, God, but owes a lot to Him (John Lloyd, Financial Times)


Related Elsewhere:
Suggest links and stories by sending e-mail to weblog@christianitytoday.com
See our past Weblog updates:
December 16 | 14 | 12
December 9 | 7 | 6
December 2b | 2a | November 30
November 23 | 22 | 21
November 18 | 17 | 16b | 16 | 15
November 11 | 10 | 8
Weblog
Launched in 1999, Christianity Today's Weblog was not just one of the first religion-oriented weblogs, but one of the first published by a media organization. (Hence its rather bland title.) Mostly compiled by then-online editor Ted Olsen, Weblog rounded up religion news and opinion pieces from publications around the world. As Christianity Today's website grew, it launched other blogs. Olsen took on management responsibilities, and the Weblog feature as such was mothballed. But CT's efforts to round up important news and opinion from around the web continues, especially on our Gleanings feature.
Ted Olsen is Christianity Today's executive editor. He wrote the magazine's Weblog—a collection of news and opinion articles from mainstream news sources around the world—from 1999 to 2006. In 2004, the magazine launched Weblog in Print, which looks for unexpected connections and trends in articles appearing in the mainstream press. The column was later renamed "Tidings" and ran until 2007.
Previous Weblog Columns: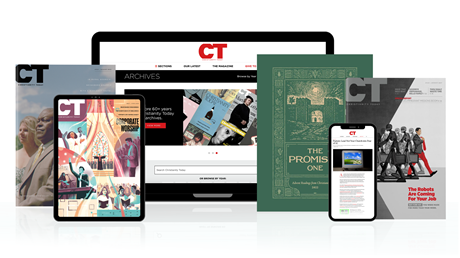 Annual & Monthly subscriptions available.
Print & Digital Issues of CT magazine
Complete access to every article on ChristianityToday.com
Unlimited access to 65+ years of CT's online archives
Member-only special issues
Subscribe
Dover Board Lied! Intelligent Design Died!
Dover Board Lied! Intelligent Design Died!